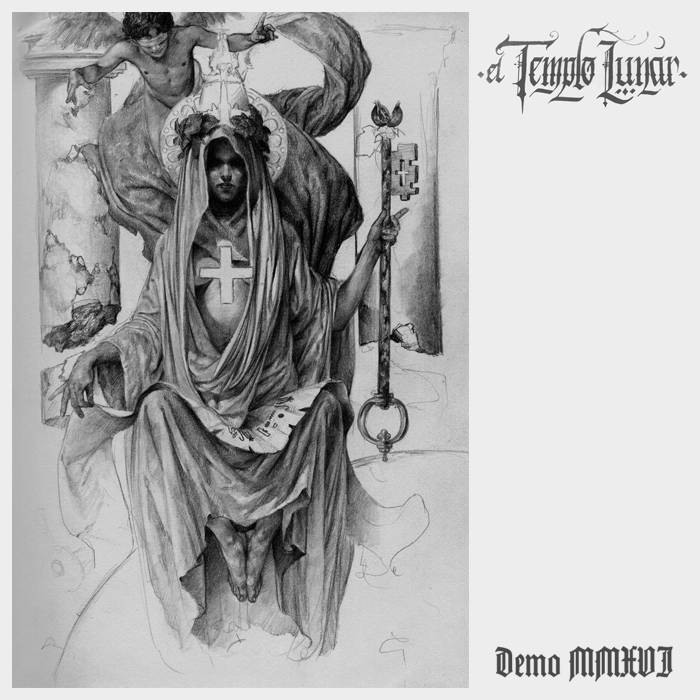 Ahora El Templo Lunar nos presenta su proyecto y su primer trabajo, a puro psych space, y reseñamos su muy interesante demo, en nuestra búsqueda insasiable por todo lo nuevo del under de cualquier lado, y si es latonoamericano mucho mejor. Toda la melancolía del Doom más denso que promete un primer larga duración de lo más interesante.

Artista: El Templo Lunar
Álbum: Demo MMXVI
Año: 2016
Género: Doom rock espacial psicodélico
Duración: 19:48
Nacionalidad: México
Lista de Temas:
1. Luna Menguante
2. El Ermitaño del Espacio
3. La Sacerdotisa Gris

Alineación:
- Maria Garfias / Vocals
- Luis Orea / All instruments

Presentamos el primer demo del proyecto de "Doom rock espacial psicodelico" proveniente desde México. El proyecto está liderado por Maria Garfias en voz y el multiinstrumentista Luis Orea en el resto de los instrumentos. Con una voz onírica, etérea, dark y gótica, la voz de María se funde con la instrumentación casi Stoner de Luis, mucho space, muy psicodélica, mucho dark....
Su música evoca imágenes de la oscuridad en el alma humana con propia personalidad y estilo, en un disco bastante calmo pero trágico a la vez... aquí se los dejamos para que lo escuchen y degusten. Aunque creo que es un error por parte de los músicos poner este EP en Bandcamp sin que esté disponible para su descarga gratuita, porque lo único que va a pasar es que van a limitar a la cantidad de gente que los escuche.
A ver, el disco pinta bien, la banda tiene futuro, pero ello no quita que esto tiene fallas de producción, que el sonido no es epectacular y que al fin y al cabo es una demo como primer trabajo ¿para qué ponerlo a la venta?... más allá de ese comentario, el trabajo se puede escuchar, y cada uno puede sacar sus propias conclusiones.
A mi me parece que hay material para sacar unos buenos álbums y hacer una carrera interesante, sobretodo por la musicalidad de Luis Orea que se hace cargo de todo menos la voz, atención con este muchacho.
Su instrumentación, sus misteriosos fondos, sus arpegios y su delicada voz femenina contribuyen de manera muy eficaz a crear una opresiva sensación de agobio en el oyente. Bastan un par de escuchas medio atentas a este EP para adentrarse en el personal mundo de El Templo Lunar. Un sonido atmosférico y envolvente, delicado y rotundo. Una banda tomando muchas influencias para armar su propio estilo, lo están haciendo y van bien encaminados.

Aquí tienen al templo lunar mexicano, veremos que cosas nos depara el destino, quizás no dentro de mucho tiempo podamos presentar su disco debut, nosotros estaremos expectantes de lo que hacen de aquí en más.


Fans of psychedelic/occult doom metal and acid rock, you better check this band. The music is very diverse, it has acoustic and fuzzy guitars, hammond organ and haunted female vocals making it a winner. This demo is a promise for a big future, I think we could expect nothing but the best from El Templo Lunar. FFO: Coven, Paul Chain, Blizaro, Mazzy Star and more.
Héctor Hurtado
Very good! Love the overall music but the vocals are really what sets this album apart from the rest.
Rill
Heavy dark prog! Doom! Female vocals. Wasted acid prog!
Paul

¡Salud! Espero que les guste!!!

Facebook