Artista: Dialeto
Álbum: The Last Tribe
Año: 2013
Género: Heavy Prog / Rock progresivo
Duración: 46:32
Nacionalidad: Brasil
Lista de Temas:
1. Windmaster
2. Dorian Grey
3. The Last Tribe
4. Lydia in the Playground
5. Unimpossible
6. Tarde Demais
7. Vintitreis
8. Whereisit
9. Sand Horses
10. Chromaterius


Alineación:
- Nelson Coelho / Guitar
- Jorge Pescara / Touch Guitars
- Miguel Angel / Drums

Ojo, para mí, uno de los discos del año 2013. No me habían gustado tanto tanto las anteriores producciones de Dialeto, pero ésta es excelente. Lamentablemente tampoco puedo compartir (siguiendo la política que tenemos, y que en vista de que todavía estamos aquí, no ha estado tan mal y no ha sido en vano) pero al meno la pueden disfrutar vía Bandcamp, y por supuesto, la pueden comprar por ese medio.
En definitiva, un discazo!

El trío brasileño Dialeto saltó la barrera, rompió con los latidos de su corazón musical, quebró lo realizado hasta ahora en sus dos álbumes de estudio anteriores, porque en su último trabajo la guitarra sigue trazando bases melódicas y armónicas mientras la Warr Guitar rellena el sonido y arma la base y la percusión sigue enérgica en cada pista. Pero sin embargo, algo han quebrado, para que esta producción sea muchísimo más grnade que las anteriores.
¿Será la continuidad del trabajar juntos? ¿serán las horas de ensayo? ¿será una mejor actitud personal de los músicos? no lo sé, pero los brazucas se manadaron un discazo instrumental que está a la altura de los mejores. Y esto suena a algo así como un Fromuz salido de tierras brasileras.
Realmente quedé cautivado del disfrute que me produje este disco desde el primer momento que lo escuché, un lujo en riffs que bailan y progresan incesantemente, un álbum isntrumental que despliega imaginación, espontaneidad, potencia, nervio y buen gusto. Un disco crudo, honesto, fresco y que parece salido de un "casi en vivo", que quizás no produzcan un resultado sorprendente, pero sí completamente disfrutable de principio a fin.
Un álbum sólido, dinámico y que quizás peque de cierta ingenuidad, hay ciertos elementos que son predecibles y el álbum resulta un poco falto de sorpresas, pero no por ello me deja de parece completamente disfrutable, mostrándonos laberintos de material melódico que permanece fresca desde el principio hasta el final abrupto del disco.
Con algunas secciones de la más pura vibración técnica y virtuosa, nunca deja de ser música inteligente y melodiosa.



Vamos a ver si estos chicos lo explican mejor que yo:


Un lenguaje nuevo para el rock progresivo brasileño
En esta ocasión nos toca hablar de DIALETO, estupendo power-trío brasileño formado por Nelson Coelho [guitarra], Jorge Pescara [touch guitars] y Miguel Angel [batería], el mismo que se proyecta al mercado internacional de la mano de MoonJune Records como una agradable sorpresa en el mundo del rock progresivo. En efecto, con su original propuesta basada en la confluencia de jazz-rock, paradigma de BRUFORD/LEVIN, psicodelia de tendencia dura, elementos del KING CRIMSON (tanto de la etapa 73-74 como de la fase 80era) y fusión contemporánea, Nelson Coelho y sus compañeros se explayan hacia horizontes sonoros llenos de ingenio y vigor. "The Last Tribe", tercer disco de su producción fonográfica hasta el momento, promete ser uno de los ítems más excitantes surgidos de tierras sudamericanas en el presente año 2013. Y adviértase que estamos hablando de una banda que se formó a fines de los 80s, pero recién en 2008 pudo darse abasto para publicar su disco debut "Will Exist Forever", sucediéndolo dos años después con "Chromatic Freedom". Fijándonos ahora en "The Last Tribe", llegamos a la conclusión de que mejor es tarde que nunca en lo que se refiere a valorar la música bien hecha… pero antes de seguir ahondando en esta reflexión, vayamos a los detalles del disco.
Durando casi 6 ½ minutos, 'Windmaster' con una exquisita aura contemplativa que maneja un régimen sabiamente controlado de fuerza expresiva a lo largo de su recurrente motivo central en 6/8. A continuación sigue 'Dorian Grey', pieza que se enfila hacia sonoridades patentemente mucho más robustas, como haciendo una recapitulación Crimsoniana de un jam Zeppeliniano, portando ciertos aires de familia con BOZZIO LEVIN STEVENS y ATTENTION DEFICIT. La pieza homónima dura poco menos de dos minutos, un espacio corto pero suficiente para expresar un dinamismo exótico un poco más ligero a fin de que el tema siguiente, 'Lydia In The Playground', pueda exponer eficazmente un recurso de moderado contraste al exhibir un ambiente sonoro de tenor reflexivo: la sencilla estructura básica de su motivo central asume un vigor rockero necesario para aportar una dosis de densidad al asunto, pero es fácil de notar que la dimensión más vulnerable de la espiritualidad es el principal foco de inspiración para esta pieza en cuestión. En cierto modo, nos hace recordar a sus paisanos de ALGARAVIA. Su fade-out se siente muy repentino, pues el carácter llamativo del jam es inapelable, pero inmediatamente nos sentimos compensados con 'Unimpossible', tema que nos revela 7 ¾ minutos de ingeniosas creaciones y recreaciones de tensión musical. Dicha tensión se muestra contenida en sus dos primeros minutos, en base a una atmósfera expectante sustentada por el diálogo entre guitarra y touch guitar… pero una vez que la batería de Miguel Angel entra en acción, emerge toda la potencial musculatura de la pieza en un fluido ejercicio de combinación del KING CRIMSON de la era "Red" con las áreas más rudas del primer MAHAVISHNU ORCHESTRA y el estándar Hendrixiano. Tras esta estilizada tormenta sónica, 'Tarde Demais' se retrotrae hacia una sonoridad introspectiva, propia de un ambiente crepuscular, una despedida a la luz del día y el candor de la tarde. Las armazones de escalas y punteos por el dúo de Coelho y Pescara son simple y llanamente hermosos: la batería entra para el minuto final de modo que los otros dos instrumentos puedan adornar su esquema de acción con un realce de intensidad rockera.
La tríada de 'Vintitreis', 'Whereisit' y 'Sand Horses' añade renovados matices a nuestra exploración del disco. 'Vintitreis' establece una dinámica propia del mejor PAT METHENY GROUP pero con una presencia guitarrera más robusta en la que Coelho realiza una mezcla ingeniosa de FRIPP y JEFF BECK. Por su parte, 'Whereisit' establece un homenaje al rock duro de raíz bluesera, combinando una especie de estándar stoner y LED ZEPPELIN. Tal vez podamos notar ciertas confluencias con lo que antes hizo la banda en 'Dorian Grey', pero es menester resaltar que aquí es la pesadez del rock el que se alza como discurso predominante. En el caso de 'Sand Horses' tenemos un inteligente aprovechamiento de la polenta que se ha venido generando con la secuencia de los dos temas anteriores, con una dupla rítmica que añade ocasionalmente elementos juguetones a lo PRIMUS y un Coelho que exorciza sus "fantasmas Blackmorianos" sin complejos ni tapujos de ningún tipo. Esta ilación tripartita bien puede describirse como una expansión creciente de expresividad extrovertida. Cerrando el álbum, 'Chromaterius' regresa a lo netamente Crimsoniano, implementando una sólida hibridización del modelo 70ero de FRIPP & cía. con el modelo particular de BRUFORD/ LEVIN.
Todo esto fue "The Last Tribe", una gozada de álbum que ha de situar a DIALETO en el centro de atención de los círculos progresivos en este año 2013 y años por venir. La verdad que este grupo merece algún tipo de reconocimiento positivo pues "The Last Tribe" es una de las cosas más recomendables que la vanguardia progresiva nos ha ofrecido en los últimos años.
César Inca

Para aquellos que gusten de las grandes cuotas de virtuosismo sumadas a agradables composiciones que no pierden el hilo melódico (nuevamente se me viene Fromuz a la memoria), recomiendo este disco sin dudarlo.


Dialeto es un trío progresivo brasileño, originario de Sao Paulo, con dos discos editados a la fecha, proyecto encabezado por el virtuoso guitarrista Nelson Coehlo.
Este tercer disco, se trata de rock progresivo instrumental sumamente agradable, con grandes cuotas de virtuosismo, con pasajes potentes, como los destacados ""Unimpossible" suite de mas de siete minutos sumamente progresiva con cortes y cambios de ritmos y climas, o la poderosa "Vintitreis" de formato power trío, o "Whereisit".
Pero también hay espacios para los pasajes calmos como "Tarde De Mais" sumamente introspectivo y delicado con una expresiva guitarra, dando como resultado final una música sumamente fácil de disfrutar a primera escucha.
Componen la banda el citado Nelson Cohelo en guitarras y composiciones, Jorge Pescara en touchguitars y Miguel Ángel en batería, conformando un virtuoso y fresco trío de buena música progresiva.
Gustavo Bolasini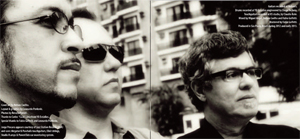 Y aquí un peruano llamado Iván, dueño de un espacio llamado "Progarchives", nos da su opinión ¿le habrá gustado?:


When Leonardo Pavcovic from Moonjune Records sends me an album I expect good and elaborate Jazz / Prog Fusion, but with DIALETO's latest release The Last Tribe, he took me by surprise, never really expected a Heavy Prog power trio without keyboards, but most important, never expected to find such rich melodies in a band obviously oriented towards solos and virtuosity.
The album starts with the trippy but powerful Windmaster, where Nelson Coello and Jorge Pescara make a display of unusual guitar dexterity, well supported by Miguel Angel in the drums, some people see this as Fusion, I would go more with some sort of Hard Rock with Prog tendencies in which atmospheric and distorted guitars coexist perfectly around a beautiful melody. Great opener.
Dorian Grey bass intro reminds me of some sections of Watcher of the Skies, but then they morph the sound into an amazing tribal ceremony, here they leave behind the atmospheres and attack us with heavy artillery. When you listen this kind of songs it's obvious that Rock will live forever if new bands as DIALETO carry the torch, shocking as a slap in the face but that's what Prog is about.
The Last Tribe is a different kind of animal (A wild and untamed one), the tribal sound introduced in the previous track is intensified with a magnificent percussion work, and despite the aggressive distorted guitar, we can still find a very dense atmospheric sound that falls like mist over the listener. Yes, it only lasts 1:56 minutes, but sometimes 2 minutes are enough.
Lydia in the Playground is hard to decipher, if I had to use a phrase that describes the track I would choose "gentle and ferocious", because they play with variations over the same melody, but adding frantic guitar solos and paranouid atmospheres with the touch guitar. Amazing.
Unimpossible reminds me of Santana creating some paranoid atmospheres, well, at least until the mark of 2:21, where the dam breaks and they flood us with some KING CRIMSON inspired dissonances that have certain reminiscence with Lark's Tongues in Aspic Pt I, but much more fluid, despite the constant changes and radical breaks. At this point they broke my mental scheme, but I loved it.
Tarde Demais starts with an electric Flamenco guitar oriented intro that leads to one of the most beautiful atmospheric performances I ever heard, this must be one of my favorite musical pieces of the album, mainly because it works as an intro for the schizophrenic Vintitreis, a perfect duet of tracks that create a fantastic balance between oneiric and frenetic.
Whereisit and Sand Horses are like two sides of the same coin, both aggressive and breathtaking but the second one flows mire naturally than Whereisit, anyway, both must be heard as one song, because they fit like two pieces of a puzzle.
The album is closed by the experimental and incredibly weird Chromaterius, a song in which the band members allow themselves to be self-indulgent. And they deserve it, after an almost perfect album they can afford to take some risks, and as usual they hit the nail right in the head.
The Last Tribe is one of the most extravagant and rewarding musical works I listened in 2013, and deserves no less than 5 solid stars (I must be getting weak, two 5 stars ratings in two days), because it's fresh and innovative, but carries the spirit of traditional Rock with the complexity of Prog.
Highly recommended for fans of extreme and intelligent music.
Ivan Melgar

Vamos por favor con algunos otros comentarios en inglés, para que vean que piensan otras personas, quizás yo esté equivocado...


With their first album for Moonjune Records (and third album overall), instrumental progressive rock trio Dialeto has shown themselves to be one of the most powerful rising forces in Brazil. An eclectic mix of progressive rock, post rock, and jazz, rounded off by a raw and heavy edge, the music of The Last Tribe makes for a unique observation that features some dazzling displays of high-class musicianship. Dialeto's complete sound is created by only Nelson Coelho on guitar, Jorge Pescara on touch guitar, and Miguel Angel on drums, but the arrangements are still full and powerful - Pescara's expressive basswork especially grabs my attention, as his unique playing style and choice of instrumentation adds an original edge to Dialeto's style.
The Last Tribe does have a few shortcomings, though; the production doesn't sound fully professional to these ears (the hollow drum sound particularly stands out) and not all of the tracks are as memorable as the others, but neither of these are crippling setbacks. The bottom line is that this is still an expertly-performed slab of instrumental prog with some great tunes like "Windmaster" and "Lydia in the Playground" to top it all off. The Last Tribe is a strong effort from Dialeto, and any fan of instrumental progressive rock should find plenty to love here!
Jeff
Instrumental music can be very tricky. Usually you have two roads to follow: the well-crafted road and the jamming away nonsense road.
I have known Dialeto for quite some time and I even reviewed their latest album Chromatic Freedom (2010). I confess that when I have heard that the band was going full instrumental I was a bit worried that they would go down the second road. I also liked their unique and 'weird' style.
Dialeto has new 'wheels' to ride. In the past, the driver of the bass was Andrei Ivanovic, he used to play the fretless bass. In The Last Tribe (2013) Dialeto's low notes were played by Jorge Pescara (I already reviewed his latest solo album progshine.net/2013/06/review- jorge-pescara-knight-without.html). Jorge doesn't exactly play only the bass, he plays the Megatar and touch-guitars. They're like the Chapman Stick, but in Dialeto's The Last Tribe (2013) they fulfill the bass role with an extra. The rest of the band is still the same with Nelson Coelho (guitars) and Miguel Angel (drums).
The Last Tribe (2013) was recorded between the end of 2012 and beginning of 2013 and it's their first international record, being released by Moonjune Records. The album was produced and Mixed by Nelson Coelho and the band and was mastered by Fabio Golfetti (the leader of Violeta De Outono). Not much different from their latest album. Nelson is also responsible for the great cover artwork. The album was released in the format that they call eco-pack. For me it's just a cardboard envelope. Which is kind sad, cause the cover art would be great in a well-made digipack.
But what really matters is the music inside The Last Tribe (2013). And I'm happy to say that my worries turned out to be unfounded. The music on the album is good and interesting. 'Windmaster' opens the album and it's like the track is speaking to you, and it's very clear that Jorge added a new dimension to Dialeto's sound.
Some tracks like 'Dorian Grey', 'Lydia In The Playground', 'Whereisit' and 'Sand Horses' are dense and full of guitar layers everywhere, but never forgetting the melodies. In general The Last Tribe (2013) is very well balanced, the songs are not too lengthy, this is clever, the listener will not get tired.
'Unimpossible' is the longest track with 7'47. It's a bit nonsense till the second minute when the track becomes intense and interesting. Some tracks, like 'Tarde Demais' start with no drums and are focused on the guitar melodies, but as soon as the drums appear they make everything better.
'Vintitreis' remind me of the 'old' Dialeto and it's my favorite on the album. 'Chromaterius' closes the album as a soundtrack to a thriller movie. Once again they fool the listener and the drums comes kicking hard towards the end of the song. The touchguitars play as if they were a cello and everything sounds like a mini orchestra. A good ending, indeed. I'm happy to say that Dialeto's The Last Tribe (2013) is based on good, well-crafted and melodic compositions rather than free jamming. It makes you want to listen to the album again.
Dialeto's could have been travelling on thin ice with this album, instead, they're now driving on the safe highways of good music. Recommended!
Diego Camargo
Oh. My. God. What we have here is yet another awesome band that have been uncovered by Leonardo, this time from Brazil. This instrumental trio comprise Nelson Coelho (guitar), Jorge Pescara (touch guitars) and Miguel Angel (drums) and in many ways are quite unlike anything I have come across before. Apparently this band originally formed in 1987, but were on ice for a long period before getting back together in 2006, after which they released a couple of albums. Last year original bassist Andrei Ivanovic left, to be replaced by Jorge who instead plays touch guitar and this is their first album since then. What makes these guys so unique, is the way that they are bringing together so many different styles and forms of music in a way that is progressive, instrumental, heavy and containing so many influences that one doesn't really know where to start.
So, with an instrumental trio it isn't unusual for there to be plenty of jazz structures and tendencies, and that is indeed the case. But, there are times when these guys move from 13/8 into standard 4/4 without missing a beat and all of a sudden we have shredders that are moving the music in a very different direction indeed. It is slow, it is reflective, it is hard, it is in your face. Miguel is the one person attempting very hard to keep the others in line, as Jorge is not adverse to providing a secondary lead line, very different to what one would expect to a 'normal' bassist (although he can also hunker down when the time is right). But Nelson is a real star, with a wonderfully fluid touch that is reminiscent of the great Allan Holdsworth, yet often much more in the face in the style of Satriani.
This album could only ever be described as progressive, yet there are only the three instruments on show, which just goes to show what can be delivered by those who have totally mastery and understanding of what they need to achieve. This may be their third album in recent years, but the first to get a full international release, and I know that we are going to hear a great deal more from these guys.
Kev Rowland
An instrumental album from what I am led to believe is a seasoned band of veterans from Brazil, here adding a new instrumentalist to the group, "Touch Guitarist" Jorge Pescara. This touch guitar sounds and looks to me like a Chapman Stick--but, whatever. The music here is very much in the vein of so many current and recent Dutch bands except maybe a little more bluesier. The music is interesting though, like a lot of blues, the recording has been performed such that every mistake made by each individual musician (and there are a lot of mistakes here) is right out in fornt and open.
1. "Windmaster" (6:26) opens the album with a nice series of notes from a guitar (though possibly it is the Touch Guitar) before the bass lines, drums, and pedal-volume-controlled lead guitar notes (though, again, it could be the pedal-controlled volume of the treble side of the Touch Guitar, if it has the double pickup plugs like my Chapman Stick had) all join in. At 1:50 the lead guitarist goes into a heavy solo--which lasts pretty much the full length of the song's remainder. Every time I hear this song I find myself wondering, "Is this going to be a Post Rock/Math Rock album?" (8/10)
2. "Dorian Grey" (4:27) Nothing too complicated but strong, catchy riffs and melodies. The competent classic rock guitar solo is right where it should be. (9/10)
3. "The Last Tribe" (1:56) the title song, brief as it is, starts off just like a varied version of song 6, "Tarde Demias," before falling into martial pace to support another, albeit nice extended solo from the lead guitarist (this one having a second background lead shadowing it.) (7/10)
4. "Lydia in The Playground" (5:20) poor sound recording (scratchy) on first lead guitar. Second lead is nice, great sound. Third lead is also nicely played, recorded well. Rolling "Fretless-like" bass throughout is ear-catching. (8/10)
5. "Unimpossible" (7:46) opens ploddingly, as if unsure what pace and style it wants to play--before settling into a very classic blues style. The effect is rather unsettling as it doesn't really work very well---too late-night lounge like. Even when the drums join in and things get raunchy and the bass-line gets very interesting the song just never seems to get there. Not until the 6:35 mark does the guitarist finally deliver us from the hell of mediocrity. (7/10)
6. "Tarde Demias" (3:40) uses some echoing effects to very positive effect, and also uses several very catchy melody lines (bass and lead guitar). At 1:24 lead guitarist Nelson Coelho takes off on one of his solos, leaving the rest of the band to fend for themselves, which, again, they do not do so well. The solo is good. The band comes back together for a nice finish. (8/10)
7. "Vintitrels" (4:19) by now the blues rock format is overstaying its welcome. The music's stark, sparsely treated sound is getting a bit old and grating. The drummer always seems to be following someone else, the bass (Touch Guitar) player is having trouble keeping time (let's face it: he's no metronome, and by now we've discovered: he's no Tony Levin. As a former Stick player, I can say that there is very little here that impresses me.) and the guitarist often seems to wander off into his own world. (As a matter of fact, perhaps each of the three instrumentalists can be accused of being guilty of such.) (7/10)
8. "Where Is It" (5:11) is perhaps the tightest, most Crimson-esque song on the album, which is a nice change and, by now, surprise. Lots of whole-group staccato rhythm and chord playing. The lead guitar solo beginning at the 3:35 mark is also one of his better soli--though, once again, as Nelson goes off into his own zone it seems that the rest of the band fragments and threatens to disintegrate. Fortunately, they come back together for the final 20 seconds. (9/10)
9. "Sand Horses" (4:07) finds the band travelling back again into classic rock time for some standard bass-drums & guitar jamming. Not quite Hendrix or Stevie Ray. (7/10)
10. "Chromaterius" (3:42) uses its first two minutes to let Jorge show us a little of his two handed Touch guitar skill. Dueling a little with Nelson makes it a little interesting, until the music switches over to a very heavy, very lumbering rhythm section--though this section contains what is easily the most impressive drumming and guitar playing on the album. (8/10)
Favorite songs: "Whereisit," "Dorian Grey," and "Windmaster.
Though the album has grown on me considerably upon repeated listens (the mistakes are less glaring/bothersome and more accepted as part of the musical presentation), The Last Tribe is, for me, a 3.5 star album, rated down for sometimes poor recording, for the band members' timing inconsistencies, their breakdowns in 'group weave', and for their occasional lapses into each their own separate universes.
W. A. Fisher
The Last Tribe is the Brazilian prog rock power trio's first release on an international scale, issued by New York City-based Moonjune Records, intimating yet another significant offshore discovery produced by this record label to complement its roster of well-established performers and time-honored bands. Nonetheless, Dialeto is a trio that possesses the goods to make a substantial impact.
The musicians nestle these works mainly within slow-to-medium tempos, and project a huge soundscape, partly due to Nelson Coelho's stinging guitar-paced phrasings atop Jorge Pescara's monster bass lines, incorporated via his Touch Guitars and Miguel Angel's reverberating rock beats. Operating within intense and sprawling frameworks, Coelho's impacting crunch-chords and distortion- heavy voicings generate a gigantic wall of sound. But one of the key aspects, unlike some prog rock units, relates to Coelho's infusion of tuneful hooks and riffs, as he often improvises around a given melody, and doesn't indulge in directionless soloing escapades
Another compelling attribute that recurrently surfaces is how the trio scales these works on tension-building cadenzas, evident on the sweltering "The Last Tribe," and on the regal mid-tempo rocker "Lydia in the Playground," the latter spiced with Coelho's menacing guitar phrasings and the rhythm section's in-your-face pulse. However, each piece contains a definable melody. For instance, "Tarde Demais" is built on the guitarist's thick lines and circular ostinato motif that evolves into a longing ballad amid his nifty multilayered formations; although some of these sounds may emanate from Percara's Touch Guitar extrapolations.
The band sports a classic, hard-rock gait during "Whereisit." Here, they merge the old with the new, as the frontline activates a progressive-metal panorama with psycho, fuzzed-toned licks, followed by the rapidly moving burner "Sand Horses." Otherwise, traces of studio echo yields added depth or perhaps an additional dimension to the unit's core sound but also enhances its colossal musical presence, combined with a program structured on durable compositions.
Glenn Astarita
In the past few years, Leonardo Pavkovic's Moonjune Records has become a go-to resource for fans of guitarists that eschew the tired antics of traditional "guitar heroes" to focus on creative, envelope-pushing playing put at the service of the music. In the past few years, outstanding players from far-flung locales such as Indonesia have become part of the Moonjune roster – with noteworthy releases such as Tohpati Bertiga's Riot, Ligro's Dictionary 2 andDewa Budjana's Dawai in Paradise. Brazilian power trio Dialeto are the latest addition to the New York label, getting their first international release with their third album, The Last Tribe.
In the two years following the release of Chromatic Freedom, the São Paulo outfit, founded in the late Eighties and led by guitarist and composer Nelson Coelho, have replaced original bassist Andrei Ivanovic with touch guitarist Jorge Pescara – a change that has influenced their sound in a rather interesting way. While Chromatic Freedom featured a few songs with vocals, on The Last TribeDialeto have taken a completely instrumental direction, concentrating on compositions that blend King Crimson-style angular, asymmetrical patterns with heady Latin suggestions and fiery blues licks, occasionally with a keen metal-like edge. Though some reviewers have labeled them as jazz-fusion, the latter genre is only one of the ingredients of Dialeto's heady brew. While technical virtuosity is definitely emphasized, Dialeto's musical offer exudes a surprising warmth and a pronounced sense of melody – which is not always the case with all-instrumental albums.
The introduction of touch guitars is the key to the subtle yet noticeable change in Dialeto's sound on The Last Tribe, adding a sense of fullness and softening the rougher edges displayed on Chromatic Freedom. The versatility of the instrument – capable of producing dry, low-down bass lines as well as reverberating, keyboard-like sound waves – complements Coelho's scintillating guitar exertions and Miguel Angel's all-over-the-place drumming. Though not as heavy on the ambient component as Herd of Instinct (a band with a similar configuration and approach), Dialeto's 2013 incarnation benefits from the synergy of touch and traditional guitar, which lends an intriguingly mysterious quality to its sound.
As already noticed on Chromatic Freedom, Coelho's compositional style hinges on subtle yet recognizable variations on a theme, repeated with an almost hypnotic effect, creating a strong cohesion between The Last Tribe's 10 tracks. Running times are kept relatively short, packing a lot of content in those few minutes without putting too much strain on the listener's attention span. The album as a whole runs at a very restrained 47 minutes, proving once again that, in the progressive rock realm, quality does not depend on quantity.
Opener "The Windmaster"sets the tone, with its clear-voiced guitar touched with a hint of Brazilian saudade; melody remains at the forefront even when the guitar turns a bit harsher and the intensity increases. Similar in conception, "Dorian Grey" also introduces a haunting atmospheric note. The album hovers between low-key, mid-paced pieces such as the ballad-like "Lydia in the Playground" and the laid-back, Spanish-tinged "Tarde Demais", spiced up by sudden flares of electricity in the shape of dense riffing and assertive drumming, and spiky, energy-laden ones )mostly concentrated in the album's second half), descending directly from King Crimson circa Thrak and The Power to Believe.
The almost 8-minute, Brazilian-flavoured "Unimpossible", which best illustrates the band's modus operandi of building variations on a theme, and the exhilarating "Vintitreis" blend the soft and the hard side of Dialeto's sound, Coelho's guitar tone shifting from bright and sunny to razor-sharp, supported by Miguel Angel's drum acrobatics; while "Whereisit", "Sand Horses" and especially closing track "Chromaterius" kick the mood into high gear, with plenty of riffs and forceful drumming, the three main instruments interacting seamlessly in angular patterns only occasionally relieved by quieter moments. Finally, the steady drumbeat and brisk, dance-like pace of the short title-track convey the "tribal" element in the title.
Accompanied by amusingly weird cover artwork, The Last Tribe (mixed and mastered by fellow paulista Fabio Golfetti of Violeta de Outono, who has recently joined Gong) will not fail to appeal to lovers of instrumental progressive rock, especially those who set a great store by technically proficient yet soulful guitar playing rather than lightning-fast shredding. The album, which finally sees Nelson Coelho take his rightful place among other distinguished six-stringers on the Moonjune roster, such as Barry Cleveland, Dennis Rea and Michel Delville, is also warmly recommended to fans of King Crimson and its "trio" offshoots.
Raffaella Berry
Please indulge me for a moment as I wax music theoretical.
Riff: 1. An ostinato phrase (as in jazz) typically supporting a solo improvisation; also: a piece based on such a phrase1. The ostinato phrase—riff from here on—has been around as long as music has been "tonal." Sometimes it's a bass line that's repeated over and over (ground bass), or a looped chord progression (chaconne), or both (a passacaglia)2. Much rock, progressive and otherwise, is founded on the power of a riff. Just think of Led Zeppelin's "ground bass" masterpiece "Dazed and Confused," the ubiquitous I-IV-V7 "chaconne," or the "passacaglia" we call the 12-bar blues form.
So why all this fuss about riffs and repetition? Because the Brazilian trio Dialeto is a riff-lover's band. It's been the musical heartbeat of their two studio albums, Will Exist Forever (2008) and Chromatic Freedom (2010). Their latest, The Last Tribe (2013), follows suit. Whether it's Nelson Coelho's guitar laying out melodic and harmonic foundations, Jorge Pescara filling out the sound with his touch guitar, or Miguel Angel's energetic percussion, each track is founded on the repetition and growth of its opening riff. I'm captivated and can luxuriate in this trio's riffage; but a track—or album in this case—cannot live by riff alone.
Dialeto depends on the riff as its primary vehicle for extemporaneity. While this gives The Last Tribe its raw, honest, and almost live feel, the solo material often disconnects from the supporting material. The opening track, "Windmaster," for example sets up a looping version of the opening riff over which Coelho lets his chops run wild (a format used throughout the album). The guitar playing itself is admirable but it comes off as merely a series of solos over repetitions of the opening riff. There is little sense that each track is growing or working toward some goal. Without this direction my ear tires and the virtuosity loses it's sparkle quickly.
Dialeto also depends on the riff as its primary formal unit of music. Each track's introduction/riff leads into solo-backing material that is looped several times like a series of bricks stacked end to end. Each track ends one of two ways: returning to opening material or ending abruptly after a final loop. This isn't something new or inherently wrong—some of my favorite pieces in rock or classical music do this (Beethoven's 7th Symphony Mvt.2 is an example). It's just that the outcome is extremely predictable, and when an entire album builds its tracks this way I miss one of my favorite aspects of progressive rock: surprise.
These stacks of riffs do more than obviate surprise, they make it difficult for Dialeto to develop an arc or narrative within each track. The repetitions of material nix any option of harmonic development or growth. The solos in turn are yoked to this static material. And much like a small jazz combo has a "sound" due to its size and instrumentation, Dialeto is a guitar, bass (touch guitar), and drums trio with a limited timbral palette. So how do they breath life and direction into each track? Dynamics. And how do they achieve fuller or louder sounds? Layers and more volume/distortion. Tracks like "Vintitreis" highlight this limitation. The opening line played by pitched percussion grows through each repetition as it's doubled, amplified, and distorted. The volume swells tend to wash out after a few tracks—sounding like a brutish and kludgy solution to an elegant problem.
Amidst my critiques there are moments that could make for a solid album. The final track, "Chromaterius," for example, is a maze of melodic material that remains fresh—right down to the abrupt end. "Sand Horses" opens with a killer bebop line that brings to mind Joe Satriani's "Killer Bee Bop" (Joe Satriani, 1995) crossed with quasi-surf rock vibes. The riff jumps out like a flash of timbre and flows throughout the track in a way that breaks the album's mold. And my favorite track, "Tarde Demais" (Too Late), is a beautiful lament that fuses riff to solo, solo to riff, in a way that brings out each phrase and builds through balanced and delicate interaction between guitar, bass (touch guitar), and percussion.
It's moments and tracks like this one that make it clear why this Sao-Paolo-based trio is gaining traction in the prog scene. They deliver great riffage—something I would wish on every band. But an awesome opening riff sets up lofty expectations. The riff, and the song it turns in to, will grow or shrivel based on how well it is developed. The trouble with this album is that the riffs are disconnected. They generally don't work with the overlaid solos. Rather, they carry on underneath them like a simultaneities. Dynamic swells and multi-layering can only push each track forward so much before the limited timbres max out, making the most important moments sound more like a sonic crutches than climaxes. While I would only recommend Dialeto's The Last Tribe to the die-hard aficionado, I'm confident that they'll will continue to deliver their powerhouse openings in albums to come. My hope is that they'll also deliver more middles and ends that live up to their high standards of riff.
(1. Webster's Dictionary)
(2. Laitz, Steven C., The Complete Musician, 2nd ed.)
Curtis Smith
Haunting and Improvising music can come at you out of nowhere as if it was to give you a big leap out of your comfy listener's chair. And this Brazilian trio, know the sounds very well when it comes to Progressive Rock and Jazz Fusion combined together like a steamroller as if it to take you into different areas for wonderous amazement for what you are about to sink your little ear buds in for a fantastic cosmic voyage to expect the unexpected.
With Dialeto's music, you have this mixed bag of alongside the two genres, a dosage of experimental music, virtuosity which takes both the three instruments from various movements whether its Rock, Ambient, and Atmospheric music and not to mention the sounds of the Discipline-era from King Crimson's peak where they moved from Prog into New Wave with unbelievable results. Guitarist Nelson Coelho, is perhaps one of the most mind-boggling guitarists I've heard. He has these influential sounds of Adrian Belew, Robert Fripp, and Frank Zappa and takes his virtuosity with amazement as he would take the listener to killer results.
Then there's Jorge Pescara who plays the Touch Guitar, which is a fret board tapping style of the instrument in the realms of the Chapman Stick and Warr Guitar. He plays in the style of Tony Levin and Trey Gunn and provides thumping bass work on the frets with fierce and blazing results during Nelson's compositions. There are amazing compositions that he wrote, and not to mention with some of the most centerpieces of five of the tracks throughout The Last Tribe.
Drummer, Miguel Angel who helps out with the rhythm stick on his drums, carries a lot of the energy and is the driving force to keep the train chugging with the beats he carries with the sounds on the percussion. Most of the time, his drumming reminds me of Bill Bruford and Billy Cobham with some thunderous, eruptive, and energetic forces to capture where his bandmates would go into a different time signature, he follows them wherever they go into.
The swirling Tarde Demais (Too Late) mixed with a flamenco bluesy guitar layered surroundings and featuring a grooved out exercise between the guitar and bass which it has a rhythm and lead upbeat for the first few minutes before the drums kick in and it becomes a whole new level to do the tango. More into the heavier side is Dorian Grey, featuring Jorge's fretted bass work that goes into a fuzztone beat while Coelho goes into a vibrating mode and you could almost feel the reminiscent of Tool's 10,000 Days period.
Vintitreis features a vibraphone introduction and then Jorge's bass, crescendo introduction from Miguel and then going into a hyper mellowing ¾ time signature turned sinister with a heavy waltzy attitude featuring Nelson going to the core by doing some heavy power riffs as if he's doing homages to the NWOBHM (New Wave of British Heavy Metal) scene and John McLaughlin's style as well while the opener, Windblaster has this very dreamland escapade that is daring, enthralling, and compelling that begins with an amazing adventure into different dimensions in our solar system.
Yet one of the most exhilarating of the music is the knock-out Sand Horses, which begins with a Stop-and-go movement from the instruments before it becomes a racing yet thunderous ambitious turned compelling piece as they go move from Jazz Fusion into a Heavy-Metal excitement as they challenge The Mahavishnu Orchestra meets Iron Maiden with an interesting and roaring results that would get you ready to headbang at the right moment at the right time.
I have listened to The Last Tribe about five times already and I'm getting hooked into see where they would go into next. Moonjune Records have scored big when it comes to Prog and Jazz. It is a knowledge, stunning album from start to finish and it's a must have for this year.
znathanson
Dialeto is a progressive rock band from São Paulo, Brazil. The trio is led by guitarist and composer Nelson Coelho and also features Jorge Pescara on touchguitars and Miguel Angel on drums.
"The Last Tribe" is the band's third studio album and it's their international debut. The disc sounds pretty impressive. "The Last Tribe" presents instrumental, lyrical, guitar-oriented progressive rock.
I like it. Great melodies, a slow but powerful beat,.. An excellent discovery.
The album got released on Leonardo Pavkovik's Moonjune Records. Check it out.
www.moonjune.com
The Last Tribe is a "take no prisoners" progressive rock steamroller. From the opening chords, guitarist Nelson Coelho gives clear evidence that the band is ready to tread over new ground -- and fully prepared to take it by force!Dialeto's long-awaited international debut shatters the power trio template: visiting styles and textures that could have been just as 'at home' forty years ago as they are today, while remaining undeniably contemporary and accessible.
Free Prog Rock
The band Dialeto continues the MoonJune label's dedication to locating new progressive bands and musics world-wide, not just America and Europe as most do, and The Last Tribe stands as a substantial addition to the tradition not just of prog and fusion but the power trio as well, in this case anchored by redoubtable guitarist Nelson Coelho. His work is more refinedly melodic than the bulk of blockbusting axehandlers familiar to the configuration, reminiscent of the next step in a tradition started in the late mid-20th century by such as Graham Ford (Sebastian Hardie), Jukka Tolonen (Tasavallan Presidentti), Max Sune (Iceberg), George Kooymans (Golden Earring), Joop Nimwegen (Finch), and others.
However, Jorge Pescara is also a potent presence on the expanded possibilities of the bass duties via touchguitars (you knew them as the Chapman Stick and its evolved offspring) and Miguel Angel crashes through in an unusual combination of Bill Bruford, John Bonham, and Alan White in the CD (and congratulations to the band members and Fabio Golfetti in mixing and mastering the heavy studio transcripts in a way that placed the drums perfectly, not an easy task). The entirety of The Last Tribe is instrumental, prevalently heavy (with laconic and sometimes almost balladic asides), but exhilarating, kinda in the direction Alex Lifeson and especially Mike Oldfield tend, but darker.
Nor is Coelho unmindful of the importance of squibs and ornamentalia, as is seen quite nicely in Lydia in the Playground, especially the chordal stops punctuating an array of lead lines in a passage where free flow takes on a more grammatical aspect just before collapsing, leafing into a highly mutated Carlos Santana intro in Unimpossible, something that might have been left on the cutting room floor after all that killer work in Swing of Delight or Oneness, two masterworks now largely forgotten in the prog and prog critic communities. Coelho then adopts very Finch-esque moves mixed with colorful interlocking lines. As the promo lit correctly avers, this group does not stay rooted in any one place for very long, preferring exploration and innovation. Those notes also claim Nelson and his confreres to be "one of progressive music's most vital new voices", and I have zero argument with that. Let's just hope they aren't as ignored as the marvelous One Shot was.
Mark S. Tucker

"Impresionante álbum de principio a fin y es a debe tener para este año."
Un disco que mejora con cada jugada, no puedo imaginar a alguien que no le gustaba esto
Cuando uno escucha este tipo de canciones que es obvio que la roca va a vivir para siempre si las nuevas bandas como DIALETO llevar la antorcha, impactante como una bofetada en la cara, pero eso es lo Prog se trata."
A duras nítidas y esenciales en las progresiones armónicas, en muchos puntos para el espectacular impacto sonoro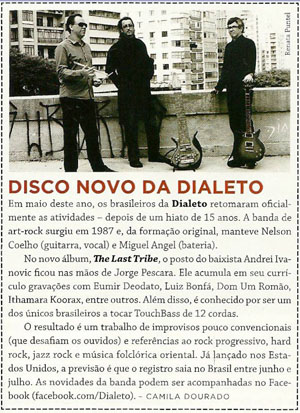 Aquí no podrán tener este discazo, pero al menos lo podrán escuchar o comprar desde Bandcamp.
Como les dije, y al menos para mí, un excelente disco de este 2013 (aunque todavía estamos esperando alguno de la calidad desollante que tuvieron los mejores del 2012).

www.dialeto.org