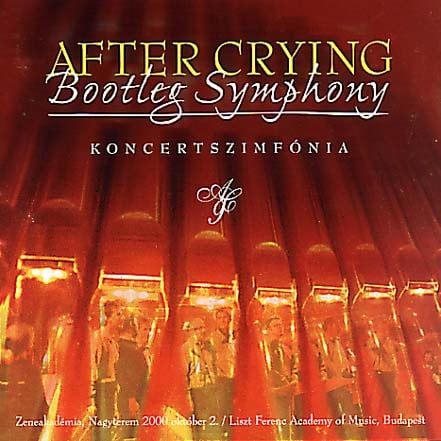 Más rock progresivo húngaro en el blog cabezón, y ahora nada más y nada menos que con los mismísimos After Crying en una producción notable, sinfónica y en vivo... tremendo discazo prácticamente inconseguible, de la mano del Mago Alberto y para alegría de toda la Comunidad Cabezona!.

Artista: After Crying
Álbum: Bootleg Symphony
Año: 2001
Género: Rock sinfónico
Duración: 55:01
Nacionalidad: Hungría
Lista de Temas:
1. I: Viaduct
2. Struggle For Life I
3. Enigma
4. Struggle For Life II
5. II: Suburban Night
6. Cool Night
7. Night-Red
8. Cool Night Reprise
9. III: Arrival Of Manticore I
10. Aqua
11. Intermezzo
12. Burlesque
13. IV: Finale
14. Shinin'

Alineación:
- Egervari Gabor / lyrics, narration
- Görgenyi Tamas / artistic director, myrics
- Lengel Zoltan / Steinway grand piano, Korg Trinity ProX, backing vocals
- Legradi Gabor / lead vocals
- Madai Zsolt / drums, percussion
- Pejtsik Peter / cello, bass
- Torma Ferenc / guitar, synthesizer
- Winkler Balazs / trumpet, synthesizer, piano


Discazo, discazo diacazo. El Mago Alberto sigue con su escuelita de rock y está dándole a ese país de alto nivel músical que es Hungría, seguimos con un disco en vivo de los enormes After Crying. Veamos qué es lo que nos cuenta el Mago sobre éste registro:


Vamos despacio pero sin pausa posteando de a poco toda la discografia de After Crying, y a propósito de otro posteo de uno de sus fundadores el señor Csaba Vedres, vamos con éste que es otro que va a quedar en algun rígido for ever, se trata de un disco en vivo de lo húngaros pero como destino casi obligado de estas bandas de tinte sinfónico, los encontramos con un aporte de una sinfonica precisamente, que hace más opulento el despliegue de los AC.




Este bootleg comienza con su caballito de batalla, Viaduct, para luego internarnos en versiones abarrotadas de caños, vientos y cuerdas que le dan ese tono tan particular a este tipo de producciones, los arreglos son fantásticos y están a la altura del repertorio de los AC, todo el talento de los húngaros se potencia con estas versiones sinfónicas.




Como mencionamos en otras reseñas los cabezones que se meten de lleno a bucear en este tipo de música, van a encontrar argumentos mas que validos para retener en sus archivos este bootleg que no se si es oficial pero la grabación es de primera calidad.




Una banda como los AC sin dudas son merecedores de este tipo de proyectos por cuanto sus canciones apuntan hacia ese universo de sonidos superproducidos, ambiciosos, y créanme que salen muy airosos.




Otra joya que aparece en el blog cabezón y que estoy seguro va a conmover a mas de uno, por supuesto iremos por los demas discos de AC. solo necesitamos de ese monstruo implacable que es el tiempo para que completemos toda su discografía.




Una mención aparte es la aparición en Struggle for life II de algún que otro fraseo crimsoniano, pero es preferible que desmenuzen ustedes mismos este trabajo, que los va a tener más que ocupados, otro regalo para el espíritu cabezón.
Alberto

No le voy a dar mucha vuelta, imagino que si sos un cabezón asiduo ya conoc´s la banda y de lo que es capaz, y si sos nuevo, bueno, tenés todo un enorme blog para desgranar. Vamos a algunos comentarios en inglés, pero no le den mucha vuelta, que esto es rarísimo y está absolutamente genial!!!!


This live, regarding a recent concert held in Budapest in the course of year 2000, witnesses the grandeur of such symphonic suites like "Struggle For Life" from the album "6", in the chamber orchestra format and also a re-arrangement regarding "Arrival of Manticore / Manticore Erkezese 1" and "Aqua" from the album "Fold Es Eg", which is less in the vein of EMERSON LAKE & PALMER in comparison to the original studio album... Highly recommended, above all for the fans of this important Hungarian progressive band!!
Lorenzo
This is a very decent live concert by After Crying, performed in Budapest in 2000. It's also one of their more reasonably-priced CDs. This isn't exactly a symphony and it isn't exactly an orchestra, but it is pretty close on both counts.
The band is augmented by several brass, woodwind, and string musicians in addition to their own appreciable number of performers. Most of the compositions are from previous After Crying albums, ranging from "Shining" off their excellent 'Overground Music' CD to "Viaduct" and the short intermezzo piece from '6'. The concert (or at least the CD) is arranged into four stanzas like you would expect a symphony to be, so I guess technically it qualified as one, although there are vocals which are a bit unusual for an orchestral symphony. Then again, we already established this wasn't an orchestra either, so who's to quibble.
Trumpeter/keyboardist Winkler Balázs and cellist/bassist Pejtsik Péter conduct most of the concert, and also have provided nearly all the arrangements. The entire third stanza is credited to Winkler and is centered around the Manticore theme introduced on their 1994 CD 'Föld És Ég', while Pejtsik is credited with the finale which includes an extended version of "Shining".
While most of this music comes from previous albums, the arrangements are different enough to be interesting, and in most cases either seems to represent maturity on the part of the group, or were simply concessions to better fit the chamber setting of the concert. "Viaduct" for example is a bit longer than the original, mostly due to an extended intro that I suppose was dramatic when witnessed live.
"Struggle for Life" off the 'Almost Pure Instrumental' album has been split into two parts and features more emphasis on the piano parts and much less electric guitar than the original. I have to say that I like this version better, mostly because I first fell in love with After Crying's music from their 'Overground Music' album which was completely absent any guitar.
And the introduction of a female vocal part for "Enigma" improves this one as well over the original off 'Föld És Ég' on which both vocal parts were male. So you get the idea – reworked arrangements that favor the concert setting and tend to improve on the originals for the most part.
The second stanza is apparently a set of interpretations of the Hungarian composer Vedres Csaba, and as far as I know these have not been previously released on an After Crying album. This is a beautiful section heavy with strings and quite energetic, although also quite short at only about nine minutes.
In all this is easily a four star work, maybe even five (but I won't go that far myself). It will be much appreciated by any After Crying fan, as well as those who appreciate chamber or orchestral-based symphonic music. Not typical progressive music fare for sure, but this band has never been known for being typical. Very highly recommended.
Bob Moore
Hungary's foremost progressive rock band was probably always one of the prime candidates for working with a modern orchestra, given that they already use brass instruments within the band. This concert was recorded at the Liszt Fernc Academy Of Music on 2nd October 2000, where they were joined by an orchestra and performed songs that they had especially re- arranged for this format.
Again, they have shown their love of King Crimson, with the one cover being an excerpt of 'The Great Deceiver'. They have pushed progressive rock music right over the boundaries with this release, as this is much more a classical piece of music than rock. The result is that if you enjoy dynamic classical music, then you will like this as much as the fans at the sell-out gig.
After Crying have shown that they can move their music into a more classical area and achieve success.
Kev Rowland

Y recuerden que los links están en la base de datos de la lista de correo... aviso por las dudas