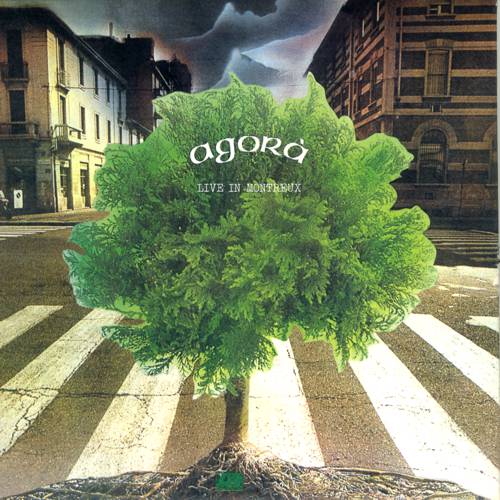 Vicky nos reseña una alucinante actuación en vivo de una excelente e casi ignota banda italiana, de la que traeremos sus pocos discos que sacaron a lo largo de su historia. Aquí tienen, para que los conozcan, a los Weather Report italianos (bueno, ponele), para que se deleiten con buena música.

Artista: Agorà
Álbum: Live In Montreux
Año: 1975
Género: Rock progresivo italiano / Jazz rock
Duración: 31:57
Nacionalidad: Italia
Lista de Temas:
1. Penetrazione
2. Serra s Querico
3. Serra s Querico II
4. Acqua Celeste
5. Lorto di Ovidio

Alineación:
- Roberto Bacchiocchi / keyboards, vocals
- Ovidio Urbani / saxophone
- Renato Gasparini / guitar, vocals
- Paolo Colafrancesco / bass, vocals
- Mauro Mencaroni / drums, vocals

Es difícil poder llegar a presentar todos los grupos de calidad que andan dando vueltas por todos lados, discos inconseguibles, descatalogados, y, lo que es peor, que no se conocen, encierran una calidad indiscutida que es desconocida por las mayorías. Aquí Vicky presenta a Agorà que da buena cuenta de todo esto:


He aquí otro lindísimo disco de jazz rock, obra de la banda italiana Agorà. Lamentablemente, mucha información acerca de ella no pude encontrar. Se formó en 1974 cerca de Ancona, y estaba integrada por Roberto Bacchiocchi (teclados y voces), Renato Gasparini (guitarra), Ovidio Urbani (saxo soprano, voces), Paolo Colafrancesco (bajo y voces) y Mauro Mencaroni (batería y voces). Si no me equivoco, se separaron en 1978, dejándonos solamente este primer LP y Agora 2, publicado en 1976. Eso sería en la primera y principal etapa de la banda, porque hace poquito sacaron otro disco, "Ichinen ".




Para contextualizarla un poco, se la puede situar junto a otras importantes bandas italianas de jazz rock como Area, Il Volo, Maxophone, Perigeo, Arti e Mestieri, Rocky's Filj, Napoli Centrale y Cincinatto. Sin lugar a dudas, Agorà bien merecido tiene su lugar!!




Volviendo al álbum, es una alucinante actuación en vivo en el festival de jazz de Montreux en 1975. Según pude averiguar, aún sin ser muy "populares" en sus principios, habían sido contactados para tocar en este festival. Recién después de este recital consiguieron un contrato con Atlantic. El LP en cuestión, que apenas supera los treinta minutos, está conformado por cinco canciones, prácticamente instrumentales. Como decía, la banda suena espectacular. Tiene composiciones sólidas y muy bien desarrolladas, donde estos excelentes músicos despliegan todo su arte, deleitándonos con un montón de frases bellísimas de saxo, coros que atraviesan las canciones, una percusión fenomenal y mucho más (todos los condimentos que necesita un buen disco de jazz rock!). Es difícil no pensar en Weather Report, e incluso a veces, en menor medida, hay partecitas que me hacen acordar un poco a la Mahavishnu, pero siempre este tipo de influencias son sumamente sanas y, en éste y en otros muchos casos, supongo que inevitables. Tal vez suene un poco ridículo esto, pero tengo miedo de hablar demás y arruinar parte de la belleza que guarda este disco, así que me parece que lo más prudente que puedo hacer es dejarlos a ustedes solos para que comprueben lo que digo. No se lo pierdan!!!
Vicky


Mientras imagino que van escuchando el disco, aquí les dejo algunos comentarios en inglés, y no busquen mucho más porque hay muy poco escrito sobre éstos tanos. Como siempre, y sobretodo con la ayuda del Mago Alberto y ahora Vicky, vamos encontrando gemas perdidas y perdidos discos sumamente deliciosos, que sin un empujoncito ustedes jamás sabrían que existen o existieron...


Soft Machine fans; beware !




If you have purchased all the good Soft Machine albums + a big chunk of their live albums; you need to move on. Preferable to somewhere. I have a good idea where you should move next. To the two albums by this Italian band. This is their live album, which the album title may indicate.




The music here is long and lingering jazz/fusion compositions. They are not that overly technical. Melody and passion is the main theme here. Their sound is very Soft Machine like. They are not copycats by any means. For a start, there is no Elton Dean or even an Elton Dean clone here. But the rest is pretty similar.




The result is an album full of beauty and style. The woodwinds floats on the top of the bass and drums. There are some guitars here too. The jazz here is perhaps too simple and melodic for pure jazz fans. But for a beginner like myself; this album is a very good reason to get more into jazz.




In short; I love this live album. Yes, it is not perfect. But it is good enough for me.




4/5 stars
toroddfuglesteg
Well, the first things you can notice listening to this album are the similarities with another 70's italian jazz oriented band, named PERIGEO. So, if you like these sort of jazz or fusion groups, you should try to get both 'Agora's releases. Very professional, very jazzy, very competent, very enjoyable. Short and long guitar or sax solos, but anything new in their sound, I mean, it is just another interesting mediterranean jazz band from the seventies.
Pedro Melos
Very good fusion band from Italy in Perigeo vein. I like very much this band because the musicians are great performances in studio and in live just you can see in this album. Quite good improvisations with a great guitar arrangements and a great jazz fusion atmosphere. I like specialy Serra s Querico and last music Lorto di Ovidio but Acqua Celeste is a great music arrangement. Great live band, that I like to see in a performance. Great jazz drummer, with some very difficult parts that give to us, a demonstration of his high quality. I like to, the keiboards player and I think that Montreux live a special night with this band. To me, Agora and Perigeo are the best in progressive jazz fusion made in Italy and one of the best in Europe. Essential for the Prog jazz fusion fans.
João Paulo
The Italian fusion band Agora debuted with this recording from their gig at the Montreux jazz festival from 1974.
The sound of the recording isn't impeccable but it's good enough to show a band with a very confident and fluent interplay between the musicians. The music is very jazzy with some melodious elements. Very soothing, relaxing and skilfully played. The setlist is quite varied. Penetrazione has a bass line that reminds me of Coltrane's Love Supreme, Serra S Querico I is more upbeat and slightly funky. Part II of that track and Aqua Deleste are somewhat busier, varying guitar and saxophone solos. L'Orto Di Ovidio is gentle and atmospheric like the opener. None of the pieces are really outstanding but everything will sure be appreciated by jazz-rock enthusiasts.
If anything, the live album shows a talented band that needed a bit more time to grow into something really outstanding. Good album for fans.
Karl Bonnek
A short-lived Italian Jazz Rock band,AGORA were formed in 1974 in Ancona as a quintet featuring bass,guitars,drums,keys and saxes.They had a good live activity and they even performed at the famous jazz festival of Montreux in Switzerland in 1975.Surprisingly for a new band this short performance was meant to be the band's first official release.
AGORA were a pure Jazz-Rock band with high skills and great individual performances.It is easy to detect the strong WEATHER REPORT/RETURN TO FOREVER influences,while from the Italian scene their sound is close to that of PERIGEO or even NAPOLI CENTRALE.The five tracks of the album is great groovy but very intense Jazz-Rock with magnificent melodic saxes and smooth electric piano parts added next to the pounding bass lines,the solid drumming and the nice guitar solos.''Live in Montreux'' can also be very smooth at times with the slow- tempo rhythm section accompanying the crying guitars of Renato Gasparini,the background atmospheric multi-vocalization and the hypnotic sax of Ovidio Urbani.Light and professional interplays are all over the place and will please any fan of the style.
Speaking for myself,it is rather hard to find my music heaven next to a 100% Jazz-Rock album...but this one is really good with a some trully solid performances and comes easily recommended for both fans of Jazz-Rock and progressive music...3.5/5 stars.
apps79
I'm a little surprised at the low ratings for this one, but then again i'm a big fan of this style of music and AGORA do it the way I like. Lots of electric piano as well as guitar and sax, also the rhythm section is prominant and well done. I like that they can be atmospheric and also powerful, in other words they don't play it safe. This by the way was released the year before their only studio album was released and in my mind both are essential for J / R Fusion fans.
I should mention that this is a live album from Montreaux. "Penetrazione" gets us started as the guitar sounds build and bass and drums join in. The guitar starts to solo 2 minutes in. How good is this ! The guitar settles back but not for long. Sax 4 minutes in. Applause fills the air when it's over.
"Serra S Querico" opens with electric piano, bass and drums. Great sound ! The guitar starts to solo over top. A calm before 2 1/2 minutes then we get some relaxed sax as the bass continues. It starts to build slowly. Vocal melodies after 5 1/2 minutes then it kicks back in after 6 1/2 minutes with the sax blasting. Guitar a minute later. It blends into "Serra Querico II" where we get more vocal melodies and it turns fuller quickly with bass, drums and electric piano. Sax 2 minutes in. Great sound. The guitar joins in before 4 1/2 minutes. We get a big applause before 6 minutes but the song isn't over (haha). The band continues and when they stop the crowd cheers again.
"Acqua Celeste" opens with electric piano as bass, sax and drums join in. Drums only after 2 1/2 minutes as the electric piano comes and goes then kicks back in. The drumming is fantastic. The sax is back after 5 minutes and this blends into "Lorto Di Ovidio". It's mellow early on then the sax is leading the way as electric piano, bass and drums come in to help out.
A solid 4/5 stars for this one.
John Davie
When a band releases an album called Live in Montreux, there's an implication that the band has had a long and prosperous career leading up to the occasion. Jethro Tull and Yes both released their own Live in Montreux albums in 2003, over forty years since either had first taken to the stage. Deep Purple notably released three live recordings from the Montreux jazz festival, and even then, the earliest was in 1986, after they had already etched their name in the rock music canon for eternity. The Italian progressive fusioneers Agora on the other hand had no such legacy of success when they were invited to play the Swiss festival. In fact, they didn't even have an album, much less a following to attest to their greatness. From what I can tell, their invitation to the Swiss festival was largely a matter of impressing the right sets of ears. Thus, their debut Live in Montreux was conceived, and from the half our performance captured, it's easy to see why they would be getting people excited. While I prefer the meticulous design and darker atmosphere of their in-studio follow-up 2 to this, Agora's so-called debut is a strong fusion record, with plenty of chemistry apparent in the way they play together. The only disappointment here is that Agora would dissipate before they ever capitalized on their strength as a band.
Agora's style usually finds itself somewhere in the middle of the spectrum between jazz and rock; whether someone wants to call them 'jazz fusion' or 'jazz rock' is up for debate, although their tendency towards rock beats has me leaning towards the latter. Although Agora has a guitarist, Renato Gasparini's playing tends to take a back seat outside of his McLaughlin-esque solos. While I would have expected for a band this close-sounding to the Mahavishnu Orchestra to thrust the guitars into the spotlight, there's a clear emphasis on the saxophone of Ovidio Urbani, although listening to the brilliant way he sneaks melody into their group explorations, I don't think I'd prefer them any other way. There is a thick layer of Rhodes piano often plying just beneath the saxophone; although Roberto Bacchiocchi never takes the forefront, his textures demand a lot of attention and give the music a dreamlike atmosphere I haven't often heard in jazz. Even moreso than 2, Live in Montreux showcases the proggy third axis of their sound, along with the jazz and rock elements. "Serra S. Quirico" has moments that seem to draw on the playful twang of Yes. Closer still are Agora's light vocal offerings with the harmonies typical of their compatriots in the Italian progressive rock scene; Premiata Forneria Marconi comes first to mind. It's not surprising given the band was just getting started at this point, but it should be noted that the quality of recording on Live in Montreux isn't the greatest. All of the instruments are audible and clear enough, but the production doesn't capture the sense of immediacy and immersion I'd look for in a live album. Still, considering it's the only potential weakness I can discern from their performance, I'd say Agora are doing just fine.
Part of the reason I'll go to lengths to check out little-known 'gems' or generally overlooked music is that I'm confident that I'll come across bands that will leap out at me, artists I wouldn't otherwise find due to a friend's recommendation. It's been a long time since a jazz fusion band leapt out at me like Agora does, and that's why the brevity of their career feels like such a disappointment. Even without the context of its improved in-studio successor, Live in Montreux suggests plenty of potential and creativity. The last few minutes of this record are about as smooth as jazz fusion gets; I'm really left to wonder how far they might have gone if Agora had stuck together longer. However, the 'unreleased materials' compilation Ichinen came out only recently, and apparently offers some insight into the band's current sound and incarnation. Perhaps that means there's hope we might hear something new and fresh from Agora before too long.
Conor Fynes

Ya saben, los links están en la lista de correo... si aún no te apuntaste, no sé qué esperás. Y si por las dudas tenés algún problema para inscribirte, avisá que te ayudamos.