Aisles es un grupazo chileno que suena como los dioses y les recomiendo enfáticamente. Le tocó el turno en estas resubidas, aquí lo tienen para quienes no lo hayan podido disfrutar todavía. Un discazo que se suma a todos los buenos discos que tenemos a disposión de ustedes. Y como dice un amigo, como muestra basta un botón, aquí un tema, una obra de teatro convertida en canción. Gracias Sandy!

Artista: Aisles
Álbum: In Sudden Walks
Año: 2009
Género: Neo-progresivo sinfónico
Duración: 53:02
Nacionalidad: Chile
Lista de Temas:
1. Mariachi
2. Revolution Of Light
3. Summer Fall
4. The Maiden
5. Smile Of Tears
6. Hawaii


Alineación:
- Rodrigo Sepulveda / guitars
- Felipe Candia / drums
- Alejandro Melendez / keyboards
- German Vergara / guitars
- Luis Vergara / keyboards
- Felipe Gonzales / bass
- Sebastian Vergara / vocals

No se lo pierdan...
Y continuamos con bandas chilenas (bueno, la semana pasada estuve tentado con bandas brazucas...) Otra banda ya presentada anteriormente, los chilenos Aisles, el grupo de los hermanos Vergara, que nos traen otro álbum de gran calidad y también con letras principalmente en inglés (cosa que repetiré hasta cansarme, personalmente le quita puntos) ya que el único álbum cantado en español es el primer track, canción que es casi un diálogo, un texto hablado entre un hombre y dos mujeres, que parecería como si estuviese escrita para una obra de teatro, cosa que desconozco. Dejo el video para que lo disfruten, es una muy bella canción. El álbum es muy melódico, muy pegadizo y la banda no duda en enfatizar sus raíces americanas y chilenas, incorporando percusión, trompeta y guitarra acústica. El estilo musical se mantiene similar al que presentaron en el primer álbum, pero se notan algunas diferencias, partiendo de alguna influencia de los canadienses Saga y Rush, y esto último quizás por el timbre de voz de Sebastián Vergara, recordando a Geedy Lee, al menos en ocasiones. Las composiciones siguen teniendo esos buenos pasajes tranquilos que tanto se disfrutan en su álbum debut, El grupo plasma un fuerte flujo de la creatividad, las canciones pueden cambiar rápidamente desde un rock al blues, o al jazz, transiciones uqe se dan cada pocos segundos. Punto aparte es la una variedad de sonidos atmosféricos: vientos, los sonidos de las hojas que crujen, breves ráfagas de sonidos sintetizados que utilizan para separar las diferentes secciones e imprimen un clima y una atmósfera especialmente lograda. En definitiva, otro disco digno de conocer, un álbum para ser disfrutado. Dejo algunos comentarios sobre el mismo, por si le hace falta a alguien: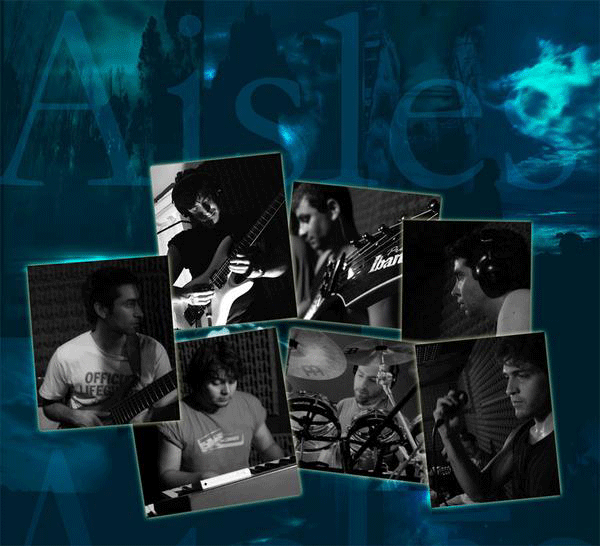 'In Sudden Walks' es su segundo álbum, con el que asientan un sonido heredero de Génesis, Marillion, Yes o Pink Floyd, por citar solo alguna de sus influencias, pero de una manera mucho más personal que en su debut de hace cuatro años. La calidad de producción y la forma cristalina con que se tratan los instrumentos son su seña de identidad, dando lugar a una música refinada, con una detallada y rica paleta instrumental. El resultado es un original pero accesible álbum de progresivo sinfónico, que coloca a estos chilenos en lo más alto del estilo actualmente, incluyendo su nominación a los ProgAwards 2009 en su categoría de mejor álbum extranjero. Con 'The Yearning', allá por el 2005, demostraron unas muy buenas maneras dentro de un estilo en el que se cree ya todo inventado. Como decía, han sabido pulir las impurezas (pocas) que en aquel disco aun mostraban, y si bien las influencias están ahí, se nota que han perfeccionado su sonido, hoy más personal y revolucionario. De aquel debut, lastraba la programación de la base rítmica, cosa que en esta ocasión han bordado con la incorporación de Felipe Candia a las baquetas y Felipe González en las cuatro cuerdas. Encontramos un neoprogresivo muy melódico, bastante tranquilo, introspectivo, a veces incluso romántico, pero no exento de ritmo y agresividad que de vez en cuando sorprende por su ferocidad. Las canciones ofrecen mucha variedad y se alejan de los típicos clichés del género, ya bastante manidos a día de hoy. Los dos teclados establecen una base de piano y sonidos de sintetizadores en perfecto matrimonio con las guitarras, acústica y eléctrica, dando en ocasiones a su música ese toque latino que tanto seduce, como en la inicial 'Mariachi'. Por su parte, Sebastián Vergara tiene una voz muy agradable, suave y con una perfecta dicción inglesa, dotando aun más al disco de esa aura británica clásica. Muchos momentos brillantes se pueden destacar de esta obra, como 'Revolution Of Light', auténtico ejercicio progresivo moderno, o las grandiosas guitarras acústicas de 'The Maiden' en su primera mitad, que conducen a un final enérgico y eléctrico, sintetizado y ecléptico. Pero es en su último corte, 'Hawaii', con un cuarto de hora de duración, donde encontraremos inspiración, variedad y sinfonismo floydiano en grandes dosis. La teoría, ya la tienen; la práctica, la dominan; y el camino recorrido desde sus inicios, es el acertado. Si la suerte les acompaña, estamos ante una de las realidades más originales del momento. Javier Moreno Vega
Not too many prog fans and collectors have paid much attention to Chilean group Aisles' sophomore release "In Sudden Walks" throughout last year: actually, this may have been one of the 5 most accomplished neo-prog albums of 2009. Shame on us all! "In Sudden Walks" is a lovely collection of inventive compositions and bold arrangements. As impressed as I had been a few years back with their debut "The Yearning", I found it as a half-baked effort overall that didn't manage to fulfill its evidently abundant potential. All in all, a few good things were clear about the band from that debut album: they were inspired writers and they were keen on preparing bold arrangements that made the musicality prevail over the need for pyrotechnics. With a generally suave sonority, the band could sound as majestic as many other louder bands in the symphonic and neo-prog territories. Well, "In Sudden Walks" bears more stamina, equal richness of musicality and a more refined performance level ? the latter factor is in small degree due to the fact that Aisles now comprises real drums and a permanent bass player, that is, a rhythm duo that can work on its own within the global sonic architecture. The opener is 'Mariachi', a sophisticated instrumental that almost clocks at 10 minutes. Without lyrics, the vocal parts are excerpts of sexy dialogues between the male and female characters from a movie. In this way, the whole idea sets out to bear a cinematographic mood to it while remaining a genuine musical item in its own terms. Right from the start, the dynamics shows an undeniable appeal. If you notice some peculiarity about it, that is due to the powerful inclusion of Latin-fusion undertones through the instrumental development. Symphonic neo combined with Latin cadences? This equation works, believe me. Once the slow interlude emerges and settles in, the guest trumpeter adds a extra colorfulness to the ceremonious atmosphere: there is also a guest on contrabass adding occasional nuances to the rhythmic scheme. Eerie passages are predominant until we get to the 7 ¾ minute mark, which is when the initial extroverted ambiance is solidly retaken. After this impressive opener, 'Revolution Of Light' shows the band going for the standard of moderately complex catchiness that the most impressive neo songs usually go for: shaded of early 90s Marillion and late-80s Pallas can be traced here, but the time signatures are more demanding (in spite of seeming an almost danceable rocker). 'Summer Fall' partially aims at preserving the agile mood that dominated the extroverted preceding track, but now, in a more ambitious framework, it gives more room to elaborated landscapes of nostalgia and reflection. The now dominant soft passages are patently gentle, making it easy to link the motif shifts through fluid, well-constructed transitions. As soon as the opening motif returns (at the 5 ¾ minute mark), the track's architecture concentrates on extroversion and color, including an elegant climax that ends at the 8 minute mark. The last 115 seconds are based on a pastoral descent that bears Camel inspirations. 'The Maiden' is a different beast, something more akin to late-70s Oldfield, classic Anthony Phillips and Renaissance. For this piece, the band leaves the neo-prog standard behind in favor of a more focused vintage symphonic sound where the bucolic environment is dominant. There is also a reasonable utilization of Latin nuances for good effect, making the lovely melodic motifs enhance their natural warmth. Even in those occasions when things are spiced up, the track retains its romantic magic in intact form. With its sharp 4 minute span, the eerie 'Smile Of Tears' is the shortest piece in the album. The featured presence of digital cosmic textures in its main theme openly states a contrast against the preceding song. The piano coda is just lovely. The shortest song is succeeded by the longest one, the 15? minute long epic 'Hawaii'. Right from the start, the ceremonious overtones prevail with a certain mysterious mood. Mixing the cosmic spirit of the preceding track with a powerful melancholic aura, the piece delivers a long-term sense of calm majesty where neo-prog, old-fashioned symphonic and new-age unite. Later on, after the halfway, the track sets a crafty variation, even intensifying the sonic atmosphere a bit for a while. The dual guitars' textures are lovely, and so are the synth lines and harmonic developments that softly go on until the fade-out ends. Like I said earlier in this review, shame on us all who overlooked this beautiful album during 2009: now, our redemption can be assured by purchasing this album and enjoying its plenty of musical qualities. Aisles can be safely regarded as a totally matured band.
Cesar Inca
"In Sudden Walks" is the second album from Chilean proggers Aisles, a band that has matured quite a lot in 4 years. This time around a central trait of their compositions is that they very much defy a clear defining sound, and while the symphonic aspects may arguably be said to be dominating there's much more going on here as well. From the opening numbers spoken theatricals set against musical backdrops with rather sophisticated and varied instrumental passages in between to the neo meets lounge jazz meets dreamy psychedelic creation ending this disc in the shape of the tune Hawaii, this production is something of a tour de force from a band that has managed to incorporate great diversity to their musical ventures. And while not quite managing to pull of the truly brilliant tracks yet, Aisles show promise of managing to do just that, possibly in the near future. Worth checking out of you might enjoy a sophisticated melodic and most often mellow and subdued variety of progressive rock touching upon early 80's Rush as well as neo progressive rock from the same era, spiced with psychedelic, spacey and jazzy touches at times.
Olav Martin Bjørnsen
The second album by these Chilean proggers is also my second experience with them. In their debut 'The Yearning', I had a great deal of potential from Aisles, but it rarely ever felt like it was realized, despite that album being quite a beautiful listen. As is expected of almost all bands though, the act is supposed to be polished up a bit more by the time the sophomore rolls around, and in that respect, Aisles has succeeded here. With 'In Sudden Walks', the band has created a more consistent journey through their powerful take on melodic progressive rock. The order for the day and Aisles' particular approach is that of highly melodic neo- progressive rock, with such acts as Marillion and Genesis often popping out of the band's sound. With the concept of 'melody' already being brought up a couple of times in this review thus far, one might be swayed to think that the music of Aisles is easily accessible and digested, but I found the contrary to be true. 'The Yearning' surprised me by how much my appreciation gradually grew for it over time, and the same is true here, to a greater extent. The Vergara brothers and fellow company are sure to work many hooks into their music, but with some tracks passing fourteen minutes in length, 'In Sudden Walks' is not bound to be a safe haven for any pop maniacs any time soon. Instead, the more involved tracks here cycle through a great many musical ideas, crossing a great deal of ground over their course. This can sometimes lead to a lack of song cohesion, which was something I noticed with the debut, and continue to sense here. While most prog listeners are going to be instantly attracted towards the longer 'epic' pieces, I personally find that Aisles makes some of their best statements in the more conventional work they do. 'Revolution Of Light' and 'Smile Of Tears' are both rather 'normal' in terms of length, but they accomplish a beautiful feeling to them, thanks to some keen songwriting skills and passionate performance from all members involved. The first track 'Mariachi' is what I would most likely consider to be the weak point here, despite it having been chosen to open Aisles' music here. A mostly instrumental track save for the rather amorous panting of a latin couple a couple of minutes in, 'Mariachi' feels generally like an overture over anything else, and the lack of vocal melodies or hooks here does tend to take away from the overall enjoyment of the music. Aisles are skilled instrumentalists and can keep their performances interesting, but the opener here feels far too long for its own good, especially when considering the the first earnest vocal melody comes floating in a good ten minutes in. Mind you, that makes Sebastian Vergara's vocal introduction all the more exciting when it does come in. Although Aisles does still tend to lose their cohesion when going into the longer tracks, 'In Sudden Walks' is a step over their debut in almost every way. The music here is certainly less immediate than it once was, but it reveals more rewards given enough patience. Even so, it still does not feel as if Aisles has reached their potential yet, so one can only wonder what sort of experience that the band's prospective third album will bring.
Conor Fynes Los dejo con otra de las grandes bandas actuales del progresivo chileno. El último video corresponde a una gira realizada en tierra francesa, creo que allá por el 2009, para el festival "Crescendo". www.aislesproject.com