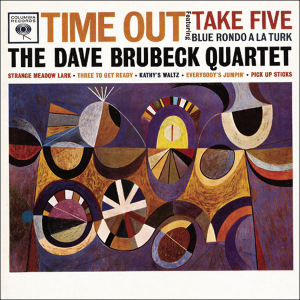 Este es un disco que inició una era, un clásico de clásicos, el paradigma del tiempo compuesto que tanto influyó en el rock progresivo con su propuesta quebradiza. Un infaltable cabezón (por eso lo resubimos).
Artista:
The Dave Brubeck Quartet
Álbum:
Time Out
Año:
1959
Género:
Jazz / Cool Jazz
Nacionalidad:
Estados Unidos
Duración:
38:35 Minutos
Lista de Temas:
Blue Rondo à la Turk – 6:44
Strange Meadow Lark – 7:22
Take Five – 5:24
Three to Get Ready – 5:24
Kathy's Waltz – 4:48
Everybody's Jumpin' – 4:23
Pick Up Sticks – 4:16
Alineación:
Dave Brubeck: piano
Paul Desmond: alto saxophone
Eugene Wright: double bass
Joe Morello: drums
¿Cómo jugar con los tiempos y los compases y hacer un disco histórico?

Hoy tocó "jazz clásico", pero no cualquier disco del género. Si hay algún seguidor de mis posts sabrá que soy un especial fanático (o algo así) de Miles Davis. Y si nombramos a Miles y vemos que es 1959 se cae de maduro algo: "Kind of Blue", disco histórico y único, el más vendedor de la historia del jazz.

Mientras Miles Davis estaba junto a un grupo de músicos, entre ellos los monstruos Bill Evans y John Coltrane desarrollando un quiebre vanguardista tal como el surgimiento del jazz modal, de la mano de "Kind of Blue", los muchachos del post de hoy, el Dave Brubeck Quartet, estaban al otro lado de EEUU, en la costa Oeste, "jugando" con otras cosas. En lugar de jugar y modificar la armonía y las escalas como venía haciendo el jazz de la vertiente más "clásica" en ese momento ya liderada por Miles, los muchachos de Dave Brubeck se dedicaron a jugar con los tiempos, a salir del 4/4 y del 12/8 típicos.

(Obviamente ya habían habido otros compositores que habían desarrollado patrones rítmicos distintos, pero eran los menos)
Antes de seguir hablando puntualmente de este disco tan especial, "Time Out" les comento rápido algo sobre los integrantes del cuarteto. Dave Brubeck es un pianista y compositor, que aún actualmente sigue tocando (tiene como 90 años y está mejor que todos nosotros) y que sin dudas fue un cerebro musical excepcional en el jazz en el lado compositivo. Los otros miembros del cuarteto son el Saxofonista Paul Desmond, caracterizado por un sonido muy dulce con su saxo alto, además de haber compuesto la mítica "Take Five". Joe Morello (Que lamentablemente falleció hace unos pocos meses) que para mi, humildemente, fue un baterista adelantado a su época, porque si bien el baterista había ganado protagonismo desde el estallido del post-bop (ver "Steamin" de Miles Davis Quintet) el estilo propio de Morello era distinto al del jazz de fines de los 50. Y el contrabajista que fue cambiando y que en este disco fue Eugene Wright, siendo, a pesar de algunos pequeños solitos, relegado a un segundo plano.





Según había visto en un documental sobre la historia de jazz (mis fuentes son increibles, no?) cuenta la leyenda que para los meses anteriores al desarrollo de "Time Out", Dave Brubeck había viajado a un país de Europa Oriental, según recuerdo a Turquía y se interesó profundamente en como la música autóctona de ese país usaba con total naturalidad compases complejos, más puntualmente 9/8. Entonces Dave Brubeck dijo "Que buena idea, mezclemos eso con jazz" y así surgió el primer tema del disco "Blue Rondó a la Turk", que alterna exquisitamente entre 9/8 (subdividido en 2+2+2+3) con aires étnicos y 4/4 para la improvisación jazzera.
El disco, como "Blue Rondo a la Turk" alterna entre los pasajes "experimentales" en compases extraños, y otros normales en 4/4 en el típico contexto de jazz clásico dando lugar a la improvisación de Desmond o del mismo Brubeck.
Otro punto alto, muy alto, es el mítico "Take Five", única composición que no es de Brubeck en el disco, que es un standard de jazz histórico, en 5/4, con unos fraseos de saxo alto dulces y que entran perfecto en el 5/4, con un ritmo síncopado del piano de Brubeck y con un solo de batería de Morello notable.
Además de esas 2 piezas que son las más conocidas del disco, resaltables son los valses en 3/4, o incluso en 8/12(Doble vals) y"Pick Up Stick" que es un 6/4 todavía más inusual que "Take Five".
En fin, un disco histórico, clásico y excepcional. Por algo la tapa es el avatar de Jazzinga ¿No?

"Take Five" uno de los standard de jazz más hermosos a mi gusto. Y, además una de las canciones más famosas en 5/4 en la historia de la música: