Álbum doble maravilloso y mayormente instrumental que no pueden dejar de conocer y disfrutar. Rock sinfónico mexicano poco conocido y de mucha calidad. Les dejo un video como adelanto, una pequeñisima parte de lo que encontrarán aquí, pero como dice Lino, como muestra basta un botón...
Artista: Códice
Álbum: Alba y Ocaso
Año: 1999
Género: Rock sinfónico
Duración: CD1: 56:24 / CD2: 56:10
Nacionalidad: México

Lista de Temas:
CD 1:
1. Alba Y Ocaso
2. El Eco De Tu Voz
3. Paseo
4. Danza De Equinoccio
5. Espejismo
6. Un Ensayo Menor
7. Página Del Pasado
8. El Relato Del Bardo
9. Vorágine
10. Corriente Abajo
11. Requiem
CD 2:
1.Orígenes
Bajo La Rueda
Paisaje Mecanico I
2. Paisaje Mecanico II
3. Estaciones
4. Laberintos
5. Una Bitacora De Suenos
6. Dentro de la maquina
7. Atrium
8. Un Nuevo Milenio
Espiritus En Movimiento I
Eva
Espiritus En Movimiento II
Salmo 150
La Perpetua Marcha Del Tiempo
Epilogo
9. En El Umbral De La Paz


Alineación:
- David Martinez / drums and percussion
- Luis Maldonado / vocals
- Mario Mendoza / keyboards
- Arturo Garcia / bass
- Marco Corona / guitars and keyboards, bass
Invitados:
Marisa Calderón / vocals
Marcela Alvear / oboe
Miguel Lawrence / flute
Javier Ferretyz / guitar
Ricardo Martinez / ambience


Impresionante álbum del mejor rock sinfónico latinoamericano, interpretado por una banda mexicana casi desconocida en estas tierras pero sin embargo este álbum tuvo bastante repercusión en Europa, con muy buenas críticas y difusión, hagn una búsqueda y verán gran cantidad de reviews con muy buenos comentarios. Cuando yo escuché el álbum por primera vez, debo decir que quedé sorprendidísimo por muy finas melodías sinfónicas a lo Genesis o ELP y algunos arreglos que recuerdan a King Crimson, y mucho de lo melódico de la escuela de las bandas progresivas italianas, conviven perfectamente con un sonido bien local, bien mexicano (si siguieron la línea de aportes que he dejado en el blog podrán ver que las bandas de rock mexicano tienen algo de poético que las distingue, todas tienen algún hilo en común) y cantado en castellano, y si bien éste es su único registro en estudio, esta banda (mejor dicho, este proyecto casi personal de Marco Corona, fundador y líder) realmente han dejado su grano de arena en la vertiente del rock progresivo sinfónico de latinoamérica.
Lean por favor este comentario que sintetiza muy bien lo que se van a encontrar en este álbum doble, pero aclaroq eu no estoy de acuerdo en que la vanguardia en lo que se refiere a rock progresivo latinoamericano provenga de México, se ve que el cronista no ha escuchado el material que se viene haciendo hacia el sur, creo que debería investigar un poco en este blog, pero más allá de eso los comentarios sobre el álbum son más que acertados:


De toda Hispanoamerica, sin duda es Mexico el pais que esta a la vanguardia en cuanto a musica progresiva. Despues de conocer a los magnificos Iconoclasta y Cast (que bueno seria si estos ultimos acompanyaran su excelente musica con liricas en espanyol y no en ingles), me toco descubrir a Codice. Su album doble, Alba y Ocaso (de 1999), me dejó con la boca abierta por largo rato. Rock sinfonico clasico del mejor, predominantemente instrumental, plagado de belleza desde el primer minuto hasta el ultimo. Nada desentona, no hay un solo instante descartable a lo largo de los mas de 100 minutos de musica. Cambios constantes, algunos pasajes al estilo progresivo emersoniano intercalados con otros barrocos, liricas breves -masculinas y femeninas- muy interesantes (hay un momento de canto gregoriano en el segundo disco, mas clasico)... en fin, musica elaborada y hermosa, instrumentalmente riquisima y muchas veces conmovedora. Y si bien todo el trabajo es superlativo, la suite del disco dos es sublime. En sintesis, una maravilla del pais azteca para recomendar con los ojos cerrados.
Marcelo Olivera

Como les decía, este es el primer y único álbum de esta muy buena banda mexicana que no los va a defraudar, un proyecto muy pretencioso y ambicioso, sobretodo si tenemos en cuenta que fue la ópera prima, un álbum doble donde sin duda las partes instrumentales son lo mejor de este gran álbum, 2 CDs donde se recorren a lo largo de sus 106 minutos toda una gama tradicional en lo que a rock progresivo se refiere, pero a su vez tiene elementos muy particulares: increíbles notas folk en mitad de pasajes clásicos que quedan de maravillas, muchos detalles y cierto toque de neo-prog, más su aire pastoral con los órganos de la iglesia y un toque urbano lo hacen muy interesante en toda su extensión, aunque quizás en el CD 1 tengan algún pequeño bajón en un tema que para mí está de más, que no voy a decir cual es para no influenciar la escucha, en todo caso descubranlo ustedes mismos. Muy buen trabajo de las guitarras con riffs complejos y repetitivoscon pero también cuedas acústicas con muchas influencias latinas, y los teclados que son muy agradables de escuchar, a veces pomposamente emersonianos o rico en secuencias de teclados espaciales. Toda esa instrumentación sinfónica es acompañada por varios instrumentos clásicos como flauta, oboe y contrabajo.


CÓDICE es un grupo de rock progresivo regiomontano que se forma en el verano de 1995, integrándose básicamente por músicos de escuela. Su primera producción es un CD doble titulado "Alba y Ocaso", financiado gracias a un premio otorgado al grupo por el CONARTE en 1998, y publicado en marzo de 1999 bajo el sello progresivo Art Sublime. El grupo ha procurado matenerse en contacto con la audiencia progresiva de Monterrey a través de conciertos en planteles de enseñanza superior y algunos foros de rock locales.
La filosofía de trabajo del grupo es la de crear material original con apego a los principios del rock progresivo al igual que interpretar obras de otros artistas cuyo contenido sea desafiante y educativo para los integrantes de CÓDICE, y a la vez, del agrado del público que gusta de este tipo de música. El grupo cuenta con poco más de dos horas de material propio y al mismo tiempo con un repertorio que comprende trabajos de GENESIS, FOCUS, KING CRIMSON, MAGMA, DEEP PURPLE y ELP, entre otros.
En Noviembre de 1998, el grupo tiene dos presentaciones en Chicago acompañando al legendario Arturo MEZA. El mismo recital es presentado en El Teatro de la Ciudad de Monterrey en Diciembre de ese mismo año.
En marzo del 1999 CÓDICE tiene su debut en el circuito progresivo internacional participando en el evento de apertura del festival BajaProg III, en Mexicali, Baja California, gracias a la gentil invitación de CAST, grupo organizador de dicho evento. En octubre de ese mismo año, CÓDICE tiene su primera presentación formal en el Teatro Universitario de la UANL, en la Ciudad de Monterrey, bajo el auspicio del CONARTE.
Manticornio


En el álbum pueden encontrar desde temas bien al estilo ELP, como este:


A hermosas baladas sinfonescas:


A espacios más de puro rock sinfónico al estilo Genesis o similar:


Como historia, puedo comentar que Códice comenzó como un proyecto en solitario del guitarrista y tecladista Marco Corona que ya había aparecido en otras bandas de interesantes trabajos, recuerdo a Necronautas, todo empezó en Los Angeles a principios de 1990 pero luego Corona se trasladó a Monterrey, México y reclutó allí a los miembros de la banda en base a músicos de formación clásica. La banda combinaba sus trabajos originales con una amplia variedad de covers de Genesis, Focus, King Crimson, Magma, y ELP en sus actuaciones en directo, pero imprimiéndoles su propia impronta y estilo. La banda grabó este CD cuando ya tenían muchos temas en su repertorio (de allí que es un CD doble) gracias a que les otorgaron fondos desde el Consejo para las Artes de Monterrey en 1998 luego de ganar un concurso, para producir su único disco publicado que aquí presentamos en sociedad.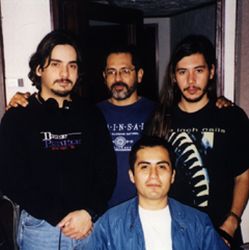 A ver, copio algunos comentarios en inglés, como siempre:


I'm very surprised with the small number of reviews ( only 10 reviews), for this albun.
Maybe the community of prog fans remains with a certain distrust in relation of the progressive music produced by Latin-American bands, as an example I can cite another Mexican band named CAST!
This excellent symphonic prog band shows in Progarchives an average between 10, 12 reviews for albun, and only "Castalia" which is a live albun, receive 5 stars, when in ny humble opinion 4 of their studio albuns deserves the same rate! ( Endless Sugns, Beyond Reality, Angels and Demons and Imaginnary Window). See my reviews of "Beyond Reality" in progarchives. Talking about the Códice albun, is one of the most beautiful releases of the late 90's, bring to us a very complex mix of influences of the master of symphonic prog such as Yes ,Camel, El&P, Genesis, O Terço, Bacamarte and even Mike Oldfifield"s Landscapes of sounds.
Plentiful of acoustic instruments in some tracks with a brilliant approach of classical music reminds me the madrigal themes of the middle ages, whitout neglect the strenght and magnificent and in some moments the aggressiveness of´progressive music, with nervous keyboards and guitars and changes of rhythmic lines.
My rate is 5 stars, whitout a trace of doubt !!! Recommended.
Marcelo Matusevich
Only album by the Mexican Prog group Codice, which is a most impressive debut, considering it's a double album with two solid hours of original music. Led by guitarist Marco Corona, who also composed all of the music on this album, the group also includes keyboardist Mario Mendoza, bassist Arturo Garcia, drummer David Martinez and vocalist Luis Maldonado. The music is similar to other South American Symphonic Prog, dominated by guitar and keyboards soloing during the lengthy instrumental passages. The melodic contents and the arrangements are surprisingly well executed and the music soars from start to finish, which is much better that most neo-Prog albums recorded at the time. The second CD is dedicated to a multi-part suite, almost an hour long, quite an ambitious undertaking. Overall this is a most enjoyable album, which holds the listeners attention throughout the entire duration and most Prog fans should enjoy it immensely. Sadly nothing was heard of the group since the release of this album, which seems like a great pity, as they definitely had a great potential. Perhaps one day? If so, I'll be there to listen!
Jazzis
As far as I'm able to tell, this is the only album this Mexican prog band had ever released. At nearly two hours of music, I find it unusual that a debut album would be a 2-CD set, which is quite a risky venture indeed, especially since there'd be way more music that say, old 2-LP set debuts like Frank ZAPPA & The MOTHER's "Freak Out" or the debut from Chicago when they were known as The Chicago Transit Authority. Apparently this band had enough material to warrant a 2-CD set, but given this amount of material, there is your share of hit-and-miss here. This 2-CD set was released on the California-based Art Sublime label (responsible for reissuing albums from ICONOCLASTA, Holding Pattern, José CID, as well as new releases like from Tony Spada). Unlike most other titles on that label, this was issued in a normal CD jewel case (instead of LP-sized packaging), and it comes with artwork from (I believe) Rubén Viloria, whose style is very much in the style of H.R. Giger.
The band consisted of guitarist/keyboardist Marco Corona, drummer David Martinez, vocalist Luis Maldonado, keyboardist Mario Mendoza, and bassist Arturo García. Apparently Marco Corona has spent his time in Los Angeles, and even learned to play guitar from Robert FRIPP, if I'm not mistakened. Of course he went back to Mexico to form this band.
Not exactly the most original band on the face of the planet, you'll find plenty of influences from ELP, KING CRIMSON, GENESIS, ICONOCLASTA, Italian prog acts, even electronic acts like TANGERINE DREAM. Marco Corona's guitar style is often in the FRIPP and HACKETT style. And the keyboards are a combination of digital and analog, plus an EMU Vintage Keys, which they used in place of a real Mellotron (and unfortunately, I can tell was a digital replication, not the real deal, meaning the Vintage Keys is useful for those who don't quite have the money for the real thing, which are plenty of people out there). Some of the Hammond organ you hear on the album sounds a bit digitized, they use an XB-2, an organ I'm not familiar with, unlike the classic B-3. Also David Martinez is still in need of practicing his drums as his style still seems a bit sloppy, but I guess it's no more sloppy than the early works of ICONOCLASTA.
Now let's get with the music: the first disc opens up with the title track, which is actually a pretty cool electronic piece. Next piece is "El Eco de Tu Voz", which features some nice ICONOCLASTA-like guitar work and female vocals. But the problem I have with this song is the same problem I have with ICONOCLASTA's "De Todos Uno", guest Marisa Calderón sounds a little too close to ICONOCLASTA's bassist's Nohemi D'Rubin's attempt at singing showing that Mexican Spanish isn't always the best in a prog setting. It also proves the most of the other songs, with Luis Maldonado doing the vocals, prove the same, even though handled by a male vocalist. Occasionally you get some short, acoustic piece like "Paseo" and the medieval-influenced "Vorágine". Perhaps the most effective vocal cut here is "Corriente Abajo", which brings to mind such Italian greats as PFM or CELESTE. The last cut on the first disc, "Requiem" I felt was a big waste of time, played entirely on digital synths, it sounds like Marco Corona is delving perhaps a little too deep in that dreaded New Age there.
But it's the second disc shows what the band was really made of. Doing what prog bands couldn't do on a single LP because of time constraint (unless they wanted the whole album just one piece, like JETHRO TULL's "Thick as a Brick" or Mike OLDFIELD's "Tubular Bells"), with a nearly hour long suite called "Iconos". Luckily the vocals, for the most part are absent, leaving it a largely instrumental piece, which is fine with me. Here, the piece is loaded with all sorts of prog influences you come to expect, without exactly being original, but still making it interesting. Some of the parts of the album can sound quite sinister, other parts sound a bit too lighthearted for my liking, while some sound like something off KING CRIMSON's "Larks Tongues in Aspic". There's also a section where the band gets in to TANGERINE DREAM style electronic music, making them sound like how I wished TD would sound like in more recent times. After that, they ended up sounding like an early '70s heavy prog band. There's even a section with Gregorian chanting (and it sounds like it's in Latin). Being an hour long piece, "Iconos" does have it's dry spells, especially near the end. The disc does have one other independant cut, called "En El Umbral de la Paz", which is one of those acoustic pieces that do little for me.
This 2-CD set is really hit or miss, but has a lot of worthwhile material. But do avoid if you're completely anti-digital, but for those who aren't, the good thing is both Marco Corona and Mario Mendoza use digital (as well as analog) synths in a tasteful manner. One of those albums, just like all the ICONOCLASTA albums I've heard that is worth having, but not essential.
Ben Miler
Another one of those prog rock bands that managed a release then apparently disappeared into the ether. Codice was a Mexican band lead by Marco Corona. This is one of the few Art Sublime titles that wasn't a reissue (the other being Tony Spada's Balance of Power). Unlike the other Art Sublime titles, this one only appears to exist in standard CD jewel case and not LP-sized packaging.
This two CD set covers a wide spectrum of prog styles, with the occasional electronic styles. The opening cut, for example, is an electronic piece with guitar playing. It has some sinister overtones. It helps that the cover artwork is an H.R. Giger-knockoff. There are some pieces that might remind of you Iconoclasta, while one acoustic piece has a medieval feel, while another more in PFM territory. Then on disc two you get the monster "Iconos" suite that clocks in at nearly an hour. You'll notice your share of Crimson influences (I believe that Marco Carona had taken guitar lessons from Robert Fripp himself), some Genesis, some Camel, an electronic passage, Gregorian chanting. Vocals are on some of the cuts, and plenty of instrumentals too. The keyboards tend to be the modern type, although some analog synths are used, even a Minimoog, although the Mellotron is rather obvious the sample variety, in this case, the EMu Vintage Keys. This is that kind of prog that might have a modern feel, but goes way beyond standard neo-prog fare, with reminders of the 1970s as well. Given it's two CDs and over 2 hours long, it might be a bit much to take in all at once, but there's lots of worthy material to make this 2-CD set worth having.
progfan97402
This is one of those sad examples of a one-album band. I would have loved that Códice followed up with a new album, because this one is that good that one cannot do anything but asking for more. "Alba y Ocaso" is a challenging 2-CD album that I dare say reached the peak of progressive rock in Mexico. Though it may not be as known as it deserves, the prog-connoisseurs cannot help but making good critics about it, and name it as one of the best Mexican prog albums ever created. The reason is simple: diversity, intelligence, complexity and full creativity. Códice pays homage to those who influenced them, so here you can appreciate some Italian prog hints, along with some eclectic tones ala Crimson, but with a predominant keyboard and symphonic sound.
The Rocktologist
This one has to be a classic from Mexico. But for me, there's more to it than just buying this prog CD from a band from my country. They live actually in the same city that I live, in fact, I enjoyed an even deeper relationship with this band. David Martínez, the drummer (an excelent drummer by the way), was my drum teacher, so he sold it to me personally. I made friends with him and he told me all about being in this prog band and he told me it was great, unfortunately they have disbanded. But I got to see them live here in Monterrey, Mx and what a show really, apart from the stuff on their CD, which they played flawlessly, they played "Red" and "Lark's tongues in Aspic part II " !!!! They put in quite a show really, and well, I owe much to David, he was the one who got into prog in the first place, and I felt I improved lots when he was teaching me, anyways, this is a very good album from this mexican prog band and you can sense influences from the big names in prog here. One day he showed me a demo with songs that would've eventually become their next album, but it never came to pass. Those songs he showed me were like darker and even more technical, but I don't know why they never did it, it's been a while since I've seen David, anyways, if you by any chance bump into this album, check it out, its really worth it.
Guillermo Villegas

Este álbum no podía faltar en este espacio, para mí es un gran álbum que me llena de satisfacción al escucharlo, creo que se van a sorprender de la calidad compositiva y el buen gusto que hay aquí, además de ofrecer un trabajo instrumental impecable. Les recomiendo enfáticamente este álbum. Dicho en otras palabras, no sean salames y no se lo pierdan. Ultra recomendado. Dejo algún video más por si todavía están con dudas...