#Músicaparaelencierro. seguimos reviviendo un disco que a varios les pareció excelente, de unos franchutes jugando a Crimson, y hay un montón de estilos diferentes que están tratando de abordar aquí: Space rock, RIO, prog disonante al estilo King Crimson de la era '73, jazz fusión, más algunas cosas electrónicas tipo Klaus Schulze... quizás no sea un disco para todo el mundo, pero no deja de ser al menos interesante, o muy buen trabajo para otros. Un disco épico y al mismo tiempo meditativo, duro pero atmosférico, es un híbrido arrebatado por la emoción; muy expresivo y de fino gusto francés. Misterioso, intrigante y bastante colorido (dentro de su oscuridad) trabajo, con secuencias espaciales e hipnóticas en un viaje a través de oscuros rincones del laberinto progresivo. Digno de escuchar... no se lo pierdan.

Artista: Artcane
Álbum: Odyssée
Año: 1977
Género: Progresivo ecléctico
Duración: 50:16
Nacionalidad: Francia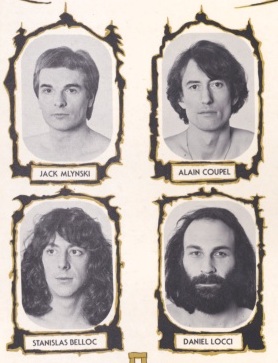 Hace rato el blog se convirtió en un ir y venir incesante de aportes de los mismos cabezones, que comparten sus discos con los demás miembros de la comunidad, siendo yo solamente un intermediario que escribe algunas líneas. Es interesante, digno de otro posteo, como en la comunidad ya es normal compartir lo que nos gusta, a contrapelo de lo que sucede en la sociedad, en el mundo, aquí ya se acostumbra a que todos compartan sus cosas por ganas y gusto de compartir. Seguimos en esa tónica con éste disco.
Hacen la aparición cuatro mosqueteros franceses de fines de la década del setenta, un momento donde ya la imaginación que había dado luz al género (y había generado una trunca revolución cultural en el seno social) ya estaba en declive.
Los Artcane dejaron éste único disco antes de desaparecer. El trabajo sugiere una lectura muy personal de rock progresivo. Tengan en cuenta que el álbum es casi enteramente instrumental, a excepción de corta y pacífica "Le Chant d'Orphée" (Canción de Orfeo) y "Nostalgie".
Este trabajo fue desempolvado después de más de 35 años después de su publicación original, para ser publicado en CD. Un tesoro de la antigüedad del rock se hace presente hoy en día.

Vamos con algunos comentarios en inglés y sin dilación al disco...

Very little is known about this four-piece French set who released one album at the tail end of prog's 'golden age', and then disappeared from the map. They were: Daniel Locci on drums, Jack Mlynski on guitars and vocals, Stanislas Belloc on bass and vocals, and Alain Coupel on keyboards and vocals. Some have described the album as the French "Larks' Tongues in Aspic", no doubt thanks to guitarist Mlynski's Frippian style which (precariously) straddles the line between homage and plagiarism. Alain Coupel's synth play, however, is noticeably un-Crimson like and the band does show some originality and an obvious desire for experimentation; yet the overall feel of the album is still 100% King Crimson, especially the 16-minute epic "Artcane I".
'Odyssee' is the one and only album from this French quartet. It has become one of those albums that many prog fans have heard of but have never actually heard. I was lucky enough to find a copy at a used record vinyl shop in the middle of Nowheresville, Virginia, and I believe the guy severely undercharged me at $15. (I wasn't complaining of course!) What I beheld when I laid the needle down was one of the heaviest, darkest, most fascinating and exciting prog records of the '70s. It totally succeeds, despite borrowing quite liberally from a particular rhythm and melody in King Crimson's "Red" (heard in third track "Novembre"). Additionally, the first two "Larks' Tongues In Aspic" movements are referenced in fourth song "25e Anniversaire". But 'Odyssee' as a whole is no K.C. rip-off-it also moves in a similar area as that of Pulsar (hypnotic space). And there are many moments of heavy riff-grinding that remind of the heavier Italian prog combos (ie. Jumbo, Biglietto Per L'Inferno, Il Balletto Di Bronzo). Despite these reference points, Artcane manages a unique, versatile style all their own.
Each of the 6 songs holds it's own captivating personality. A huge thumbs-up for the title track, all 2:20 of it, which doesn't hesitate to let the listener know what's in store on the rest of the album. The song pulses with energy, aggressive rhythms and arresting melodic choices setting the tone. It crashes into the mellow beginnings of "Le Chant D'Orphée", which builds and builds and eventually succumbs to Jack Mlynski's incredibly powerful riff construction. Vocals are sparse on 'Odyssee', but when introduced on "Le Chant." they are enigmatic and ghostly. The album's real centerpiece is "Artcane I", a lengthy track encapsulating everything great about Artcane: patient crescendos of cosmic atmospherics; hypnotic keyboard repetitions courtesy of Alain Coupel; the nimble yet heavy-handed drumming of Daniel Locci; creepy, dark vibrations all over the place; spurts of jazz-rock rhythms; moments of pure heaviness like the most metallic moments of '70s-era Rush. Too bad this band's career was so fleeting-I can't imagine what "Artcane II" might've sounded like!
Two of the most exciting moments come second-hand from themes laid down by King Crimson. Some would call it plagiarism; I would call it "tribute". This is not a book report, it is art, and what better art to draw influence from than King Crimson's final '70s period? It would be more disturbing if they couldn't come up with anything original at all, but 'Odyssee' is full of ideas, chemistry, talent and power. Too bad they weren't around long enough to capitalize on it.
Jeff Wagner
This one is even better than advertised. Released in 1977 on the Philips label, this French band blesses us with an almost all instrumental album(except for two songs) with some excellent guitar (ala Fripp) and a lot of spacey synths much like fellow French band CARPE DIEM. There is a darkness about this album that really draws me in.
The title track "Odysse" opens with spacey synths and pounding drums. I am addicted to the main melody, I may need an intervention, this is so good. Check out the guitar ! This is way too short, but what a way to open the album. "Le Chant D'Orphee" opens with acoustic guitar and spoken words. Drums and vocals join the guitar. This theme is repeated before the song veers off in another direction 2 minutes in. Spacey synths (i'll be saying that a lot), bass and some crisp drumming take over. I just love this section. A heavy guitar solo 3 1/2 minutes in to end it. "Novembre" is an over 9 minute instrumental. After an intense intro we get some atmosphere as synths provide a solemn melody. Drums come pounding in after 2 minutes. Again they sound so crisp. Guitar joins in and this is heaven ! Dark and heavy with some Fripp-like angular guitar lines. Thankfully this goes on and on for almost 10 minutes. Just a fabulous sound.
"25' Anniversaire" opens with an uptempo melody before calming down quickly. Acoustic guitar with spacey synths are pushed aside by a raw sounding guitar melody that reminds me of KING CRIMSON's "Larks' Tongues In Aspic Part II". The drumming really shines. The guitar style changes as we get some terrific solos the rest of the way. "Artcane 1" is over 16 minutes in length,the longest track. A spacey atmosphere for about 5 minutes with some electronics. Drums then arrive and the synth melody stops. The drums stop 7 1/2 minutes in and are replaced by acoustic guitar and spacey synths. It's building. Keys replace synths and drums replace guitar 8 1/2 minutes in. Guitar is back after 10 minutes. Synths return 14 minutes in. My only complaint is that this song has worn out it's welcome with me before it's over. "Nostalgie" opens with spacey keys that are joined by acoustic guitar. Vocals are reserved. Synths come and go. This is a mellow track until 4 minutes in when electric guitar, bass and drums make some wonderful noise. A great way to end the song and the album.
This was the only album they recorded unfortunately. If you can find it don't hesitate. A real gem.
John Davie
A bizarre croaking raven-like guitar screeches through the night with mighty flaps of its rhythmic wings , creating a sombre and distressing angst that is utterly delicious and innovative, though a heady KC Larks Tongues period influence is not only obvious , it flirts with adulation. Artcane is a 1977 French one-shot wonder, here today, gone tomorrow band of immense talent and hence an overt iconic attitude is fully deserved. Jack Mlynski has his Frippoid fingers firmly wrapped tight around his fretboard neck and though he is far from the master (isn't everybody), the style is quite compelling. The keyboards add a slight symphonic sense while the bass/drum tandem hold up well with some profound rhythmic drive.
The overall sound is appropriately murky (like Shylock, Pulsar, Pentacle, Atoll, Ange and Mona Lisa), something I personally value in the French progressive school. There is a sombre attitude, a typical de Maupassant (The French Kafka or E.A. Poe) sense of paranoid foreboding that offers up extremes and contrasts, the KC riff on the otherwise magnificent "Novembre' is virtually plagiarism, complete with the Muir-ish percussion. But its soooooo cute, the wispy Alain Coupel synthesizer really cutting a large swath, Belloc's bass roaming like some crazed 'Horla' (ah, look it up! ) and drummer Daniel Locci doing his best BB imitation. Obviously the focus is on the heavenly guitar, as Mlynski shreds, tortures and restrains his monster with considerable aplomb. I just adore this dark, moody style!
"25' Anniversaire" is slightly deranged, more of the same somewhat disjointed lunacy that constantly veers from simplicity to dissonance and back, but when Jack does the classic "LTiA part 2 " riff , you cannot help but to smile! He just takes a slippery solo that fizzes, fuzzes and sizzles like some acrobat on ephedrine.
But the 'piece de resistance' is the massive "Artcane 1", a shimmering 16 minute monster that could rival the classic Shylock epic "Ile de Fievre" for its blatant audacity, complex adventurism and stellar creativity. After an ambient intro, the clock starts ticking on a bright passage of flute synth, very atmospheric and even a tad minimalist/robotic that wishes to induce a sense of hypnosis and placid mental focus. This is almost in Pulsar territory, heavily spacey and unhurried, with just a twist of doom and gloom. Plenty of room is giving to some fiery soloing and letting loose on a variety of levels.
Short, gloomy, dense and evocative, this is one of those rarities that define a true collector's need for unusual treasure and defining the incredible depth of progressive rock's iconic history. The vast amount of these one-shot wonders (forced by a prissy and highly manipulative market) clearly highlight the value of idiosyncratic historical monuments that litter the 50 years of prog's catalog. This is definitely one of the 'need to have' albums though not perfect by any stretch, just very 'je ne sais quoi' special. Lovely cover too.....
4/5 esoteric expeditions
Thomas Szirmay
Another one-hit wonder created a long time ago in a galaxy far, far away(the 1970s) this impressive slice of Crimson-style prog provides yet more evidence of the febrile scene that existed throughout France during the genre's golden years, producing groups such as Magma, Mona Lisa, Pulsar and Ange to name but a few. Now we can add Artcane to the list. Issued by the French wing of major label Phillips in 1977 - same label as Ange - 'Odyssee' came very late-in-the-day for a full-blown prog-rock record, which also explains why it disappeared without trace. By 1976 the awful punk rebellion had fully taken hold of the British music scene, exerting an grim, vice-like grip that suffocated creativity. In France, however, it would take another year for this darkness to arrive, and it was during this period that some of the great French prog-rock albums were created, such as Ange's 'Guet-Apens' and the seminal concept album 'Halloween' by Pulsar. 'Halloween', of course, has an international reputation, and is widely considered a classic, yet despite being recorded in optimum conditions, with a large budget and plenty of time, the label refused to spend any money on promotion. Pulsar had, in effect, gone away to the countryside for two months to record 'Halloween' with the full backing of the label; by the time they returned the musical landscape had drastically altered. The label had changed management and direction, prog was out, punk was in. It was the same for everyone. This then begs the question: Did the same happen to Artcane? Probably, yes. But frustratingly we'll never truly know, such is the mystery surrounding the albums creation, and the quality of 'Odyssee' only heightens that sense of frustration, because here was a young group with talent. Often compared to King Crimson and, sometimes, VDGG, Artcane definitely belong in that category, yet they are no mere copycats. Featuring the quartet of Jack Mlynski(guitar, vocals), Alain Coupel(keyboards, vocals), Stanislas Belloc(bass, vocals) and Daniel Locci(drums), 'Odyssee' begins in glorious fashion with the high-intensity title-track, a thunderous, foot- stomping opener that brings to mind 'Red' with it's brooding guitars and rumbling bass thuds. It's a grandiose, almost cinematic start, though one that is tempered by the more restrained 'Le Chant D'orphee'. Featuring a more meditative ambience and an ominous tone, the nine-minute 'Novembre' takes a few minutes to warm up, yet it is worth the wait as the quartet gradually feed off one another to create a thrilling explosion of instrumental power. The album's key piece, however, has to be the lengthy epic 'Artcane 1'. Coming in at around sixteen minutes, this is a dark and deftly-woven piece of music, featuring all four members on vocals, which alternates between soft moments of ethereal spookiness and jagged rock assaults, drummer Locci expertly holding the quartet together with his precise rhythmic patterns. Definitely worth a place in any serious prog collecton, 'Odyssee' is a remarkable debut album from a youthful and inexperienced group. A product of the curiously underrated French prog scene of the 1970s - a scene that definitely deserves more kudos - Artcane is a genuine lost classic. Fans of King Crimson, Ange, Pulsar and VDGG are urged to investigate. STEFAN TURNER, STOKE NEWINGTON, 2015
Stefan Turner
A French band with a single album made in seventies. We can listen some other influencies of other bands just King Crimson, Magma, with some psichedelic parts. Most intrumental parts have a good music moments and just a single part is singing with lyrics in French but nothing special. The keiboards have a important work with some sounds of a sintetizer (the possible in that time), that made the psichedelic vein. The guitar have some good solos and some good arrangements. We can listen a intricate and complicated music but melodic, in the vein of music made in 70 decade. A mature album, and a good music work for those that like the music of this time. 4 stars because it's not a boring album and the musicians have a good sinergy in the tracks.
João Paulo
I've been looking for another one of those lost gems of progressive rock, and I found it with Artcane, a one-shot French band. This is one of those albums you wish Musea would get off their ass and reissue it on CD, after all, the original LP isn't exactly easy to come by, and there are lot of people who gave up on vinyl long ago (not me, though). Odyssee came out in 1977 on the Philips label, same label as Ange. Now Artcane gets frequently criticized as a King Crimson knockoff. Really, I don't notice that, except from a stolen riff taken from "Larks' Tongues in Aspic Part II" on "25e Anniversaire". The band is largely instrumental, except for two cuts. For some reason, despite the French vocals on "Le Chant D'orphee", I get more of an Italian feel, and the other vocal cut, "Nostalgie" ditto, with an acoustic PFM or Celeste-like feel. The rest of it is all instrumental, can be quite complex at times, with some nice synth work to go with it. "Artcane I" is a great example, and this is the one piece that many people look to as being more original. Starts off rather electronic, almost in Heldon or Klaus Schulze fashion, plus the use of glissando guitar (unusual in this type of music, more common in space rock acts like Gong and Steve Hillage, not to mention the occasional Hawkwind and Ozric Tentacles album), before getting into more traditional prog rock fashion.
Unless Musea gets a hold of it, find anyway to hear it, this truly is one of the great lost gems of progressive rock I've been waiting for in a long time!
Proghead72

Espero que lo disfruten y agradezcan a la comunidad.
Lista de Temas:
01. Odyssée
02. Le Chant d'Orphée
03. Novembre
04. 25ème Anniversaire
05. Artcane I
06. Nostalgie

Alineación:
- Daniel Locci / drums, percussion
- Jack Mlynski / guitars, vocals
- Stanislas Belloc / bass, vocals
- Alain Coupel / keyboards, synthesizers, vocals