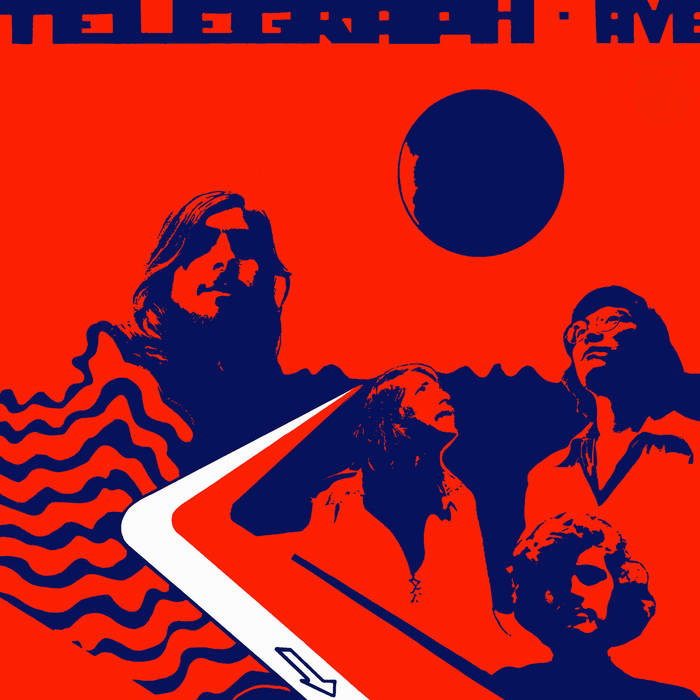 Volvemos al under pero ahora nos dirigimos al Perú de los 70, para presentar el rock psicodélico con sonidos latinoamericanos de Telegraph Avenue, guitarras eléctricas y congas en un rock psicodélico cantado en inglés pero con mucho sabor a música hecha en esta parte del mundo. Les presento un rock psicodélico distinto para que engrose las filas de nuestra revisión de la historia del rock latinoamericano.

Artista: Telegraph Avenue
Álbum: Telegraph Avenue
Año: 1971
Género: Rock psicodélico
Duración: 31:36
Nacionalidad: Perú
Lista de Temas:
1. Something Going
2. Happy
3. Sweet Whatever
4. Lauralie
5. Sungaligali
6. Let Me Start
7. Sometimes In Winter
8. Telegraph Avenue
9. It's OK (bonus track)

Alineación:
- Bo Ichikawa / Guitar, harmonica, xylophone, piano, vocals
- Alex Nathanson / bass, acoustic guitar, clavichord, piano, vocals
- Walo Carrillo / drums, percussion, maracas, tambourine, vocals
- Chachi Lujan / electric guitar, bongos, congas, piano, vocals


Grupo oriundo de Lima, fundado por Bo Ichikawa en 1970, regresó a Perú después de un viaje de seis meses a los EEUU. Allí, se mezcló con las comunas hippies y volvieron a su Perú natal infectados por sus ideas y música. Por lo tanto, la música de la banda está impregnada de las ideas de los "flower power" e hicieron un lindo rock psicodélico con varios motivos de América Latina aunque cantaban en Inglés. El álbum debut fue lanzado en 1971 e hizo furor en Perú y fue publicada aún en el EEUU. Después de salido el disco, Bo Ichikawa decidió tomar un descanso en las actividades del grupo, y dos de ellos (Alex Nathanson y Walo Carrillo) armaron Tarkus, legendaria banda ya de absoluto rock progresivo de los que infructuosamente hemos querido conseguir algo pero no hemos podido aún, aunque en su momento no lograron mucho éxito y regresaron a la raíz de Telegraph Avenue ue los viera nacer. El grupo ha tenido bastante trascendencia, e incluso fueron de gira a los Estados Unidos. En 1975 lanzaron su segundo y último álbum par posteriormente desaparecer hasta luego de muchos años.



Fueron uno de los primeros grupos de rock latinoamericanos en utilizar elementos e instrumentos autóctonos en su música, lo que marcaba un alto contraste con sus líricas en inglés. Su historia, al igual que muchos otros grupos latinoamericanos de la época, fue marcada por la situación política y las dictaduras militares, un escollo extra que se sumaba a la lucha con las discográficas para que reconozcan su trabajo...

Telegraph Avenue fue una banda de rock peruano que fusionó los ritmos psicodélicos con los ritmos latinos. Publicaron dos LP siendo el primero de 1971 el que logró tener éxito. "Something going" y "Happy" son sus temas más emblemáticos y llegaron al Billboard, caracterizados también por su estilo hippie en sus vestimentas propias de la época. Su segundo álbum en 1975 tuvo poca acogida debido a que el gobierno de turno en esos años prohibió el rock. En 2011 marcaron uno de los retornos más esperados.
Wikipedia

Telegraph Avenue en su "regreso" en el 2011, con una nota y mención. Mucho no sé de ello así que solo comparto la publicación para que la lean.

Aquí les dejo algunos comentarios de terceros como para que se vayan adentrando en la propuesta de la banda, otra de las reliquias que no queremos que se pierdan en la niebla del olvido.

Telegraph Avenue fue una banda de Rock N' Roll que ofrecía encima de los escenarios grandes dosis de rock spicodelico con grandes tintes de la época Hippie, durante el 1969-1976. De este grupo saldría Tarkus. Otra referencia de la música spicodelica Latino americana de la primera época de los '70.




Con el surgimiento de la época Hippie, siendo su cúspide el Woodstock. Bo Ychicawa, un joven peruano, viaja hacia el sur de USA, San Francisco para ser más exactos. Allí queda prendado por la todo lo que le rodeaba y a la vuelta decide llamar a unos cuantos amigo para hacer una banda. Recogiendo todos los sabores que allí se habría encontrado. De aquí nace Telegraph Avenue junto a Alex Nathanson, Walo Carrillo, y Chachi Lujan. El grupo no tardaría en encontrar un contrato discográfico, con el que llegaría a grabar dos álbumes. En 1971 y en 1975. Sus grabaciones no fueron todo lo bien que hubieran deseado, debido a la escasez en medos para ello. Al mismo tiempo de grabar su primer lp, se une a ellos Alex Nathanson como su cantante oficial de la banda y con un nuevo guitarrista German Cabieses.




Los discos estaban cantados en español, y su música era un Rock muy dulce muy a lo flower power. De Telgraph Avenue sale Tarkus otro gran grupo de Rock de Perú. Al poco tiempo de grabar su segundo álbum la banda se separa dejando el nombre del grupo, como a uno de los primeros grupos de Rock peruano.




Más adelante el grupo se junta para hacer alguna actuaciones...
Peter Allman
Telegraph Avenue were formed in 1970, after lead guitarist Bo Ichikawa returned to Peru, after having stayed half a year in San Francisco, where he had been exposed to the vivid local hippie rock culture. On his return he assembled all kinds of American influences, in a very convincing powerful way, with songs in English, but with ideas for arrangements which were more typical for the best Peruvian bands from those days.
The full arrangements are incredibly contrasting. Nowadays it would be hard to find any other example of so many arrangements without any overlapping or blurring note, which is a combination of basically bass, acoustic guitars, drums, vocals and vocal harmonies with lots of rather exotic percussion. It is because there were two percussionists in the band. The first percussionist is Walo Carrilo (drums, percussion, maracas, tambourine), who, before Telegraph Avenue, had been a bandleader from Los Holy's.
This previous, mostly instrumental group had been the earliest movement towards psychedelia in the mid '60s. They made one album called "Sueno Sicodélico", in a conceptual psychpop style, as well as several singles. The additional percussionist is called Chachi Lujan (acoustic guitar, bongos, piano). The final member is the bass player Alex Nathanson (who also plays acoustic guitar, clavichord, piano). The styles of the songs are very varied, have bluesrock, Californian feelings, influences of soulrock and sixties flavoured styles. The "psychedelic" element is rather unique and can only be heard in the top Peruvian bands.
Marios
In July 1971, Telegraph Avenue's debut album appeared on the market in Peru, and became the best selling rock record of the year. The time was right for Latin rock with psychedelic touches (a fact evident all over the Americas), and Telegraph Avenue delivered: guitars saturate the amplifiers, using natural distortion and feedbacks, with Latin bass lines, powerful drums and Latin flavored percussions filling all songs with the uniqueness of their sound. Their songs sometimes sound like Grand Funk's early records, but others have vocal melodies more akin to a West Coast psych style.
Later, when the band splits in late 1971, Walo the drummer form a band with two friend from Argentina, and Alex, that they called Tarkus, heavy rock psych.. a mix of Black Sabbath, Led Zeppelin and Almendra.
Telegraph Avenue reformed in December of 1972, and the spent wrote new material throughout 1973 and 1974. Many of these new songs moved away from the band's earlier Latin rock style towards faster and more aggressive songs; and yet at the same time, other new tunes were smooth and slow, influenced by folk music.
The second Telegraph Avenue album was finally released in late February, 1975. Shortly after the release of the album, the band dissolved. Their second record would prove to be the last album of Peruvian rock released in the 1970's–a military dictatorship essentially ended the music scene.