Sinfónico ambiental electrónico brasilero. Si te gusta la onda de Rick Wakeman solista, acá tenés a Alpha III, probalo que seguro te va a gustar.

Artista: Alpha III
Álbum: The Seven Spheres
Año: 1990
Género: Rock sinfónico / Progresivo atmosférico, ambiental
Duración: 54:36
Nacionalidad: Brasil
Lista de Temas:
1. Jesus Christ Theme
2. Jesus As A Child
3. Desert Theme
4. The Temple Of Israel
5. Arabian Nights
6a. The Temptation
6b. Voices
7. Lazaru's Ressurection
8a. Temple Of Profanation
8b. Turbulence
9. Jesus Nativity
10. the Crucifixion
11. Jesus Ascending
12. Prologue


Alineación:
- Amyr Cantúsio Jr. / all instruments


Seguimos trayendo progresivo brasilero, y ya que estamos con el progresivo sinfónico, sigamos en el mismo estilo. Este es otro trabajo (el tercero que publicamos en este blog) del músico multiinstrumentista brasilero Amyr Cantusio Jr., unos diez años de su carrera un total de nueve álbumes en un estilo entre la música electrónica y la progresiva. Esta vez, se trata de un disco conceptual sobre la vida de Jesús (Jesus Christ's life) basada en los manuscritos del Mar Muerto. En este trabajo, Amir Cantúsio Jr. combina baterías electrónicas, programación, y diferentes teclados.



Les dejo este comentario publicado en Manticornio:

ALPHA III es el seudónimo de Amyr CANTUSIO Jr., un compositor multi-instrumentista, letrista y diseñador de los logos y portadas de sus propios álbumes.




Amyr es un inquieto músico nacido en 1957, hijo de un inmigrante italiano y que inició estudios de piano y de violín a los 5 años de edad. Tiene Formación erudita con varios cursos extensivos en música experimental (UNICAMP) del Conservatorio de Sao Paulo y entre los logros más sobresalientes que ha obtenido por su trayectoria musical, destacan la medalla Carlos Gomes por representar a las Campiñas a través de sus trabajos en CDs/LPs en más de 15 países del mundo entero, así como que fue ganador de varios premios, incluido el del mayor festival del Estado de Sao Paulo en 1974, el Proyecto Guaraní, obteniendo el 1er lugar por el mejor arreglo y composición. Además de lo anterior, es psicoanalista ambiental y musicoterapeuta, es creador del primer sello de rock progresivo y música electrónica experimental de Brasil en 1984: FAUNUS/SP, y ha sido considerado el mejor teclista del mundo en diferentes ocasiones en España, Canadá, Italia, Latvia, Escandinavia y Holanda, por sus presentaciones en vivo.




Su discografía es exhaustiva e incluye "Spectro" (1974), "Mar de Cristal" (1983), "Sombras" (1985), "Agartha" (1986), "Ruínas Circulares" (1985), "Temple of Delphos" (1987), "The Aleph" (1989), "The Seven Spheres" (1991), "Voyage to Ixtlan" (1993), "The Edge" (1995), "Acron" (1998), "Temple of Dragon" (1998), "Cosmic Meditation I" (1998), los compilatorios "Pangea" (1998) y "Oasis" (1998), "Grimorium Verum" (1999), "Gates of Thelema" (1999), "Tenebrarium" (2000), "Infernus" (2000), "Protheus" (2001), en muy variados estilos, a veces haciendo las cosas solo y a veces con músicos invitados. Opiniones generalizadas son que "The Aleph" es el mejor trabajo que ALPHA III tiene dentro del ámbito rock progresivo, por tener esencias ELP, KING CRIMSON y YES, mientras que los otros son más enfocados a satisfacer líneas atmosféricas.
Manticornio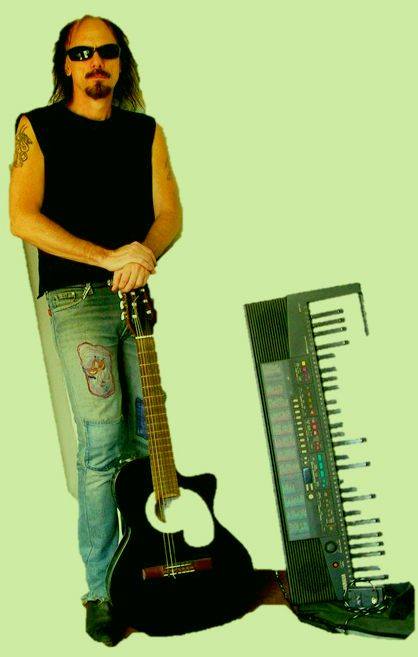 Y algunas reseñas más:


It's taken me three months to listen to this album, which shows you how long it takes me to get around to playing stuff sometimes. Especially vinyl, as thankfully I don't sit around as much as I used to. I also have to admit I wasn't really all that excited about hearing another album from this one man Brazilian prog outfit. Although his albums are generally pretty enjoyable, none of them scream "listen to me". This one is a little different then the other two I have as it's not so synth based, side two is actually made up largely of a long grand piano piece. Most of this is pretty stripped down prog pieces, and if this was the only album you had in that particular style you might actually play it on a regular basis, something I'm sure I'll never do.
bnoring
More electronic prog from this mostly one man project from Brazil. Much of this one having a neo-classical sound to it, while other parts can get downright wanky. It seems the further he stays away from those cheesy drums the better off he is, but then again those moments give this a kind of classic hometaper vibe, which makes me prize this release all the more. To bad the covers all bent up.
bnoring
Music and literature are - as Poe once said - linked, his exact words I can't recall, but it was something like this, "music when combined with a pleasurable idea is poetry, music without the idea is simply music".... maybe I won't make my point but I'll try anyway: music here is combined with the idea of being able to see and know absolutely everything, which I find "pleasurable" (though, in The Aleph, Borges shows us the dark side of having access to this kindda pleasure) , so even if music itself ain't excellent, alpha III did a great job mixing both entities (a whole as an entity...?) and I find it an interesting project.
phan_tastica

Un álbum especialmente indicado para los amantes de la música clásica. Yo diría que no se detengan demasiado en este disco salvo que sean coleccionistas o amantes a ultranza del rock sinfónico, en este blog hay cosas mucho mejores.

www.myspace.com/alphaiii