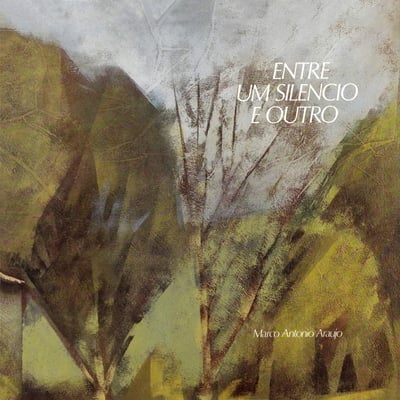 Cerramos la semana con un disco de este genio malogrado que si la hubiese quedado más tiempo en éste mundo seguramente habría realizado una revolución musical en Brasil y latinoamérica. A eso estaba destinado salvo que el destino no lo quiso.

Artista: Marco Antonio Araujo
Álbum: Entre um Silêncio e Outro
Año: 1983
Género: Rock sinfónico ¿rock? no es rock!
Duración: 59:18
Nacionalidad: Brasil
Lista de Temas:
1. Abertura Nº 1
2. Abertura Nº 2
2. Cantares Nº 3
4. Fantasia Nº 2 [Romance]
- Prelúdio
- Scherzo
- Interlúdio
- Ária
- Divertimento
- Coda
5. Fantasia Nº 3 [Folhas Mortas]
- Prelúdio
- Brincadeira
- Só
- Trio


Alineación:
- Marco Antonio Araujo / acoustic guitars
- Paulo Guimaraes / flute
- Marcio Mallard / cello
- Jaques Morelembaum / cello


¡Asómbrense con esta maravilla!

Esta semana vamos a tener mucho Brasil. Y ahora con otro verdadero discazo de excelente músico del que ya hablamos oportunemente y que para mí fue toda una revelación sinfo - folk - rock brasilera, desconocido para mí hasta el momento y me atrevo a decir, a asegurar ahora; que es de lo mejor que salió del Brasil en la década del 80 luego de Bacamarte.
Personalmente, creo que las obras de este artista son joyas perdidas de América del Sur, como otros tantos discos que tratamos de traer del olvido.


Marco Antônio Araújo foi um guitarrista brasileiro nascido em 28 de agosto de 1949 na cidade de Belo Horizonte e falecido a 7 de janeiro de 1986 vitimado por um aneurisma cerebral, um dia antes de receber um prêmio de "Melhor Instrumentista do Ano de 1985" oferecido pela Revista Veja.
Fortemente influenciado pelos Beatles, em 1968, passou a integrar, como guitarrista, o grupo Vox Populi, que mais tarde seria um dos núcleos formadores do Som Imaginário, que acompanharia o cantor e compositor Milton Nascimento.
Em 1969, gravou um compacto simples pelo selo regional BEMOL, em parceria com o maestro e tecladista Zé Rodrix e os guitarristas Frederyco e Tavito, todos integrantes do Som Imaginário. Participou, como músico convidado, da gravação da música POISON, de co-autoria com Zé Rodrix. Abandonou o curso de Economia e o emprego de bancário para se dedicar à música, indo no ano seguinte viver alguns meses na cidade de Ouro Preto, com a comunidade do diretor de teatro Julien Beck, do célebre grupo novaiorquino "Living Theatre".
Em 1970, mudou-se para a Inglaterra, onde morou por 2 anos, trabalhando como carregador de móveis e tocando música "folk" no "Troubador" de "Earls Court Rd", época em que conheceu, no exílio,Caetano Veloso e Gilberto Gil, além de assistir a shows de grupos como Pink Floyd, Led Zeppelin, Deep Purple, Gênesis e Supertramp.
Retornou ao Brasil 1973, vivendo no Rio de Janeiro e descobrindo o fascínio da música erudita, passando a estudar forma musical e composição com Esther Scliar (para quem dedicaria posteriormente um de seus discos). Estudou ainda violão clássico com Léo Soares e violoncelo com Eugene Ranewsky e Jaques Morelembaun, na Escola de Música da Universidade Federal do Rio de Janeiro. Foi nessa época que compôs trilhas para cinema, teatro e balé, destacando-se desse período a trilha da peça RUDÁ, dirigida por José Wilker e CANTARES, um balé apresentado pelo grupo CORPO, tendo se casado com Déa Marcia De Souza, uma das bailarinas do grupo.
De volta a Belo Horizonte em 1977, prestou concurso para violoncelista da Orquestra Sinfônica de Minas Gerais, tendo sido aprovado e contratado como o seu primeiro músico. Em paralelo com as atividades da orquestra, continuou com a sua produção independente, realizando shows em pequenos teatros, dando início à formação de um público atento e fiel.
Em 1979 passou a trabalhar com o grupo Mantra, do qual faziam parte o seu irmão e guitarrista ALEXANDRE ARAÚJO, IVAN CORREA (baixo) e SERGIO MATOS (bateria). Nessa épóca deixou de tocar guitarra com o grupo, passando a tocar apenas violão. Desse momento em diante, o grupo tornou-se a base do seu trabalho musical e a sua sonoridade fundia os elementos das músicas sinfônica e barroca mineira com o rock progressivo. O MANTRA passou a acompanhá-lo em seus shows e novos músicos foram incorporados , o flautista EDUARDO DELGADO e o violoncelista ANTONIO VIOLA.
Através do projeto "ACORDE MINAS", elaborado pela "STRAWBERRY FIELDS", sua gravadora, em parceria com a Rede Globo MINAS, a COORDENADORIA DE CULTURA DE MINAS GERAIS e a TURISMINAS, no ano de 83, MARCO ANTÔNIO ARAÚJO viajou por diversas cidades mineiras, conquistando um público crescente.
Virava as noites compondo sendo considerado um louco, um obcecado pelo seu trabalho, viciado pela necessidade extrema de criar.

Disfruten de este temazo llamado "Floydiana II", que no está en este disco pero es hermoso, y da una idea de lo que hizo este músico:



Dedicado "in memorian" a sua professora Esther Scliar, e trazendo na capa uma gravura do artista plástico Carlos Scliar, foi seu disco mais elaborado, premiando o lado mais erudito de sua formação musical. O disco não teve a participação do grupo MANTRA e contou com os celistas JAQUES MORELEMBAUN e MÁRCIO MALLARD, e o flautista PAULO GUIMARÃES, formando um quarteto de câmara.
tais.assessoria.imprensa

El señor Marco Antonio Araujo produjo un álbum de sinfonismo puro absolutamente genial e instrumental, lleno de guitarras acústicas, con un hermoso trabajo de la flauta, donde las teclas sinfónicas hacen gala de una exquisitez envidiable. Lamentablemente, este talentoso músico multi-intrumentista falleció en 1986 a los (solamente) 36 años, toda una pérdida para la buena música toda. En todo caso, vale este póstumo homenaje para reconocer el valor de esta obra, otra reparación histórica que hacemos desde este humilde espacio.


Marco Antonio Araujo was born in Belo Horizonte on 1949. On 1968 he played in a band called Vox Populi, that later would become Som Imaginario. In 1970, and now living in England, he used to be a fan of bands such as: Pink Floyd, Led Zeppelin and Genesis, who would have great influence on his musical production. Within the next few years, Marco Antonio Araujo studied guitar and cello in Rio de Janeiro.
In 1977, once again in Belo Horizonte, he joined the symphonic orchestra and soon (1980) his first album, "Influências" was released. With only six instrumental tracks, he had already achieved an amazing sense of balance and created a personal style.
Marco Antonio Araujo is a classic when it comes to brazilian prog, and also a highly recomended artist for anyone who likes both symphonic rock and prog folk.
Sadly, Marco has passed away on Jan, 07, 1986, at the age of 36 of an aneurism
Progarchives

Este es un disco donde las permutaciones instrumentales con esas flautas y guitarras acústicas que a menudo se roban el álbum y en todo momento dominan el flujo armónico, siempre con un cierto aire a Oldfield pero en sintonía prog folk latinoamericano, con el má que evidente talento de Araujo y su disposición a compartir el protagonismo (imagino que también sucedió así en el escenario) con sus compañeros de banda igualmente competentes, su combinación de música popular (que había estudiado e interpretado desde pequeño) con los grandes grupos de su adolescencia que lo habían impactado (Pink Floyd, Led Zeppelin, Deep Purple, Genesis y Supertram) y con la música docta y clásica que también había estudiado, compuesto e interpretado, incluso fue violonchelista en la Orquesta Sinfónica de Minas Gerais hasta el día de su muerte. Esas combinaciones de las que tanto hablé y mencioné en este post están conviviendo con un equilibrio y una síntesintes maravillosa y notable, formando una música rock-folk que habla en lengua clásica.


Without the Mantra band, Marco Antônio Araújo recorded his most classical work, using only flute, cello, and acoustic guitar. Certainly, this is material to be heard with attention. The cover art was based in the work of Carlos Scliar. Also, three bonus tracks were added in the CD re-release. In "Abertura I," the first influences of progressive rock can be heard. "Abertura II" was included in Influências, but this version was recorded with electric guitar. "Cantares I" is also from Influências, but this version was recorded in 1978 with classical instruments, percussion, electric guitar, and steel acoustic guitar. (This track was also recorded with the title "Fantasia No. III -- Cantares.")
Cesar Lanzarini
Marco Antonio Araujo´s third album is a lot different from his previous two. This is really classical chamber music and, in this field, very good. The original record had only two tracks (each for one side of the vinyl LP, Fantasia Nº 2 (Romance) on side A and Fantasia Nº 3 (Folhas Mortas) on side B. Just classical guitar, two cellos and a flute.
On the CD reissue someone must have thought this work to be too radical classical music for his taste and decided to put three bonus tracks BEFORE the main course. Those are really alternative versions of some Araújo´s previously released songs with different arrangements. On those tracks he is, as usual, backed by his electric group Mantra (which included his brother Alexandre on lead guitar).
A very good work indeed, showing off Araujo´s skills as classical songwriter for chamber music, but has nothing to do with his early releases nor with his follow up Lucas. While those three CDs are prog music wiht lots of classical influences, Entre Um Silêncio e Outro IS classical music in the most radical sense of the word. If you like this kind of music, go for it.
If PA was a classical music site the rating would be four stars at least. For the average prog lover this music may be a bit too radical, save for the bonus tracks, which shows interesting alternative arrangements of some of his earlier stuff. In PA 3 stars in all should be more fitting, I guess. Good, but definitly not his essential work.
Tarcisio Moura
Marco Antonio Araujo is a brazilian guitarist who used to play instrumental music, blending rock with folk. On this album, he changed his usual formula by playing a more intimate music, close to classical chamber music. In fact, he is backed by 2 cellists, and one flautist, a completely different line-up than the previous one which formed the band Mantra. This album is dedicated to the memory of Araujo's teacher of composition, Esther Scliar, explaining the change of direction on this album and his will to showcase his composition skills. The music is truly beautiful, one could even wonder if it hadn't been composed by a most renowned classical composer, the level of complexity being so relevant in this record. The album consists of two tracks (three more on the reissued edition, in the same vein) crafted to form a suite. The overall feel to the music is very european, the cello giving a touch of romanticism and the flute a touch of classicism, only the guitar has the typical latine tone, reminding the solo works of Egberto Gismonti, to whom he was nevertheless compared. Fortunately, the album is not focusing on Araujo's guitar work, rather the quartet works as an ensemble, each of the musician contributing equally to this record. The music presented here should appeal more to the usual classical music listener, than the prog fan. However, when comparing this record to Araujo's other ones, I much prefer the classical texture of this music than the prog-rock Araujo played with Mantra. It just seems to be a more mature work. Unfortunately, the great Araujo died prematurely in 1986. This album will remain for me the best testimony of his art. NB : as this record belongs IMHO to the realm of classical music and is not a progressive rock piece of music, I didn't gave it the 5 stars it would deserve if progarchives were a site devoted to classical music!
Lucas Biela

Dicen que los genios son por lo general de corta duración. Este hombre sólo estuvo en este mundo 36 años, pero aún a pesar de que estuvo en este mundo tan poco tiempo debería convertirse en una leyenda del progresivo de América del Sur. Esta pintura sin palabras es ante todo un mosaico pictórico de sólidos temas, brillantes y encantadores y con un planteo compositivo sin fisuras.
Recomiendo encarecidamente este álbum. No se lo pierdan, este es un álbum hermoso. Y si no me creen, escuchen algunos temas...