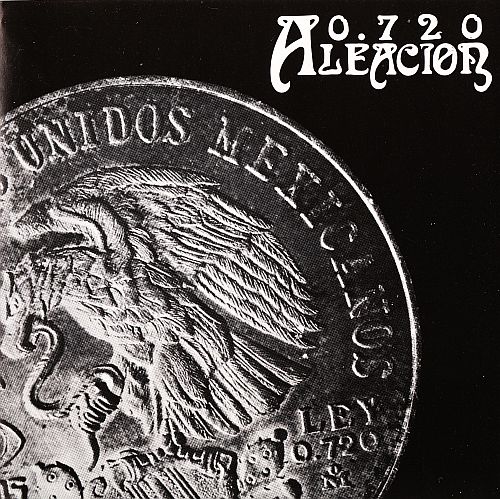 Sandy resube un disco que no sólo hizo historia en México sino que además fue una revelación en éste blog cabezón, puro folk-rock mexicano de alta calidad. Disponble apra ustede, un disco exquisito que no van a conseguir en cualquier lugar.

Artista: 0.720 Aleación
Álbum: 0.720 Aleación
Año: 1986
Género: Folk / Rock progresivo
Nacionalidad: México
Duración: 40:58
Lista de Temas:
1. Caifan (1:19)
2. Tarahumara (5:01)
3. Antes Que Amanezca (4:25)
4. Danzante (4:39)
5. Templo Mayo (3:49)
6. Campana Del Silencio (3:52)
7. El Corredor (4:15)
8. Para Estos Tiempos Tan Ciertos (4:25)
+ Bonus tracks from video "Memorias del Olivido":
9. Y Retiemble En SU Centro (1:00)
10. Todos Otra Vez (0:42)
11. Y Ora Pa' Donde (0:53)
12. Pese A Todo (1:02)
13. Huapango De La Reconstruccion (1:54)
14. Hijos Del Averno (0:33)
15. San Juan De Letran (1:00)
16. Eolo Aqui (0:54)
17. Las Casiitas (0:22)


Alineación:
- Eduardo Zamarripa / guitars
- Carlos Castro / drums
- Job Hernandez / bass, guitars
- Abraham Viñas / flute
- Carlos Torres / violin

Esto es de lo mejor del folk mexicano junto con el rock mexicano, formando una aleación realmente preciosa y muy, muy personal... podría escribir bastante, pero mejor lean este review:
Esta bien, he hablado de bandas de todas partes y de todo tipo de géneros pero no he sido justo ... no he mencionado a una banda que sea mexicana.

Mi primer opción (la decisión es harto complicada y muy personal jaja) es el estupendo disco *0.720 Aleación*, de la banda chilanga del mismo nombre.

Originarios del Distrito Federal, *0.720 Aleación* surge a mediados de los turbulentos años ochentas guiados por el talentoso tecladista Omar Jasso, *0.720 Aleación* es un disco totalmente instrumental donde se van combinando ritmos y estilos autóctonos con toques de jazz/fusión o elementos progresivos... los instrumentos musicales utilizados van desde violines, guitarras acústicas, guapangueras, a tambores tarahumaras, sonajas, trompetas de barro etc.,

Las interpretaciones con instrumentos prehispanicos ya antes las habían elaborado y explorado músicos como Luis Pérez, Antonio Zepeda o Jorge Reyes, pero estos elementos combinados a los violines y/o guitarras acústicas nos recuerdan también nuestra herencia española, el sonido en conjunto es de alguna manera *por así decirlo: muy mexicano*.

La banda a raíz de una invitación de la *Unión de Vecinos y Damnificados 19 de Septiembre* realizó unas composiciones (mismas que se incluyen como bonus en el disco) para formar parte del video *Memorias del Olvido* , video que da testimonio de la tragedia y soliradidad que surgió en la Ciudad de México a raíz del devastador terremoto de 1985; parte importante de las ganancias obtenidas por la ventas de este disco eran donadas a las familias afectadas, tristemente el disco vendió pocas copias y permaneció por años un tanto olvidado.

Con solo un disco en su existencia podemos poner a *0.720 Aleación* junto a los grandes nombres como Chac Mool, Banda Elástica, Iconoclasta, Eblem Macari etc.

Infaltable para redescubrir rock fusión ochentero *Orgullosamente hecho en México*.
OCTAVIOUSECLECTICUS
Hay un segundo disco de esta banda, por lo que sé de la misma calidad o mejor que el primero, pero que está perdido en los recodos de la historia... sumándose a la lista de joyitas latinoamericanas perdidas en la bruma del tiempo y la escasa y nula difusión. Una verdadera lástima. Si aparece algún mexicano que consiga el sugundo álbum, que sepa que aquí estaremos felices de difundirlo (y escucharlo, claro). No va a ser el primer caso que tendríamos en el blog, algunos de los álbums publicados aparecieron de esa forma. Mientras tanto, dejamos algunos comentarios más para que se vayan tamizando con la obra, mientras la descargan, porque no es algo como para dejarlo pasar. El siguiente comentarios también está muy bueno y enmarca la obra que estamos presentando:
Sabe a un ocaso en una zona rural de México. Guitarras y violines son protagonistas de un disco que busca sonar mexicano y para eso toma prestados sonidos del huapango, el son, jazz y un poco de rock para mezclarlos en un molcajete que nos regala disfrute. No hace falta voz, tan sólo una de las 8 rolas originales lleva letra, "Para estos tiempos tan ciertos" es el punto final de esta obra que durante siete canciones mantiene el sabor pueblerino, y para esta última composición, la única con letra, se transporta a la desmembración social de una urbe: "Esto más que una ciudad ya parece un cementerio" canta la letra escrita por Job Hernández en la que el pesimismo y el dolor se hacen presentes. Sin embargo hay otro lado, el de las primeras 7 rolas, todas ellas reflexivas, bellas y mexicanas. Los títulos de las canciones mantienen ligas con la idiosincrasia nacional, "Tarahumara", "Templo mayor" y "Danzante" dan muestra de ello. 0.720 Aleación es un disco redondo en el que desde la portada que nos enseña un devaluado peso mexicano, la agrupación logra una obra sincera y respetuosa de la música folclórica mexicana. Esta grabación es sin duda alguna El llano en llamas del rock mexicano. Piano, guitarras huapangueras, violines, flautas transversales, bajo, batería, tambores tarahumaras, tambor seri, ocarinas, trompetas de barro, vainas, sonajas y huesos de fraile fueron los instrumentos utilizados para esta grabación. Los ejecutantes fueron cinco: Carlos Castro, Carlos Torres, Job Hernández, Eduardo Zamarripa y Abraham Viñas. Esta combinación da por resultado un disco mestizo hasta decir basta, no podríamos decir que es folclórico al cien por ciento porque tiene al bajo y a la bataca, tampoco podemos decir que es roquero porque tenemos guitarras huapangueras y ocarinas, es una combinación de ambas en donde lo moderno sirve de cimiento para la construcción de la música que suena étnica, aunque haya sido realizada en el Distrito Federal. El disco fue expuesto en dos versiones, la primera de ellas fue simple y como todas, la pura grabación (en vinilo o KCT) sin extras (8 canciones), y la segunda incluyó algunas composiciones que se hicieron para "Memorias del olvido", un documental hecho por la Unión de Vecinos y Damnificados del 19 de septiembre, ambas versiones de 1986. Las composiciones incluidas en la segunda versión son bipolares, lo mismo muestran esperanza ("Huapango de la reconstrucción") u odio ("Hijos del averno"), dos de los sentimientos que la población de la Ciudad de México tuvo cuando sobrevivió al terremoto del '85. Lamentablemente la grabación se ha mantenido en el olvido a excepción de algunas mentes inquietas que lo recuerdan y alaban. Imposible es conseguirlo físicamente y menos aún si se trata de un original, la opción es la vía digital. Aún así el recuerdo de esta grabación habita en pocas personas (un solo vídeo subido este mismo año y con tan sólo 96 vistas en YouTube da muestra de eso) que se niegan a dejar ir una grabación que merece un poco más de luz.
David Cortés
Originarios de la Ciudad de México y con tres realizaciones en su haber, este supergrupo fue comandado por uno de los mejores tecladistas mexicanos: Omar Jasso (ex NAHUATL), quien también participó con CIRUELA II, grabó un excelente LP con música para el mundial de fútbol 1986 en México y muchas paticipaciones en Televisa. La música de 0.720 ALEACIÓN suena a folk, a huapango, a son, suena autóctona, sinfónica, acústica, prehispánica, llena al fin y al cabo de atmósferas que cambian y de una enorme tradición musical hecha durante muchos años en ese gran país. Surgidos a la calle a mediados de los '80, 0.720 ALEACIÓN son un grupo que representaron una (si nos permiten la palabra) "paralelidad" interesante junto a grupos como CHAC MOOL, reuniendo incluso algo de la esencia psicodélica DELIRIUM. 0.720 ALEACIÓN es, sin duda, una buena muestra de la música hecha en México, orgullosa de su tradición y dentro del sonido progresivo. Traten de no perdérselo.
Manticornio
Un quinteto que hace una fusión de rock, jazz y música folklórica mexicana (la buena, la auténtica). Ello fue en parte posible por la vasta experiencia adquirida al colaborar con algunos grupos anodinos de música latinoamericana y canto nuevo, quienes por lo general tratan de buscar cierta identidad con nuestras raíces, además de intentar un mensaje "intelectual y politizado"; aunque generalmente esto último se quede en una caricatura de "concientización", porque la práctica ha demostrado que, la gran masa juvenil en su mayoría no se identifica demasiado con esta corriente, por lo ambiguo y endeble -en ciertos casos-, del supuesto mensaje.Por lo consiguiente, el grupo optó por la comunicación más directa y universal: la música como único lenguaje.Carlos Castro y Carlos Torres (batería y violín, respectivamente),comentan sobre su trabajo: "Sólo buscamos parte de nuestra identidad por medio de la música", la aseveración se reafirma con el pensamiento vertido por los demás elementos en la hoja incluida en el disco... El bajista Job Hemández dice: -"Lo más importante es que estoy aquí, con las mismas ganas de siempre por hacer mi música y canciones, estoy aquí dispuesto a seguir cuando menos hasta el momento en que sienta haber dejado impregnado en el gusto algo de mí, lo demás que el tiempo diga". Por su parte el guitarrista Eduardo Zamarripa opina: "Las imágenes de vivencias en el campo resuenan en la música que enseña la urbe y que nota con nota me transporta a esa vivencia de mexicano, y de hacer mi música mexicana". El flautista Abraham Viñas es más lacónico:"0.720 Aleación, es una manera diferente de algo tradicional".En fin, al escuchar su disco por primera vez, nos percatamos que todo ese sentimiento declarado en palabras se convierte en una experiencia extraordinaria que nos lleva en un pequeño recorrido a través de nuestro territorio nacional, para redescubrir "esa música" tan marginada y olvidada, misma que al ser amalgamada con imaginación con otros géneros sonoros contemporáneos, la escuchamos digna y altiva... El álbum captura definitivamente la idea conceptual de los compositores: Mostrar su intensa búsqueda por lo mexicano a lo largo de toda la obra; ésta evidentemente contiene momentos de enorme calidad y brillantez en la ejecución. Tal es el caso de "Caifán ", "Tarahumara ", "Antes que Amanezca ", "Danzante" y "Campana del Silencio" -por citar algunas- que parece como si atraparan entre sus notas algún girón de un hermoso paisaje de nuestra tierra.Más aún, estos talentosos artistas redondean su creación al no excluir su sentir acerca de la problemática urbana con su canción "Para Estos Tiempos Tan Ciertos", donde narran una realidad bastante conocida por los que habitamos la gran ciudad... Neurosis, represión, soledad, deshumanización. Desafortunadamente a la voz (no se especifica quien canta), le faltó volumen en la grabación, haciendo que algunos párrafos, la verdad, suenen inescrutables y se pierda parte de su esencia literaria.Los nombres de las melodías restantes "Spn por demás atrayentes e intimistas: "Templo Mayor" y "El Corredor".Respecto a su estilo encuentro algunas coincidencias con Astillero, otra magnífica organización; -principalmente por la utilización de recursos instrumentales no muy ortodoxos como son: tambores tarahumaras y seris, ocarinas (instrumentos de viento, por lo común de barro cocido y de forma ovoide), trompetas de barro, vainas, sonajas, huesos de fraile, guitarra huapanguera y toda una serie de utensilios musicales autóctonos-.Puedo augurar que con el tiempo (si siguen adelante), 0.720 Aleación, será capaz de alcanzar una energía a la altura de la Mahavishnu Orchestra, porque su música no es precisamente diseñada para fines perversamente comerciales -eso espero-
Belén Valdes Cruz
0.720 Aleacion is an excellent album from the 1980's Mexican progressive rock scene. The album is loaded with influences from traditional Mexican folk(neither Mariachi or Banda that most people are familiar with) that I was not aware of until reading a little about the leader of the band. The musicians tend to jazz up their folk influences giving their music that progressive quality that we all enjoy. This group recorded an album in 1986 which was developed as a kind of Progressive rock situated between the Mexican school (CHAC MOOL, DELIRIUM) but also PREMIATA FORNERIA MARCONI (Jazz-rock period) and the European avant-garde style. Its music pieces are complex and full of rythm changes. Moreover, the jazz inspired violin, the distorsed guitar, the keyboards, the roaring bass guitar as well as the voice - evoke NATIONAL HEALTH, ZAO and DECIBEL (also from Mexico). Nice psychedelic folk pop. Recommended.
Tovan
A very touching background behind this Mexican group, which was formed out of the need to financially help the victims of the 85' earthquake that hit Mexico City.The monster of nature caused the death of over 10000 people, even more were injured and several buildings collapsed after the main srtike.Job Hernandez (bass), Carlos Castro (drums), Abraham Vinas (flute), Carlos Torres (violin) and Eduardo Zamarripa (guitar) were the musicians behind this act, who recorded a self-titled album in January 86', released the same year (07.20 was the exact time the main even occured). Musically the album explores the territory of Mexican Folk , blended with Rock, Classical and Jazz stylings, and quite reasonably the atmosphere is dreamy, ethereal and moving, trying to speak to the hearts of Mexican people.The overall approach though is not that easy-listening.The tracks are short, but they contain plenty of smooth interplays with a jazzy rhythm section collaborating with the flute and violin leaders of the release, producing nice series of quality music, close to a folky Fusion style.There are of course also lots of acoustic crescendos, offered by the classical guitar of Zamarripa, but he never finds himself alone.There is always a solid support by the violins of Torres and the melodic flutes of Vinas.Notice that the album is almost all instrumental with only one sung track, while a couple of songs contain some choir-type of vocal parts. The Sol & Deneb CD release contains 9 extremely short bonus tracks, all together not exceeding the 9-min. mark, taken from a 1986 video entitled "Memorias del Olivido".The sound here is more along the lines of pre-Hispanic Folk/Chamber Folk with dominant folk influences. The CD release of this album makes it available for a mass of listeners worldwide and ''0.720 Aleacion'' is a nice little pearl for all lovers of Progressive Folk or acoustic interplays.Historically though this work goes far beyond any possible rating system due to its humancentric purpose of existence. Recommended.
apps79
An acoustic quintet playing a very unique Fusion of Mexican folklore and Jazz. Using violin, flute, guitar, bass and drums, as well as a plethora of ethnic instruments, they create a magic amalgam, which works wonderfully. The album includes 17 short tracks, all quite different from one another, with quirky rhythms and strange melodies, intertwined with jazzy improvisations. The overall effect is strange and surprising, often sounding avant-gardish one moment and folksy the next. Definitely worth investigating for fans of unusual music. This CD reissue of the original album includes music recorded as soundtrack to a video production. Great Mexican ethnic prog folk with a jazzy touch from the mid 80's. I never heard of this group until very recently. Interesting use of standard rock instrumentation plus excellent electric violin, horns, ethnic percussion.
Jazzis
0.720 Aleacion is an excellent album from the 1980's Mexican progressive rock scene. The album is loaded with influences from traditional Mexican folk(neither Mariachi or Banda that most people are familiar with) that I was not aware of until reading a little about the leader of the band. The musicians tend to jazz up their folk influences giving their music that progressive quality that we all enjoy.
Steve Hegede Puro rock progresivo latinoamericano con convinación con folk y elementos prehispánicos. Bueno, les dejo un par de video y si después de esto no se lo llevan, yo me doy por vencido. Que lo disfruten.