Artista: Pasajero Luminoso
Álbum: Afuerino
Año: 2015
Género: Progresivo ecléctico / Folk rock / Jazz rock experimental / Todo eso y más
Duración: 47:21
Nacionalidad: Argentina
Lista de Temas:

1. Eolionimio
2. Afuerino
3. Doble sombra
4. Los elementos
5. Encantamiento
6. Los vivos
7. Hijo de druida
8. Las viuditas
9. Los muertos

Alineación:
- Juan Pablo Moyano / Guitarra
- Leopoldo "Pepo" Limeres / Teclados
- Pablo Valotta / Bajo
- Fabian Miodownik / Batería y percusión


Antes que nada, como primera medida voy a antociparles, ¡ESTE ES UN DISCAZO!
Otra vez este cuarteto de música instrumental, en otro disco más que genial, con sus característivas particularidades de fuerte tinte local donde conviven ritmos de chacarera y zamba, candombe, tango, rock progresivo y jazz. La banda del "Pepo" Limeres se las trae, y créanme que el disco tiene momentos altísimos, con la canción que da nombre al disco.


From Buenos Aires, Argentina, Pasajero Luminoso makes instrumental music whose language is a fusion of diverse rhythms like tango , candombe , and zambas chacareras, jazz and progressive rock.

Y si hay discos que representan el estilo de nuestro blog, seguramente éste es uno de ellos: vanguardista pero sin olvidar lo tradicional, mezcla de varios mundos, inclasificable, imaginativo, aventurero, talentoso. Ellos no tienen miedo de ser ellos mismos y desde allí encaran su estilo y definen su forma


Combinando la música de raíz folclórica con expresiones más bien modernas como el jazz, el rock progresivo y la música experimental, con paisajes sonoros en una exquisita mezcla de sabores auditivos producto de una búsqueda musical llena de curiosidad y coraje, Pasajero Luminoso logra una atmósfera aventurera y llena de melódicas joyitas.


From post rock to jazz in a week! What a fine job I have here. This band from Buenos Aires has the finest jazz to offer. No, I won't call it jazz rock. But the rock is there, kind of tucked away, in-between the notes. So, like John said, quality proggy jazz. Get your headphones, find a place where you will not be disturbed, take your time, listen to this heavenly-brilliant disk and find traces of Gong, Soft Machine and Mahavishnu Orchestra.
André de Boer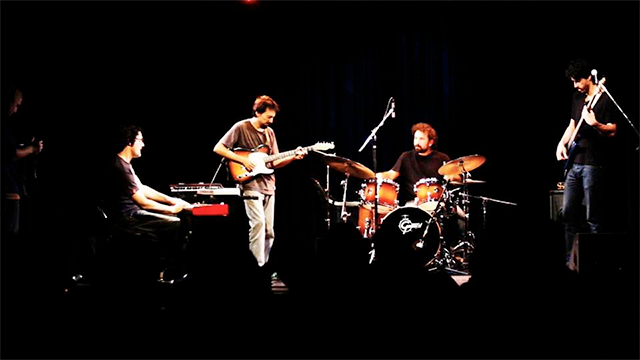 El disco es instrumental, con una fuerte presencia rítmica, presentamos un muy entretenido trabajo que nos invita a viajar con los sonidos y que no tiene desperdicio, transitando sutilmente por los delgados límites de los géneros y barriendo límites con audacia, con músicos que se han convertido en buceadores de estéticas con las que enriquecen constantemente su obra, buscando un lenguaje común entre el rock, el jazz y los folklores del Río de la Plata, en un testimonio de la confluencia de cómo grandes músicos, con gran imaginación, creatividad y talento, pueden moldear un encuentro de estéticas con resultados sorprendentes y vibrantes.
Por suerte la sinergia entre los músicos sigue intacta (y se entienden a la perfección, por lo que esperemos que no haya recambios constantes, por ahora continúan con la misma formación). Luego de su notable primer disco homónimo, éste disco es una paso adelante desde un lugar en el que es difícil avanzar porque ya estaban muy adelantados. Pero lo han logrado y éste disco supera incluso al anterior. Realmente la riqueza de las composiciones de este álbum es algo digno de mencionar y reclacar hasta el cansancio.

Como copiábamos en el comentario del primer disco de la banda:


Desde hace un par de años, son muchas las expresiones que restrean su identidad en la fusión de las musicalidades con raíz folclórica que se ensamblan, según el caso, con matices estéticos relacionados con instrumentaciones y arreglos anclados en otros géneros (algunos más modernos, otros más universalmente). Pasajero Luminoso es otra de las bandas que se inscribe en esa sintonía que se propone rupturista aunque no de manera directa y violenta. La banda integrada por Juan Pablo Moyano, Leopoldo "Pipo" Limeres, Pablo Valotta y Fabián Miodownik suma su nombre al extenso listado de artistas en el que se pueden ir resaltando nombres como el Presenta Trío cordobés, el formoseño Guauchos y el publicitado Terraplen de Santaolalla en una corriente que necesariamente tiene que hallar sus primeras experiencias en la historia de bandas como Anacrusa e, incluso, Arco iris.
En el caso de Pasajero Luminoso la presencia del jazz se hace mucho más latente e incluso, algunos de sus pasajes dan la impresión de estar en frente de una banda enclavada en la música progresiva que tuvo su auge a mediados de los setenta de nuestro país. Hay pinceladas de Banda Spinetta y de Piazzolla en varios de los paisajes que se dibujan a lo largo del disco, siempre acompañados por una marcada presencia de zambas, chacareras, tango y candombe.
César Pucheta

Todo ello sigue más presente que nunca pero incluso mejorado, más homogéneo, con atmósferas atrayentes, ritmos hipnóticos que rozan la psicodelia y toda la sangre del Río de la Plata corriendo por entre sus venas de rock y jazz. Tradición y experimentación se unen en éstos nuevos exponentes de la música popular latinoamericana.



Un disco notable de músicos auténticos, valientes, personales y honestos. Aquí, señoras y señores, llega un disco vale oro por su calidad musical, pero también porque sus cualidades sonoras lo tornan prácticamente inclasificable... progresivo, folcklórico, psicodélico, tanguero, jazzero, experimental, todo eso junto en una delicia de disco que no se pueden perder.
Si te gustó el primer disco, éste te va a reventar la cucuza, esto es música para conmover al espíritu humano. Imperdible y ultra-recontra recomendado!!!

El disco se puede conseguir por el espacio de Viajero Inmóvil Records, lo pueden escuchar o comprar en digital, pero también tienen la opción de comprar el CD físico escribiendo a info@viajeroinmovil.com. Y los invito a revisar el catálogo completo de dicho sello porque tiene exquisiteces más que interesantes.


Facebook