Empezamos la semana, seguimos con las resubidas de Sandy, que trata de mantener activo todo el universo de música brasilera que hay en el blog. Ya estamos en los tramos finales, luego vendrá su paso por otros países latinoamericanos, para no perder el espíritu del blog.

Artista: Acidente
Álbum: Ainda
Año: 2012
Género: Rock progresivo sinfónico / Prog-related
Duración: 73:59
Nacionalidad: Brasil
Lista de Temas:
1 6/6/11 (Six, Six, Eleven)
2 Navidalouca
3 Trilhos, Dormentes e Homens
4 1987
5 Elsewhere
6 A Nova Onda
7 Let's Play
8 Só Eu Sei
9 7 Quedas
10 Gravidada
11 O Tronco
12 Ruas Torturantes
13 Mala de Influência
14 Resistant
15 Trevas
16 Venham Cá
17 The End

Alineación:

- Zunga Ezzaet / guitars), bass, drum programming, keyboards), lead and backing vocals
- Paulo Malária / keyboards), lead and backing vocals
- Helio "Scubi" Jenné / lead and backing vocals
West:
- Raul Branco / bass on track 12

Volvemos antes del cataclismo que parece nos sepulta, y con más rock brazuca!. A esta banda ya la había presentado en este blog. Cinco años después de su último lanzamiento ("Technolorgy"), y luego de haberse separado,
Acidente
regresa con este nuevo CD.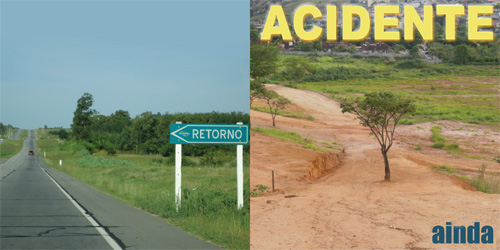 Ahora, el tipo llamado
Zunga Ezzaet
se ha convertido en un factor clave en la historia de "Ainda", donde toca el bajo, teclados, programa la batería, hace la grabación y la mezcla y después barre el piso (cvomo el viejo dicho, le falta en plumero... ahí).
Igualmente, a mí el álbum no me termina de cerrar del todo...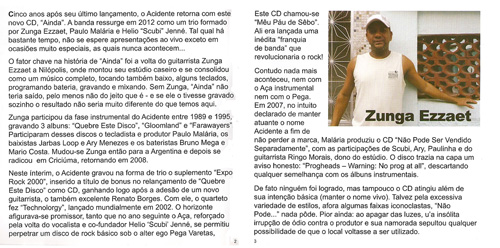 Quizás la excesiva variedad de estilos, eclécticos temas, su independencia a toda prueba hacen que al final el resultado de este disco no sea el mejor, quizás un poco excesivo, tendría que durar menos y con las mejores ideas, que las tiene, y sobretodo tendrían que tener un buen vocalista porque a veces la voz da asco. Así que terminan haciendo un disco que si bien tiene muy buenas partes instrumentales, desarrollos muy interesantes y buenas melodías, no me termina de convencer, he de decirlo.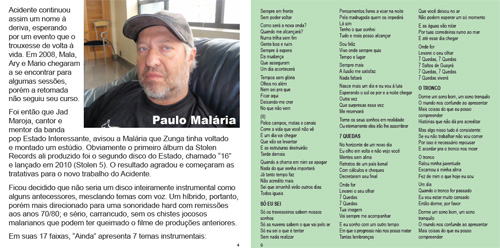 Acidente, um veterano do rock nacional, fundado em 78 como um grupo de punk rock, mas que acabaria embarcando em uma longa viagem progressiva graças ao seu tecladista, Paulo Malária… no começo o som era bem diferente, com um rock mais direto e sem elaborações… e essa fase durou até 87, sempre no cenário underground, chegando a lançar 3 álbuns antes de encerrar atividades.
Mas, em 1989, Paulo Malária resolveu ressuscitar o Acidente… e agora com uma sonoridade totalmente diferente, investindo forte em um rock instrumental e progressivo… foi dessa época o álbum "Em caso de Acidente… Quebre este Disco" e o grupo, a partir de então, se firmaria no cenário do prog. nacional, lançando vários trabalhos independentes e chegando a obter alguma repercussão internacional, com o lançamento do álbum "Technorlogy" pela Musea, em 2002.
Felizmente, o Acidente se manteve firme apesar de novas dificuldades, voltando em 2012 com o álbum "Ainda"… depois de 5 anos de silêncio… o resultado é um trabalho que mostra toda a força e a vitalidade dessa grande banda que, como eles mesmo dizem: ninguém conhece mas todos já ouviram falar… e se vocês só tinham ouvido falar, então vão conhecer aqui no Art Rock, fiquem com um pouco desse novo disco de um dos pilares da resistência progressiva…
Vocês ouviram o Acidente com "6 6 11", "Elsewhere", "Só eu sei", "7 quedas" e "Gravidade"… todas faixas do álbum "Ainda" de 2012.
A gente volta já.
Art Rock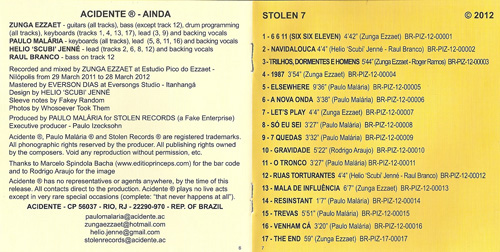 Ainda (2012, 73-minutes) is in the same upbeat, melodic, and relatively straightforward symphonic prog style as Technolorgy and comparable in quality, except that 10 of Ainda's 17 songs have vocals, in Portuguese save one in English. Three of the four band members sing, taking turns on lead vocals. Acidente are still a better instrumental band than vocal band, so the instrumental tracks and passages contain most of the highlights.
Kinesis CD
Prueben y después me cuentan, yo estoy en eso, por las dudas dejo algunos temitas para que los escuchen antes de bajarlos en lossless.
¿Será este mi último posteo en el blog antes de que no esté más? ¿será así?
Veremos...
www.acidente.ac
acidente-rock.blogspot.com.ar