Opera rock basada en "En el nombre de la Rosa", la novela de Umberto Eco, una muy buena muestra de rock sinfónico brasilero cantado en inglés y resubida por Sandy. Y si nunca escucharon esta banda, este es un buen lugar donde entrarle... Disfruten!

Artista: Anima Dominum
Álbum: The Book of Comedy
Año: 1999
Género: Rock sinfónico
Duración: 55:55
Nacionalidad: Brasil

Lista de Temas:
1. The Abbey
2. Conference
3. Sheaps and Goats
4. 1327
5. The Cross ...
6. And The Rose
7. Exile
8. Season Song
9. Leviathan


Alineación:
- Claudio Cepeda / bass, acoustic guitar and backing vocals
- Ricardo Lima / keyboards, acoustig guitar and lead vocals
- Frederico Paulo (Fredinho) / drums and percussion
- Zé Lima / electric and acoustic guitar
Guest musicians:
Marco Aurêh / flutes
Alex Frias / synt bass on "Season Song"
Ricardo Lima, Alex Frias & Claudio Cepeda / Monk Choir


Y ya que estamos con esta banda brasilera que hace rock sinfónico cantado en inglés, vamos entonces con "The Book of Comedy" que es una opera rock basada en "The Name of the Rose" (En el nombre de la Rosa) de Umberto Eco. En un nivel mucho mayor que el recientemente presentado "Tempus Stetisse", aunque quizás no llegue al nivel que había mostrado en "Singularities", y tengo entendido que èste fue el último trabajo de la banda.
En este disco también se escucha esa mezcla de neo-prog y un rock sinfónico que yo había calificado como un tanto light o descafeinada, aunque lo que en su primer momento sonó light en estos trabajos se torna simplemente delicadeza, y lo que resultaba "descafeinado" ahora es melodioso. Otra muy buena performance de la banda, siendo este disco recomendado para cualquiera y no sólo para los fanáticos del rock sinfónico.


Originally formed in Rio de Janeiro in 1991 by Little David, Ze Lima and Fred Castro. The Anima born in a group of a friends who needed to express their ideas, feelings and themselves musically, without caring about musical styles or tendencies, trying to reach the pure essence of music. So they looked for good musicians capable to do the task. After many "ins and outs", Flavio Araujo joined the band and Anima made the 1st CD (Tempus Stetisse) through their friend and mecenas, Jorge Alegrio. After a while and lots of gigs, comes the 2nd CD (Singularities) that has the blessing hands of Mr. Lincoln Olivetti. Little David and Flavio Araujo left the band. Forcing Anima to find Ricado Lima in New York. So in 1999, the 3rd CD is born (The book of comedy). Now returning to its original formation, The Anima rearranges old songs and brings new ones to target the brazilian heart in everyone. Spiced with eletronic effects and rhythms, that never were out of the score, the band now has new power, firmly securing total freedom in making progressive music nowadays. In the new Show and Live DVD, Anima plays Ariel, Leviathan, Seasons, Snow Kiss, Candle of Thoughts, Tunnel of Light, Black Hole, Violet, The Old Man Goes e My Place . Members: Fred Castro - Drums and Percussion Began studying classic percussion at Villa-Lobos Institute. Night Musician. Played also at Corredor Polones. Influences: Rush, Eloy, Pink Floyd e Yes. Little David (David Santos) - Bass and Voice, Arranging, sequencing and programming the musics with other Anima members. Played at 2 of 3 Anima CDs. co-founded Corredor Polonês with Fred Castro. Zé Lima - electric and Acoustic Guitars - Played at Terraço, Prog Rock pioneer in Nova Iguaçu. Played in SuperBacana and Painel de Controle. Silvio "Negim" Valle - Guitar that accompained artists like Alcione, Agnaldo Rayol, Oswaldo Nunes, Ademilde Fonseca and others in the 80s. Big fan of Anima, now joins the band. Influences: Yes, Pink Floyd, Genesis, Camel, Focus and other prog bands. Wendel Santos - Keyboards Began studying with Ronaldo Diamante e Lú Guarilha in the Integrartes Institute and with Adriano Souza (brazilian pianist). Working with various brazilian artists since 1999.

Playlistmonkey

Increíblemente, hay muyt poca información sobre este disco, es de esas rarezas que cada tanto econtramos, que siendo un trabajo muy digno (vean los videos si no me creen, el disco está mnuy bien dentro de su estilo) quedaron confinados a categoría de "inconseguible" únicamente por ser una producción independiente.
En este humilde espacio venimos a rescatar este tipo de trabajos, sería un pecado que se pierdan definitivamente.


This is a very good album!!! I really like songs,vocals and musicians, except the drummer. The bassist is very Chris squire fan, I see! There are a very good compositions...The vocals (by the keyboardist Ricardo lima)are very good too!!In my opinion a great brazilian band. TRY!!!

Amelloc
This is a first rate recording to be added to the usual Brazilian suspects : Quaterna Requiem, Tempus Fugit and Aether. The entire disc is chock full of highly interesting compositions, well balanced and loaded with atmospherics, stylistic twirls and zesty leads from (brothers?) Ze Lima on guitar and Ricardo Lima on keys. The true obvious "genius" is bassist Claudio Cepeda who lays down some neat rythms throughout , very much in the Squire Rickenbacker mode with lots of trebly tones and deft fingerwork. I always go through at least once all prog albums listening uniquely to the bass guitar , generally a very good barometer of overall quality.Tracks 3 and 4 provide the epic extended pieces where each musician has the stage to express their craft but the real killer track is the aptly named "Leviathan" a monster piece that has CLASSIC written all over it. Perhaps the album is a little clinical for some of the more experimental prog fans out there but prog played with such gusto and finesse dissipates any negative sub-impressions , as this is quite original , typical of the "looser" Brazilian attitude towards music where technique is always relegated by emotion (just like with soccer, of course!). This album comes strongly recommended for symph prog fans. 4 laughing pages

Thomas Szirmay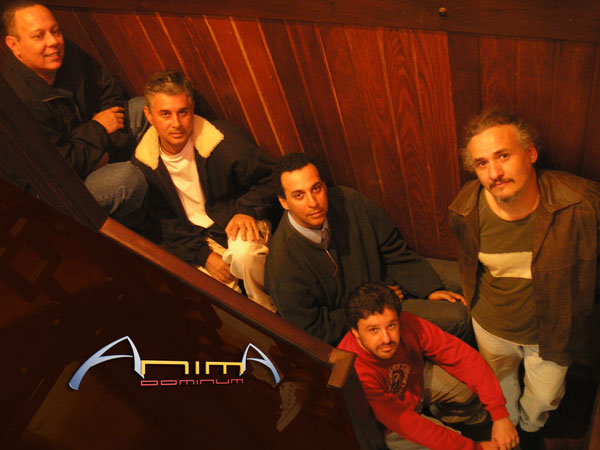 Para terminar, resumo: un muy buen álbum de progresivo sinfónico, que vale la pena recomendar.

www.myspace.com/animadominum/music