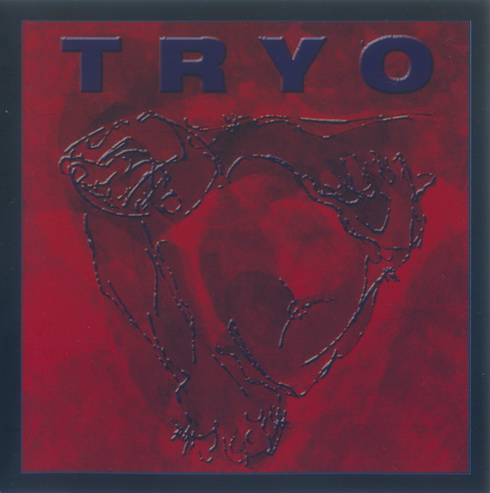 Artista: Tryo
Álbum: Tryo
Año: 1996
Género: Jazz Rock / Fusión
Nacionalidad: Chile

Lista de Temas:
1. Tierra
2. Fuenteovejuna
3. Series
4. Alma Eterna
5. Sacrificio
6. Eros
7. Bolero
8. Carne
9. Niebla
10. Tonada
11. Ofrenda


Alineación:
- Félix Carbone / drums
- Francisco Cortez / vocals, bass, cello
- Ismael Cortez / vocals, acoustic & electric guitars

Ya lo dije, se vienen las resubidas de discos que no podrían faltar en este espacio, y nada de Tryo puede quedar afuera de este blog. Aquí tienen el primer disco de los geniales chilenos del jazz-prog rock. Disfruten...

Volvemos al poderoso grupo chileno de jazz rock, esta vez con su primer álbum, que ya daba todas las proyecciones de lo que sería su carrera, y para quien no sepa de que estamos hablando, les debo comunicar que Tryo es una de las mejores bandas del progresivo chileno que parte a fines de los ochenta, y sigue en trote hasta la actualidad. Tienen un raro sentir artístico porque siempre se debaten entre lo acústico, ma´s fino y melodioso, y lo eléctico, mucho más poderoso y pirotécnico, en eso andan sus álbums, que transpiran energía y vigor al mismo tiempo que son un tranquilo remanso de emotividad, y en este espítitu doble el grupo busca su identidad, esa que les dió su sello a su álbum "Crudo", publicado aquí y que espero que hayan escuchado y disfrutado.


Tryo es una de las mejores bandas del progresivo chileno que parte a fines de los ochenta encabezada por Ismael y Francisco Cortez incorporandose el percusionista Felix Carbone. Una caracteristica fundametal es que estamos hablando de tres profesores de musica amantes del progresivo y claramente influenciados por el genio de Robert Fripp y King Crimson, paseando tambien por hermosas melodias acusticas en cello guitarra y percusion o algo de jazz. Su discografia es extensa asi como tambien sus experiencias como musicos de sesion, las que cuentan a Page & Plant en su presentacion en Chile, Hermeto Pascoal y Flairck que han sido apoyados por estos experimentados musicos. Si a esto le sumamos un hecho extraño en Chile, pero recurrente en los ultimos años, como es el exito a nivel internacional y la aceptacion que esta banda y otras del progresivo local han tenido tanto en Europa como en Latinoamerca, destacando su participacion en el Baja Prog 6 de Mexico y giras al exterior. Teloneros de la ultima presentacion de Yes en Chile, dan cuanta de un tremendo grupo oriundo de Valaparaiso y que ademas los tiene como musicos de la Sinfonica de Viña del Mar. Son sin duda la mejor banda revelacion de este genero junto a Ergo Sum.
En Busca del Tiempo Perdido

Bueno, y yo sigo con pocas ganas de escribir, por favor, no lo creo necesario, sólo les quería traer otro álbum para el fin de semana, no sea que se vayan a aburrir. Y no les traigo cualquier cosa (aunque creo que en este espacio nunca vendemos cualquier cosa), les traigo el primer registro de uno de los grandes grupos sudamericanos de hoy en día, que siguen nutriéndose y tomando inspiración y recursos del glorioso pasado progresivo para proyectarse con fuerza a una nueva forma de encarar este gran estilo, que más que estilo, es nuestra manera de sentir y vivir la música.


Al refrerirse al grupo porteño Tryo indefectiblemente se entra en el terreno de aquellas bandas que, más allá del impacto en el gran público, de la presencia mediática o de las afinidades estilísticas que comparta o no la audiencia, han producido aportes fundamentales a la conformación de un corpus musical chileno. Tryo está a la altura de otras bandas consulares de la década como Fulano, Electrodomésticos, Sol y Medianoche o Agrupación Ciudadanos. Pero en el caso de Tryo no podemos hablar directamente de rock progresivo hecho en Chile. Por dos razones. Primero, lo "progresivo" es un dato dentro de un espectro amplio de recursos a la hora de componer. Y en segundo lugar, sin considerar la empresa musical que el grupo se imponga —y ahí radica la enorme diferencia con muchísimos otros grupos afines—, su obra parece construido para su propio contexto. Misteriosamente, en Tryo confluyen distintas fuentes externas, llámense rock, música contemporánea o folclor, pero en definitiva entrega una obra que es parte de la situación social y ambiental desde donde surge: el puerto de Valparaíso y el microespacio de creación de los tres integrantes de la banda. Los hermanos Ismael Cortez (guitarra) y Francisco Cortez (bajo), además de Félix Carbone (batería) trabajaron silenciosamente y a puertas cerradas entre 1984 y 1994 como trío. Su nombre proviene de aquella asociación tripartita. En ese período pulieron una cuidada educación musical e instrumental docta de academia. Ismael Cortez estudió guitarra clásica y Félix Carbone percusión clásica en la Universidad Católica de Santiago, mientras que Francisco Cortez estudió cello en la Universidad Católica de Valparaíso. El grupo de músicos se perfiló así como una banda señera de la Quinta Región con base en Valparaíso, hasta que la colaboración con el sonidista (y luego manager) Gonzalo Herrera, profesionalizó el trabajo que hasta ahí había en el laboratorio y en un circuito de música underground. Valparaíso, mi amor En el período posterior a ese decenio figura entonces el trabajo incial de registro de su música a través de sus tres primeros títulos: Tryo (1996), Crudo (1998) y Patrimonio (1999). Fue ahí donde el grupo asentó su lenguaje binario: un filoso hard rock progresivo en el anverso y una propuesta de música acústica en el reverso, donde apareció el talento fino de Francisco Cortez, desdoblado al violoncello y del avanzado manejo de la marimba y el vibráfono de Carbone. En estos discos, la caras eléctrica acústica se mostraban separadamente, conviviendo en la armonía de los polos opuestos. Y parte de la música de Patrimonio fue compuesta para un video documental destinado a apoyar la nominación de la ciudad de Valparaíso como Patrimonio de la Humanidad. Recordadas presentaciones porteñas como teloneros de los grupos sinfónicos y progresivos Yes y Flairck, además de un concierto preliminar del compositor brasileño Hermeto Pascoal, adjudicaron una estatura completamente singular al grupo. Desde 1999 Tryo comenzaría entonces a internacionalizar su carrera. Música de cámara librepensadora Ese mismo año, la banda sorprendió al público santiaguino en el primer "Encuentro de Rock de Vanguardia Nacional: Trilogía", junto a bandas capitalinas como Fulano y Ergo Sum. Vendrán entonces una participación en el festival Baja Prog en México y ya iniciada la década de los años 2000, una gira por Europa. Su cuarto disco, Dos mundos (2002), fue registrado en Los Angeles, California. A pesar de su extensa trayectoria, Tryo siguió confiriéndole a su música una viveza espiritual heredera del influjo experimentador de los primeros Jaivas viñamarinos y del rock progresivo libre en sus influencias. De esta forma y abiertos a la propia mutación, en su quinto disco, Viajes (2005), el grupo se muestra en un formato exclusivamente acústico con la idea de explorar todas las posibilidades de los instrumentos nobles y de las nuevas composiciones para que la música obtuviera resultados inauditos hasta ese instante. El álbum describe viajes que van desde paisajes bucólicos hasta exploraciones en lo docto contemporáneo. A estas alturas Tryo ya no es un ensamble de cámara encubierto como power trio de rock. Más bien una orquesta hábilmente resumida en un power trio de cámara. Uno de los proyectos de música chilena más importantes y desconocidos del fin de siglo, que inauguró una línea de nuevas agrupaciones rockeras, experimentales y progresivas y acústicas porteñas como Sala del Espejo, Uñas Negras, Umbría en Kalafate, Pequeñas Partículas, Flotante o Verdevioleta.
Mastherion
With their namesake debut album, the talented Chilean power trio Tryo caught the attention of lots of prog fans around the world, an attention that still enduring after 8 years and 3 more albums. They are well known for balancing their rock side with a more acoustic chamber-oriented facet, though their debut album is clearly designed as a prog rock/jazzy album - mostly instrumental, only track 4 has lyrics. The major influences are Red/and/early 80s-era King Crimson (mostly), common place psychedelia, the rougher side of Mahavishnu Orchestra, plus some touches of Led Zeppelin and jazz-fusion. The whole repertoire is a progressive display of musical fire, handled with exquisite skills, fuelled by density, and arranged with astonishing dexterity. The opening number 'Tierra' is a hell of a way to leave a damn good impression on the listener, with its catchy riffs, complex rhythm patterns, clever interplays, and a sense of passion that goes beyond mere technicality. The most complex passages are contained in the longer tracks, such as 'Fuenteovejuna', 'Series', 'Sacrificio', 'Eros' (drum solo included), and 'Niebla', all of them dealing alternately with Crimsonian madness and jazzy exuberance. A special mention goes to 'Niebla', which is actually pretty challenging due to its disturbing, somber general ambience: there have been times, when I was listening to this scary piece, that I couldn't help thinking about dark forests haunted by hellish spirits and surrounded by mystic fog. The preceding track, 'Carne', fortunately lasts less than 3 minutes, because it's even creepier than 'Niebla', since it includes some guttural voices a-la death metal: go figure! On the quieter side of things, there are the introspective 'Bolero', the serene folkish 'Tonada', and the classically tinged acoustic number 'Ofrenda', which closes up the album with an air of Bartokesque dissonant distinction. While this album is an amazing expression of Tryo's electric side, it will be in later albums that their sonic spectrum will incorporate a more varied array of musical sources, hence enriching their own offering in a more consistent manner: all in all, 'Tryo' is a great album, indeed!!
Cesar Inca
TRYO is named by a lot of people like the perfect trio, this progressive and acoustic chilean rock band is formed by : Felix Carbone, on drums and percussion, Ismael Cortez on guitars and Francisco Cortez on violoncello and bass guitar. Their wonderful fusion takes us to a wonderful tour by acoustic wonderful melodies and at times to a very proggresive rocker songs, the style is absolutely their, so they do not have a lot of similars bands.
"Patrimonio", that drives us trough a wonderful and absolutely acoustics melodies that mades us take a walk on the air, and explores our inside with an absolutely rocker time songs, that remind us why is called progressive rock. And his last album called "Viajes", that show us the best of tryo and what they know to do best, the acoustic melodies that like us so match and, that takes us again on this 48 minutes "Journey" where TRYO take again and with us a walk on air.
I would say highly recommended ... and if you ask me, listen the "Patrimonio"´s first two tracks, that if you are curious to know about the melodical magic of these band ... but if you are looking for a little bit more of rock i recommend you the "Patrimonio"´s track ten ... and if you want to listen a little bit of jazz fusion influences. You are looking for "Patrimonio"´s seventh track.
Diego
www.tryo.scd.cl