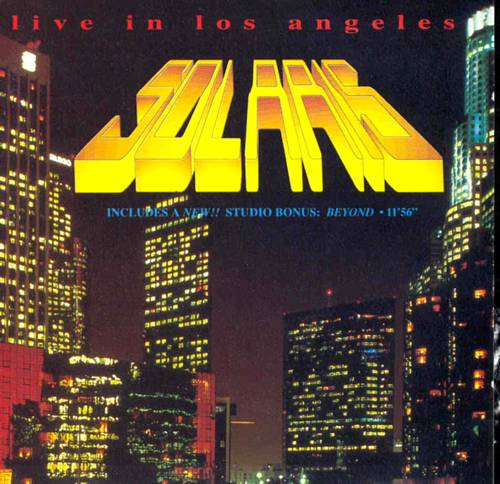 Artista: Solaris
Álbum: Live In Los Angeles
Año: 1995
Género: Rock sinfónico
Duración: 54:48 + 50:21 = 105:09
Nacionalidad: Hungría
Lista de Temas:
CD 1
1. Martian Chronicles - Part III
2. Hungarian Dance
3. M'ars Poetica
4. Duo
5. Bonus Game
6. Concerto In E-Minor
CD 2
1. Undefeatable
2. If The Fog Clears Away...
3. Apocalypse
4. Wizard Of Oz
5. Mickey Mouse
6. Eden
7. The Viking Comes Back...
8. Solaris
9. Beyond... (Studio Bonus Track)
10. in Rio (concert bonus)

Alineación:
- Attila Kollár / flute
- Csaba Bogdán / guitars
- Gábor Kisszabó / bass
- Tamás Pócs / bass
- Róbert Erdész / keyboards
- István Cziglán / guitars
- László Gömör /drums

Aprecien esta maravilla que nos comparte el Mago Bondadoso de Alberto, yo lo estoy escuchando y es un trabajo en vivo maravilloso... no se pierdan este disco que ustedes mismos serán los principales perjudicados...

Miren esto, saquen fotocopia, abran bien los ojos...
En noviembre de 1995 los progresivos húngaros Solaris fueron cabeza de cartel en Los Angeles Progfest. El resultado se puede ver en este concierto excepcional que ha sido editado en el 2010 en formato DVD y que en su versión CD (creo que salió en su momento como un bootleg) nos lo trae Alberto el Mago Bondadoso, para que se babeen y se revuelquen en el piso como endemoniados húngaros.


Recordemos para algún caído del catre (o para alguno de los tantos purretes que circulan por el blog); el nombre de la banda es una referencia a la novela de ciencia ficción "Solaris" de Stanislaw Lem ya que los miembros de la banda han dicho que siempre han estado influenciados por estos y otros libros de ciencia ficción.
El primer disco de larga duración de Solaris, llamado "Marsbéli Krónikák (Martian Chronicles)" en una referencia a la novela "Crónicas Marcianas" de Ray Bradbury, y fue publicado en 1984 en LP y en 1989 en CD, distribuido por todo el mundo y publicado en nuestro blog. El disco fue considerado uno de los mejores discos progresivos en el período entre los años 1980 al 1995 por muchas revistas especializadas, además también por lo miembros del staff de este blog. En 1995, la banda fue invitada al ProgFest '95 de Los Angeles. Este es un festival de tres días y el segundo día Solaris fue la atracción principal. Este exitoso concierto fue publicado en un CD doble "Live In Los Angeles" y que presentamos acá. Después de este concierto, han recibido invitaciones para otros importantes eventos de música progresiva:

Rio de Janeiro – 1996




Bethlehem PA – 1999 The First North East Art Rock Festival (NEARFEST)




Mexicali – Baja Prog, Mexico City 2001




Monterrey – 2004
Luego, en 1999, la banda publicó un disco de estudio completamente nuevo, llamado "Nostradamus, Book of Prophecies". Y que creo que el Mago Bondadoso me lo pasó para publicar, y sino yo lo tengo y lo traigo en cualquier momento.
La música de
Solaris
es de un poderoso contenido melódico, a menudo enlazado con temas de Europa oriental y se destaca por el uso de desarrollos temáticos dinámicos y extensos. Hacen un muy buen trato de los instrumentos principales, como la flauta, la guitarra y los teclados y su énfasis no está en producir largos solos sino que en el empleo de dichos instrumentos dentro del contexto del desarrollo de cada pieza individual. Como podrán escuchar, el 99% de la música de la banda es instrumental, sin palabras, salvo algunas excepciones.
Les dejo unos comentarios en inglés y sin más vueltas... ya lo dije, no se pierdan esta belleza...
This is my latest Live album i purchase, ad im very happy with it, i have another 3 Solaris´albums, and thats why i already knew the most of the songs in this concert, when i put it on my cd player, it was a great experience, an excellent sound, strong keyboard and flute arrangements, as we know Solaris doesnt have vocals, is an instrumental band, and that´s the beauty of this band, we can find here an awesome musical skill, guitars , keyboards and the amazing sound of Kollar Attilla´s flute makes this concert a great experience, they were in Baja Prog here in Mexico, i couldn´t go, and i really wish to see them one day, it would be great, for all these facts im going to give ti 4 stars. Beautiful!
Guillermo H. Urdapilleta
"Ladies and gentlemen, direct from Hungary...SOLARIS!" That was the enthousiastic announcement, made during the Progfest 1995, the annual progrock festival that also featured Ars Nova and White Willow that year. Solaris performed very well and delivered an outstanding gig, I wish I had been there, what an unique and compelling progrock sound!




This sound is based upon splendid interplay between a classical flute, fiery electric guitar and sensational keyboard work. The shorter songs often deliver a vey propulsive rhythm with spectacular Minimoog flights, swirling flute and powerful electric guitar, the interplay between these instruments sounds very exciting. The longer compositions alternates between mellow (often classical flute and soaring keyboards) and bombastic (stunning soli on the Minimoog and fierysoli on the electric guitar). The strong classical undertone from Solaris is emphasized by work on the piano, flute and acoustic guitar. I'm very impressed by the skills from these musicans and their dynamic and varied sound, featuring many pleasant musical ideas.




This live 2-CD is a great introduction to their unique sound, HIGHLY RECOMMENDED!!
Erik Neuteboom

Otra de las tantas joyitas de este blog! Disfruten con estos húngaros geniales! Y vamos a publicar en cualquier momento el "Nostradamus"... y lo que sí no traemos aún su "Marsbéli Krónikák II" del 2014... ¿o quieren que también la traiga?. Pero lo que no consigo de esta tremenda banda es el concierto en México donde presentaron dicho disco. ¿Ustedes dicen que el Mago Bondadoso lo conseguirá a esto?...