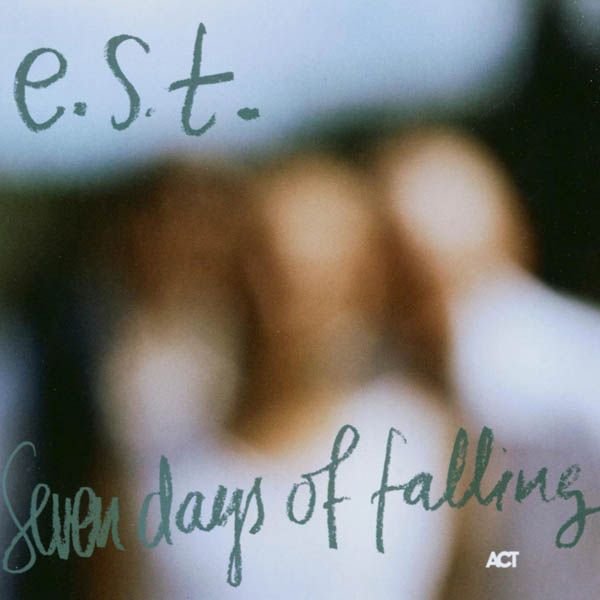 Artista: Esbjörn Svensson Trío
Álbum: Seven Days of Falling
Año: 2003
Género: Jazz
Nacionalidad: Suecia
Lista de Temas:

01. Ballad For The Unborn
02. Seven Days Of Falling
03. Mingle In The Mincing-Machine
04. Evening In Atlantis
05. Did They Ever Tell Cousteau?
06. Believe Geleft Below
07. Elevation Of Love
08. In My Garage
09. Why She Couldn't Come
10. O.D.R.I.P.
Alineación:

Dan Berglund / double bass
Magnus Öström / drums
Esbjörn Svensson / piano

El séptimo trabajo discográfico del trío del pianista sueco Esbjörn Svensson (comercialmente E.S.T.) supone la confirmación de un camino estético propio. Un sonido atmosférico reconocible que gusta del rock y que parece seguir bajo los efectos de la visión de la tierra desde el espacio de Yuri Gagarin.
La electrónica se va incorporando a la música del trío. Lo hace de manera sutil y medida. Pequeñas distorsiones para unas composiciones que gustan del concepto "in crescendo" hacia el clímax y de baladas tintineantes.
Aunque lejos de virtuosismos, la mano derecha de Svensson destaca por su tremenda agilidad. Sus compañeros son a su vez nombres propios con voz propia. El contrabajo guitarrero de Berglund o la batería percusiva de Öström proporcionan parte fundamental del sonido E.S.T.
"Seven days of falling" no supone mayores novedades en el discurrir del trío sueco aunque sí depara una curiosidad. La última pista del cd contiene una canción "fantasma" con la voz de Josh Haden, hijo del genial contrabajista Charlie Haden.