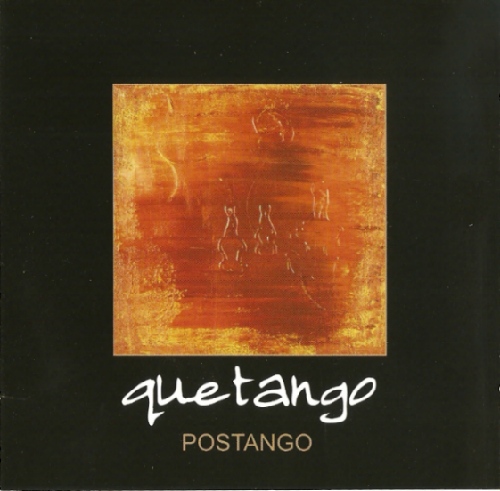 Una joyita canadiense que mezcla el tango con la música de cámara, el jazz y tiene una pizca del clásico rock progresivo setentero, aunque esto ni por casualidad puede tratarse dentro de los parámetros del rock. Esa introducción sirve solamente para aquellos distraídos que no sepan que cosas como estas están disponibles en el blog, como tantas maravillas que pueblan nuestro catálogo cabezón. Que lo disfruten!.

Artista: Quetango
Álbum: Postango
Año: 2006
Género: Tango, Progressive fusion, avantchamber
Nacionalidad: Canada (Quebec) & Argentina
Duración: 42:19 min
Lista de Temas:
1. Etouffoir
2. La Trigo
3. Milonga Transitoria
4. Erreur
5. Tango En Mi
6. Oxydo
7. Impro
8. Distancia
9. Riposte
Alineación:
Daniel Finzi - violoncelle
Jonathan Hains - guitares
Frederic Vermette - contrebasse
Simon Boudreault - percussions

"Postango" es un disco delicioso que cruza todo tipo de fronteras musicales y lleva al oyente a un cruce maravilloso del tango, el jazz, y música de cámara. Se compone de guitarra de jazz, cello, bajo y batería, Quetango es una mezcla de musical franco-canadiense y argentina, y que mezcla multicultural presta cierta influencia maravillosa de estas composiciones originales. Desde el jazz a los ritmos sincopados del tango, incluso tiene algunos guiños a los años 70 y el rock progresivo de Yes, este disco abarca mucho terreno y se mantiene interesante principio a fin.
Una música cuyo destino es joven, en los que la ciudad de Quebec y Buenos Aires se descubren mutuamente.


El grupo Quetango, radicado en Quebec e integrado mayoritariamente por músicos canadienses, desarrolla un lenguaje donde el jazz contemporáneo, la música de cámara y hasta ciertos guiños de la música progresiva de los 70 dialogan con el Tango. Esta combinación desde la mirada de la cultura franco-canadiense otorga a este ensamble un sonido original y multicultural. En 2007 editaron el CD Postango que fue nominado por la ADISQ (Asociación de la Industria de la Música, el Entretenimiento y el Video de Quebec) en la categoría Álbum Instrumental del Año
Tango Buenos Aires

Disponible aquí gracias a mi amigo Ricochetd (aunque también se llama Marco).


In the immigrant quarters of Buenos Aires, the tango became farewell and memory in the dreams of its inhabitants.
Music of districts of ill repute and faraway places, a love ravishes a dance step just before the moon's suicide.
Tango, song of rivers. Gardel and Piazzola transformed it into a bottle launched out to sea.
On its southern-bred staff lived a melody made up of rhythm and dream.
One late afternoon, it was discovered on the banks of the Saint-Lawrence River.
It stayed there, pulsating from four different instruments.
Like a harbour for seemingly endless voyages, "Quetango" arrives in the 21st century.
A voice revealing new and unforeseen sounds and timbres.
A music whose destiny is young, in which Québec City and Buenos Aires discover each other.
Album Notes
"Postango" is a delightful album which crosses all sorts of musical boundaries and takes the listener to a wonderful intersection of tango, jazz, and chamber music. Comprised of jazz guitar, cello, bass, and drums, Quetango is a mix of French-Canadian and Argentinean musicianship, and that multi-cultural blend lends some wonderful influence to these original compositions. From the electric guitar-driven jazz of "Erreur" to the syncopated tango rhythms of the cello-driven "Impro", which even has a few nods to the 70s prog rock of Yes, this album covers a lot of ground and stays interesting from beginning to end.
Peters (CD Baby)

Escuchen un poquito lo que hace esta banda, una fantástica mezcla de música de cámara, tango y jazz y una pizca de sinfonismo, si no me creen escuchen, está el disco completo y luego temas en vivo: