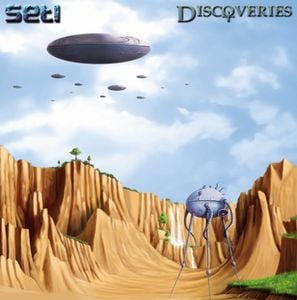 Sandy sigue resubiendo discos, ahora sigue con el rock sinfónico chileno con mucho de neo-progresivo, cantado en inglés, de muy buena producción y nivel, aquí tienen a Seti con su "Discoveries", otro disco que no van a encontrar muy fácilmente, otra vez vivo en el blog cabezón.

Artista: Seti
Álbum: Discoveries
Año: 2010
Género: Rock sinfónico, Neo progresivo
Duración: 72:34
Nacionalidad: Chile
Lista de Temas:
1. A Draconian Tale
2. Ellipse
3. Underground
4. The Inner Outside
5. Uruqhart Castle
6. Falling Leaves
7. Contact


Alineación:
- Claudio Momberg / keyboards, bass, guitars, backing vocals
- Pablo Collarte / lead & rhythm guitars
- Eduardo Cuesta / drums
- Jose Luis Ramos / bass
- Alvaro Graves / guitar
- Javier Sepulveda / guitar
- Aly Romero / guitar
- Jaime Scalpello / vocals
- Damian Wilson / vocals


Buen álbum, no muy original, cantado en inglés, pero tiene buenos momentos instrumentales, donde además participan Claudio Momberg, tecladista de Subterra, el vocalista de Entrance (Jaime Scalpello) y las participaciones en voces de Damian Willson, ex Threshold y Landmark.


Here we find a strong influence (in my opinion) of mid Genesis era ,Thieves Kitchen maybe and swedish Galleon and White Willow and netherland s Flamborough Head.




A good album ,very well recorded( i can t distinguish in quality between this recording or the last Rush album for example) good compositions,good musicianship ... but i can,t find this work (and the one before this Life Signs) a very original prog. This music hasn,t the roots of the very original(because of the incorporation of some folkloric elements) Astralis or Aisles ...this may be a work of the english prog,the swedish prog ,the US prog and you ll say : "another traditional neo prog album".




Don t misunderstand me .I really like a lot this music and more than the other prog rock bands i mentioned before but there is a lack (may be) of more creativity ,more virtuosity ,more power,more decision to define a special prog work .




I really don t like Argentinians too much but i must say the best prog rock in this part of the world is in the other side of the Andes .Nexus work is the best(Chaneton too quite good) and we can t forget Sagrado Coracao from Brazil.




Remarkable is the participation of Damian Wilson and that is a very good consideration for this chilean band


Les dejo un video para ver si les gusta...