Empezamos el día con un disco experimental y ambiental, tanto a Juana Molina como a Alejandro Franov ya los hemos presentado en el blog, y aquí les traemos uno de los discos que sacaron juntos, que fueron varios. Lanzado con una primera edición de solamente 500 ejemplares, y creo que no volvió a reeditarse, vamos con otra rareza...

Artista: Juana Molina y Alejandro Franov
Álbum: A & B
Año: 2003
Género: Experimental / Indietronica / Ambient / Folk
Duración: 43:21
Nacionalidad: Argentina
Lista de Temas:
01. Idioma
02. Amigo
03. La Más Grande
04. La Marca
05. Kortz
06. Rusos
07. Overturano y Radar
08. Río Primero
09. Árbol de Pomelos
10. Dame un Sol
11. Pasando el Mar

Alineación:
- Alejandro Franov / Todos los instrumentos
- Juana Molina / Voz


Juana Molina es una cantante, compositora y actriz argentina que después de una exitosa carrera en televisión graba su primer álbum, llamado "Rara", en 1996. Les seguirían otros cinco álbumes, así también como algunas colaboraciones con Alejandro Franov.




Su música se caracteriza por la mezcla de elementos del folk y la electrónica. David Byrne, ex líder de Talking Heads, ayudaría en su carrera al invitarla a realizar un tour como telonera de sus shows.

A y B es un disco perdido en la discografía de Juana Molina. Una suerte de colaboración con el multi-instrumentista Alejandro Franov. La primera parte de este material se concibe como una continuación lógica del tercer disco de Juana, Tres Cosas (2002). Seis canciones que siguen el camino trazado en sus anteriores placas, letras sencillas y cercanas a lo cotidiano, cantadas sutilmente, entre susurros y distorsiones que se acompañan de beats y toques acústicos que rayan en el minimalismo.




Si este disco se aprecia desde esa perspectiva, esta primera parte agrada a los conocedores de la música de esta capa argentina, pero distan de convertirse en ganchos excitantes o piezas perdurables como Sálvese quien pueda o Tres cosas, más bien nos enfrentamos a lados b, extras de su anterior producción. No es hasta que llegamos a Kortz y Rusos cuando el potencial de este disco comienza a develarse.




Las comparaciones de Juana con artistas como Björk siempre han estado a la orden del día, aunque Juana goza de una intención sonora propia, solo bastaba encontrar el punto en común para atar los cabos que separaban ambas propuestas. Kortz parece ser la respuesta de Molina al grandilocuente Debut de la islandesa. Más específicamente la canción Aeroplane parece re dibujarse en esta pieza en la que Juana parece cantar en Ruso.




Si las piezas anteriores solo me dejaban conforme, estas dos canciones de veras llegaron a despertar mi emoción y a dibujarme una gran sonrisa en la cara. Por suerte son solo la antesala de la segunda parte junto a Franov, mucha experimentación y oscuridad; he aquí lo que denominaría los momentos más sombríos y misteriosos de una Juana que siempre se ha mostrado elocuente y directa.




Luego de estas grandiosas piezas, Oberturando y Radar auguran la continuación experimental y lógica del disco. Un paisaje sonoro indescifrable que juega con los ritmos y las estructuras a lo largo de siete minutos que se convierten en toda una experiencia. Río Primero es una pieza más upbeat con lirica convencional, y juegos de estéreo, un paso animado con leves visos de folkore, propios de Franov.




La segunda parte, como se puede apreciar, está dirigida por las temáticas, las letras metafóricas y la musicalización de Franov. En este orden de ideas, Árbol de Pomelos presenta coros de su compatriota, así como distorsiones y beats sobre una pista acústica ilustrativa. Dame Sol y Paseando el Mar cierran esta colaboración de dos artistas arriesgados, cada uno en su campo. Mientras Juana se las arregló para hacer su carrera como compositora dejando detrás la fama televisiva, Franov hace uso de sus recursos y crea música instrumental desde una perspectiva experimental y pomposa a la vez.
El Amarillo


Un disco distinto para el blog cabezón, espero que les guste...


This peculiar album represents more of a side project for Juana Molina and Alejandro Franov, the man whose influence and impact on Juana Molina's near trilogy, which are "Segundo", "Tres Cosas" and "Son", can not be underestimated. (The sentence 'Some of my keyboard sounds were created by Franov' can be found on those mentioned records liner notes.) Alejandro Franov is one of the most important artists of the Argentinian musical underground, a total multi-instrumentalist whose huge curiosity led him to travel all over the world in search for sounds, from any ethnic instrument, let it be a mbira (African thumb-piano) or an Indian sitar or some rare corner of the world percussion device, but also from the very natural environment he would be part of : field recordings are used throughout Franov's already consequent discography, about a dozen albums since the end of the 90s. One of his album can be found on the German experimental label Staubgold, most of the others on the Japanese label Nature Bliss (a very apt name concerning Franov).
As a sound explorer, the very versatile Argentinian is also using electronics in a very idiosyncratic way, disorienting, atonal, dissonant, almost living a life on its own. A track like "Mantra Del Bicho Feo", on Molina's "Segundo", is a perfect example, Franov's soundwaves can be found all over the place, mainly on the bridge of the song. Alejandro Franov sometimes adds some particularly suave and melancholic vocals here and there, somewhere between Caetano Veloso and Robert Wyatt. Last but not least, he is also a pretty skilled pianist, his last album is simply called "Piano Solo" (There are four tracks to stream on the label bandcamp page); he proposes elegant, beautiful and dreamy vignettes inspired by a sacred Argentinian mountain called Piltriquitron.
The cover image of AooB (two intersecting circles) illustrates the mathematical term "intersection" (usually marked with ∩ symbol). Also two circles is used as a sign for stereo sound. A simple but adequate illustration of what is going on here. The album is divided in two mini CD, the first one being A is composed of six tracks closer to Juana Molina's work with an even larger participation of Franov, the second one being B is composed of five tracks where Franov become the main protagonist, Juana being the participant, the declared goal would be to find out where and how both artists intersect.
Side A could sound like more abstract and experimental leftovers from Juana Molina's "Segundo" and "Tres Cosas" with songs led by her now identifiable acoustic guitar lines like "La Mas Grande" and "La Marca". The composition are generally more stripped down, less layered and there are more experimentation with both artists' voices, like on the intriguing "Idioma" and "Rusos", with reversed vocals, and surely the oddly funny "Kortz", Juana seems to imitate some Germanic language with a vocal technique reminding of Norwegian Sidsel Endresen, while the song on its own emulates Yvonne Cornelius' Niobe stuff. Franov delivers some pretty piano lines. There is one song however where to me both artists really and beautifully intersects and that's "Amigo". A pulsating amorphous beat leads the song lazily with both Juana and Alejandro whispering harmonically, high-pitched atonal bowed strings appear, the whole thing sounding slightly Robert Wyatt on its most intimate self.
Side B is closer to Alejandro Franov's work, this would be expected. The too long beyond seven-minute opener "Oberturano y Radar" is a self-indulgent minimal-electronic-meets-neoclassical Pascal Comelade-ian thing. "Rio Primero" displays soft digital motorik akin to German krautrock legends Neu!. Both "Arbol De Pomelos" and "Dame Un sol" are soft folkish nursery rhymes duets with subtle vocals, electronics and guitars. The bizarre closer "Pasando El Mar" sonically illustrates both musicians dreamy states decorated with actual snores, grunts and murmurs.
A quite pleasant, inventive and at times humorous album that doesn't depart too much from both artists' outputs, although some songs don't seem to be really worked out to the full, they are more like interesting drafts than finished musical pieces. "AooB" is worth of a listen (the album is hard to find but you can stream it below at your convenience) if only as an introduction to Alejandro Franov more full-grown, challenging, experimental-world-ambient-music albums. The curious reader can try out this link on Deezer to discover a little further this interesting musician.
6.5 out of 10
Stian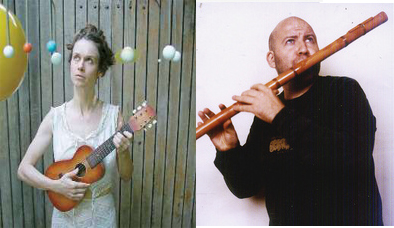 Veremos con qué seguimos durante el día... por lo pronto, aquí tienen algo distinto a lo que publicamos generalmente.