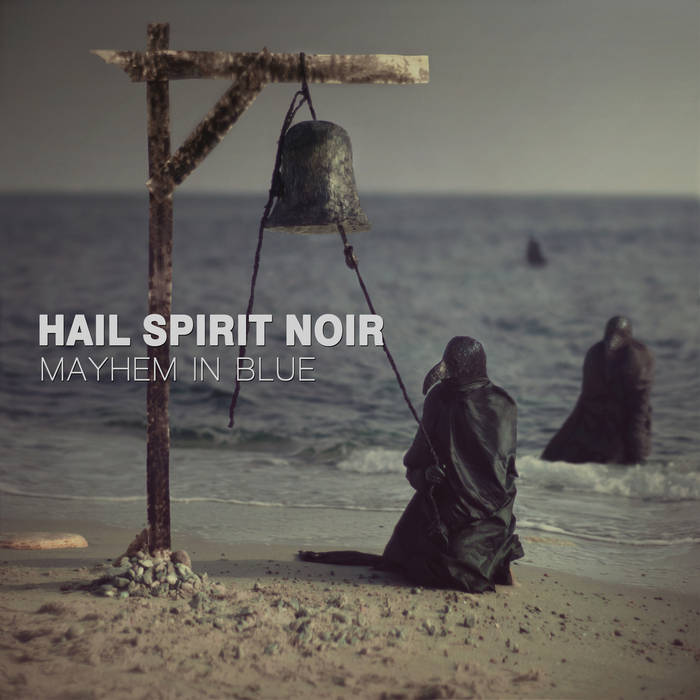 Están invitados al lado oscuro del blog cabezón: volvemos con los griegos que hacen blac metal experimental y psicodélico, ahora con su último trabajo. No muchas bandas incluyen elementos psicodélicos y progresivos, quizás Oranssi Pazuzu y A Forrest Of Stars pudieran ser grupos con una aproximación similar, pero lo que ellos muestran está muy definido y es ciertamente exótico. Ya los presentó una vez el Conejo, y ahora seguimos explorando su propuesta. Discazo, otro de los grandes trabajos del 2016.

Artista: Hail Spirit Noir
Álbum: Mayhem in Blue
Año: 2016
Género: Rock Psicodélico / Black Metal
Duración: 40:29
Nacionalidad: Grecia
Lista de Temas:
1. I Mean You Harm
2. Mayhem in Blue
3. Riders to Utopia
4. Lost in Satan's Charms
5. The Cannibal Tribe Came from the Sea
6. How to Fly in Blackness

Alineación:
- Theoharis / guitars, vocals
- Haris / keyboards
- J. Demian / bass


Estoy saliendo de vacaciones y voy a tratar de dejarles la mayor cantidad de discos posibles para que disfruten en mi lejanía. Disculpen, pues, si no escribo en demasía, voy a basarme más que nada en comentarios de terceros. Solo diré que es un trabajo muy interesante, plagado de climas, mellotrones, guitarras acústicas, psicodelia, experimentación, melodías bellas, dramatismo, pero todo va por la senda de la furia angustiosa del black metal, una mezcla que pocas bandas han tenido las bolas y la capacidad de experimentación como para hacerla, resultando una combinación espasmódica...


Hail Spirit Noir puede decirse que parte desde un sonido psicodélico bien arraigado en finales de los años '60 y principios de los '70, pero que en vez de conducir una camioneta Volkswagen estacionada en Woodstock pintada de colores chillones y con frases de amor y paz, con una camioneta pintada de negro y con frases de invocación al Señor de las Tinieblas pintadas con sangre de animales sacrificados en su nombre.




Atención para todos los que no sean metaleros o que sí lo sean pero no aguanten los géneros más extemos: que la etiqueta de 'black metal' no sea algo para espantar a los oyentes más alejados de este género generalmente tan extremo. Acá la cuestión blackmetalera va más por el lado de la actitud que por un sonido pesado y demoledor (como el de bandas como Negura Bunget, mi banda black de cabecera y los autoproclamados grupos de Trve Black Metal). Tanto la instrumentación del grupo como los valores de producción elegidos no se alejan demasiado del año 1970. Casi no hay blast beats, las guitarras no forman un muro de sonido abrasivo y las voces limpias y guturales alternan bastante entre sí y se dejan escuchar bastante bien, cantando en inglés y por momentos en griego.
Conejo

El álbum debut es una mezcla de elementos psicodélicos, horror, melodías tristes y black metal moderno. Todo ello en un solo momento y lugar: un CD llamado "Mayhem in Blue". Y los dejo ahora con los comentarios de terceros. el disco me gusta mucho, salvo alguna que otra pequeña sección que bien podría dejar de lado. Pasen al lado oscuro del blog cabezón, están invitados... Discazo!!!


Este trío griego que conforma Hail Spirit Noir hace un Black muy específico, no muchas bandas incluyen elementos psicodélicos y progresivos, quizás Oranssi Pazuzu y A Forrest Of Stars pudieran ser grupos con una aproximación similar, pero lo que ellos muestran está muy definido y es ciertamente exótico. Ya en 2014 el disco "Oi Magoi" me pareció uno de esos trabajos que debía pasar a la historia y hoy que he estado repasándolo para compararlo con la nueva entrega, "Mayhem In Blue", creo que me confirma la espectacularidad y calidad que son capaces de enseñar.
"Mayhem In Blue" es un disco Black, no hay duda de eso (con una posible excepción), a pesar de todos los elementos experimentales que le incorpora la banda, el fondo tradicional, casi primera ola del sonido negro está presente, cosa que me pareció interesante pues el resultado de la mezcla de esa visión con la cantidad de novedad que su sonido inusual del que son capaces, es sencillamente hipnotizante.
La excepción de lo señalado viene dada por el tema Lost In Satan's Charm (aunque no podría ser más clásico el título). Este tema es ciertamente extraño, además de muy experimental, tiende más bien hacia un sector musical más ubicado hacia un Gótico Extremo (o algo así), ciertamente el tema sobresale y habla quizás de alguna intención de Hail Spirit Noir de comprobar como reaccionará su base de seguidores ante esta prueba. Me parece muy bien logrado.
Luego, desde mi perspectiva, "Mayhem In Blue" es un trabajo bastante, por no decir mucho, más sencillo de digerir que su anterior, incluso que su álbum debut "Pneuma" (2012), diría que aun y cuando subsiste el elemento Pshychedelic, contiene mucha más melodía que los anteriores. Aunque no creo que pueda, ni mucho menos, calificarse como un disco fácil ni para 'masas', es mas accesible. En todo caso, este tipo de bandas están definitivamente destinadas a un sector muy selecto del Metal, ubicado dentro de los sectores oscuros del mundillo, pero es que -por ejemplo- el uso de teclados y guitarras en temas como The Cannibal Tribe Came From The Sea, se prestan con más rapidez para calar en el gusto. Dependerá del oidor si estas características convierte al disco en una entrega mejor o peor, en lo particular me gusta en cierto nivel innovador que ello representa.
Hay también en "Mayhem In Blue" un elemento interesante a destacar y es el fuerte sentido Atmosférico, que por supuesto deriva del estilo Black tradicional, pero que unido -nuevamente- con el uso de los teclados, le incorpora sensación letárgica. Un poco en contra del disco está también el hecho de que entre los temas, aunque muy bien instrumentados, como era de esperarse, no hay -o yo no percibo- uno definitorio o que me haya impactado, como quizás si lo hizo la canción Demon For A Day de su anterior muestra.
Buen trabajo de Hail Spirit Noir, quienes demuestran que calidad no les falta, ni mucho menos novedad e ideas.
7.5/10
El Lado Oscuro
Es el resultado del sexo duro y sin amor de una banda de los 70's de Rock Psicodélico y/o Progresivo con el Black Metal bajo los efectos de LSD mientras escuchan RockNRoll. Suficiente por una sola introducción.
"Mayhem in Blue" es el nombre del nuevo disco de la banda Hail Spirit Noir. Disco el cual se merece una introducción corta pero precisa, tal como su disco, un disco de no más cuarenta minutos de duración pero al escucharlo se siente más largo debido a la percepción que estos muchachos te hacen sentir bajo un manto que por encima podrá verse negro pero una vez dentro apreciaras colores de tonos vivos mezclarse con imágenes de pesadilla, tomadas de la mano y danzando al ritmo de sus melodías. Te pierdes en un vacío donde la luz y la oscuridad convergen como hermanos, a veces peleados y a veces abrazándose con cariño.
Hail Spirit Noir es una banda que ha experimentado desde el principio de su carrera, su primer disco siendo una combinación Black Metal con toques a la Pink Floyd y el segundo siendo con toques de Jazz macabro, este disco "Mayhem in Blue" es solo otro de los extraños platillos que la banda nos puede proporcionar, delicioso con temporales momentos agrios pero perfectamente equilibrados.
La versatilidad y variedad de sonidos que estos griegos nos proporcionan es algo estupendo, la banda en si no maneja un género base, en cambio combina a la perfección el Black Metal de la segunda ola añadiendo mucho sabor psicodélico a la formula, la instrumentación va desde guitarras acústicas, sintetizadores, flautas y coros que tal vez nos recuerden de igual modo a un poco del RockNRoll en sus primeros años de andar por el mundo. Y claro el Black Metal está presente en muchas partes, tal vez no de una forma que muchos amantes del género esperarían, en este disco no encontraremos muchos guturales o señal de brutalidad. En cambio el género se une al psicodélico para traernos una perspectiva más obscura pero a la vez irónicamente demasiado pintoresca.
El tema introductorio "I Mean You Harm" es una perfecta representación a como sonaría una canción de Hard Rock un poco al estilo Black Sabbath fusionada con una atmosfera a la "Rock Lobster" de B-52's en una base de Black Metal. Mientras el segundo tema homónimo al disco trae un sabor muy Progresivo que tal vez a los amantes de bandas como Focus o Jethro Tull les gustara pero con un toque algo Doom o fantasmal. Debo recalcar que lo sutil y lo abrupto se unen en este tema para relajarnos con sintetizadores setenteros, guitarras acústicas, flautas envolventes y después nos despierta con el Black Metal que esporádicamente plagara nuestros oídos por breves momentos.
El disco es la representación vanguardista de cómo debe sonar la oscuridad mezclada con colores vivos y como se verían tus pesadillas si rieran y bailaran a tu lado. Cuando el mundo entero escuche este disco las abejas empezaran a producir miel negra, los arcoíris se destruirían al tacto y la lluvia dará vida a arboles danzantes pero vengativos. Sin más que decir y solo aconsejándoles que escuchen el disco les puedo decir que es un viaje inesperado y muy llevador, irónicamente lo recomiendo más para aquellos que no sean amantes del Black Metal y a los amantes del mismo género que buscan señal de sonidos violentos y gritos quema iglesias entonces este disco no es completamente para ustedes. Denle una oportunidad, un intento, es un disco que con una boca plagada de baba negra los seduce con la más dulce poesía. No se arrepentirán.
Calificación 10/10
Tomy Blood
If the Greek black metal scene can be compared to a class room, then Hail Spirit Noir is the weird kid that listened to 70's psychedelic and prog rock, while the rest of the class focused on a more Hellenic approach to the black metal. This band's mix of occult rock, psychedelic / prog rock with second wave black metal is a very unique take on the style and it is quite difficult to draw parallels to any other band. Hail Spirit Noir have been shaping this sound over the course of their discography and are currently gearing up to release their third full length titled 'Mayhem in Blue'. With this album, the band blurs genre distinctions to create a singular sound that continues the band's refinement of the black metal heavy psychedelic tone heard on 'Pneuma'.
One aspect of Hail Spirit Noir that makes them stand out is the way they make every single track sound distinctively different. There is no fixed structure or template that can be used to describe most of the tracks on the album. The album opens with the with the brisk riff of I Mean You Harm, which proceeds at a mid tempo and a strong blackened flavor. The rough rasps from the vocalist juxtaposes quite nicely with the synth melodies and actually sounds quite sinister when the vocalist hits the main chorus. Electronic elements are used with considerable restraint to accentuate the psychedelic elements, an example of which can be heard as the title track starts.
There is a narrative quality to the tracks and each track plays out like a movie in the listener's head. The variations in the vocal style, ranging from soft spoken word to harsh rasps, aids in bringing out this narrative quality. As progressive and innovative as Hail Spirit Noir's tracks are, they are also very memorable. It's impossible not to unconsciously hum the melody of tracks like Lost in Satan's Charms or Riders to Utopia after listening to the record.
For the psychonauts out there, this album takes a much more mesmerizing form when listened to on altered states of consciousness. The long length of the tracks actually works out in the band's favor as it lets the tracks have an organic and natural progression. In cases like this, the replay value is lost on account of the track lengths. However, each listen to 'Mayhem in Blue' only unveils new details that went unnoticed previously. The album will reflect particularly well with those who enjoy the a sinister atmosphere, much like a trippy occult rock soundtrack to a 70's horror movie.
Hail Spirit Noir is a band that is yet to succumb to the law of diminishing returns. Their evolution and growth as band has been the exact opposite, only improving in quality with each release. I wouldn't be surprised to find 'Mayhem in Blue' ending up on many year end lists and deservedly so.
Shrivatsan R.
Hail Spirit Noir's third album finds them seeing just how far apart they can take the two poles of their sound - psychedelic rock and black metal - whilst still bridging the two worlds effectively. Just as you think they've entirely succumbed to one sonic world, elements of the other erupt into the sound, and yet somehow manage to come across like an entirely natural aspect of the song, even though I'm damn sure the Pink Fairies never threw in screamed vocals and blast beats into their songs. Although I don't think it quite hits the perfect blend that was offered by Oi Magoi, it's still another interesting mutation of the band's sound that proves the sheer versatility of their schtick.
W. Arthur
Disfrútenlo!!! Otro gran trabajo para la Biblioteca Sonora.