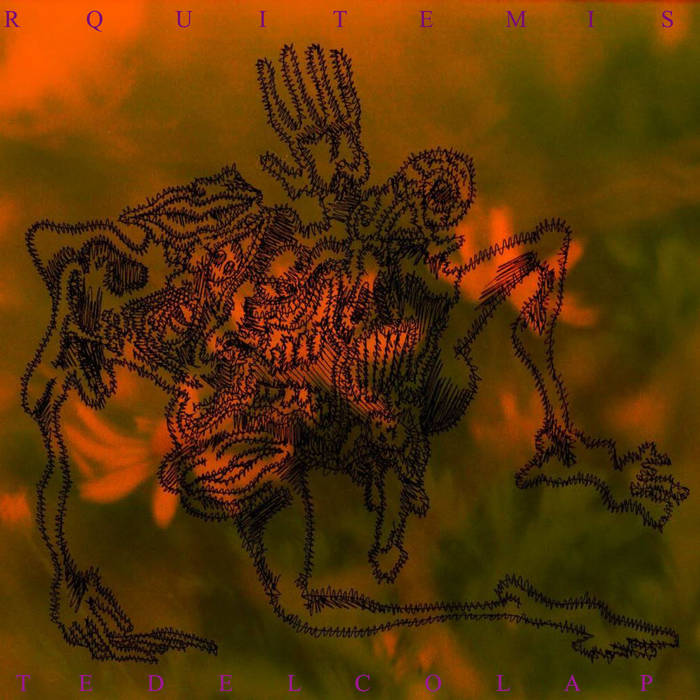 Alessandro nos recomienda este disco, y lo reseñamos. Art punk con un trabajo de solamente 7 minutos pero que nos da bastante tela para cortar. Y si no me creen, entren y lean.

Artista: Arquitemisa
Álbum: Arte del Colapso
Año: 2016
Género: Punk experimental
Duración: 07:34
Nacionalidad: Argentina
Lista de Temas:
1. Valej
2. Soriat
3. Adimerea
4. Tairos

Alineación:
- Alessandro Guglielmelli / Todos los instrumentos


Punk experimental frenético e instrumental, lanzado desde uns lamentable base electrónica que no ayuda nada al resultado final pero que por lo demás es muy interesante. Toda la música es creada, interpretada y grabada por Alessandro Guglielmelli, con mucha improvisación de guitarras sobre base electrónica en un ritmo de punk experimental, que incluyen cambios abruptos. El músico, que por su estilo vanguardista, experimental e improvisado se convirtió en una figura dentro de la escena under argentina, dentro de un género no muy explorado en Argentina cercano al art punk o al punk progresivo.


El art punk o avant punk es un género musical que parte del movimiento punk, pero siendo más experimental que este y con conexiones a otros subgéneros como el art school y el art world. La gran mayoría de los artistas art punk toman influencias de bandas y músicos como Public Image Ltd. (PiL), Sonic Youth, David Bowie, Brian Eno, The Ramones, Virgin Prunes y Pink Floyd.
Wikipedia

Se habla bastante de este genero llamado punk progresivo, o "pronk", pocos han sido los osados en tratar de mezlcar estos 2 géneros tan opuestos, ya que, el punk es viceral y minimalista casi por definición, por otra parte, el progresivo suele tener bastantes elementos en una sola canción, sin mencionar el trasfondo filosófico. Aunque si nos fijamos un poquito más, veremos que mucho del rock progresivo también es visceral (toda la obra de Peter Hammill y de VdGG) y que el punk también tiene su gran transfondo filosófico, más callejero y áspero quizás pero no menos inspirado, así que claro que tienen más de un punto en común, más si tenemos en cuenta que el factor fundamental que puede unir esos dos estilos es la rebeldía, entonces todo se esclarece y dejan de ser mundos totalmente separados para convertirse en distintas expresiones de un mismo sentir.

El origen del punk está hoy día asociado indisolublemente a lo callejero, como la respuesta a una demanda de la clase obrera cansada de los delirios virtuoso - pomposo - cultural del rock progresivo imperante en la época. Pero los que confirieron al punk ese aura iconoclasta fueron los críticos del momento (John Lydon tiene más en común con el progresivo experimental que con los Sex Pistols, échale un vistazo a lo que hace con PIL y sus poemas musicalizados, ahora mismo estoy viendo un par de videos que podrían venir a colación, hace poco declaró no recuerdo dónde que a él realmente le gustaba Pink Floyd, jeje) y sobretodo las compañías discográficas que necesitaban una nueva moda que venda mucho y reemplace al rock progresivo. Quizás la auténtica música popular y la verdadera música contestataria y rebelde fue aquella que evolucionó a partir de la esfera progresiva, ya que el punk se metió casi de cabeza en el espectro comercial que proponía el sistema. La verdad tiene mil caras.


El punk nos muestra cómo la historia está construida, narrada, y se asienta en perspectivas triunfantes. Por ejemplo, la versión simplificada de la historia del punk decía que el rock en los '70 era un desierto, un campo vacío y minado, y que entonces llegó el punk, y que los jóvenes punks vencieron a los dinosaurios del rock progresivo, y que todos fueron felices y que se salvó el rock 'n' roll. En realidad, los '70 fue una década compleja, rica, diversa y excitante, e incluso 1975, que en el momento parecía dar la sensación de ser un año absolutamente nulo, un punto muerto en la historia del rock, estuvo lleno de grandes momentos, de grandes discos, y de muchísima actividad. Y los dinosaurios del rock progresivo, lejos de ser vencidos y borrados del planeta por la New Wave y el punk, prosperaron y crecieron en la segunda mitad de los '70 y, de hecho, llegaron lejos en los '80, que fueron los años del gran éxito comercial de Pink Floyd, Genesis, Yes y así. Especialmente en Norteamérica, la New Wave tuvo muy poco impacto, comercialmente y en la radio. Entonces, depende quién está escribiendo la historia. Y aunque sea difícil de creer, el punk hegemonizó durante muchos años la manera en que narrábamos la historia del rock, en el sentido de que casi todos los críticos y los "intelectuales" del rock se convirtieron de manera automática en punks. De hecho, muchos de ellos habían estado pidiendo a los gritos una vuelta al rock primitivo, furioso y "real" de las décadas previas incluso antes de que el punk llegara. Y ese es otro misterio acerca del punk: que tardó muchísimo en suceder. Si te fijas, tuvo muchísimos "falsos comienzos", con grupos como los New York Dolls y The Stooges, y con el pub-rock británico. Realmente la llegada de los Ramones, de los Sex Pistols o de The Clash no debería haber sorprendido a nadie.
Simon Reynolds entrevistado en la revista Crisis (abril-mayo 2011)

Bueno, quizás nos vamos demasiado del tema del disco, pero que quizás no sea tan desacertado. Esto no es callejero, tiene relaciones con lo electrónico, con improvisaciones del jazz y con experimentaciones, pero también tiene rebeldía punk en su sangre. Lo único negativo es, desde mi punto de vista, la base electrónica que no me gusta para nada. Quizás Alessandro Guglielmelli se anime a lanzar un LP de Arquitemisa, cosa que sería por demás interesante si es que cambia esa base electrónica por una real, y desde ahí que le ponga toda la electrónica que le parezca. El resultado sería por demás interesante. Me tomo a este disco como un preliminar de ese verdadero trabajo que está por venir, créanme que condiciones hay y hay de sobra!

Los invito a conocer a este interesantísimo proyecto llamado Arquitemisa, el EP está disponible para la descarga gratuita. Y vamos a volver con más obras de Alessandro Guglielmelli en sus múltiples facetas.