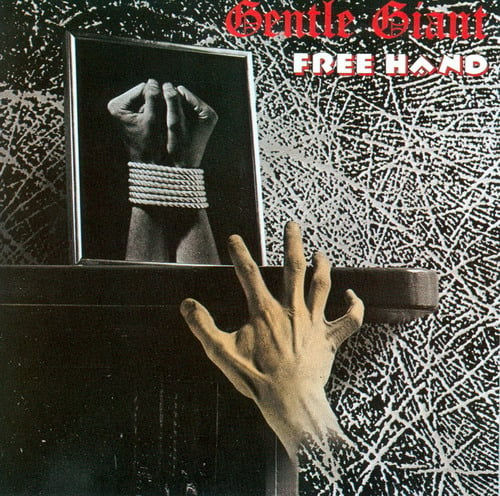 Artista: Gentle Giant
Álbum: Free Hand
Año: 1975
Género: Progesivo ecléctico
Duración: 37:07
Nacionalidad: Inglaterra
Lista de Temas:
1. Just The Same
2. On Reflection
3. Free Hand
4. Time To Kill
5. His Last Voyage
6. Talybont
7. Mobile

Alineación:
- Derek Shulman / vocals, recorders, sax
- Ray Shulman / bass, violin, recorders, vocals
- Gary Green / guitars, vocals
- Kerry Minnear / keyboards, vocals
- John Weathers / percussion


Carlos con otro aporte gentlegiantiano en un lunes muy lunes... mientras esperamos la caída de miles de links del Mago Alberto con claveles en la mano, por otro lado ponemos estos discos para el disfrute de todos los cabezones. Discazo para empezar la semana!


No many words to say on it: IMPREESSIVE, PURE MAGNIFICENCE!! Nothing's similar to this powerful, delicate and elaborate music, in the veins of which flows an important middle-age blood! I wonder why this excellent and unique band did'nt reached a more wider success! I'm breathless: GREAT, GREAT, GREAT, GREAT!!!!
Andrea Cortese

Coinvengamos que la música de Gentle Giant sin duda es un reto muy variada en su sabor. En sus recorridos por los múltiples caminos musicales a menudo exploran cerros peligrosos y sendas inexploradas, en su estilo inimitable tan difícil de clasificar, por lo que los hace un plato difícil de degustar pero en extremo disfrutable si le tomas el gusto. Su música tiende a provocar reacciones extremas la primera vez que los oyentes lo escuchan, lo aman o lo odian.
Este es, quizás, uno de sus buenos discos más accesibles, y no deja de ser una obra maestra.


Estos tipos son increíbles. Gentle Giant es una banda inconfundible. Sus temas progresivos son como obras de arte, combinando un sin número de instrumentos, hacen de su música casi un género independiente. Mucho de vientos, cuerdas, sintetizadores variados y un juego de voces que te deja sin palabras, hace que el amor por esta banda sea inmediato. Un viejo amigo me dio a conocer Giant como "loco, tenís que escuchar estos discos". Cada día que los oigo me acuerdo de él y le agradezco sicológicamente la paleteada.
Me cuesta describir a esta banda, su sonido es incomparable. Es como de otro mundo, locos de veras, con un ritmo que te lo encargo! De culto, nada más.
Josef Gaishun

En una época en la que los dinosaurios del rock progresivo eran enormes en ventas, el estilo hiper complejo de Gentle Giant todavía tenía una pequeña oportunidad comercial, y quizás en éste disco quisieron encarar una mirada más comercial poniendo más "gancho" melódico pero sin sacrificar un ápice su estilo.
En muchos sentidos "Free Hand" es un disco típico de su producción, el virtuosismo técnico de el que la banda hizo alarde, en los que todos los miembros tocan una amplia gama de instrumentos y donde las canciones están llenas de sorprendentes cambios de tiempo con impresionantes contrapuntos y reflexivas letras.


"Siempre he pensado que Gentle Giant tenían algo único por la manera de utilizar el contrapunto y el ritmo. Nadie lo hacía. Era especial y tuvo una tremenda influencia en mi manera de ver la música. Yo lo veía como una especie de rock-Bach, donde tenías aquellas armonías vocales a distinta escala que evolucionaban constantemente. Pasé mucho tiempo estudiándolos, no solamente en tocar exactamente su música, sino averiguando donde residía su punto. Quería saber qué era aquello."
Jordan Rudess - Los 10 discos de rock progresivo favoritos de Jordan Rudess

Gentle Giant captura de alguna manera a la perfección la excelente mezcla de la inteligencia y complejidad de las melodías pegajosas que lo convierten en un clásico de la banda. Contiene varias de las canciones más pesadas creadas a lo largo de sus 11 años de carrera e incluye probablemente algunos de los mejores temas de la banda así como el instrumental "Talybont", escrito para una versión de la película "Robin Hood", el que tiene un sabor medieval mágico, donde se van mezclando guitarras, sonidos clásicos y sintetizadores.
Este álbum tiene todo lo que un álbum de Gentle Giant debe tener. Melodías incomparables, algunas rarezas y la fusión de muchos estilos: rock, jazz, música medieval, influencias clásicas, en fin... mucha imaginación para un solo disco.


En FREE HAND Gentle Giant sigue deleitandonos con sus contrapuntos increibles, percusiones, saxos, flautas dulces, vibrafonos, violines, minifugas y fugas vocales, instrumentales y mixtas, teclados y teclados y teclados y mas teclados, ritmos poderosos, ritmos dulces y melodiosos, increibles cambios de ritmo, pasajes jazzisticos, pasajes juglarescos troubadourescos, pasajes al estilo barrocos y pasajes de buen rock progresivo, por supuesto. En resumen Gentle Giant gozaba de excelente salud musical en ese 1975.
Como grandes maestros pictorico, los Gigantes asi usan los colores:
JUST THE SAME: En Under Construction se oye un demo de los Gigantes ensayando esta rola sin la bateria de John. Es el demo de lo que sera la version definitiva del intervalo 1:17 a 3:58. Derek tararea la melodia de lo que sera la letra, Ray esta al bajo, Gary esta a 2 guitarras (la tecnologia ayuda). Gary tambien ejecuta a la guitarra lo que finalmente serian los saxos que se oyen en el canal izquierdo en el intervalo de 3:18 a 3:58, de la version definitiva de estudio.
Yo? Yo estoy comodamente sentado *presente* en la grabacion del demo de los Gigantes, woooooow, I indeed can't believe it.
De 0:00 a 0:09 de la version definitiva en estudio se oyen los miticos y poderosos snapfingers que se usaron en la introduccion del Playing The Fool que desencadenaron el rugido de la audiencia gentlegiantiana.
A partir de 0:09 en el canal *central* se oye el piano electrico y en el canal derecho se oye al unisono otro piano. Desde 0:21 se agrega una guitarra electrica con wah-wah en el canal izquierdo. A partir de 0:31 se agregan 2 saxos, uno en cada canal, se agrega el potente bajo de Ray y la no menos potente bateria de John que sirven de apoyo a la energica voz de Derek. A partir de 0:49 en el canal izquierdo se oyen un piano electrico y la guitarra de Gary mientras que en el canal derecho se oye un sinter.
De 3:18 a 3:58, ademas de los saxos que antes mencione y de la Guitarra de Gary en el canal izquierdo, se oye un solo a 2 sinters de Kerry, un sinter en el canal derecho y otro en el canal *central*.
ON REFLECTION: Anteriormente detalle ampliamente la estructura de On Reflection, ¿que mas puedo Onreflectionar?
En su libro *Como escuchar la musica* Aaron Copland indica: *La imitacion [del sujeto, por parte de las otras voces] no tiene porque partir de la misma nota con que comienza la voz original. En casos asi hablamos de imitacion a la cuarta superior o a la segunda inferior, con lo cual se indica a que altura en relacion a la voz original entra la voz que hace la imitacion.*
En analisis del MIDI de On Reflection se escucha que Derek inicia la fuga con la nota SOL; Ray inicia su fuga en RE (a la quinta inferior de la voz original); Kerry inicia su fuga en SOL (a la octava inferior de la voz original) y finalmente Gary inicia su fuga en RE (a la quinta inferior de la voz original).
Cabe mencionar que en esencia una cuarta superior es lo mismo que una quinta inferior, en el sistema temperado. Claro que no todas las cuartas superiores son iguales a todas las quintas inferiores ya que, por ejemplo, en el sistema temperado una cuarta superior aumentada es igual a una quinta inferior disminuida, y esta quinta inferior disminuida estara, a su vez, a una octava debajo de la cuarta superior aumentada, pero esos ya son otros detalles. Por lo pronto Kerry y los demas gigantes se ajustan a las reglas que el Gigante Bach, y otros gigantes mas, crearon para construir las fugas.
FREE HAND: En Under Construction se oye un demo del Gigante Kerry ensayando esta rola.
Es el demo de lo que sera la version definitiva de Free Hand en el intervalo de 0:00 a 3:09. En el demo Kerry esta al piano electrico: con la mano derecha ademas ejecuta algunas partes que finalmente Gary a la guitarra; Kerry repite unas frases que no tienen que ver con lo que sera la letra definitiva, para dar a los demas Gigantes la idea de como se desarrollara la melodia a la cual habria que pegarle una letra. repite y repite una misma frase. Entiendo que es el esqueleto de la rola Free Hand que Kerry hizo para que los demas Gigantes la aprendan y alucinen con lo que cada uno agregaria o aportaria. ¿quien toca el pandero? debe ser Kerry.
En la version en estudio la rola inicia con un piano acustico en el canal derecho. A partir de 0:04 se agrega un piano electrico en el canal izquierdo, la guitarra de Gary y el bajo de Ray al unisono. Kerry agrega un piano electrico en 0:22 en el canal derecho. Los 3 teclados de Kerry, la guitarra de Gary y el bajo Ray se ejecutan a contrapunto. Seguramente Gary levanta la pierna derecha para sujetar bien su guitarra y tocar con seguridad ese delicado pasaje a contrapunto en su guitarra si es que no esta sentado, dejenme alucinar.
Desde 0:33 se prepara el siguiente pasaje y a partir de 0:41 se oye el potente sonido Gentleiano. Kerry y Gary (y aun Ray) forman una sutil y poderosa estructura para que tenga soporte la energica voz de Derek.
En el intervalo 1:36-1:51 de la version en estudio se oye un contrapunto espeluznante a 4 voces: con Gary a la guitarra, Kerry al piano, Ray al bajo y la voz de Derek. En el demo que antes mencione, Kerry no ejecuta al piano esta. Esta parte se agrego posteriormente.
A partir de 3:03 la rola suena como al principio. Luego los Gigantes hacen una variacion a partir de 3:37 con Gary a la guitarra en medio de los canales y con un poco de eco. A partir de 3:45 agrega 2 organos para hacer otra variacion: uno en el canal derecho y otro en el canal *central*. A partir de 3:55 Kerry agrega el piano electrico en el canal izquierdo y se siguen oyendo los mismos 2 organos. A partir de 4:40 Kerry hace sonar su clasico clavinett.
TIME TO KILL: En Under Construction se oye un demo de los Gigantes ensayando esta rola sin la bateria de John. Es el demo de lo que sera la version definitiva de 0:22 a 3:44. Ray esta al bajo, Gary esta a 2 guitarras (la tecnologia ayuda).
Gary tambien ejecuta a la guitarra partes de lo que finalmente seria la melodia a la que habria que pegarle la letra; Gary tambien ejecuta a la guitarra partes de lo que finalmente serian algunos de los diversos teclados que ejecuta Kerry.
Derek tararea lo unicamente lo que sera la melodia de la 3a estrofa de la letra y la parte del puente que seria *He finds his way*. Gary a la guitarra toca al unisono con la voz de Derek en esta ultima parte.
Gary ademas se avienta a la guitarra algunas partes que finalmente tocara Kerry al Hammond en el intervalo de 3:14 a 3:17. Despues se toca desde el inicio de rola hasta antes de empezar nuevamente la cuarta estrofa.
Iniciando con un potente sonido metalico, con la guitarra, un piano electrico y el bajo, los gigantes crean en la version en estudio una estructura imposible El sonido metalico se ejecuta con un ritmo diferente a los demas instrumentos.
HIS LAST VOYAGE: De 1:07 a 3:48 Kerry canta a 3 voces con la ayuda de la tecnologia. En unas partes teniendo la guitarra acustica y el bajo de fondo.
De 3:48 a 4:45 ?quien dice que Gary no le pone sentimiento a su Les Paul?.
Gary tambien sabe usar el bending y el wah-wha. Deja viciar un poco el sonido de su guitarra. El fondo es jazzistico, con un vibrafono. Esta parte me recuerda al sonido de The Modern Jazz Quartet.
En el folleto que viene en Under Construction, Derek nos habla de Gary en los inicios de Gentle Giant "The pure blues guitar playing of Gary bending notes like we'd never seen before...."
TALYBONT: En esta composicion las percusiones medievales se combinan con formas barrocas.
Se ejecuta una MINIFUGA IMITADA a 2 voces tal como lo manda el Arte de la Fuga: primero Kerry expone al clavinet la melodia (SUJETO) sin acompanyamiento de 0:00 a 0:07 y no se presenta la imitacion todavia.
Posteriormente se ejecuta la minifuga de 0:48 a 1:11 al exponerse nuevamente el SUJETO y la imitacion la hace una flauta de pan o una flauta picolo, o un teclado con sonido de estas flautas. El clavinet de Kerry se oye con un poco de eco. Continua ejecutandose el SUJETO acompanyado de troubadoures tambores juglarescos y con el bajo de Ray. Posteriormente se suma Gary a la guitarra electrica con wah-wah en el canal derecho quien toca tambien el SUJETO con ligerisimas variaciones.
La fuga imitada es una de las formas de ejecutar una fuga y difiere de la fuga que se oye en On Reflection en la que se oyen contramelodias o contrasujetos (les recomiendo leer LCDM#507 *Gentle Giant y la fuga en el rock progresivo II* en la que identifico los sujetos, contrasujetos o contramelodias de una fuga y, por supuesto, de los sujetos y las contramelodias de On Reflection).
De 0:32 a 0:40 se oye un cuarteto de flautas dulces, 2 flautas en cada canal, teniendo como fondo el dieciochoesco harpsichord de Kerry y Ray al bajo. Los gigantes dan una muestra de que saben tocar al estilo Bach o Scarlatti y no lo hacen mal: los gigantes son excelentes musicos fuera de toda duda. Por lo menos para mi.
De 0:48 a 1:11 otra vez se oye nuevamente la fuga imitada a dos voces (clavinet y flautas). Posteriormente se agrega Gary a la guitarra electrica con wah-wah en el canal derecho quien toca tambien el SUJETO con ligerisimas variaciones.
En el intervalo 1:27-1:43 con 3 teclados y el bajo se REEXPONE nuevamente el SUJETO de la fuga, pero como si fuera sugerido.
MOBILE: Up, up, time to fly.
Empieza Ray al bajo dando la medida de los tiempos, metronomicamente hablando, a Gary a la guitarra acustica en el canal izquierdo y al mismo Ray al violin en el canal "central" quienes ejecutan la misma linea melodica.
Up, up, time to fly.
De 1:55 a 2:43 se oye un pasaje ALUCINANTE, es el pasaje que mas me gusta de esta rola. Veamos: Kerry sigue al Hammond con acento percusivo, Gary se oye a 2 guitarras electricas (una en el canal *central* y otra en el canal derecho). La parte de 2:09 a 2:18 es la que me mata por lo siguiente: la melodia celula es, por decir, es tikitiii (jejeje), esta se repite varias veces y cada gigante ejecuta con un instrumento diferente: Tikitiii (con el bajo), tikitiii (con la guitarra electrica), tikitiii (con sinter), tikitiii (con el piano electrico), tikitiii, tikitiii, etc. La seccion ritmica de Ray y John, de 2:18 hasta 2:43 tambien me mata.
De 2:36 A 2:43 en el *canal central* se oyen las primeras notas del solo de violin con wah-wah de Ray. Se oye como si un sinter maullara, pero es el violin (me cae que si). A partir de 2:43 empieza propiamente el solo.
Señores: mas bien el gigante Ray ejecuta un solo a 2 violines con wha-wha, hasta 3:23.
De 4:01 a 4:44 se oye otro pasaje que me encanta, que me hace alucinar. Ray le pone un poco de wah-wah a su bajo. Gary se oye a 2 guitarras electricas (una en el canal *central* y otra en el canal derecho), Kerry al hammond en el canal izquierdo.
¿que, que tal se oye John Weathers en esta rola?. COMO UN GIGANTE (jejeje).
Confieso que la primera vez que oi MOBILE me desconcerto. Dije ?que es esto?. Ya estara decayendo GG?. Con el tiempo me atrapo la energia de esta rola. Fue la ultima rola que me gusto de esta obra. En la actualidad esta rola me hace alucinar.
Alrededor de mi cabeza estan estaticos: un vibrafono, un piano, unas percusiones, un hammond, un harpsichord, un clavinet, una Gibson Les Paul, un bajo, una bateria y esta tambien un pajarito multiinstrumentista dandome vueltas tocando todos esos instrumentos. Ah, si, por si no fuera suficiente el pajarito gorjea en perfecto contrapunto (jejeje).
Alberto Benitez

Tal vez éste sea el disco perfecto para iniciarse adecuadamente en ésta banda. Cada uno de los siete temas que componen "Free Hand" exhibe una línea melódica atractiva, incluso en varias ocasiones con un gancho evidente, pero a la vez exhibe un notable nivel de complejidad en sus arreglos, lo que obedece fielmente a los osados cánones experimentales del grupo en su mejor época. Pareciera como si los miembros de la banda quisieron hacer en este disco a la vez una recapitulación y un ahondamiento en sus diversas fuentes de inspiración.


Gentle Giant fue uno de los mejores grupos progresivos de la historia gracias a su combinación de rock, jazz, música clásica, barroca y sonidos medievales y celtas.
Aunque "Octopus" es mejor disco que "Free Hand", este último se convirtió en su LP de mayor popularidad, principalmente y además de la calidad de sus piezas, porque fue el que más impacto causó en los Estados Unidos.
Los temas musicales de la banda no son para todos los gustos. Sus composiciones, aunque melódicas, resultan complicadas y no se disfrutan en su plenitud hasta que se han escuchado un buen número de ocasiones. Lo plausible de Gentle Giant es que son virtuosos pero no ostentosos-pretenciosos. Sus temas resultan complejos pero no se pierden en grandilocuencias onanistas, no irritan con desarrollos fastidiosos ni con exposiciones instrumentales cargantes.
En "Free Hand" la temática es básicamente la ruptura y la afirmación y liberación personal, sea profesional o sentimental, desplegando estos asuntos en las eclécticas facetas sonoras del grupo con temas muy melódicos narrados principalmente por la preciosa voz del teclista Kerry Minnear y piezas de múltiple diversidad sónica y brillante interacción instrumental interpretados por la nerviosa y agresiva voz de Derek Shulman.
Una de las cumbres del LP es la impresionante polifonía vocal de "On Reflection", magnífico tema con una emocionante sección media de Kerry encadenando voces que repiten unos versos de memoria sentimental acariciados por una flauta y unas sosegadas cuerdas.
Kerry Minnear también es el encargado de cantar "His Last Voyage", corte de bella atmósfera que parece abordar el tema de la muerte. Destaca de nuevo el exquisito tratamiento a la combinación de voces.
Con unos chasquidos de dedos se inicia "Just the Same", pieza de varianza temporal sobre la independencia individual que fusiona pasajes rock y jazz.
"Free Hand" es un claro ejemplo de su capacidad en la sinergia instrumental, una fibrosa pieza rock con retazos funk y sonidos jazz.
"Time to Kill" nos presenta otra vez a los Gentle Giant más rítmicos en una canción que contiene una intro con los sonidos del "Pong", el famoso, pretérito y entrañable juego de ping pong de Atari.
Gracias al instrumental "Talybont", uno de los cortes más gozosos del álbum, nos mudamos de época imaginándonos con sus sonidos escenas de juglares, bufones, damiselas y caballeros poblando los salones de un castillo medieval.
"Mobile", el tema que cierra el disco, es la canción que mayor incide en su querencia por la música celta. En ella se retrata la vida nómada del grupo cuando se encuentra de gira.
AlohaCriticón

Así que nos vestimos de lujo para presentarles este enorme discazo que espero sepan apreciar. Nadie queda imparcial cuando escucha esta banda, si no los conocen no los dejen pasar como si nada si saber de qué se trata, hay un delicioso mundo por explorar aquí...


Cada uno de los siete temas que componen "Free Hand" exhibe una línea melódica atractiva, y a la vez, un notable nivel de complejidad en sus arreglos que obedece fielmente a los osados cánones experimentales del grupo. Básicamente, parece que GG quiso hacer en este disco a la vez una recapitulación y un ahondamiento en sus diversas fuentes de inspiración. "Just The Same" y "Free Hand" son efectivos ejercicios de jazz-rock, mientras que "Time To Kill" se apoya más en estructuras rítmicas heredadas del blues negro. Por el lado más delicado, destaca la hermosa balada de corte hímnico titulada "His Last Voyage", así como los excántricos juegos corales e instrumentales mitad jazzeros, mitad renacentistas de "On Reflection", y esa atractiva pieza instrumental de corte medieval llamada "Talybont". Por último, el violín eláctrico destaca de forma particular en "Mobile", el tema que cierra el álbum, donde el sonido pesado del rock se conjuga a la perfección con el espíritu juguetón de la música celta. En líneas generales, solo cabe deshacerse en elogios para un disco donde convergen altas dosis de energía, creatividad, diversidad melódica y destreza interpretativa a raudales. Apoyado sobre el culto que se fue formando en torno a GG con la edición y difusión de los discos anteriores, "Free Hand" logró un nivel de ventas más que aceptable en Europa y la costa este de EE.UU., lo cual habría de significar el mayor logro comercial de su carrera: buena parte del material de este disco habría de formar parte necesaria del repertorio de sus conciertos desde entonces hasta el final de su carrera.
CIM

Les dejo algunos comentarios en inglés, pero les aclaro que a todo el mundo que se le pregunta, éste disco le encanta:


Even though In A Glass House is acknowledged by many as Gentle Giant's "best" album, Free Hand is without a doubt my personal favorite. Which is of course to say that it is one of my top 2 or 3 most treasured albums of all time. Simultaneously their most dense, complex, mechanically flawless album AND their most melodic, beautiful and accessible -- Free Hand thus represents a magical occurrence in their catalog like none other. Let's see, for starters, "On Reflection" is hands-down the most complex vocal arrangement in all of rock music, bringing Kerry Minnear's choral writing to its absolute pinnacle of genius. Some people may construe this as "too technical" but I simply shake my head at them in disbelief; this is one of the most achingly beautiful songs they ever recorded, and when the "fugal jam" kicks in at the end, I can hardly keep my head from exploding with joy. If that's not enough already, next comes chugging in the title track "Free Hand". At this point, my head goes and explodes. "Free Hand" is the most mind-blowingly perfect musical machine Gentle Giant ever constructed, filled with ticking clockwork keyboard figures and interweaving guitar and bass parts and skwonking piano chords and start-stop time changes and, and... three words: pure musical perfection. Then there's "His Last Voyage", which has at times been my favorite song ever written. I don't know where those melodies and sounds and voices came from, but they existed before time and they call me back to some distant memory that leaves me filled with joy and reverence for the sublime power of music. Thank you, Gentle Giant. So here I've just described three songs, but the remaining four are each in their own way a magical experience, with "Time to Kill" and "Just the Same" taking top billing. If you have any respect for the sincere blessings of this devout music fan, go do yourself a big favor and buy this album and listen to it for the first time. Or, pull it out of your record collection and listen to it again as if for the first time. One of the peak musical achievements our times have witnessed.
Corbet
Admittedly, many prog rock fans with otherwise excellent taste in music find Gentle Giant rather hard to get into. Their music certainly is challenging, and very varied in flavour. At times it evokes Medieval music, at other times there are a cappella vocals delivered in a quasi-"round" format, in company with passages that veer from moments of delicate beauty to "rocking out." All of these musical paths, and more, are often explored within the space of a single song. (Of course, that could be part of a generic description of progressive rock.) Gentle Giant have an inimitable style that is difficult to categorize; they must be heard to be understood. Perhaps only those with the most open musical minds will find them at all accessible. Certainly, though major players of the 70s prog scene, "Giant" never fully rose above their cult status to approach the popularity and critical acclaim of contemporaries like Genesis, Yes, ELP, Pink Floyd or Jethro Tull. (Though Gentle Giant don't really sound like any of those heavyweights, their music bears a somewhat closer resemblance to that of 'Tull, than any of the others mentioned.)
As I observed, Gentle Giant are not exactly the most approachable band in the prog universe; their music tends to invoke extreme love or hate reactions from first-time listeners. With that caveat out of the way, I would urge those who are curious about the band, or simply those who are in search of "something completely different," to start with this excellent recording. "Free Hand" encapsulates Gentle Giant's sound at the top of its form. It is not as "difficult" as "The Power and the Glory" (its excellent predecessor) or "Interview" (its good, but uneven successor), nor as commercial as later efforts.
The overall sound of the disc (if G.G. can be said to have an "overall" sound) is driven by keyboards, electric guitar, violin, and the unique "vocal stylings" of lead singer Derek Shulman and company.
The album, fittingly enough for this mold-breaking group, is loosely written around the theme of individual choice and freedom. The songs are all very good, but, to my taste, the title track, "His Last Voyage" and "Time to Kill" are particularly effective. (I still get a kick out of the sound of the "Pong" game at the beginning of the latter track: if, like me, you can remember when Pong was a cutting-edge video game -- indeed, the ONLY video game -- then you're showing your age....) Highly recommended to fans, and to those with sufficiently eclectic and diverse tastes to "get it."
Peter
Free Hand is perhaps Gentle Giant's most realized effort. After the excellent In a Glass House, the group further developed its Renaissance-medieval approach, producing one of the most creative and complex recordings in progressive rock history. Their vocal approach to the four-part fugue "On Reflection" was revolutionary for its time and is looked upon as one of the genre's defining moments. Despite the complexity of the arrangements, the music never sounds academic and in fact is very accessible thanks to several melodic hooks. The combination of superb musicianship, dry wit, and creative compositions make this an essential and historical recording.
Robert Taylor
Another winner!! OK there are some weaker breaks through,but nevertheless here you find some of their best moments of music invention. Of course regarding of the best vocal performance ever- "On Reflection" - an incredible polyphonic excursion by means of all the vocals (a beautiful modern "Baroque" game) the present album- as it contains moreover a perfect balance concerning the melodic lines- is memorable. Besides you find the excellent title track as well as fine solos at the keyboards: the music covers a lot of styles, including the Medieval music and to me that's enough to regard this one as an unforgettable number!!
Highly recommended!!
Lorenzo
While better known prog rock bands (ELP, KING CRIMSON, YES) were visibly running out of steam, GENTLE GIANT continued to stay on their original course, sharpening their skills and releasing consistently excellent albums quietly and (seemingly) effortlessly. As fans might expect, "Free Hand" is a further tightening up of the music found on their last album, "The Power and The Glory", leaving the concept behind and focusing on bright, medieval-tinged rock replete with the clever twists and tortuous passages that fans had come to expect. Whether you regard the band's music by now as idiomatic or merely formulaic, they bring the same skills to bear on every song, which prevents a "hit" or representative track from emerging but also provides uniform pleasure from end to end. The largely vocal exercise, "On Reflection", does stand out; the impassioned "Free Hand" and the languid "The Last Voyage" are impressive ends of the spectrum; even the instrumental "Talybont" has too much personality to be dismissed as a mere medieval interlude.
"Free Hand" remains as concise a case for their talents as any album; Rolling Stone even rated it the band's best album (although their view of progressive rock came through a distorted lens). Apparently, the band liked the album enough to use it as a template for their next release, "Interview".
Dave Connolly
'Free hand' is not only Gentle Giant's best known album, but also one of their definite masterpieces, as well as the perfect introduction for the newbie: some of the band's catchiest tunes are included here, yet the repertoire comprises the usual demanding level of clever complexity and undefatigable inventiveness. GG doesn't need to meander through long-side suites or three-part epics. These guys can handle tracks incapsulated under the 5-6 minute duration, and infuse them with genius and intensity; they use the structures of R'n'B ('Just the Same', 'Time to Kill'), jazz-rock ('Free Hand') and Celtic festival ('Mobile') and refurbish them through massive progressive reconstructions. Besides these pyrotechnical themes, there lie some others that are oriented toward more subtle realms: the Mediaeval vocal/instrumental polyphonics of 'On Reflection', the tender melancholy of 'His Last Voyage', and the high spirit of 'Talybont' show us that the gentle side of this Prog Giant is also filled with defiant sophistication. All these tracks (or at least, almost all of them) are highlights for their own merits. Yet, let me mention a few brilliant moments: the choral intro of 'On Reflection'; the recurring counterparts and countermelodies of the title track; the overall serenity of 'His Last Voyage' conveyed in both the vocal parts and the subdued guitar solo; the explosive wah-wah violin in 'Mobile'. Now, in general terms, Derek Shulman's voice works impressively as an integral part of GG's sound, and the ensemble's musicianship is technically superb as well as perfectly integrated. Kerry Minnear's keyboard's arsenal works as an "orchestra" in many occasions, and Weather's drumming exhibits an immaculate finesse that can't be properly grasped by words (or at least, this reviewer's words). I'll leave it to the listener to give their own verdict: mine is "masterpiece/essential".
Cesar Inca
4.5 / 5 stars would be more accurate. But, as with their previous albums, this is an excellent example of progressive rock and should be owned by prog fans.
Coming off the highly successful The Power And The Glory, Free Hand takes a similar formula and take it off in a different direction. Slightly stripped down instrumentation, perhaps more traditionally rock, but no real loss of complexity or prog. The first three songs are all GG classics. On Reflection deserves special mention as being the one song I would recommend someone listen to if they really wanted to know what Gentle Giant were all about. All the trademarks are there, none of it feels rehashed or uninspired, and it's performed flawlessly. Talybont is the other real standout track with some incredible playing by Kenny M. A truly modern day medieval classic. The other songs are not as good, but His Last Voyage is certainly true to form Gentle Giant. Time To Kill is a fun little rocker, and Mobile, is probably the least successful song on the album, which is unfortunately being it's the closer, but it doesn't diminish what proceeded it.
All in all, this is a top notch album from a top notch prog band. This is the last studio album I'd give a 5 star rating to (even though Interview is excellent in it's own right) and in many people's eyes the last true classic from The Boys In The Band. I don't know if I agree with that exactly, but I do agree that this is an album that if you've been on PA for more than 3 months you need to have immediately. Highly recommended.
Phil
After a very varied and hugely interesting series of albums so far 'Free Hand' sums it all up; the adventurousness of their first four combined with the rock solid complexety of 'In a Glass House' and 'Power and the Glory'. Oddly, this was one of the last GG albums I acquired from their golden period but also one of my most listened. It's arguably their most melodic album to date and the brilliant opening track "Just the Same" really gets you going the whole day and could be a potential prog single. "On Reflection" is the most memorable track here and in my opinion overshadowes "Knots" from 'Octopus' in the vocal arrangmements, lacking the avant-garde but is extremely effective in it's beautiness. The album somewhat looses focus on the second side but ends on a high note with the bouncy and medevial hard rocker "Mobile" that is reminiscent of Jethro Tull during their folk-rock phase at the end of the 70's. Comparing these two bands, it's no doubt that Ian Anderson and the Shulman brothers listened and learned alot from eachother.
If you are unsure of where to start with this band, I think this one should do it. A full package of complexity, great hooks and lot's of listening pleasure. It looses it slightly at the end but those songs also are of a very high standard. 4.5/5
Björnar Lunde
Background -- In recent discussion with my prog guru: Andy Julias, prog music producer (Discus) and Chairman of IPS (Indonesian Progressive Society) I was amazed with the topic we discussed. It was about choir and vocal harmony in rock music. We discussed about many types of vocal harmony from groups like Yes, Gentle Giant, Queen and Hamadryad (Canada). What surprised me was the fact that Andy gave an example of Gentle Giant's "On Reflection" by really emulating it very close to the original tune. It really struck me. I know that one of Gentle Giant strength is in its vocal harmony besides its complex and avant garde composition. Then I realized that I have not reviewed this masterpiece album.
Album Review.
It has been a great challenge for me to review classic bands with a music of their own identity. The difficulties rely on what sort of benchmarks should I use for review as they were pioneers of the kind of music they played. Gentle Giant is no exception. Can you compare it with Spock's Beard? Definitely "no" as they live in different time. But, for sure , Spock's Beard was influenced by Gentle Giant. Even though the band disbanded in 1980 but the soul of their music is still around us nowadays.
About this album, let me ask you: "How prog are you?" If you are a prog lover, this album is a must in your collection. If you are new to prog, you must buy this album. The band has inspired many bands on planet earth and no one has successfully similar to their original music. The music might be a bit complex at first listen but I'm sure it would grow significantly after 8 spins. But if you can enjoy the album before it reaches 8, you are blessed with good prog ears and you should continue your journey with all Gentle Giant's albums and other prog bands.
"Just The Same" kicks off with a staggering piano solo and great voice line followed with an avant garde beat music. The music relatively discrete at the opening and it turns continuous at the interlude with sort of spacey keyboard. The solo keyboard is really amazing. The solo ends up with electric guitar rhythm and returns back to the original tagline melody. The harmony of keyboard and saxophone is intricate. It's a superb music!
As I mentioned above "On Reflection" has a powerful choir / vocal harmony in a capella backed with some percussive and vibes during opening. This opening is really excellent! The choir is then continued with single voice line by Derek accompanied with discrete keyboard, violin and woodwind (flute) works. Some backing voice at the end of the bars accentuate the song. The keyboard sound augments the vocal line nicely. Dynamic drumming ends the song brilliantly. The compositional quality of this song is top notch even though it's complex in structure.
"Free Hand" starts off with a harmonious work combining keyboard sounds and bass line. The rocking vocal enters the music in upbeat tempo with continuous music. The solo keyboard and bass performed excellently during quiet segment of the song. The interlude part indicates the complexity of Gentle Giant music. No matter complex the music is, the band has successfully maintained the intricate harmony of multi instruments used.
The next track "Time To Kill" is even more rocking with its complex composition and dynamic rhythm and melody. The opening sound indicates a tidy harmony of bass, keyboard and guitar and a simple melody followed by a discrete guitar score. It flows with the music that brings vocal into main body. Some transitions have a quieter music with sort of discrete bass, keyboard, guitar and drums. Another excellent composition by the band.
"His Last Voyage" opens with an avant garde mood using bass, vibes (played wonderfully) followed by acoustic guitar that accompanies voice line. There are some influence of jazz and classical music. The beginning of this song is performed in ambient style exploring jazzy bass and vibes with relatively slow tempo.. The music then flows continuously in the middle of the track by the appearance of drumming. Piano at background is played in jazz style. The solo guitar is really stunning - it continues with a complex organ sound until the music returns back to original rhythm and tagline melody. "Talybont" is short instrumental with keyboard / clavinet and woodwind dominate the scene accompanied with percussive and bass. The woodwind and clavinet sounds indicate a classical music influence. It also reminds me to Rick Van Der Linden's Trace as they shared similar vein in this part.. "Mobile" combines acoustic guitar, keyboard, violin nicely during opening. Again, the band has proven their talents to compose this complex composition with perfect harmony. Each instrument seems to play different than the others but it still produce an excellent harmony.
Conclusion: This is a masterpiece and a highly recommended album. All tracks stand-out firmly as original prog tunes. There is no such thing as mediocre track in this album. Rating: 5/5.
Gatot Widayanto
Boy did I had a hard time to get this one. It seemed to slip through my littles fingers all those years. No beggie 'cause it's finally here, and I don't want to repeat myself but...this one's a keeper! I thought the Power and Glory format wasn't gonna last. I thought a much colder approach did not suit well the British Giant. But the same pattern's here and I must say that the departure of Phil Shulmann (my personnal favorite of the band) is not bothering me anymore. Okay, this pops and rocks harder but the keyboard work is less atmospheric and more rythmic, which is this case played by Minnear, is growing on me.
Also the many more folkish stuff is pretty satisfying (Talybont, His Last Voyage). Gentle Giant always knew how to make super medieval songs without baloney. Since Raconteur Troubadour we haven't seen much of that style. Hurray for that!
This is one is surprinsingly well done. Crisper and cleaner production; the band never sounded that tight since...ever. A logical following to Power and Glory, deeper in their new train of thought, without selling out or losing their core.
This album has an obvious relent of screw-up love stories. Dereck signs some pretty honest stuff in the Free Hand track. Anger, bitterness or jalousy, whatever he lived through, the song is a solid kick in the crouch to the person concerned.
Especially if you're a newbie, get this to get a good idea of the post Phil Shulmann period. Come join us, broken hearted and shout out loud: " Who would believe me now that my hands are free? That my hands are FREE!! Nobody's listening to the things you say. t To the things you SAY!!"
That's what I call a successful mission.
Jonathan Payeur
This is one of the best Gentle Giant album. Compared to the previous "Power & glory" album, "Free hand" is much better recorded and more addictive. Kerry Minnear uses sometimes more modern keyboards, often surprisingly floating, like on "Just the same" or "Free hand". He more than ever perfectly plays here delightful arrangements of piano, clavinet, Fender Rhohes, and organ. "Free hand" is an extremely structured album, complex with fresh & lively moods. "On reflection" is an outstanding exhibition of vocal synchronization in the form of a canon: no flaw noticed! John Weathers plays his percussion devices as often as his drums: the result is totally impressing, giving childish charm and enchantment to the ensemble. The bass is absolutely complex and not timid at all. The bass ABSOLUTELY participates to the infernal nervous communication between the keyboards and the electric guitar: it makes unbelievably complex and spectacularly synchronized patterns. The finesse of this album is legendary, also revealed by the miscellaneous tender lead & backing vocals, sometimes approaching Gregorian chants, like on "His last voyage". The ultimate tour the force is "Talybont", a joyful complex medieval track where harpsichord, wah wah guitars, flute, keyboards, bass and drums form a solid canon. It seems there is no violin, except on "Mobile", which sounds more rythmic prog hard rock, like on the previous albums.
HIGHLY RECOMMENDED!
Greenback
I was very impressed by my first outing with Gentle Giant. This album really is an impressive spectacle of sound. The musicianship is solid and tight, playing with incredible structure. The tracks are intricate and difficult muscially, but never get too out of hand. The vocals are sultry and insane at the same time. The lyrics range from great to insightful. This is an incredible album. The Avante-Garde and jazziness of the album is inescapable, and the sound is irresistable.
The most notable tracks on the album are Just the Same, which begins effectively with finger snapping, which then leads into some simple piano from Minear, and slowly the rest of the group kicks into shape. Shulman's voice on this track and the rest of this album is among the best vocal performances I've ever heard. The piece concluded just as it began with finger snapping. My other favorite is Free Hand. This is one of the most complex songs on the album, but it is catchy and hooks you in from the moment Derek's voice comes in. The jazzy break down is also something only Gentle Giant can do.
Overall, this is a fantastic album that should be in everyone's collection. The songs on this album are all solid, and are among the most adventurous things they've ever done. 5/5.
Robert Peña
4.5 Stars --- Gentle Giant's 1975 offering, FREE HAND shows a distinct step towards a harder rock sound after somewhat softer (more acoustic) previous efforts. This hard- rock and complex prog sound was a complete success on FREE HAND, and it marked Gentle Giant's commercial apex; FREE HAND reaching #48 in the USA. Artistically, this would also be their plateau, as they would follow with the excellent INTERVIEW (1976), before sliding into oblivion. Derek Shulman has never sounded more like a rock singer than hear, and his soul and R&B background give him extreme depth and power. His voice is utilized really well, as on the whole, the vocal harmonies are less complex on this album than other Gentle Giant efforts. The instrumentation is less adventurous on FREE HAND than say OCTOPUS or THREE FRIENDS, obviously going for more of a rock sound, but it loses none of the beloved complexity and depth of Gentle Giant's unique baroque-rock sound.
The album opens extremely strongly with "Just the Same" with a simple piano pattern which builds up, slowly allowing other instruments to join in, before we are hit with the full force of Derek's voice. This is a great up tempo rocker with excellent and diverse keyboards from Kerry Minnear. The song degenerates into a Jazzy break (as only Gentle Giant can do) before returning to the original vocals. The song closes fingers snapping, just as it begun. This song is extremely catchy for prog, and will leave you with your fingers snapping as well. It makes an excellent opening, and also opens their landmark live album PLAYING THE FOOL (1976). The next piece (Gentle Giant composes and arranges pieces, they don't write songs) is "On Reflection". "On Reflection" is a trademark Gentle Giant vocal experiment in the vein of "Knots", but this time taking on the form of a medieval fugue in four parts. This is one of their most successful tracks with ultra complex, layered vocal harmonies, alternating between extremely jarring section and profoundly beautiful moments. Gentle Giant handles this song very professionally for such a complex structure. Not many (read: any) bands could pull this off other than GG. Side one closes with the excellent title track, "Free Hand". This is much in the vein of the opening "Just the Same" but is more complex. It is an incredibly tight and complex piece, and the band doesn't miss a note. Bass player Ray Shulman and drummer John weathers turn in especially good performances on the intricate instrumental middle section. While this song is prog to the complex max, it never loses its rock roots, and is very catchy and enjoyable.
Side B kicks off with the rollicking "Time to Kill". This is closest the band comes to rock, but it still maintains their trademark 'sound', and is incredibly enjoyable. The backing vocals take over towards the end of the track, and makes for an incredible ending. The next track is one of the more beautiful Gentle Giant songs, it is an acoustic ballad (in the literary sense of the word) full of diverse instrumentation and delicate vocals. After some layered vocals by the band members, this song picks up pace, gaining momentum, ending in a soulful guitar solo by Gary Green, with a wonderful undercurrent of Kerry's piano running through almost unnoticed. After the previous five tracks (all essential GG) the album loses steam. "Talybont" is fun and short medieval style instrumental, and is almost reminiscent of Jethro Tull Focus, (especially Jan Akkerman solo) but features much more complex instrumentation. Throughout this song one can hear cymbals, flutes, , harpsichord, etc. The percussion is a highlight. This track was originally intended for a soundtrack to a Robin Hood movie which never materialized. This track is pretty and enjoyable, but not essential GG. The album closes with its weakest track (never a good idea), with "Mobile". This is another attempt at fusing hard rock with renaissance style instrumentation, and is less successful than other tracks. The violin by Ray Shulman is an especial highlight, but by this point, one feels they have heard this stuff before, "Just the Same" etc. The song is good, but Gentle Giant could do better, especially for a rather short album; 36 minutes.
FREE HAND is a great album, and is one of Gentle Giant's most accessible. It marks a great place for newbies to the intricate renaissance-rock that is Gentle Giant. This is on of their most sonically unified albums, and easily earns a rating of 4.5 STARS. (It would be 5, but this is no OCTOPUS or IN A GLASS HOUSE, which are also highly recommended to those more familiar with GG's music).
NetsNJFan
Not much more to add with the above comments, only that it was the first album by GG that I bought after reading a review comparing them to Yes and Genesis. I remember being totally blown away. I never heard anything like them and they jumped to number one on my list of favorite bands. If you are new to them and want to explore their albums, by all means purchase this one first. It's their most accessable album with very beautiful synth runs by master Minnear, (title track, "Freehand"), great a cappella singing, ("On Reflection") and rocking tunes, ("Just The Same" & "Mobile"). Plus, with the 35th anniversary edition, gone is the flat sound. What you get is crystal clear production where every, and I mean every instrument is loud and clear. Just amazing! And on top of it all, a bonus live track from 1976 of "Just The Same". A perfect album from beginning to end. A five star masterpiece!
Ray Rappisi jr
Gentle Giant is a class act. Album after album, they deliver great songs and excellent compositions. Free Hand is no exception. It is even one of the finest they ever did. Following the biaised reception of The Power and the glory(most prog fans loved it, but critical reviwer tought of it as a letdown from the band), Free Hand was another step into a more medieval sound. The arrangements are increasingly complex, but always remains creative and melodic. The musicianship is really strong especially from Kerry Minnear, and the interplay remains true to the gentle giant tradition, one of the best prog ever produced. Every song is excellent, and the wonderfully crafted album remains fresh and despite the complexity of the music, is probably more accessible than its predecessor. Gentle Giant were really on, and this is must for any prog fan. 4.5/5
Philippe Rodriguez
I see "Free Hand" as the zenith of Gentle Giant's fabulous classic period. It's perhaps their most realized effort. After the excellent, in wide parts experimental "In A Glass House" the group developed it's Renaissance-medieval approach on "The Power And The Glory", and produced one of the most creative and complex recordings in progressive rock history. On "Free Hand" they perfected that style, with using more transparent arrangements.
"Just The Same" is another superb opening to an classic Gentle Giant record, which is also the most accessible piece on. Their vocal approach to the four-part fugue "On Reflection" was revolutionary for it's time and is looked upon as one of the genre's defining moments (specially it inspired Spock's Beard's vocal-arrangements very strongly). Despite the complexity of the arrangements, the music never sounds academic and in fact is very accessible thanks to several melodic hooks. The combination of once more superb musicianship, dry wit, and creative compositions make this an essential and historical recording. The Renaissance-medieval approach of Gentle Giant reached it's highest point in the illustry "Talybont". The impressive "Mobile" finally crashes the album to an end, before the classic period of GG is finally over for many fans and progressive rock-addicts. Many of those seem to have forgotten the great "Interview" album they delivered one year after "Free Hand", even it wasn't quite on the same high level but not very far. What is left to say about this landmark progressive rock record?
Marc Baum
I'm not a big fan of Gentle Giant but i apriciate almost every work of this outstanding band. When i first listen this band i said to my self what is going on with them, to complicated, to many sounds, complex arangements. But after 15 times of hearing every '70 album, i begun to understand how they work, what is their porpose in music. There are still some superb moments on the album such as the delightful last Voyage and Time To Kill, as well as the title track, but on the whole I end up not so enthusiastic. Free hand is almost a masterpice, because every track is beyong average listner, complex and intresting arrangements. A 4 star album. I remain to Octopus witch i find the first masterpice ( second is The power...) of Gentle Giant and an album hard to beat even for them. This is my opinion regard to this one.
Bogdan Olariu
On Reflection - A Masterpiece
The main problem with other Gentle Giant studio albums is that they do not contain the perfect confection of hard rock and dazzling polyphony that is "On Reflection". This is possibly the best Prog Rock song ever, deceptively accessible to the point of seeming simplistic, and yet laden with technical subtleties and complex contrapuntal marvels that in no way stifle the natural flow of the piece.
But enough already! I'll do the analysis bit when I reach the song during my customary "live" review; As the album plays directly into my headphones, for your entertainment, before your very eyes, I will endeavour to pull out the succulent fruits and the sour grapes, the nightingales and the turkeys, the stellar and the stinkers from this marvellous musical trove of tonal treasures:
"Just the Same" must surely be considered a succulent fruit - bursting as it is with juicy proggy goodness. A finger clicking good rhythmic motif begins, then a piano motif joins it, crossing the rhythm of the clicking. It should be noted that the very first iteration of each motif is different to the motif itself, which provides instant drama and energy to what follows. The click disappears, and a distorted guitar provides a note-for note echo to the piano, exactly half a beat behind.
Note that this is all in the first 30 seconds - we're talking real proggy value for money here!
The song kicks in, and the instrumentalists and vocalists pick up melodically and rhythmically modified versions of the introductory motifs, lending a perfect continuity to the music. The chorus is another modification of these motifs, the time signature changing and layers of instruments changed to indicate the new territory, rather than the more predictable device of changing riff or key. This is followed by a rather surprising codetta - not a bridge, as it is clearly not intended as a linking device, rather a continuation of the previous flow of musical thought - and the second verse arrives.
The "bridge" is more of a development of the earlier ideas, but in a calmer, less chaotic zone, with swishy synths and soft-sixth squishy harmonies washing underneath twining guitar lines. The tempo picks up for the second section of the bridge, and is almost a recapitulation of the earlier ideas - except that Gentle Giant have surreptitiously modulated a few times during the past few sections, and use the new key to kick off into surprising and new material - except hang on, didn't I hear that finger clicking in the intro? The transition back to the verse is thus made smoother than it really has any right to be, and the song is drawn to a close with perfection.
The main drawback with this particular song is in the somewhat generic lyrics - akin to what one might expect to find in an "arty" pop song.
Now we get to "On Reflection", and on first hearing, you're almost bound to wonder why I rave so profusely about this song, as there is simply too much going on for you to absorb all at once - the music is a complete story in itself, and there is far more here than many bands produce in an entire album.
We kick off immediately with a striking melody line that is then turned into a canon - except that unlike a canon in a Classical work, when subsequent voices begin, they pick up at the same point in the lyrics as the primary voice.
As with many of Bach's fugal writings, the melody entries are a perfect 5th apart - but unlike Bach, 3rds and 6ths tend to be lightly touched upon - which lends an austere, almost mediaeval flavour to the whole piece, denying either major or minor key dominance.
The vocal lines continue, each part carefully composed to promote maximum movement within the music, until a sudden stop on a major triad that brings this section to a sudden stop in a perfect cadence.
The next section "reflects" the lyrics, as it is a reflection upon the person who is the subject of the song, which is perfectly symbolised by the complete change in character of the music: A sudden shift to a minor key and quasi-madrigal style harmonies using suspensions modulate downwards using our old friend, the cycle of fifths.
Again, for the next lyrical section, GG use a new character in the music for this reflection upon a reflection with an odd sequence of dischordant chords that suggest a kind of warped barbershop - or even the Beach Boys. This successfully imparts the questioning tone, and then yet another shift to a reflection on this question in the contrapuntal style of earlier: "Now: On reflection, why should I have changed my ways for you?".
This gives way to yet another musical fragment, which almost completes the exposition of main ideas for this song: the "All around" motif, which recurrs again and again in a quite brilliant stream-of-consciousness way, expressing the circular nature of thought patterns.
It should be noted at this point, that not even a minute of this song has passed - such is the density of carefully composed and outstandingly expressive material under scrutiny here. And it should also be noted that not all of the main music ideas have been exposed yet - despite the battery of rich inventiveness, GG keep a few tricks up their sleeves.
The next section feels familiar to us now, as it uses the same canon ideas as the very first, but this time we have instruments for the first time: A piano accompanies the 1st voice, a vibraphone accompanies the second, and a gockenspiel accompanies the third, lending a more urgent, percussive feel to what we might think of as the second verse.
The structure begins to feel a little more familiar now, as the second section or subject appears once more, closely followed by the third. Drums and cymbals join the instrumentation at this point, and an instrumental interlude follows - which is suddenly interrupted by the "All Around" motif.
This time, the motif is extended, and the guitars join the instrumentation - the bass at first - and the motif slowly fades and gives way to a completely new and ever more reflective idea - a lyrical, melancholy and reminiscent melody - the perfect 5th accompaniment maintaining the mediaeval flavour, and a wooden flute double underscoring this by accompanying the voice in unison. The arrangement is particularly notable as the instruments take fragments of the main melodic ideas and use them to expressively decorate and emphasise key lines and words in the lyrics.
This is a moment of real magic and tranquility, as the voices are shaped sensitively and the whole thing comes together as a perfect balance to the chaotic polyphony of earlier.
This is cut across by a sharp reminder (and a developed musical idea that feels new) "Look back, it's not your game, together just in name", but the reminiscent feeling is still strong, and the idea is recapitulated.
This time, a violin plays a slightly agitated counter-melody, and the "All around" motif performs the cut-off, before being cut off itself by a quite delicious riff fragment. The "All around" motif is having none of this, and attempts to re-assert itself once more, while percussive ideas sneak in fromthe sides attempting to establish some ground. Eventually the guitars (and organ) win, though, with a strong statement and development of the very first idea - this whole section clearly describing a battle inside the psyche. To put the icing on the cake, drums are added - and you just wonder how!
Sadly, the piece fades at this point, and we are left wondering what might have happened next - but that is the ONLY thing wrong with it!
Having just realised that I've managed to dedicate an album review's worth of space to a single song, I'll stop here. That should give an idea of just how great this album is in terms of compositional technique - an entire essay could be written on each piece, and there is simply no way you could assimilate all of the ideas presented within these grooves immediately - unless you're some kind of musical prodigy.
Maybe one day I'll write a review of a Gentle Giant album that gets the time and HTML- space it deserves - but for now, like the song "On Reflection", I'll leave the reader to wonder what happens next, to go straight to the nearest stockist, purchase a copy of this exceptionally fine Prog Rock album and begin the quest to discover how the heck they did that - or simply enjoy the deliciously complicated music underneath the deceptively accessible melodies.
Either way, an essential purchase for anyone that appreciates the finer points of Prog Rock - or progressive music generally.
Mark
This could be Gentle Giant at their most accessible, while holding on to the traits that make them so unique. It is a fun, and (of course) quirky album. This may not be the band at their most dramatic, but it is ultimately enjoyable.
"Just the Same" is strong, bouncy, and has that odd timing that GG fans have come to love. There are also some wonderfully silly keyboard sounds. So come on, and snap along (if you can).
"On Reflection" starts out with a trademark vocal round, and is joined by a few percussive instruments. It then goes into a folk section. Towards the end more is added, and we are treated to various sounds "all around, all around, all around."
"Free Hand" starts with a quickly played piano and guitar duet, backed with some subtle bass. It soon turns into a rocker, GG style.
"Time to Kill" is a jazzy groove. If you listen closely, there are some tasty progressions here.
"His Last Voyage" is delicately haunting, but has a little 'cut this thing loose' section.
"Talybont" is a medieval dance. If it weren't for the electronics, this could have been recorded in a castle of old. Ah, fetch me an oversized turkey drumstick.
"Mobile" is the only thing keeping this from getting five stars. It's a good tune, but not the best choice to close the album.
Once again, this is a fun album. It is also a great place to enter into the land of the Giant. I highly recommend it.
H.T. Riekels
I don't understand how people would rate it lower than 4 just because it entered the charts. Look at "A Passion Play" by Jethro Tull: it is their less accessible album of the 70's, yet it charted at No.1 in the States (if memory serves well). The charts are very unpredictable, because the albums enter charts for selling and not because of the general opinion of the album; that is how the charts measure popularity: by number of copies. They just got a bit more popular, that's all. This album is as complex as the rest; except that now they actually filtered a bit more their ideas to create compact compositions, and instead of dull experimentation they focused on writing actual songs with every detail carefully planned and less atonalities. They kept the assimetrical time signatures but they don't just throw them for the sake of throwing them. In short: they polished their songwritting. I sometimes wonder how they all fit together perfetly into all those undecipherable time signatures (e.g. His Last Voyage) and how could they play all of these numbers on stage without a director's aid; they really are quite disciplined, and this album shows some of the most precise playing ever by Gentle Giant. John Weathers manages to get every strange beat with groove drum playing, and not a song on this album goes unnoticed. From the cheerful "Just The Same" to the fiddling on "Mobile", every number has it's charm... no fillers at all.
The most amazing song on here is "His Last Voyage": with amazing renaissance imagery and the most jazzy intersection in the mix, it represents the eclectic and extreme style this band displays. "On Reflection" starts with blends of fugal structure (a vocal fugue, later intrumental) and later proceeds into a more mediaeval approach, it's also amazingly memorable. "Talybont" is an almost pure mediaeval fair music, only mixed with canon in the arrangements. "Free Hand" is the perfect example on how to create a musical soundscape, with every instrument serving it's part separately to create complex polyphonic music, and then the song turns into a very funky piece, then bits of jazz on the bridge. "Time To Kill" has a more soul approach, in the way Gentle Giant only knows how. "Mobile" is known mostle for the fiddles, and the electric guitar also serves as a fiddle with the wah-wah effects.
A deserved 5-star rating... If you're starting out with GG I suggest this one LAST.... Yes, the best taste for last.
Jesus Brea
I've enjoyed most of the 1970s albums by Yes, Genesis and Jethro Tull for a long time, but last night I also listened closely to FREE HAND, probably for the first time ever, and it made me wonder if Gentle Giant were not, perhaps, more sophisticated than any of the aforementioned. The only early prog bands which truly matched GG in ensemble playing, were Frank Zappa's band circa 1974, and the early 1980s incarnation of King Crimson, with its intricate gamelan-style melodies. I simply gasped with astonishment when I heard the fugue GG pulled off in 'On Reflection'. This was so much more than the textbook fugue Keith Emerson inserted into 'The Endless Enigma'; it's an original piece of music that's vibrantly alive!
For Gentle Giant there were no experiments with pompous church organ-like sounds which some listeners may find questionable (as produced by Tony Banks on FOXTROT, or by Rick Wakeman on GOING FOR THE ONE). There is nothing solemn about this band; it really ROCKS, and lead singer Derek Shulman bears a lot of responsibility for that - he must be one of the most dynamic prog vocalists around. Shulman is also capable of moving the listener: the sweet melancholy of 'His Last Voyage' shows it makes no sense to call prog music 'sterile'.
So, hats off to Gentle Giant! On the 1998 remaster, FREE HAND is coupled with INTERVIEW, which was originally released just seven months later. Although a lesser album, INTERVIEW is still worth hearing, so the FREE HAND/INTERVIEW combi looks like a first- rate bargain.
Fuxi
What Gentle Giant created with Free Hand is their most accessible album (from their classic period, let's not bring Giant for a Day and Civilian into discussion.) without loosing their instrumental and vocal complexity nor their polyrhythmic compositions; what an achievement indeed! And to top it all, this might even be among their three best albums; again, what an achievement!
The album starts with finger snaps. no, really it does, with Minear´s keys dropping in a few seconds later to mark the counterpoints of the "finger snap beat" in a more than typical Giant fashion, a great way to open the album. Of course I'm talking about "Just the same". Minear shines here, not only for his counterpoints rhythms, on which Green´s guitar would also help latter on, but for his strange sounds in the chorus and that spacey solo. Among his best stuff, and in another great Giant fashion, it's complex, inventive but never in your face; what an achievement! "On reflection" follows and it brings us another characteristic Giant composition, maybe the one they are more famous for: the polyphonic, medieval multi vocals. Sure, this has been done before with the "head turning" "Knots" in Octopus, so the result might not be as surprising, but let me tell you, it´s equally as good as the previous mentioned one. Some might even say it's better, I know my friend and Giant fan-boy, Martinn, would agree. "Free hand" is in my eyes and ears the best track of the album. Again, Minear owns this one, but Ray Shulman is not far behind with his fantastic bass lines. The main key riff that could be taken as the chorus must be one of the best things the Giants have done in their career. Of course the rest of the band also delivers pure brilliance in every note, every beat. Strange as this might sound, one could even dance to this song; what an achievement! The second side of the album, for I have the vinyl version, kicks of with "Time to kill" which, at least for me, is the weakest track from the album. BUT, this does not mean it's a bad tune, no, no, no, no, no. it's still very, very good, specially Shulman´s bass lines, but the rest of the album is just way better. "His last voyage", the longest song from the album. which is still quite short if you compare it to other prog songs, is really interesting. Here the Giants take it down a notch; the song presents little drumming, just in some sections here and there, but other than that, it's a very calm song. Still, the instrumentation here (as usual) goes wild. It is rare for the Giants ´cause an instrument that is not usually used by them in other songs, prevails here as their main in the vocal parts. the acoustic guitar! Again the vocals are sung in their polyrhythmic fashion, but not as over the top as in "On reflection". Gentle Giant was one of ´70 strongest instrumental bands, yet they didn't do many instrumental songs, which is quite weird. But, here, in Free Hand, we get one. "Talybont", a short piece, constructed around a main key riff is as delightful as short songs come. Of course every instrument plays their own interpretation of this riff, full of variations, one almost wishes the song was longer, but no, it's short. and delightful. "Mobile" closes the album; an up beat song, again, full of what makes Gentle Giant Gentle Giant. Personally, I find this song to have Derek Shulman´s best vocal lines, at least from this album. Strong, direct, even happy, it's a good contrast to the complex background instrumentation this song presents. Now, this is not about the actual song itself, but about the album. I have, as I already said, the vinyl version and the CD version. Now, in the vinyl version once this song comes to an end the record plays on for a few more seconds, I would say 20 or so, till Weathers hits the drums on last time all alone. I always found this very cool, for it always took me by surprise. Now, this ultimate drum hit, does not appear in the CD version. or at least not in mine. strange indeed.
To summon things up: a classic, one of their best. Few if any weak point and some of their very strongest are here. A good starter too, very accessible, yet you can get something new out of it, every time you listen to it, what an achievement!
Matias Boettner
What can you say?
If the jazzy funk element of Power and the Glory hadn't quite melded into the medieval choral, complex musicality that is GG, then boy does it fit in here.
The first time I listened to this album it just made me smile. This is most defintiely inane grin territory (In InGT as a couple of my mates would put it).
Often the difficulty with reviewing an album which is so complex is the the desire, or compulsion, to try and be profound and appear knowledegeable. The greatest compliment I can pay this album is that I've played it when a few mates & girlfriends have comeback form teh pub (well worse for wear) and they've loved it. I've played it to mates in bands I've played in: they have loved it & seethed with jealously. Finally, I can't play this album without smiling.
I've always wondered what Buddy Rich would have sounded like if he'd jammed with these guys. My only disappointment in this album, and i've got to say it's a biggy is the restrained drumming: where are the swishing cymbals in His Last Voyage?? Bugs me every time I hear it.
Talybont reminds me of the backing music for the dance scene in Romeo & Juliet at a production I saw years ago (23).
Mobile follows suit. Typically GG. A little bit of a reel. Love the bass chords jsut before it enters a very weird section. welcome the the weird and wonderful world of GG. Love it or hate it, you must feel the quality.
For me it's a 4.5 but I can't vouch it as essential so that leaves this a 4.
Brian McKee
Gentle Giant were so good it hurts. What Ray and Derek Shulman, Kerry Minnear, John Weathers and Gary Green were able to achieve musically was unmatched in the progressive rock movement. The group didn't demand attention, squeeze catchy melodies or foment heart-tugging manipulations. They just recorded some of the most accomplished music in rock history.
'Just the Same' opens on a cheerful note but gives a taste of the sophisticated architecture to come. That promise is fulfilled with the knock-out vocal arrangements in 'On Reflection', building and circulating with piano, Vibes, more vocal layers, a gingerly-sung lyric, sprinkles of recorder and violin, all leading to an immaculate rock explosion of beauty, energy and immense joy. The cocky 'Free Hand' quickly becomes a prog rock classic that matches anything Yes ever did and reveals a unit that could literally do anything, and did it with such aplomb that many contemporaries must have cried themselves to sleep after hearing this record. Gentle Giant were unafraid, and could back-up their high ambition with results. 'Time to Kill' continues in the vein of the title track with constant change, modulation, redirection and trippy high-end playfulness. The band is able to take just a few small themes deconstructed to such a degree that they become unrecognizable as related music, maintaining a connection just under the surface that strings everything together. The deep and jazzy 'His Last Voyage' gets into religious tonalities and Gregorian chants, gluing it all with some old fashioned rock 'n roll, 'Talybont' is quite pleased to see the King, giving Tull a serious run for the money and 'Mobile' is an amazing reprise with some hot fiddle.
One of those albums that, looking back, captured a moment, a quality, a time that was never seen again in modern music. Eras change and generations grow-up but Gentle Giant is somehow timeless in its uncompromising quality and standards, and rock will not soon see another band bearing such undeniable gifts.
David

En líneas generales, solo cabe deshacerse en elogios para un disco donde convergen altas dosis de energía, creatividad, diversidad melódica y destreza interpretativa a raudales.
Y hay muchos otros comentarios pero todos dicen lo mismo: un álbum musicalmente casi inmejorable. O quizás sea mejor sacarle el "casi". Otra de las grandes joyitas musicales del blog cabezón... Imperdible obra maestra... Una maravilla musical.