Empezando la semana y como para ponerle un poco de buena onda, les presento esta excelente propuesta que viene desde Grecia (que buen prog sale de Grecia más allá de Vangelis y Ciccada, y pensando bien aún no hemos traído nada de lo maravilloso de Aphrodite's Child... me lo tengo que agendar). En cuanto a Methexis, es una excelente propuesta de un multi-instrumentista griego llamado Nikitas Kissonas que aquí se ocupa de casi todo. Mucho talento, ambientes oscuros, voces teatrales ¿A qué recuerda esto? Bastante a Pink Floyd, Peter Hammill, Ayreon, Pain of Salvation y a Discipline, en un disco de una excelente producción independiente que los invito a conocer para comenzar la semana. Recomendado!!!

Artista: Methexis
Álbum: The Fall Of Bliss
Año: 2011
Género: Crossover Prog
Duración: 55:06
Nacionalidad: Grecia
Lista de Temas:
1. Eradicated Will
2. Poetic Mirrors Wound Heroes
3. Those Howling Wolves
4. Lines on a Bust
5. Track the Saviours
6. The Aftermath
7. The Fall Of Bliss (Intro)
8. The Fall Of Bliss (Part I)
9. The Fall Of Bliss (Interlude)
10. The Fall Of Bliss (Part II)

Alineación:
- Nikitas Kissonas / vocals, guitars, bass, mandolin, keys, programming
- Nikos Miras / drums
With:
- Jargon / piano (4)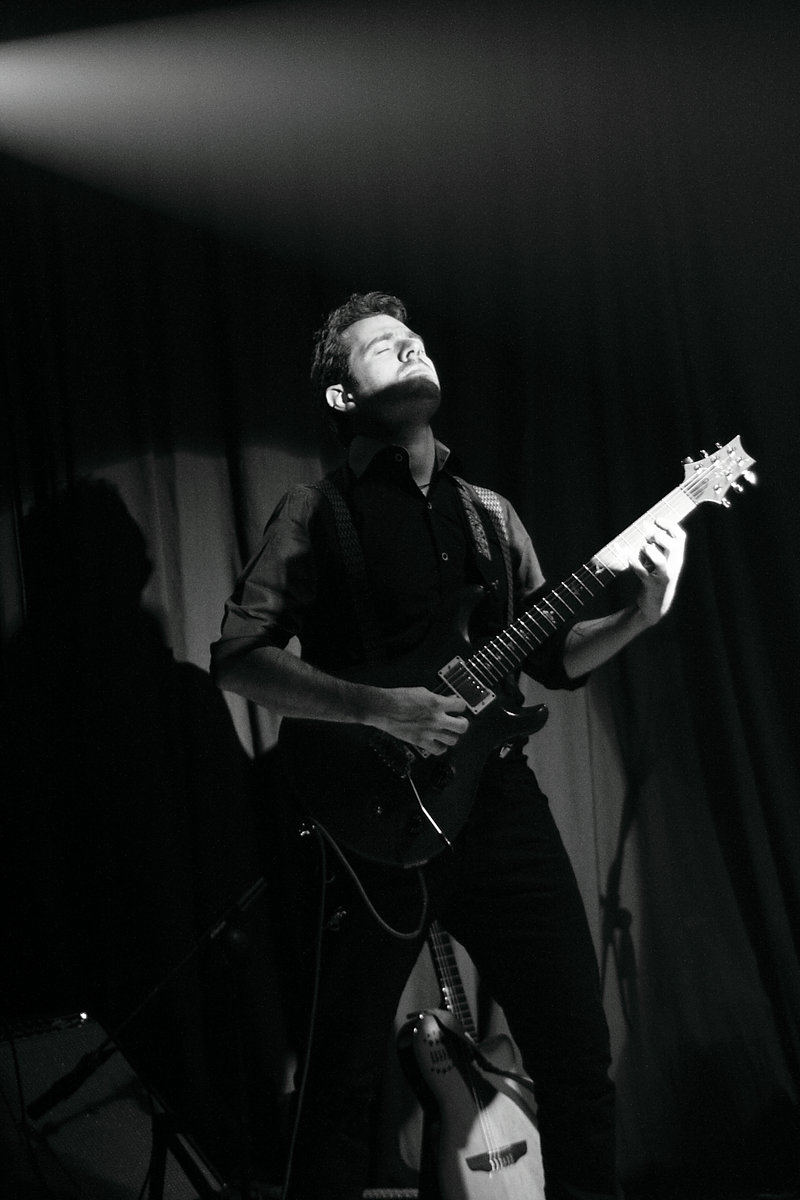 Potencia, claridad instrumental, maravillosas melodías, frescura, innovación, creatividad en una gran producción a la que no le falta nada: mezcla de art-rock, pop-rock y elementos ​​del metal, con buenas voces, canciones sencillas, agradables, fáciles de escuchar y asimilar, lindos solo de guitarra en un estilo que va entre Gilmour, Hackett y Latimer, bien estructuradas, con muy buenos arreglos musicales e ideas de producción. El disco contiene canciones donde su narrativa cambia la tensión dramática, en un álbum que no trata de demostraciones de habilidades técnicas ni compositivas, sino de emociones. Aclaro que como me ha gustado tanto tendremos más de este proyecto en el blog cabezón.
En el disco no falta el piano en canciones muy Hammill (bueno, sil el bozarrón de Peter, por supuesto) pero donde igualmente la voz está muy bien, guitarra acústica, sintetizadores sinfónicos, no falta tampoco un poco de jazzy, donde hay canciones intimistas que explotan en expresividades metaleras (ojo que el disoc no es metal ni nada parecido, pero tiene variadas intenciones). Un álbum hecho con amor y quizás casi como trabajo privado que fue liberado y hoy está disponible en Bandcamp para la descarga gratuita.
Un disco con mucha profundidad, bien armado, bien desarrollado y con mucho sentimiento. Nikitas está en el camino correcto con algunas ideas instrumentales y melódicas genuinamente originales, y las que no son originales igualmente suenan genial. Su punto más flaco, a mi modo de ver, es la voz, aunque tampoco está mal, pero estas canciones brillarían con un excelente vocalista.


Conózcanlo, no les cuesta nada, el disco te lo regala el griego, y yo creo que te va a sorprender como ya sorprendió a varios en varias partes del mundo. Muy buen trabajo y no es el único, ya tendremos más Methexis en el blog cabezón.
Muy recomendado, les dejo algunos otros comentarios en inglés...


I am excited to see new music--especially progressive rock--coming out of Greece. I've long loved APHRODITE'S CHILD's 666 and 2010's A Child in the MIrror by CICCADA. Until now, I've not heard of much else coming from this small, historically rich country.




"Eradicated Will" (8:57) is excellent. Kind of like 2011's A Shattered Accord by DISCIPLINE, yet quite unlike other bands. It is, to me, amazing that, other than drums, METHEXIS is the work of only one person, NIKITAS KISSONAS. That is extraordinary! What a talent! The engineering/production team is outstanding! (Leonidas Petropoulus??!!) (9/10)




"Poetic Mirrors Wound Heroes" (4:52) has some wonderful melodies and vocal harmonies. I like the syncopated instrument play and instrumental clarity. The guitar sound and stylings remind me of PAUL WELLER. Not sure what the lyrics are trying to convey, but that's okay: I am NOT a lyrics man. To my ears, the voice is mostly another instrument in the music. (9/10)




"Those Howling Wolves" (8:07) has an eerie yet jazzy feel to it--musically reminds me of ANITA BAKER (not sure why). I like the programmed drums and many incidental keyboard sounds and samples. The Rhodes piano chords are quite effective--leaving lots of space for the listener's emotions to build. Nicely done! Again, I feel that with your singing you are often trying to be as theatric/dramatic as MATTHEW PARMENTER, yet you have a more beautiful singing voice than MP--one that kind of reminds me of two of my favorite current vocalists, DAN and PATRICK MCGOWAN from THE TEA CLUB. Thus, the chorus sections are my favorites, vocally. Incredible guitar/instrumental solo section! To drop out for the bare keyboard and your voice--great stuff! (9/10)




"Lines on a Bust" (3:42) is jazzy like GINO VANELLI and, later (in the chorus) MARCO GLÜMANN (SYLVAN) singing over an ERIC SATIE classic. Gorgeous song, Nikitas! (10/10)




"Track the Saviours" (4:13) reminds me of a mix of BILL NELSON (BE-BOP DELUXE) and DAVID BOWIE. I guess a little GENTLE GIANT and PETER HAMMILL, too. Definitely Bill Nelson. Cool song, though the heavier parts, even the the first electric guitar solo sounded and felt a little tongue-in-cheek (à la This Is Spinal Tap). Interesting high energy song! (9/10)




"The Aftermath" (4:14) is straight out of early PETER HAMMILL. Again, your singing parts are much more beautiful, polished than Peter's (or Matthew Parmenter's), but the simplicity of your supporting musical paly is, in my opinion, a true strength of these songs. Love the acoustic guitar fadeout at 2:27 which turns into a crackling 'old fashioned record' album recording of an old mellotron(?) then ending with the return of the acoustic guitar. Cool song! (9/10)




"The Fall of Bliss--Intro" (1:41) must be an ANTHONY PHILLIPS piece! It's gorgeous guitar play!




"The Fall of Bliss--Part 1" (8:22) starts like a STEVE HACKETT piece, then goes TOBY DRIVER wild on us! Awesome! The GEORGE BENSON-like acoustic guitar soloing is cool! While not going quite as deeply jarring or abrasive as Toby Driver, the song does, in fact, remain quite similar to a Bath/Leaving Your Body Map-era MAUDLIN OF THE WELL song (with Pete Parmenter/Matt Hammill singing in parts). Love the organ and whispering voices section. Kind of creepy like Harry Potter or something. (CHRIS SQUIRE singing?!) Very cool section with the carnival-weird organ solo. Awesome bass playing!




"The Fall of Bliss--Interlude" (4:22) is an awesome instrumental reminding me of DARGAARD, DARK SANCTUARY, NOX ARCANA and many, many great Goth rockers. (9/10)




"The Fall of Bliss--Part II" (6:32) is a heavy rocker with some absolutely astounding shifts, effects, and guitar playing. The "we're the whole/join hands/minds/hearts" vocal section is awesome--especially knowing what Greece, the EU, and the Occupy Now and Arab Spring movements have all been doing, but that extended guitar solo that fills the whole second half of the song is simply breathtaking. Like ROBERT FRIPP in his prime, only, filled with a raw, open emotion. 3:40 and on! What an amazing end to an astounding--yes, breathtaking listening experience. This one tops even TOBY DRIVER! (10/10)




It's difficult for me to imagine anyone not being blown away by this album. What a talent! What a gifted artist! Thank you Nikitas Kissonas for sharing your amazing album with me.




I love this excellent album. It reminds me so much of Discipline's To Shatter All Accord--only, in my opinion, better! (I rated TSAA four stars.) The Fall of Bliss earns 4.5 from this reviewer-- rounded UP because of freshness, innovation, creativity, great production, and amazing variety (no two songs sound the same and yet all sound and feel like METHEXIS!)!!




Listen to this one, prog lovers! You won't be sorry!
Drew Fisher
Greece is probably not the "proggest" country in the world , but in last some years it regularly gives us some prog rock influenced albums. Methexis ( solo project of Verbal Delirium ex- member and current Yianneis' guitarist Nikitas Kissonas) debut reminded me another Greek band Ciccada's debut, released few years ago.And even if Ciccada's music was well arranged modern symphonic folk/prog rock and Methexis is mostly one-man project (with some help from drummer and guesting pianist on one song), music of both bands has one thing in common - it's soulful and melodic roots.




The Fall Of Bliss is epos, mixing art-rock, pop-rock and some heavy metal elements with strong vocals, packed in nice paper fold-out case (with Greek painter Dimitra Papadimitriou drawings - what a beautiful colors!). Nikitas tells you a (musical) story - even if music doesn't contain even traces of Greek musical tradition, Greek historical tradition is obviously presented here. Mid-tempo, narrative,full of dramatic tension songs change each other scrolling out sound panorama filled with crying guitars, keyboards passages and electronic airy noises. As almost all Southern-European prog, the music on this album is not about demonstration of technical abilities, but about emotions. Will you like it or not depend on your heart, not head.




I am usually quite skeptical towards one-man projects music: even great musical ideas,played and recorded by excellent musician too often sound static and even dead-like when produced in studio adding sound layer over layer. This album is partially avoided such result, even if in moments whole sound is a bit flat. Probably my main note is being very energetic, rhythmical structure and tempo of all compositions are very similar, so from some point the music can start sounding a bit monotonic. I believe more rhythm changes and more various rhythmical structure would work as spices in good food making it delicious.




The album for fans of melodic, energetic, not too complex epic music with touch of darkness. My rating is 3,5/5 rounded to 4/5.
Slava Gliozeris
METHEXIS is the project of Greece's own Nikitas Kissonas. He created the words and music and plays everything but the drums. There's also some guest piano on "Lines On A Bust". The excellent lyrics, dark vibe and even the vocals at times remind me of DISCIPLINE more than any other band I can think of. There is some variety and there's a couple of tracks that I had a hard time getting into but man this is a really good album.




"Eradicated Will" is my favourite song on here. A nine minute trip that I just can't get enough of. This is the most DISCIPLINE sounding song on here. I really like the vocals and also when it kicks into gear each time. A powerful tune and it's especially dark after 4 minutes including an excellent guitar solo. "Poetic Mirrors Wounded Heroes" is completely different from the rest with the vocal harmonies to start and the higher pitched vocals and keybord sounds. Man this is such a great track as well. A top three. "Those Howling Wolves" is one that i've had a hard time getting into. Reserved but theatrical vocals and piano to start then it picks up some as the sound turns fuller. The focus here is on the vocals although I do like the guitar 6 1/2 minutes in. "Lines On A Bust" was the other song I had trouble appreciating. Laid back vocals with piano early on although this is what we get throughout except the vocals do turn passionate at times. Not a fan. "Track The Saviours" is more like it as we get this powerful and dark instrumental intro before the vocals join in with passion. This is close to Prog-Metal at times.




"The Aftermath" reminds me of ANATHEMA and i'm talking the "Alternative IV" period. It goes from dark to light throughout. Sounds like mellotron to end it. The last four tracks make up "The Fall Of Bliss" suite. First is the short "Intro" where we hear birds singing before latter day ANATHEMA-like acoustic guitar joins in as the birds continue. Next is "Part I" where the wind blows in a dark atmosphere before it kicks in heavily. It calms right down and we get haunting vocals after 3 minutes. It kicks back in with vocals before 6 minutes. Great sound ! It settles and blends into "Interlude" where we get mellotron-like sounds and a dark atmosphere. Vocals 1 1/2 minutes in then more dark and powerful instrumental work. It settles late to end it. Lastly "Part II" where drums pound and more as he sings in a determined manner. It settles some after 2 1/2 minutes as the guitar solos and the drums continue in this instrumental section. The guitar is ripping it up before 5 1/2 minutes as we hear crowd noise in the background shouting.




This certainly exceeded my expectations. And while there are two tracks in a row that don't do a lot for me the rest of the album more than makes up for it. Well done Nikitas !
John Davie
With the exception of Vangelis, this is the first time that I listen to Prog Rock music from Greece, and I didn't know that this kind of music was popular enough in that country and less than there were some solo musicians and bands composing and recording albums there with this kind of music . So, maybe this is more due to my ignorance that anything else. Anyway, this album is an independent production done by Nikitas Kissonas (currently the guitarist of Yianneis, x-member of Verbal Delirium). I have to say that I don´t listen very often to Dark music and lyrics, which is the predominant style of music that I can identify in this album. But even if I don´t listen to Dark music very often, it doesn´t mean that I don´t like some of this music. Nikitas Kissonas is a multi-instrumentalist in this album, but there is also the participation of a very good drummer called Nikos Miras, who plays drums on all tracks, and also the participation of a pianist called Jargon in a track called "Lines on a Bust". Well. It seems to me that this is a conceptual album. The lyrics themes are predominantly speaking of disillusionment with love and maybe with the state of the world in general, and maybe (but this is my own interpretation) they even talk about some political and economical criticisms. Even if the Dark themes of doom and unhappiness are there, some of the lyrics talk about hope, and the album closes with an optimistic message of "it can be done if it is done together". I think that this lack of optimism in some of this Dark music is more the reflection of the modern times and the influence of some ideas that come from the uncertainty of the modern world (these are my views anyway, but I could be wrong). In comparison to the Prog Rock music which was composed in the seventies, I think that in the seventies there was more hope reflected in the lyrics and in the musical atmospheres. But, this album has very good music, played and recorded very well, with some unusual chord changes (at least for my ears anyway) and very good musical arrangements and production ideas. I don´t like the vocals very much, but there are some interesting vocals arrangements. The mixing is very good too. So, it sounds like it was done with a lot of care. My favourite tracks from this album are "Lines on a Bust" (a piano piece with lyrics) and "Track the Saviours" (with very good distorted Heavy Metal guitars in sound).
Guillermo Vázquez Malagamba
Methexis is the project of Greek musician Nikitas Kissonas, who wrote all the music and plays all the instruments except drums (and piano on one song). So that means he plays all the guitars and electric keyboards and does all the programming. The music here sounds like modern symphonic prog with a strong dose of prog metal and maybe a little bit of the more experimental and avant prog. Nikitas also does all the vocals (sometimes double-tracking and/or overdubbing himself). He has a varied vocal style, changing sometimes within the same song.
"Eradicated Will" begins the album based around catchy yet proggy guitar lines and vocals. This almost has a country music vibe to it. The 'chorus' parts sound almost prog metal. Nice guitar solo in a Gilmour/Hackett/Latimer style. I like how the keyboard sounds gradually get more prominent in the mix. "Poetic Mirrors Wound Heroes" reminds me of 70s symph prog yet doesn't sound derivitive. The overdubbed vocal harmonies almost sound like Yes. Some nifty keyboard work in this song. Love the instrumental section which leads up to a classic symph prog style synth solo.
"Those Howling Wolves" features Nikatas singing in an almost Hammill style before switching to a more harmonized, Genesis style of singing. He is backed by some electronic beats and programming. Besides that there is electric piano and synthetic choir sounds...just ethereal synth sounds in general. The Genesis-y 'chorus' parts have acoustic guitars. Eventually 'real' drums show up and then organ sounds before eventually returning to the original part with a nice jazzy guitar solo. Drums come back and we get a symph prog/prog metal guitar solo. "Lines On A Bust" is a nice piano and vocal song. I generally don't like these kind of songs, prefering acoustic guitar-and-vocals only songs. I feel this would be better with the full band treatment.
In complete contrast, "Track The Saviours" is straight up prog metal. I wouldn't want the whole album to sound like this but this track is a nice break. Not only the music but the vocals are delivered in a very prog metal way. Even the guitar solo features finger-tapping. One of the standout tracks. "The Aftermath" starts out with acoustic guitar and Hammill like vocals. Then symphonic keyboard sounds and a more melodic style of singing. The two parts alternate. Later some Mellotron sounds on an old scratchy record (at least that's what its supposed to sound like). That stops and the song comes back before being forced to end by a needle scratching across the vinyl.
The last four tracks comprise the epic title track. "Intro" is bird sounds and classical style acoustic guitar. "Part 1" opens on a dark and sinister note. Some prog metal before it switches to non-prog metal-prog with a great syncopated beat, acoustic guitar soloing and symphonic synth sounds. Later a more straight-forward beat with snare rim hitting. Then a glockenspiel or toy piano or similar before more Hammill like vocals appear. Some synthetic choir sounds and backwards talking at one point with some great church organ sound. Gradually an instrumental section with some cool keyboard and guitar work. Have to mention the bass work-subtle but effective.
"Interlude" has some Mellotron flute sounds mixed with harmonized humming, and another wind instrument sound. Then a string synth drone before a capella vocals reprises "Part 1" Then more keyboard sounds join in as a guitar solos. Then the rhythm section kicks in and it's prog metal time. Ends all nice and pretty again. "Part 2" starts off similar to "Part 1" Eventually goes into a groove with a nice long guitar solo. You can hear a crowd chanting throughout off and on; the album ends fading out the crowd which begins to applaud. I would like to applaud Mr. Kissonas for making such a fine album.
This is generally modern day symph prog, but it doesn't sound like a lot of the other slick retro stuff out there. I've found that a lot of today's self-released/independently released music sounds better than a lot of the more major label stuff: more dynamics and less compressed sounding. This album is no exception. The CD release is a nice digipak with an illustrated booklet. The actual CD is meant to look like vinyl with the grooves for each song (I have yet to actually play it on a turntable to see if it works). Overall, a great release. Recommended to those symph fans who want something a little more modern sounding, or prog metal fans who want something a little less heavy. 4/5 stars.
Darryl
Greek musician Nikitas Kassinas is one crafty fellow, there should be no doubt whatsoever , one of those talented multi-instrumentalists who lovingly prepare a private album and then does his best to distribute it to the prog community, in this case straight to PA reviewers, in order to generate a buzz. Good on you, my Hellenic friend! That kind of chutzpah is rare in the Internet age.
From the outset, it is clear as a pane of glass that this is a personal testament, as befits the opener, 'Eradicated Will', a get-go that surprises, intrigues and at times, bewitches. After an initial squirrely intro, the bass driven central core is garnished by a petulant guitar solo, expertly guided by solid drumming. This is stunning and grandiose, the choir keys adding immense depth to the arrangement, giving it a heavy feel, ominous and menacing. It pools in utter serenity, the air exhaled. An excellent beginning, I find myself very surprised indeed!
Slight change of pace on the melancholic 'Poetic Mirrors Wound Heroes' has a distinct series of flavorings, some Yes interspersed with Canterbury (vocal work), sprinklings of some Gentle Giant, all tagged with a big zombie woof bass. The mood is highly original and ultimately exalting, especially instrumentally, where Nikitas shines on keys, axes, and that darn bass guitar. Pantagruel would be flush with envy!
'Those Howling Wolves' has whispered and accented vocals, a hint of faux-jazz barroom microphone molestation. But the musical intersections are preposterous, short blasts of space synths blaring in the cosmic air. Then back to the spooky vocals like a prog Bauhaus, with some pastoral obsessions for effect, kind of cool and bizarre in some indescribable way! When things get louder, the mood shifts into an anthem 'like subdivision, where some jazzy guitar noodlings confirm the smoky saloon scenario. A frightening electric lead then spurts out of nowhere, cruising madly like some tortured missile from hell. Exalted words put this one to bed. How romantic! Waiter, another bottle of ouzo, para kalo!
'Lines On a Dust' soothingly mesmerizes on voice and piano, very graceful and heartrending, again showing traits that go way beyond the usual norm. Kudos for the effort, a short sweet gem.
'Track the Saviors' rifles off a vulgar bass salvo that devastates everything in its passage, the drums clobber wildly, guitar thrashing and the Gentle Giant vocalizations are back. This almost Queen-like heavy, melodramatic even operatic at times, the analogy quite appropriate. Have to mention drummer Nikos Miras who is deadly efficient. Wow!
'The Aftermath' is my only foible on the set list, a slight too murky for my tastes, slightly askance from all the other material and it does little for me. The occasionally croaked vocals kind of bug me but his softer register is fine. A crackling effect-laden mid-section fails to enlighten the proceedings.
To close off the premiere, a 4 part epic 'The Fall of Bliss' is created to underline the progginess of the work, and as such, does not fail to impress. Birds chirping and acoustic guitars in perfect harmony is how the intro inspires. Part 1 becomes vaporous and foreboding, and it does take long for the rifferama to appear out of the thundering mist, Miras keeping things very tight (a revelation, actually), directing huge choir sways and intense strangeness. 'Twilight Zone' style vibraphone motifs unsettle and confuse. Odd time meters abound, yet the beat is uncomplicated and straightforward.
Nikitas is on the right path with some genuinely original instrumental ideas but his croaky vocals contrast too sharply with his exalted ones. He needs to work more diligently on the microphone or he may turn off a few fans, vocals often being the 'Achilles heel" (yeah, Greek mythology is everywhere!) of progressive rock. . I hence agree with my esteemed colleague lazland , once again he is spot on.
4 / 5 Doric columns
Thomas Szirmay
When I was approached by Nikitas Kissonas to review this album, I wasn't really sure what to expect. I mean, firstly he is from Greece which is not a country normally associated with progressive rock music (with Vangelis and Aphrodite's Child being obvious exceptions) and secondly this is a solo album in the truest sense of the word with only one other musician, Nikos Miras who provides drums with Nikitas doing everything else. He told me that he decided to release it himself as either the labels weren't interested in him, or eventually he wasn't interested in them as he wanted to have complete control himself, so I was intrigued to hear the end result.
Then one day an envelope arrived, and I certainly wasn't expecting to open it and find a digipak and booklet filled with great artwork (care of Dmitra Papadimitriou who definitely deserves a namecheck), with all of the lyrics etc. It certainly doesn't seem like a one-man effort, and the music definitely reinforces that. Nikitas used to be a member of Verbal Delirium and is currently a member of the Greek conceptual avant garde performance band Yianneis and it was following the release of their debut album that he locked himself in the studio to start work on this which he describes as symphonic-progressive.
It is an album of great depth and complexity, with lots going on. At times it is over the top and in your face while at others there is a real feeling of space with just gentle instrumentation. The use of 'real' drums definitely enhances the feel, and there is a controlled dark emotion that pervades the music as a separate layer, and the vocals are sometimes delicate and almost whispered and at others they are passionate and fraught. The combination of fragile vocals and delicate piano at the beginning of 'Lines on a Bust' are Hogarth-era Marillion at its' best, but for the most part the one band that appears to have influenced Nikitas more than any other is probably Discipline, and any fan of their incredible music will definitely appreciate this album.
It is an incredible piece of work, even more so as it is just one person creating this world, and I believe that the next album will be more of a band piece, but in the meantime this is highly recommended for all progheads.
Kev Rowland
I am always tremendously impressed by albums which are by and large the work of a single person. It is often unfathomable to me that one person can be talented enough to not only write a complete progressive rock album but also perform the entire thing.
Well, add Nikitas Kissonas the list of those who have pulled it off, and maybe make a new list for those who have pulled it off with such flying colors. The Fall of Bliss is an absolute stunner of an album, finding common ground with many other progressive rock bands while simultaneously finding its own niche and excelling there.
I think that, in an alternate universe, Storm Corrosion could have come out sounding a lot like this album, and I absolutely mean that as a compliment. From the very first twanging notes of "Eradicated Will," I can hear a lot of both Steven Wilson and Mikael Akerfeldt's softer moments in this music, and, quite frankly, you can't do much better than to be compared to those two.
I certainly don't mean to suggest that this is anything other than extremely fresh, original music, though. The Fall of Bliss is one of those albums that seems at the same time familiar and completely unique, and it's never content to sit for too long in the same place. Even within the first track the music goes from lilting, off-kilter vocal harmonies to epic guitar solos to climactically heavy motifs and back again, and never once does it feel forced or disjointed.
With such a satisfying opener there might be some worry that the album is bound to go downhill, but fortunately it doesn't. "Poetic Mirrors Wound Heroes" makes perfect use of gorgeous vocal harmonies to create music that is simultaneously epic and extremely relaxing. "Those Howling Wolves" drops into a darker, more sinister vein, and yet, like magic, it still manages to keep the album's chilled-out, atmospheric, almost breezy feel going. It's simply stunning.
"Lines on a Bust" comes next, and I think it would have fit very well on Pain of Salvation's Be. Gorgeous piano and high vocals create an incredibly emotional atmosphere that bring the listener into a very relaxed place before metaphorically smacking them over the head with the relative heaviness of "Track the Saviours." "The Aftermath" reminds me very strongly of Opeth's quieter moments circa Watershed, with beautifully, slightly atonal guitars and a very effective symphonic interlude, complete with simulated vinyl cracks and pops.
And then, of course, we have the wonderful four-part title track to close out the album. From the delicately beautiful intro, replete with sampled birdsong to the noisy, crashing conclusion, the track(s) is (are?) a trip for the duration of their combined run time of more than 20 minutes. A multitude of atmospheric sonic textures and wonderful instrumental interplay take the track from the relaxing motifs that have dominated the album to more intense and climactic themes, the latter figuring especially prominently in Part 2. The Interlude, too, I feel deserves special praise, featuring some of the most beautiful music on the album and of course transitioning very well between the more relaxed Part 1 and the more intense Part 2.
Overall, The Fall of Bliss is one of the most impressive albums I've heard this year, especially considering that it essentially a solo project. Fans of Storm Corrosion should find a whole lot to like hear, as will anyone who's ever listened to a progressive metal album and thought that the softer, more atmospheric bits were the best parts. A killer album overall and one that has one of the most impressive ambiences I've heard in a long while.
4.5/5, rounded up
Alec V.
As the musical world becomes ever more connected, I find it odd that the prevalence of one- man bands seems to be on the rise. Bedroom producers, as they have been termed, have popped up in a vast array of musical circles, with the most well-known of them most likely being the experimental metal mastermind Ben Sharp in the form of Cloudkicker. Here, however, we have the Greek offering of Nikitas Kissonas in the form of Methexis. A lover of eclectic and progressive music, the album, titled 'The Fall of Bliss,' takes influence from a vast array of modern rock and classic prog bands, making a delicacy of new sounds and styles.
'The Fall of Bliss' is an interesting dish. Full of dark, brooding melodies, the music wavers in and out of a classic prog flourishes and modern indie rock and even hard rock passages that really accentuate the novelty of the music. From the well-placed riffing in 'Eradicated World' to the gentle yet dark indie acoustic style of 'The Aftermath,' the album has just about all that you'd like in a fresh modern prog debut, including a 20-plus-minute titular epic. Clever lyrics explore themes of societal confusion, a changing world, and other dynamic concepts. Kissonas, who handles all instruments except drums and piano on 'Lines on a Dust,' does a fantastic job at crafting a delicate and powerful atmosphere by pairing emotive vocals with precise guitar lines and spurts of tactful keyboards, ranging from Hammond to Rhodes.
While some musical parts seem a bit out of place, like the melodic progression in 'Track the Saviours,' which jumps between falsetto and whispered vocal lines between oddly balanced pop metal riffs, the album as a whole holds together excellently both thematically and musically. The balance between heavy bits and light bits make for an incredibly well balanced album, especially for a one-man debut. Mature song-writing and instrumentation run amuck, and classical arrangements, such as the a cappella arrangement opening 'Poetic Mirrors Wound Heroes' or the acoustic guitar arrangement in the intro to 'The Fall of Bliss,' add a wonderful flair to an otherwise great sound.
I was pleasantly surprised by this album. The promotional aspect of this album came right around the time that a number of other bands were flying their band's banner high and begging for reviews, so I was skeptical about this little Greek project. On my first listen, the dark and rough tone of the music threw me off a bit, but after only a few listens the genius of the compositions, tone, and dynamics began to sink in. Kissonas has significant musical prowess, and whatever work he does in the future is sure to gain significant attention. 4/5 stars.
Andy Webb
Dark, deep and obscure. That's the words I choose to describe this strange and beautiful piece of music.
Methexis is a solo project by multi-instrumentalist Nikitas Kissonas. It's frequent to find crossover prog projects that are slow paced and dark. That's the case with this particular album. It consists in 7 obscure songs focused on guitar harmonies and retro-style keyboards setting the tone and dark environment to the low heavy vocals.
What you will find are really great moody songs, slow paced and dark. The harmonies are great and it might be tough for a casual listener to keep the track, especially because the vocals, that aren't that commercial or catchy. But the album definitely grows with the time, the songs are strong and interesting enough to keep you wondering about it.
I think that it's easier to dive in the music in a cloudy lazy afternoon or when you are depressed. You will love the experience. The physical copy of the album is really nice because of the art that enforces the mood and the tone of the album.
To make it brief, think of Neal Morse's music, only without the bombastic "good" vibe. This is more obscure and depressive. Which is great.
I find it pleasing to hear it from time to time. I really hope Nikitas keep the track and bring out more music like this. Crossover prog has a lot to offer to the world and Methexis is a pleasing discovery for me. Four strong stars after several months of constant spinning. Highly recommended.
Juan Pablo Mijangos
One of my goals has always been to favor promotion of more obscure artists over those that get vast amounts of publicity. That is why I am grateful for the willingness of people like Nikitas Kissonas to make direct contact. It is guarantee not every CD sent is going to be gem. So far the majority has turned out to be something worth talking about, like Methexis.
Nikitas has been contributing to the progosphere as a member of Verbal Delerium. Even though two additional musicians do appear on 'The Fall of Bliss,' Methexis is essentially Nikitas Kissonas on his own. Music originating in Greece is also a point interest. Outside of the classic Aphrodite's Child you don't hear much about Greek prog. An accent in the vocal and geography however are all that reflect the country of origin.
Dark, gloomy and undeniably infectious, 'The Fall of Bliss' owes to the classic sound but rests more comfortably in the modern realm. The strongest influence heard may be Discipline/Matthew Parmenter. Certainly Nikitas must be a fan of the vocal style, especially in the more seething passages. The symphonic title suite holds its own identity but travels in somewhat familiar territory. The first few tracks are where something a bit more unique takes place. Imagine once again the aforementioned influences and apply them on a jazz foundation. Disillusioned singers are not exactly scarce but how often do you have a jazzy little shuffle to go along with the depression? Not enough for you? Try some Manhattan Transfer-esque harmonies just for good measure. Throw in grooves, well placed keyboards, a hint of psychedelia, quality composition, excellent guitar work and Methexis is off and running. Of course because this is modern prog the obligatory metal licks are included as well.
I knew the music would be worth checking out after hearing the website samples. The unexpected part was finding how much I liked 'The Fall of Bliss' once the disc was in hand. Nikitas Kissonas is a talented musician and composer. But talent does not always translate into anything people want to hear. Methexis is a project with great appeal. Well, let me qualify that last statement. If you only like sunny happy tunes perhaps you might want to pass. I am a positive person, but good music is good music. I'll take it in any mood. The effective blending of styles and top-notch musicianship are what makes the aficionado take notice. The alluring song craft is what keeps you coming back.
'The Fall of Bliss' was released in 2011, but I was only recently introduced. I certainly hope this project and its creator continue to make compelling music. As the rant frequently pops up in my ramblings, prog must progress. Nikitas Kissonas is doing his part and deserves support.
H.T. Riekels
It's true that prog rock had not been in fashion in Greece, at least since recently. After some great bands in the 70s (e.g. Aphrodite's Child, Akritas) it wasn't until Ciccada's debut [2010] that the genre surfaced again in the greek music map. Methexis is the music vehicle of Nikitas Kissonas, a guitarist from Athens, who sings on the whole album and plays everything, except drums (played by Nikos Miras, an exceptional drummer) and keyboards on one track, "Lines On A Bust" (by Kissonas' talented bandmate in Verbal Delirium, Jargon).
"The Fall Of Bliss" is a concept album in the traditional prog rock sense. However, lyrically it is quite unique as a concept, concerning personal, introvert and deeply sentimental themes which are connected to the current international economic and political crisis. As the album flows Kissonas presents multiple views through his lyrics, something like a sequence of impressions, feelings and intentions, ending quite poetically in a revolutionary manner .
The music of the album is basically progressive rock, mainly inspired and influenced by the '70s British prog scene. However, the music of Methexis has its own identity and all influences are very well blended into Kissonas' prog rock vision, which extends into a limited level of minimalistic experimentalism. There are some Yes and especially some Tresspass-era Genesis epic moments, whereas the vocals are characterized by the dark, melodic, narrative style of Peter Hammill (or M. Parmenter if you prefer, but with a strong British taste). The acoustic guitars are reminiscent of Hackett's pictorial, romantic and sophisticated melodies. Nevertheless, several vocal lines and guitar riffs are in the Steven Wilson vein, and alongside some metal elements which are evident here, they add a pleasant freshness to the music.
The unquestionable artistic success of the "The Fall Of Bliss" is based on the perfectionistic mixing (credits to Leonidas Petropoulos), Kissonas' wonderful and advetrurous performance and orchestration, and the unique dark/avant-gardish atmosphere throughout the whole album. Though he is not primarily a singer, Kissonas sings very well, especially in some tracks, where he shows true potential (if I had to mention one song, it would definitely be the irresistable "Lines On A Bust"). But Kissonas is basically a guitarist; a superb guitarist to be exact. What's more, instead of showing off his skills, he rather invests on his touch, his sound and his wonderful phrases and solos, which are the leading force in the album. The "empty" (or "sparse") moments of the album include some of the most (emotionally) successful parts here.
This is not just a prog rock album. It is the display of a compound, and yet solid, music suggestion with a sincere and genuine intention.
A real piece of art, recommended to all fans of British progressive rock.
Favorite tracks: "Eradicated Will", "Lines On A Bust", "The Fall Of Bliss: Intro, Part 1"
DeKay
An excellent music project. Professional work from an artist who combines knowlege and talent.Wonderfull music inspired and sure dedicated to 70's prog Cd begins as an "adult boy's" scared steps in the world. Slowly and eventually gives out more emotions and more power. Long tracks never boring ending with the 4piece epic "fall of bliss" wich gives the feeling of integration, having emotional and musical power and stands really in a high level of music quality. I have the deep feeling that we will be lucky enough to get more from this artist.
Have to mention the wonderfull , high aesthetic graphics on cd's cover (and on Y-tube) making the whole project a piece of art!!
CHRISTINE MARAGOU
To describe this debut album is like trying to describe an orchestral palette of music colours perfectly arranged to serve the demanding ear. No easy solutions to be found in this sound narrative.The thread of the story turns from nightmare to dream, back to the darkness and into the light, with a meticulous sense for research, exploration and discovery, harmoniously done with a wide knowledge in the use of instruments chosen. One may call it a fairytale, a journey, a play, if it were a book it would be a page-turner, providing this inner sense of suspense in synthesis that leaves one gasping for more. More is what one is to expect from this artist, who seems to indulge in experimentation and integrated concepts (as it is also obvious from the artwork provided in the physical copy of this album).
Lilla J
Methexis in ancient greek means among others the connection of souls and that is exactly how i felt when i first heard this album. The music with the variety of sounds and the lyrics with the dark deep meaning made me flow to my early youth and generaly in the years of innocence and deep thought!. I really enjoyed the structure of the album and especially the thetrical, epical style of the songs that allow you to built a story in your mind even if you dont understand all of the lyrics. I expect the next and second album of this artist and i hope it will include more bright moments so as to have a more spherical opinion.
musichorny
You can clearly see how much work has gone into this album. After hearing it a couple of times, I can say that the more I hear it, the more I like it. There are so many little things in there to keep your attention in high levels at all times. From simplicity to complexity, from melodic to pretty metallic and hard, get ready for an exciting trip. Production is very very good, almost crystal clear quality of sound. The artwork rocks!, giving off a childish/cartoonish and dark vibe. It described my experience fully.
All in all, Fall of Bliss is a great work, by a really talented individual. Although not what you'd expect from a progressive metal album, as it has bits and pieces from several musical categories, my opinion is that you should listen to this album for what it is. I suggest listening to it from start to finish, that way the experience is all the more complete.
cloudsquall88
I was amazed by the album cover and the rest of album pictures. It is so close to the theme of the music. Like a rainbow of notes and colours. You can close your eyes and listen to the whole album again and again. I was impressed by the track "Those Howling Wolves". I was sure that Jonny Depp will come out from some Tim Barton's movie. I could easy recommend this album to be incorporated in a movie or a theatre play. The lyrics are dark and very emotional. Music shows someone that has a good music and orchestration studies, and with a very interesting voice. I hope to see another album of this artist. Love your work, keep it that way!
Anna Desp
8/10
Listening to an album like this, whose musical sound is refreshing and new, highly rewarding! I had never heard any music coming from Greece, but Methexis was a pleasant surprise for me. Thanks, Nikitas Kissonas, for giving me the opportunity to review a good old prog!
I say "old" because the main influence for this album sound comes from the golden age of prog, the 70's. The album is classified as a crossover prog, but I'd say it leans more to the eclectic, due to its multiple influences - not make derivative in no time. Good to know that Kissonas performs most of the instruments here, except for the drums (which is the position of Nikos Miras), the fourth piano and band. And on the album cover? A highlight of the party as well as the designs of the artwork, all made by Dimitra Papadimitriou.
It is difficult to define favorite tracks here, because all are equally capable of captivating the listener. There are always moments that surprise me, especially in the use of keyboards, as noted in the fourth track, Lines on the Bust, which is beautiful - a stunning vocal performance and extensive use of the piano. Besides vocal harmonies and organ Poetic Mirrors Wound Heroes (I think I can say that this is my favorite song, in a way). How not to be touched by the beautiful acoustic intro of the epic that gives name to the album? (Anthony Phillips, are you? Hahaha). And the guitar solo in the last song? Incredible. And those are just some of the many attractions that The Fall of Bliss features.
4/5 stars! A brilliant album, accessible to all tastes, diverse and rewarding to hear. Long live Methexis!
Vinícius Oliveira Rocha

Otro disco recomendado por el blog cabezón, no dejen de escuchar al griego éste que se las trae!!!!