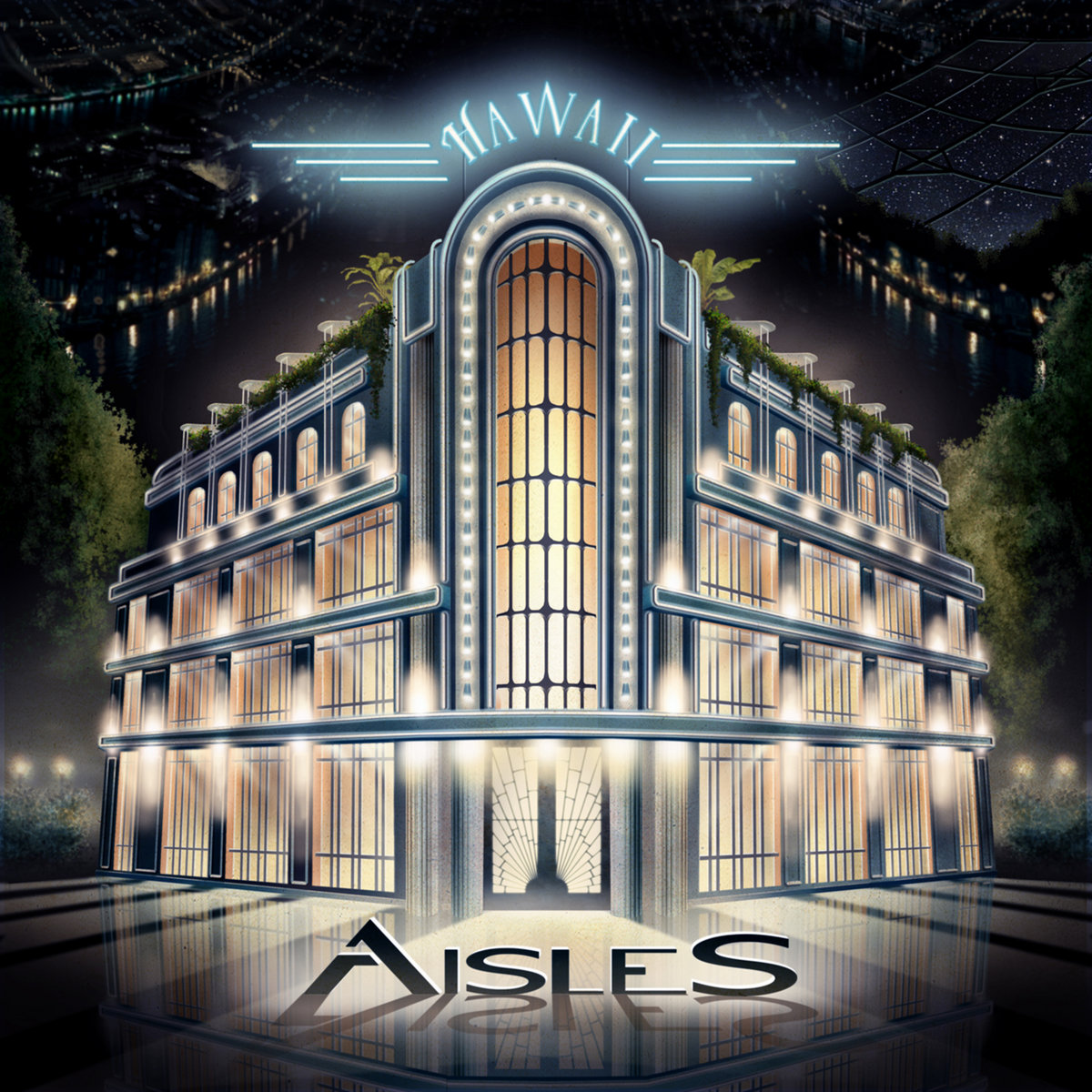 Chilenos de exportación que en este año se vienen con disco doble, ¡Y que disco doble! Lo único que les falta es que empiecen a cantar en castellano, porque por lo demás, se perfilan como uno de los mejores grupos de rock latinoamericanos. Si te gusta Rush, Porcupine Tree o el neo- progresivo más afilado tipo IQ, aquí tienen algo que seguro les va a gustar, aunque el sonido de Aisles se puede describir sin la necesidad de caer en las odiosas comparaciones. Durante sus 15 años de trayectoria han logrado impregnar sus acordes de gran originalidad y esto es gracias al talento de los músicos a cargo de este proyecto chileno de exportación.

Artista: Aisles
Álbum: Hawaii
Año: 2016
Género: Neo-progresivo
Duración: 77:45
Nacionalidad: Chile
Lista de Temas:
1. The Poet Part I: Dusk
2. The Poet Part II: New World
3. Year Zero
4. Upside Down
5. CH-7
6. Terra
7. Pale Blue Dot
8. Still Alive
9. Nostalgia
10. Club Hawaii
11. Falling
12. In The Probe

Alineación:
- Sebastian Vergara / vocals
- Rodrigo Sepulveda / guitars
- German Vergara / guitars
- Juan Pablo Gaete / keyboards
- Daniel Baird-Kerr / bass
- Felipe Candia / drums


La banda chilena de rock progresivo Aisles, de los que ya hemos preentado todas sus producciones, regresa con "Hawaii", su nuevo doble álbum conceptual. Esta nueva doble placa conceptual habla sobre colonias humanas establecidas en el espacio tras la destrucción de la tierra. Sus 12 tracks exploran los dilemas y desafíos que el individuo y el espíritu humano enfrentarían en dicho contexto futurista.


Sin duda alguna, es nuestro trabajo más profundo hasta la fecha. Con 'Hawaii' fuimos en busca de un concepto que realmente pudiera conmovernos. El objetivo era escribir canciones que, emocional y mentalmente, nos transportaran al lugar donde ocurren los eventos en el disco: el espacio.
Musicalmente nunca habíamos tomado tantos riesgos, probado tantos enfoques distintos ni nos habíamos permitido este nivel de libertad para improvisar y experimentar. Estoy realmente orgulloso de lo que logramos hacer.

La verdad, me parece medio sin sentido eso de buscar historias fantásticas para ahondar en el interior del ser humano, sus sentimientos, sus bajezas y sus grandezas. Ya lo hizo Rush hace mucho tiempo. Pero en fin, todo dependerá también de la música y de cómo está encarado el concepto.
Lo que sé es que la música que tenemos en este disco es tremenda. Un rock progresivo dinámico dueño de un sonido muy cuidado, una producción y sonido excelente. El disco está lleno de densos pasajes instrumentales donde se deja ver la capacidad compositiva de sus integrantes. Lo que más llama la atención de esta nueva placa es la exquisita mezcla de estilos. Desde la primera parte de este álbum doble, comenzamos con la Suite "The Poet" con ricos elementos de rock progresivo contrastando con la más jazzistica "New World". A su vez, "Year Zero" presenta una atmósfera más oscura y electrónica que impacta con el piano inicial de "Upside Down", adornado con solos de guitarra en su parte intermedia y un trabajo vocal que demuestra la faceta de la banda experimentando en el Art Rock. El trabajo es completísimo en cuanto a sonidos se refiere, y ya entrando en la segunda parte de esta placa nos encontramos de lleno con el inicio acústico de "Terra" y la ambiental "Pale Blue Dot" que apuntan a lo que será el resto del disco. Mucho más calmado que su predecesor con cortes más melancólicos y a ratos viscerales. Pero luego volvemos a la potencia y versatilidad expresada en el primer disco con "Club Hawaii" en un notable trabajo instrumental, destacando la habilidad sobresaliente de los músicos que incluso podrían encantar a los fanáticos de los sonidos más metaleros aunque nunca deja atrás el detalle de fusión impregnado en la esencia de una agrupación de naturaleza versátil. Ya para cerrar tenemos la calma de "Falling" e "In the Probe" cortes de carácter más experimental y ambiental.
Para confirmar la calidad del disco, los dejo con el comentario de nuestro columnista involuntario de siempre, que nos hace una amplia reseña del disco. ¿Y para qué ponerme a escribir mucho con todo lo que este hombre comenta?


En esta ocasión traemos a colación al grupo chileno AISLES y su nuevo trabajo fonográfico, el álbum doble "Hawaii". Se trata de un disco conceptual de temática cósmico-existencial, más específicamente, el relato de eventos y sensaciones que experimenta la humanidad sobreviviente a una hecatombe nuclear ad portas de su mudanza masiva a otro planeta. Para ser más específicos, el contexto literario del disco nos traslada a un tiempo en que la vida en la Tierra está llegando a su punto de extinción total, hora crucial en la que un colectivo de científicos, técnicos y filántropos organizan exitosos procesos de colonización en otros lugares del espacio. El lanzamiento de la última nave tripulada ocurre en el año 2300, que es el Año Cero para los colonizadores. El Club Hawaii sirve para brindar deleites y motivar recuerdos de lo que era la vida en la Tierra: toma su nombre de un club que existió en la década de los 50s, así como de un famoso disco de jazz. Hay un gramófono que es una reliquia muy valorada junto al susodicho disco; otro ítem atesorado y muy apreciado es una serie de poemas anónimos, los cuales son atribuidos a una figura paradigmática denominada simplemente El Poeta. Actualmente, el colectivo de AISLES consta del quinteto de Sebastián Vergara [voz y coros], Rodrigo Sepúlveda [guitarras eléctricas y acústica de 12 cuerdas], Germán Vergara [guitarras eléctricas y acústica, coros, voz adicional y algo de piano], Juan Pablo Gaete [sintetizadores y pianos], Daniel Baird-Kerr [bajo] y Felipe Candia [batería y percusión]. Tenemos aquí a un nuevo integrante en el departamento de los teclados mientras la banda, como bloque, reelabora con la consistencia de siempre el perenne camino de magnificencia sonora que se proyectó desde aquel primer álbum del año 2005 "The Yearning". Como norma general, la banda sabe reforzar el electicismo meticuloso de su sinfonismo moderno con cada nuevo trabajo, y en el caso de "Hawaii" la norma sigue sin encontrar excepciones: repasemos los detalles de su fabuloso repertorio.




Con la mini-suite de dos partes 'The Poet' comienza el repertorio del doble disco: la primera parte se titula 'Dusk' y se extiende por un espacio de 10 minutos y pico mientras que la segunda, titulada 'New World', dura 4 ¼ minutos. 'Dusk' comienza con una breve expresión de sólidos grooves jazz-rockeros antes de que los climas psicodélicos se tornen imperantes en la instancia prologal, siendo así que esto último instala un decisivo impacto instrumental en preparación para la primera emergencia del canto con un talante dramático. La estilizadamente feroz coda instrumental establece nexos de parentesco con KARMACANIC y SPOCK'S BEARD antes de que la sección 'New World' llegue para explayarse en una atmósfera reposada. Esta atmósfera comienza con un aura introspectiva muy calmada, para elaborar un crescendo a partir de allí con miras a crear una aureola de inquietud, la cual finalmente se resuelve en un reprise del efectivo motivo con el cual se había iniciado 'The Poet'. Así de grandiosas se ponen las cosas desde un inicio, así de firmes se asientan muchas de las atmósferas centrales que conformarán el núcleo musical del disco íntegro, y ahora llega el turno para la canción 'Year Zero', la cual está diseñada para exhibir una ambientación calmada y cálida. Para los primeros pasajes, el canto y las bases de guitarras instauran un talante reflexivo, y poco más tarde, unos recursos sintetizados aparecen para darle un viraje cósmico al asunto en clave de psicodelia melódicamente refinada, casi al modo de un PINK FLOYD retorcido por el embrujo del VANGELIS de los 80s-90s: con su espíritu casi cinematográfico, 'Year Zero' resulta una canción rara sin ser precisamente chocante. Con 'Upside Down', el grupo se concentra en una aureola de romanticismo dramático para gestar una conmovedoramente bella balada que ofrece un grandilocuente tributo al paradigma histórico de GENESIS a la par que germina una vitalidad renovada al sinfonismo moderno de raíz neo-progresiva. Los últimos 12 ½ minutos del primer volumen están ocupados por la suntuosa 'CH-7'. En muchos sentidos se advierte un regreso a la ampulosidad ágil y contundente del opus 'The Poet', pero también es cierto que aquí sentimos un incremento del refinamiento melódico en varios pasajes. Así las cosas, el grupo da prioridad a ambientes reflexivos, aunque también hay espacio para virajes extravagantes de motivos e impactantes contrastes de atmósferas. El clímax final brinda un momentum tan luminoso como espeluznante.




Yendo ahora al segundo volumen de "Hawaii", 'Terra' se encarga de abrirlo. La canción tiene una extensa primera sección de 5 minutos marcada por un espíritu introspectivo y melancólico, siendo así que los arpegios de guitarra acústica y los flotantes retazos de la eléctrica ocupan el centro del esquema sonoro. Mientras el canto de Sebastián nos lleva sutilmente a una suerte de crescendo dramático, con lo cual se prepara el terreno para que emerja una fabulosa sección segunda que el grupo trabaja con aires fusionescos en base al folklore sudamericano. Este ascenso desde la oscuridad subterránea del solipsismo lánguido a la exaltación fastuosa conforma uno de los picos del álbum. En esta nueva situación, la dupla de sintetizadores y percusiones se alza en un inquietante clímax psicodélico desde el cual se habrá de abrir el camino para el surgimiento del siguiente tema, titulado 'Pale Blue Dot'. Esta canción que dura poco menos de 10 minutos gesta otro cénit para el álbum viniendo inmediatamente después de 'Terra': su recurso principal es el de la consistencia melódica, sostenida sobre una ingeniosa confluencia de neo-prog y folk-rock, además de contener algunas referencias relativamente fieles al paradigma de YES en algunos interludios instrumentales que emergen en ciertas ocasiones estratégicas. A lo largo de su patentemente ambiciosa expansión, la canción se centra meticulosamente en un núcleo temático sumamente agradable. Con la dupla de 'Still Alive' y 'Nostalgia', la banda navega desde una estilizada densidad emocional hacia una calidez caleidoscópica y etérea. La primera canción es una balada con fuerte componente eléctrico mientras que la segunda tiene una predominancia de sonoridades acústicas, siendo así que las oscilaciones de la guitarra eléctrica cimentan el breve momento de vitalidad rockera para la coda. 'Club Hawaii' se caracteriza por un despliegue de vibraciones rockeras preciosistas, especialmente realzadas por los dibujos y fraseos de las guitarras duales. Tenemos aquí otra muestra de la refinada visión que tiene AISLES respecto a la confluencia entre la vieja tradición del prog y un enfoque modernista (KANSAS, YES, KARMACANIC, BEARDFISH). 'Falling' es una breve balada de piano y voz, muy emotiva y con una efectiva línea melódica en su núcleo temático. Claro está, su misión principal es la de preparar el terreno para la última canción del álbum doble, titulada 'In The Probe'. Su grisácea musicalidad y etérea disposición se adaptan muy bien al sosegado groove, el cual a su vez se apoya en la alquimia cósmica creada para la ocasión. Esta escenificación de la sonda espacial es la contraparte a la expresividad esencial de 'Pale Blue Dot'.




"Hawaii" es, para decirlo con pocas palabras, una obra mayúscula para la escena progresiva sudamericana del momento. Sin duda, se trata de un disco más que idóneo para fortalecer el lugar que hoy por hoy ocupan AISLES dentro de la élite del rock artístico chileno, y más aún, en el actual parnaso mundial del género progresivo a escala mundial. Es muy posible que tengamos en nuestras manos la obra cumbre de AISLES, pero eso solo lo puede corroborar el paso del tiempo a través de una óptica ulterior: mientras tanto, la recomendamos al 100% mientras recibimos la bienvenida a este club progresivo.




Calificación: 8,5/10
César Inca

En definitiva, "Hawaii" es un disco que tiene de todo, es especial para aquellos que buscan sonidos variados. Puede que esté más cerca de los trabajos característicos en la escena neo progresiva pero tampoco le falta toques de World Music pero que siempre intentan sobresalir con las intrincadas líneas instrumentales de cada uno de los miembros de esta destacada alineación coterránea.



Cuando se habla de Chile en el plano musical, lo primero que le viene a uno a la cabeza son nombres tan importantes e influyentes como Víctor Jara o Violeta Parra entre otras figuras emblemáticas. Pero en lo referente al panorama Progresivo hemos de reconocer que estamos un poco pez, y es una lástima ya que el país que abriga en su suelo ese embriagador desierto que es el de Atacama, también tiene un elenco de grupos progresivo que a más de una nación le gustaría tener.
Aisles se formaron en Santiago en 2001 y se puede considerarlos como una de las cabezas de la nueva generación del movimiento prog chileno. El quinteto cuenta con Sebastián Vergara en la voz, Rodrigo Sepúlveda y en las Germán Vergara en las guitarras eléctricas y acústicas, coros, Juan Pablo Gaete en los teclados, Daniel Baird-Kerr al bajo y Felipe Candia en la batería y percusión. Y si, los dos Vergara del grupo so hermanos! Con tres trabajos anteriores en el mercado, uno de los cuales ya reseñamos en esta casa, la banda lanza un nuevo trabajo fonográfico, un doble álbum bautizado Hawaii, que sigue la estela de 4:45 AM, su anterior trabajo, y es un disco conceptual, lo que siempre es una piedra angular de cualquier banda prog que se precie. La temática siempre es algo importante y Aisles se siente con suficientes fuerzas para afrontar un relato que viaja en el tiempo con tintes de ciencia ficción que me recuerda algunos episodios de la saga Star Treck.
Lo primero que impresiona gratamente es la magnífica introducción del disco con una suite musical que consta de dos partes divididas como "The Poet" y "Dusk", con un total de algo más de 14 magníficos minutos en donde se entremezclan influencias Jazz Rock con un Prog muy clásico, pero a la vez actual sin caer en lo típico, con algunas reminiscencia a Spock' Beard por momentos. Una voz que en un principio me recordó a Geoff Tate de Queensryche, pero solo en algunas entonaciones, una sensación que se disipa rápidamente y que Sebastián Vergara hace olvidar con su propia identidad. El disco suena grandioso desde el primer momento, atiborrado de atmósferas apacibles de tonalidades cinematográficas; el grupo prima ante todo la melodía al virtuosísimo estéril y pomposo, cosa que se agradece.
Aisles juega sobre todo con los matices, mezclando sus influencias de los grandes grupos de Prog como Genesis, Rush, con los ritmos actuales que surgieron con Porcupine Tree y/o Dream Theater, pero siempre manteniendo su propia personalidad. Los contrastes entre lo melancólico y lo dramático están perfectamente equilibrado; los pasajes más etéreos con los de fusión y algún que otro guiño al folklore sudamericano les otorga mucho carácter. El disco contiene magníficos paisajes sonoros que alcanza muchas veces unas cuotas que solo las grandes bandas consiguen arribar. "Hawaii" se puede considera un trabajo imprescindible para los amantes de progresivo con tintes clásicos pero con un pie en el futuro. Este disco es idóneo para adentrase en lo que Aisles quiere ofrecer a sus oyentes y sin ninguna duda puede rivalizar con la figuras de proa del rock progresivo mundial. Un gran descubrimiento y posiblemente uno de los discos del año en el apartado Prog para un servidor.
Aquí te dejo el disco para que puedas comprobar que no he exagerado ni un ápice...
Laurent Berger

Muy buen disco, se los recomiento.
Y ahora, les dejos algunos comentarios en inglés


Well, already three albums in the back since 2005, the band knows how to make it big! Hence they decided to publish the shiny gem (and title track?) Club Hawaii as an initial appetizer, some weeks prior to the officially scheduled release date. The song features versatile vocal moves by Sebastian Vergara, where I was at first inclined to think of more than one lead singer in a row. Yeah, that surely will make you hungry for more!
In November 2015 they went to a local beach house, spent a week together, writing music the whole time. It must have been an amazing experience for them, with the final result of this successful double LP resp. CD. Obviously designed as a concept album "all the music was written with our hearts and minds, set on the idea of these human colonies - a small group of people who are able to preserve some of the heritage of mankind after earth is destroyed".
Mysterious business this, contradictive, so much lovely music dedicated to such a catastrophe? For example practically set into operation on Year One? Sorry, I know, I'm sure, this is placed as a warning to the human race, and all that is more than necessary, so much the more it's pointing to a direct duty. Hereby I really don't know what meaning the label 'Hawaii' bears for them, either within the current context, or even in a wider sense, since they already had a single named like this on their 2009 album 'In Sudden Walks'.
Okay, it's time to leave this highly speculative territory, while concentrating on the most significant, what we're able to hear. At first, the sound mix is out of the question, perfect! What also strikes overall are the fine (eclectic) touches due to the tricky implementation, which will unlock its potential after several rounds well and truly. In general, as this is offered like a concept album, it's recommended to listen in one go. Alternatively, if you will pick up some excerpts explicitly, this won't evoke a problem neither.
Just por ejemplo to notice the terrific CH-7, I'm really flabbergasted! Twelve and a half minutes of real beauty! However, this is also accurate regarding the whole producton in principle. And so, consequently, AISLES are another strong contender for a 2016 Prog Award of course. Issued via Presagio Records 'Hawaii' is a very entertaining blend of neo and art rock, which I would mark as a real breakthrough, at least their best (so far) with ease. 4.5 stars, with conceivable tendency to a masterpiece ... time will tell.
Uwe Zickel
Americans, like Aisles latest offering Hawaii. It is a Chilean sextet with a fourteen year long history that are now releasing their fourth album, a double disk story that centres around a concept of humans in space colonies at a time when Earth has been destroyed (most likely it collapsed under the immense weight of human stupidity). Cool artwork, and even cooler concept combining progressive rock with sci-fi, I enjoy both those things – but what about those things combined?
The first thing I notice is that you will not be aware of the conceptual side of the album if you don't listen for it – the story is told in a way that flows really well and those who don't care about the concept can just enjoy the musical creation for what it is. It is progressive rock, melodic, varied, with hints of jazz, psychedelic stuff and many other things. Excellent production, the soundscape is really strong and interesting and paints a story about the difficulty and challenges of living in a small colony with no support from a main planet, life in space can be a challenge. Not a space adventure, to my ear but I have not really listened to the words just the music so I could be wrong, but that is the beauty of it, it is open for interpretation. Good vocalist is another thought I have when I listen to this album that flows of over two disks with five tracks on the first and seven on the second and with a total playing time of just over eighty minutes. Thanks to depth and variation the playing time seems quite a bit shorter than that.
I think this is a great album, it has much depth and variation with great songs and production – it is what progressive rock music usually is about. Personal, pretty fresh music that has a novel feel to it, I think it is great and when the press sheet says it is probably South Americas most successful progressive rock band I can agree with that as they are right up there when it comes to making successful music. Sure it can require some time to get into this album as it has many dimensions and angles and can feel a bit thick at first glance but it is an album that grows on the listener and after another spin it opens up to you and you start seeing what is so good about it. It is an album you will not be bored with immediately, and it is one that can be played over and over again – and also an album I think has a rather universal appeal, I think it will appeal to most of you if you give it a chance. Definitely my favourite South American album of the year so far.
Twelve tracks are to be found on this album and all of them are good, really good and picking a favourite isn't very easy. I think though that the opening track The Poet Part I: Dusk is one candidate, it opens the album in a great way and is a wonderful track. I also like the melodic intricacies of the track called Club Hawaii and these two mentioned tracks can be described as something of a highlight of this great album, an album that I can warmly recommend to anyone who likes good music and especially those of you who likes it more progressive.
Daniel Källmalm
I found out about Chilean prog rock group Aisles' new recording "Hawaii" by doing normal internet stuff: searching Bandcamp for progressive rock bands, reading Twitter, having that circle of friends constantly on the lookout for new music.
Ideas to consider regarding studio recordings which you probably already realize, but just in case:
1. Some recordings are better if you listen from start to finish; as a matter of fact, some are written with that intent. The way a song ends can help set up the context of the next song.
2. Just because a song starts in one key with one tempo doesn't mean it'll end that way. (CD 2, Track 3 into track 4 for example).
Writing this review reminds was like peeling back an onion. First I heard the music, then I really tuned in to the presentation of CDs 1 and 2, and finally I acquired the lyrics which also include notes regarding the concept; each song is from a different non -chronological period in time which spans thousands of years. Here is some background:
"Before the final extinction of all life on Earth, a secret project was mobilized to ensure the survival of the human race and other species.
A group of scientists, technicians, and philanthropists successfully completed several colonizing missions into space.
Within decades, a number of habitats had been established between Mars and the Kuiper belt. The last launch occurred at a time referred to as year 2300 in the archaic year numbering system. Colonists named the beginning of the new era 'Year Zero' "
Being firmly placed in the "neo-progressive rock" genre it is fair to mention Marillion as I hear influences in music and vocals; this is a compliment! These songs are given the chance to go where they go, never being forced to shove "that crazy instrumental part" or "cheesy ballad" where it doesn't fit. Listening through the whole CD helps me understand why certain parts end up where they are, musically or conceptually speaking. Kudos to the band for placing hooky vocal lines throughout the songs. Re-listening is like an Easter egg hunt. As a concept album, there are plenty of sci-fi aspects, but not to the extent of turning off the listener with too much tech stuff. The humanity comes through as the more important aspect which is also a bonus.
Referring to note 2 above, multiple songs do begin with a slower tempo and sparse accompaniment but don't let that fool you into the "meh, all the songs sound the same" trap. Now refer to note 1.
The guitars of German Vergara and Rodrigo Sepulveda are very tasteful, opting to support the song with color, warmth and melody instead of blowing us away with shredding. Likewise, the drums of Felipe Candia Bass are precise but never attempt to steal your attention from the music (his performance on the track Club Hawaii is fantastic). Sebastian Vergara's vocals fall in the Geddy Lee wheelhouse; not overtly powerful but emotional and melodic. Juan Pablo Gaete's keyboards adeptly tackle atmosphere, support and some solo lines. Bassist Daniel Baird-Kerr knows how to stay in the pocket and works well with Candia Bass.
Another noticeable factor is the overall length of 83 minutes. Each CD could hold 80 minutes but instead of superfluous exposition we have a relatively concise statement (Genesis' Lamb was 94 minutes while The Astonishing is 130).
CH-7 (Track 5 of CD 1) would still be pretty cool standing alone, but after the dynamics of tracks 1-4, the end of the track is quite an exclamation point on the first CD. This is an example of when the tricky odd time-signature adds to the whole instead of being an afterthought.
Rather than going track by track, allow me to suggest you head to "Hawaii." I hear shades of early Magna Carta artists like Cairo and Enchant, parts of Rush and early Porcupine Tree, and a few spots of Pain of Salvation. This double CD is carefully crafted, expertly produced and should be a happy surprise to those just discovering Chile's Aisles.
Rating: 8/10
strongprogress

Tremendo disco. Otro gran trabajo que tenemos el lujo de presentarles, espero que lo disfruten...