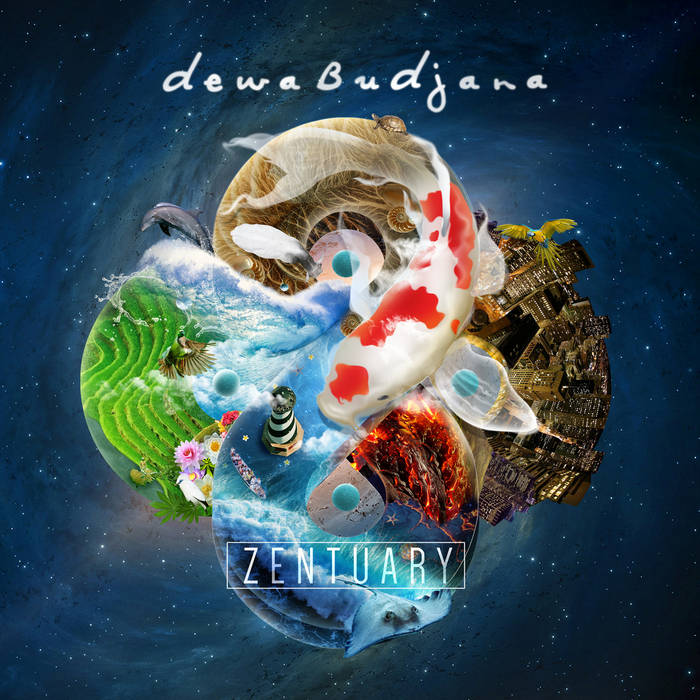 Discazo de un guitarrista oriundo de Indonesia, junto con un grupo de lujo (donde está Tony Levin y la Czech National Symphony Orchestra) que despliega un tremendo vuelo deslizándose desde el jazz rock hacia terrenos insospechados, y muy condimentado con música étnica de Indonesia. Lo acabo de conocer y lo estoy disfrutando, y se los recomiendo para que acaricien sus oídos. Un disco lleno de multicolores y cálidas texturas, en una explosión de creatividad. Otra de las maravillas que han salido en este espectacular 2016 (y tenemos muchos grandes discos del 2016 por traer).

Artista: Dewa Budjana
Álbum: Zentuary
Año: 2016
Género: Progressive Ethno Jazz Rock
Duración: 100:30
Nacionalidad: Indonesia
Lista de Temas:
1. Dancing Tears
2. Solas PM
3. Lake Takengon
4. Suniakala
5. Dear Yulman
6. Crack In The Sky
7. Pancarona
8. Manhattan Temple
9. Dedariku
10. Ujung Galuh
11. Uncle Jack
12. Zentuary

Alineación:
- Dewa Budjana / all guitars, soundscapes
- Tony Levin / electric upright NS Design bass, Chapman Stick
- Gary Husband / drums, keyboards & acoustic piano
- Jack DeJohnette / drums, acoustic piano
- Danny Markovich / curved soprano sax
- Tim Garland / tenor sax
- Guthrie Govan / guitar solo
- Saat Syah / custom made Indonesian suling flute
- Ubiet / vocals
- Risa Saraswati / vocals
- Czech National Symphony Orchestra conducted by Michaela Růžičková



Publico esto con el último suspiro del viernes. El disco me encantó, un enrollado jazz rock que deriva en muchas vertientes y muestra a un músico muy inspirado y con una musicalidad impresionante. No voy a decir nada más, solamente lo recomiendo mucho.
Para que vean más o menos como suena, les dejo este video de un tema que no está en este disco pero que igualmente sirve de ejemplo:


Dewa Budjana's double album "Zentuary" will be one of the most remarkable and ambitious projects so far on MoonJune Records. Featuring Tony Levin on upright bass and Gary Husband on drums and keyboards with very special guests Jack DeJohnette on drums and acoustic piano, Guthrie Govan (Official) on electric guitar, Tim Garland and Danny Markovitch on sax, and a few very special guests that will be announced soon, a big surprise! Half of the album is mixed already and the remaining half to be mixed by the end of January. Dewa Budjana, native Balinese, likes to make albums in a cold weather, I guess we have to go to Oslo one of the next Winters!
John M. McGuire
Would earn fame throughout the region with Gigi, founding the iconic band in 1994. More than twenty years later, they are still going strong Having released 25 albums to date, and solidifying their status as one of the biggest, most successful pop rock bands in Indonesia Dewa's ambitions on his instrument extend beyond his commercial success, as he has released eight solo albums, exploring his more adventurous jazz / fusion / progressive side.




Dewa saw his audience grow from regional to worldwide, when he joined onto the MoonJune Records label in 2012, releasing four albums to date:




- Dawai In Paradise" with Peter Erskine, The late Dave Carpenter, Howard Levy




- "Joged Kahyangan" with Peter Erskine, Jimmy Johnson, Larry Goldings, Bob Mintzer; and Janis Siegel




- "Surya Namaskar" a power trio colaboration with greats Vinnie Colaiuta and Jimmy Johnson;




- "Hasta Karma" -- supported by Pat Metheny Unity Band's Ben Williams, Antonio Sanchez, and Joe Locke.




Dewa has worked with a melange of modern-day icons, including: Grammy Award winner Peter Erskine; Bob Mintzer; Jimmy Johnson; Vinnie Colaiuta; Antonio Sanchez; Larry Goldings; and more. Dewa has worked with a melange of modern-day icons, including: Grammy Award winner Peter Erskine; the late Dave Carpenter; Howard Levy; Bob Mintzer; Jimmy Johnson; Vinnie Colaiuta; Antonio Sanchez; Larry Goldings; and more.




Dewa made 2015 a year to remember: realizing a dream, with the "Duaji & Guruji" performance in Bali, together with his life-long guitar idol, the great John McLaughlin The show concluded in soaring fashion, with Dewa joining John and his band on stage for a rousing climax to an incredible show!




His upcoming album, to be released in several months, is a double album, "Zentuary." Ever ambitious, on this particular outing Dewa is joined by: the iconic modern jazz legend, Jack DeJohnette; progressive rock icon, Tony Levin, and; the multi-talented virtuoso, Gary Husband.




"This year db will perform with Shadu Rasjidi on Bass, Echa Soemantri on Drums, Marthin Siahaan on Keys and Bang Saat on Suling"