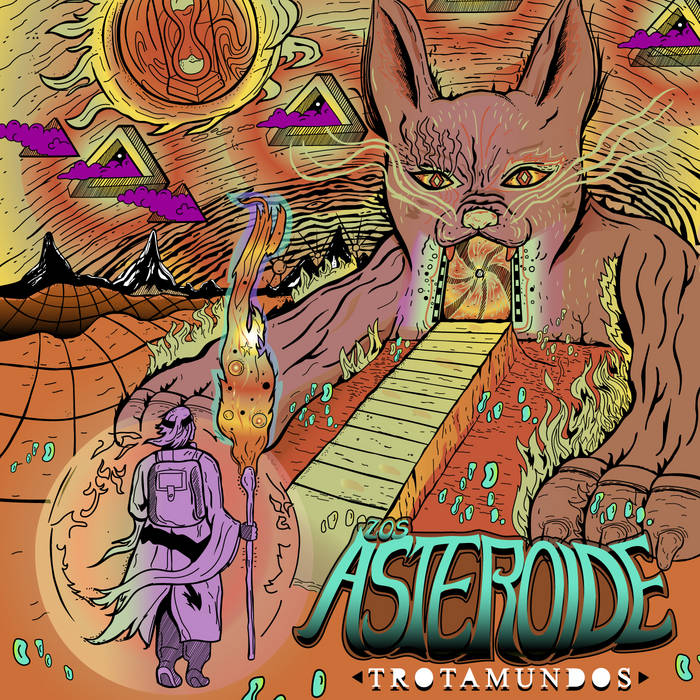 Un verdadero discazo de cruda e hipnótoca belleza. Otra vez Los Asteroide con su desert y stoner instrumental de alto vuelo, con algunos aires psicodélicos y de space rock, con temas cortos yu contundentes, gran disco es su estilo que los invitamos a conocer y apreciar como se debe. Y atención porque, como defino mi review, no recuerdo un disco Stoner con tan bellos pasajes y melodías tan pulidas. Un disco muy bonito y narcótico que nos guía por los espacios sagrados de trance. No pueden perdérselo.

Artista: Los Asteroide
Álbum: Trotamundos
Año: 2016
Género: Stoner rock psicodélico
Duración: 38:18
Nacionalidad: Argentina
Lista de Temas:
1. Yo copiloto
2. El Gato
3. Cafe Racer
4. Elefante
5. Oriente
6. Humo Purpura
7. Sobrevolando
8. El Bis
9. Vuelta a Casa

Alineación:
- Alan Mikkelsen / Bateria
- Mariano Cerbasi / Bajo
- Lucas Vecchio / Guitarra
Invitados:
Mauro Cardozo / Teclados
Wally Gómez / Percusión


Desde Ituzaingó, provincia de Buenos Aires. llega el "Trotamundos" de Los Asteroide, en su nuevo lanzamiento discográfíco que incluye 9 canciones y dura 38 minutos. "Trotamundos" fue grabado en noviembre del año pasado, el trío continuó con su fórmula ya conocida, propia para los fans de la psicodelia pesada y el Stoner-acid-rock para darles el tipo de música que los hará hervir la sangre en sus venas a más de uno. Un claro ofrecimiento de rock psíquico en un estado lisérgico totalmente desconexo de la realidad, seductor, fascinante y emocionante de alucinaciones ininterruptas.

Con un excepcional equilibrio de la improvisación compositiva, con delicadeza dinámica y fragmentos de bellas melodías que difícilmente se escuchen dentro del Stoner, como en el temazo llamado "El Gato" ¿Será dedicado a Marioneta Macri? que es un paradisíaco paraje auditivo, frágil, atmosférico y relajadamente psicodélico, todo un viaje de meditación bien mantenido durante sus cortos 4 minutos de dutación que parecen toda una vida. Es para recalcar que el grado de eclecticismo estilístico en cada una de sus canciones instrumentales es bastante elevado: crean su propio estilo individual de la conjunción de estilos e intenciones de cada tema, el trío hace su propio sonido de Stoner con un amplio uso de técnicas y elementos de acid-rock, hard rock, desert, psicodelia, progresivo y una fascinante fusión. Su sonido, si bien poderoso, muscular y tormentoso, es también inmensamente contemplativo, con unas embriagadoras y ricas melodías que nos invita a experimentar un estado totalmente desconectado de todo, hipnótico y catártico, pero también sumamente bello.

La verdad que creo, por todo ello, que el disco merece un lugar de lujo dentro del estilo Stoner, no recuerdo ningún disco de este estilo que estén tan bien pulidas las bellezas de las melodías, y si a eso sumamos los climas, las atmóferas y la crudeza propia del estilo, ya se imaginan que tendremos un discazo, y eso me parece "Trotamundos": un verdadero discazo de cruda e hipnótoca belleza, a pesar del carácter fatídicamente pesado de la música.

los músicos técnicamente tocan bien, son capaces de interferir en su estructura para largarse a improvisar cuando así se lo requiera, en estructuras que a veces son bastante intrincadas estructuralemente, e interpretan a múltiples arreglos que duplen su falta de vocales.




El álbum es muy bueno, con la energía correcta pero sin estruidencias, y una agradable variedad de soluciones rítmicas que parecen evolucionar de tema en tema. Muy recomendado... les recomiendo mucho que escuchen el disco.


Simply better than previous albums, which were already at the top. Ultra groovy, pure stoner, full instrumental. Battery is sometimes leading quitar and bass on a kind of devil horse running as mad, and, on other songs, it is soft and subtile. Very good album, i like it so much. Thanks guys. Favorite track: Elefante.
Yves

Otro disco del 2016, y como con los otros álbums de año 2016 no voy a publicar los links de descarga, pero este álbum está en Bandcamp aunque no para descargarlo directamente (deben dejar una pequeña inyección monetaria), aunque al menos lo podrán escuchar completo todas las veces que quieran, y si lo quieren se lo compran, y listo.
Su espacio en Bandcamp está aquí.