Álbum: Floratone
Año: 2007
Género: Jazz Rock
Nacionalidad: USA
Lista de Temas:

1. Floratone
2. The Wanderer
3. Mississippi Rising
4. The Passenger
5. Swamped
6. Monsoon
7. Louisiana Lowboat
8. The Future
9. Take a Look
10. Frontiers
11. Threadbare
Alineación:
- BILL FRISELL electric & acoustic guitars, loops
- MATT CHAMBERLAIN drums, percussion, loop
- TUCKER MARTINE production
- LEE TOWNSEND production


Bill Frisell es un nombre extraordinario en el mundo de la guitarra de jazz y jazz rock estadounidense contemporáneo: es tanto ecléctico que mezcla diversos estilos musicales (popular prog, clásica, country, ruido) y experimental desde el punto de vista tímbrico, ya que él es ampliamente
utilizado en un gran número de efectos de guitarra, haciendo sonidos únicos con retrasos, distorsiones, reverberaciones, palancas de cambio de octava etc.
Nació en Baltimore en 1951. Toco clarinete cuando era joven.
A principios de los 80, Pat Metheny recomienda Frisell con Paul Motian que estaba grabando un álbum para ECM Records.
La consecuencia para Frisell: "nuevo estatus": una casa para el guitarrista de ECM. La
más notable cooperación de este período es probablemente trabajando en un álbum con Jan Garbarek.
Frisell lanzó su primer álbum en solitario en 1983.
Los dos álbumes siguientes, 'Rambler' y 'Mirador para la esperanza' (lanzado en el '84 y '87 respectivamente) se realizaron con un cuarteto - Kermit Driscoll en el bajo, Joey Baron en la batería, y Hank Roberts en el violoncelo (luego reducidos en
trío).
Este período es conocido como la Era de la ciudad de Nueva York.
Comenzó su compañerismo con John Zorn - "ser un miembro de su banda Naked City".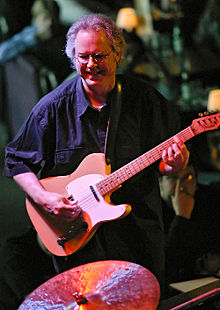 Pero vamos a este album, Floratone es un proyecto que nace a raíz de unas grabaciones entre el guitarrista Bill Frisell y el baterista Matt Chamberlain. En un comienzo estos registros no eran más que largas improvisaciones, en las cuales no había un rumbo ni una dirección fija, por ende no existían composiciones concretas, tal como dije antes, solo extensas conversaciones entre la guitarra y la batería. De esta forma es como estas pistas llegan a manos de los productores Tucker Martine y Lee Townsend, quienes se encargaron de cortar, ordenar, y procesar el material entregado, dando forma así a las composiciones que dan cuerpo al disco. En otras palabras, ellos fueron quienes se imaginaron y esculpieron cada uno de los cortes, compartiendo de esta forma el mismo crédito como compositores con Frisell y Chamberlain.

Después de este arduo proceso, Bill Frisell continúo el trabajo con la creación de otras líneas instrumentales, convocando para su ejecución al bajista Viktor Krauss, al cornetista Ron Miles y Eyvind Kang en la viola y violín. También se le añadieron nuevas líneas de guitarra y percusión, además de variados efectos que enriquecen el sonido, el cual se podría definir a grandes rasgos como un jazz ambiental, con características propias de las nuevas tecnologías, dotado además de variadas texturas volátiles y sicodélicas y rasgos de funk, rock y blues.

De esta forma la revisión del álbum comienza con "Floratone", un corte de muchos detalles sonoros, delays, echos y armónicos, que se mezclan con un envolvente groove que mantiene a la pieza sumida en una agradable y relajante atmósfera. "The Wanderer" aunque sigue los pasos del anterior, tiene un momento algo más oscuro en donde distintos sonidos, sin la base de batería, se enlazan para dar un toque de incertidumbre y misterio, pero que a pesar de eso en líneas generales se mantiene al igual que el otro relajado y avanzando con ese ritmo que envuelve.

En "Mississippi Rising" un sonido campestre y blusero predomina durante el corte, adornado por supuesto con distintos efectos sonoros que le dan el toque futurista. El siguiente "The Passenger", es un tema mucho más recatado e introspectivo que los anteriores: la imagen de ese pasajero que observa tranquilamente los paisajes que pasan frente a sus ojos, se ve reflejada claramente en la música, en un viaje que para el oyente trae también diversas texturas y sensaciones.

En "Swamped", Frisell incursiona en un cadencioso funk, el ritmo de sus acordes y la pegajosa melodía más el groove de Chamberlain en la batería, recuerdan al John Scofield del disco "A Go Go". El contraste llega inmediatamente con "Monsoon", el que retoma la atmósfera característica de los anteriores: tranquilidad y relajo, dotado de una exquisita sonoridad volátil que sube la intensidad poco a poco, para luego relajarse y finalizar tal como su comienzo, con distintos sonidos densos y oscuros, a mi gusto, con la guitarra de Frisell llegando a unos de sus momentos más intensos del disco.

En la siguiente, "Louisiana Lowboat", la intensidad predominante en la anterior baja considerablemente para retomar el paso andante y relajado y pasar así a "The Future", la cual tiene un ritmo mucho más enérgico que varios de los cortes antes mencionados. Los dos siguientes, "Take a Look" y "Frontiers" son los cortes de mayor belleza dentro del disco, el primero a pesar de su brevedad, logra subir al oyente en una nube de sutilezas y el segundo se caracteriza por estar dotado de dulces melodías y una íntima atmósfera, adornada por suaves efectos y loops. De este modo el viaje llega a su fin con "Threadbare", una pieza de corta duración, formada por un collage de distintos sonidos, sobre una pegada base de guitarra.

Sin duda la gracia de "Floratone" es que a pesar de toda la tecnología usada, es un disco que suena muy real, atmosférico y envolvente, con un trabajo de texturas realmente atractivas y confortantes. Por supuesto la colaboración entre los productores y músicos es lo que más llama la atención, y aunque esto no representa nada nuevo, (el ejemplo más claro es el de Miles Davis con Teo Macero hace casi 40 años), el resultado final de Floratone es bastante atrayente, tanto por su concepción al momento de crear las piezas musicales, como por su sonido resultante, logrando de esta forma situarse como uno de los álbumes más importantes del año 2007.
Una inspirulina para calmar este fin de semana agotador...