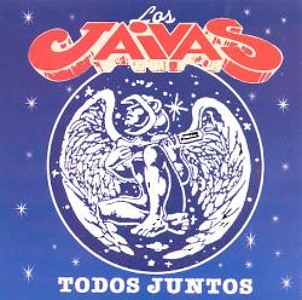 Más y más Jaivas en el blog cabezón, resubidas traídas por Sandy que publicamos para que, si es nuestro último fin de semana, que sea a lo grande. Folk prog del mejor para todos los cabezones.

Artista: Los Jaivas
Álbum: Todos Juntos (o La Ventana)
Año: 1973
Género: Folk rock
Duración: 45:14
Nacionalidad: Chile
Lista de Temas:
01. Marcha Al Interior Del Espíritu
02. Todos Juntos
03. La Quebrada Del Ají
04. Los Caminos Que Se Abren
05. Mira Niñita
06. Ayer Caché
07. Corre Que Te Pillo
08. Indio Hermano
09. El Pasillo Del Cóndor

Alineación:
- Gato Alquinta / Voz, guitarra eléctrica, guitarra acústica, bajo, flauta dulce, charango, tarka, tumbadoras
- Claudio Parra / Piano, celesta, maracas, rasca de metal, triángulo, gong, coros
- Mario Mutis / Bajo, guitarra eléctrica, guitarra acústica, tarka, tambores, voz
- Eduardo Parra / Sintetizadores, órgano, celesta, piano, bongó, pandereta, tumbadoras, cultrúm, castañuelas, pito y coros.
- Gabriel Parra / Batería, tormento, timbales cromáticos, caja de boy scout, bombo legüero, maracas, tumbadoras, cultrúm y voz
Invitados:
Patricio Castillo / Charango, guitarra acústica, guitarrón
Julio Numhauser / Voz
Tito Ibarra / Voz
Eduardo Sienkewic / Cello
Augusto Hernández / Cello
Iván Cazabón / Contrabajo
Oscar Sandoval / Viola
Sofía González / Viola
Víctor Schiegel / Viola
José Ramirez / Violín
Ramón Silva / Corno
Gilberto Silva / Corno
Alfredo Jarpa / tarka
Orquesta de Cámara / sin registro de integrantes


Y empezamos el dái con otro disco traido por Luis, que va haciendo fuerza para estar en el staff cabezon y con galones en su pecho. Y nos comparte un disco que no podía faltar en el catálogo cabezón. Y es que Los Jaivas pueden ostentar sin complejos el título de la banda chilena de rock más importante de todos los tiempos. Y no sólo por su vigencia que los iguala, al menos cronológicamente, a unos Rolling Stones vivos desde 1963, sino porque a través de su historia musical han construido una obra representativa, irrepetible y prácticamente inclasificable, con ingredientes sólo posibles de combinar en América Latina, y con un irrestricto arrastre popular.
Este es un disco con relativamente poco de progresivo y bastante folklórico del que disfruto bastante. Las voces tienen eso tan característico de Los Jaivas entre "étnico" y "desafinado" que al principio puede chocar un poco, pero uno se acostumbra. Hay algunas canciones que me gustaron mucho, como "Los caminos que se abren" y la hermosa "Niña bonita", mientras que "Marcha al interior del espíritu" podría tranquilamente no haber sido incluida en este disco, uno de los primeros discos de la banda, en su época inicial pero ya con su personalidad forjada.
Esto es lo que nos comenta Luis del disco:


Se trata de un cd de edición USA (un sello llamado ANS Records), que reproduce lo que fuera la edición argentina en LP que luego sería la referencia para casi todas las ediciones posteriores, aunque con cambios en el orden de los temas. La edición original chilena incluía un largo tema de 10 minutos de duración llamado "Ciclo vital" (en realidad, una larga improvisación, como los son también otros temas de este primer disco). En Argentina, y en Latinoamérica en general, fue remplazado por "Ayer caché". Nos dice Wiki, y otras fuentes también, que los masters de "Ciclo vital" estuvieron perdidos por décadas y recién fueron incluidos en ediciones más recientes de "La ventana" como bonus, junto a otros temas.
Luis

El gesto estético practicado por esta banda desde comienzos de los 70, se transformó en el rasgo distintivo de la banda ciento por ciento chilena. Esto es el estallido resultante de la fusión entre la tradición musical ancestral de Latinoamérica, formas de la música docta y la electricidad de los instrumentos del rock. Hoy sus caminos musicales se siguen recorriendo, y aunque la muerte de dos integrantes los haya obligado a renovar los nombres del quinteto original, su huella es la misma que comenzaron en 1963. Eran los tiempos en que también alternaban escenarios con Los Masters (orquesta de la que pronto se fundaría Congreso, dos bandas hermanas si es que las hay, nacieron en el mismo momento, en el mismo lugar y zona, y practican música esteticamente muy similar) y cuando el influjo del rock and roll recién aparecía por Chile.
Dentro de la cronología de la banda, pude ver cierto recorrido que trazaron para definir su personalísimo estilo que los destacó por sobre el resto... a ver, empezaron investigando por el sitio de la banda:


En 1969, el Gato conoce al "Gringo David" uno de los gestores de los cambios que afectarían a la banda y que los haría tener una nueva concepción de vida.
Eduardo "Gato" Alquinta se retira temporalmente del grupo para recorrer Latinoamérica provocando una crisis en la agrupación. A su vuelta, su viaje influencia la permanente necesidad de búsqueda de Los Jaivas, provocando un cambio potente en el estilo musical y en la forma en que el grupo enfrentaría la música desde ese momento.
En Otoño de 1969 participan en la celebración del primer año de la reforma estudiantil. Evento realizado en Universidad Católica de Valparaíso. En esta oportunidad el grupo sube al escenario sin tener ningún repertorio pre-establecido por lo que se dejan llevar por la energía del momento y por primera vez improvisan en un concierto en vivo.
Empieza a desaparecer la música para baile de los High Bass, dando paso a un periodo de experimentación e improvisación.
Comienzan a aparecer los "vanguardistas" Jaivas.
Los Jaivas

Este período de experimentación daría vida a su estilo único, y comenzaría a forjar su destino. Veamos como va evolucionando esto a través del tiempo, siempre hablando de los primeros tiempos de vida de la banda:


Ese proceso de tocatas en vivo se correspondía con largas sesiones de improvisación que desarrollaban en su sala de ensayo. Entre 1969 y 1970, la banda creció con esta metodología. Así descubrió nuevos sonidos latinoamericanos, adquirió nuevos instrumentos y se comenzó a relacionar con otros músicos, como los que en Santiago formaban a los Blops. Es en ese tiempo cuando chilenizaron su nombre y, con una leve falta de ortografía, adoptaron la rúbrica por la muchos ya los conocían: Los Jaivas.
Recién el 2004, 25 años después, se pudieron conocer pasajes de esta etapa musical de los Jaivas. La edición del disco quíntuple La vorágine expuso categóricamente los propósitos originales y las reales dimensiones de su música, como la primera banda del rock experimental de nuestra historia. Improvisación libre y estructurada, rock avant-garde, música electroacústica, ruidismo y todo tipo de elementos "antinatura" dentro del rock and roll.
Pero, en su tiempo, este lenguaje de los Jaivas sólo fue visible para aquellos que los vieron en vivo o que accedieron a las 500 copias de El volantín, su primera grabación oficial, lanzada al mercado en septiembre de 1971. Registrado en los estudios de la RCA y editado en forma independiente, el álbum incluyó canciones de estructura más tradicional, como "Foto de Primera Comunión", sin embargo contó con una escasa difusión. Muy pocos entendían a los Jaivas entonces y los medios de comunicación, salvo honrosas excepciones, solo se fijaban en su apariencia y en temas secundarios como su cercanía con las drogas o su mirada a las relaciones de pareja.
El volantín se convirtió en una pieza de colección, hasta el 2003, cuando fue reeditado por Sony Music. En su momento, fue el punto de partida de la tercera fase creativa de Los Jaivas. Después de la orquesta de baile y el ensamble de improvisación libre, se estructuró un nuevo lenguaje, que incluía las formas folclóricas tradicionales de América Latina (modernizadas por Violeta Parra) y la estructura e instrumentación de una banda de rock (descrita por la figura de Jimi Hendrix).
Música Popular Chilena

Y al fin llegamos a este disco, quizás el primer clásico de la banda:


La edición actual disponible en el mercado corresponde al álbum original 'La Ventana', al que se agregaron dos temas que aparecieron inicialmente como disco single y no fueron registrados originalmente en ningún LP: 'Indio Hermano' y 'Corre que te Pillo'.
Este LP fue posteriormente denominado como 'Todos Juntos', tema emblemático de Los Jaivas con el cual rompieron todos los esquemas de la época y se convirtió en el 'himno' de muchas generaciones. También contiene el segundo gran 'hit' del grupo, 'Mira Niñita'.
En algunos sitios de música online aún se ofrece una versión originada desde 1991, con la carátula azul. Esta edición no contenía los temas 'Cuero y Piel'
y 'Ciclo Vital', ya que al momento de realizarse el primer traspaso a formato digital, las cintas másters de ámbos temas se encontraban extraviadas.
En una reedición de 1996, se reincorporó el tema 'Cuero y Piel'.
Finalmente, en la edición 2002, se reincorpora el tema 'Ciclo Vital' al proceso de digitalización. Solo a partir de esta edición se logró completar la totalidad de los temas que Los Jaivas grabaron originalmente en el período en que formaban parte del catálogo del entonces sello IRT, serie 'Machitún'.
La edición actual figura en las disquerías como 'Edición Especial' y se caracteriza de las anteriores por ir presentado con una especie de caja, recreando el formato original del álbum.
Jaivamigos

Por último, vamos con algún comentario en inglés para nuestros visitantes foráneos, no los olvidemos que ellos tambión forman parte del blog cabezón:


Los Jaivas were originally called High Bass and then the name evolved into that chilean shellfish that is similar to the crab.
This album along with Alturas de Macchu Picchu are the two most important albums of Los Jaivas.
Los Jaivas were the first band that made a fusion between progressive rock and Andes folk music using electric rock and indian traditional instruments. This mixture has also hippie poetic lyrics that speaks about happiness, peace, brotherhood and the discovering of the inner self.
"Todos Juntos", the song that gives the name to the album was the most popular song in Chile in 1972 and became a major hit in all South America. It starts with beautiful flutes and acoustic percussions and then an electric bass and charangos enter the scene converting it into some kind of soft progressive rock with a folk vibe, catchy melodies and beautiful electric guitar solos. It's beautiful lyrics translated into english are something like this:
_It's been a long time since I've been wondering myself_
_why the Earth is round and only one?_

_If we all live separated_
_what are the skies and the seas for?_
_What does the shines upon us for_
_if we avoid looking at each other?...

...What to live so separated for?_
_When the Earth tries to bring us together_
_when this world is one and for all of us_
_ all together we are gonna live_

The album has also another great songs as the beautiful "Mira Niñita", some experimental instrumental pieces and songs that speak about the feelings of the indians of South America in this modern world like "Indio Hermano".
_Todos Juntos_ is an historical and wonderful musical piece that changed the face of Latin Rock.
Multiverse
This album was recorded in Sept, 1972. Following the ascension of Pinochet as dictator of Chile in 1973, Los Jaivas realised there would be no place for them in such a repressive society, and relocated to neighboring Argentina, where they flourished. Building on similar ideas to their S/T debut from '71, this continues with more Latin flavored prog, though somewhat more commercially oriented this time out, and featuring fuzz guitar. There is also some strange, non-commercial prog mat'l in the mix as well.
tymeshifter

Luis les deja un clásico, un álbum emblemático y que es muy difícil encontrar, algo que no debería faltar en nuestro espacio y el señor catamarqueño vino a solucionar ese inconveniente, mientras lo compartimos con todos ustedes.
Y para finalizar, dejo una leyenda conveniente para el caso: "La música de Los Jaivas pareciera nacer simbólicamente de una relación amorosa entre la folclorista chilena y el guitarrista afroamericano".
Disfrútenlo!