Siguiendo con el buen rock finlandés vamos con un discazo que estoy escuchando muy seguido. Banda con nombre inpronunciable que realizan una muy interesante propuesta en su propio idioma (por suerte), con vocalista femenina, y metiendo pizquitas de folk nórdico y psicodelia a su rock elaborado, todo brindado con mucha energía y brío y dando como resultado un gran disco de principio a fin. A ésto no lo encontrarán por ningún lado y les sugiero que no se lo pierdan, para mi es un discazo.

Artista: Punaisen Kuningattaren Periaate
Álbum: Kaksi Suuntaa
Año: 2015
Género: Crossover Prog / Art Rock Psicodélico
Duración: 41:13
Nacionalidad: Finlandia
Lista de Temas:
1. Elisabeth
2. Vuoristoratoja
3. White Noise
4. Kaksi Suuntaa
5. Punainen Lanka
6. N?lk?
7. Musta Koira
8. Laboratorio

Alineación:
- Mokka Laitinen / vocals
- Jaakko Niemel? / guitars, vibes, accordion, tin whistle, synth, percussion
- Matias Topi / saxophone, clarinet
- Jouni P?ll?nen / synth, organ, piano, electric piano, accordion
- Lauri Vehkala / guitars
- Petri Miettinen / bass, vibes
- Jari Junnilainen / percussion
- Anssi Alajuuma / drums, percussion


Seguimos en la escuelita de rock fundada oportunamente por el Mago Alberto y continuamos con la materia Finlandia, ya que como verán ese país tiene mucho para brindar y muy jugoso, al menos en materia musical. Un progresivo con sabor característico y que les es muy propio. Y tendríamos varias bandas de ayer y hoy que aún tendríamos que presentar, pero vamos de a poco porque buenas cosas hay en todos lados.


PUNAISEN KUNINGATTAREN PERIAATE (founded in 2002) is an autonomous rock band from Finland. PKP released their self-titled debut album in 2012 with Veera PYYKKÖNEN on vocals. For their second album ´"Kaksi Suntaa" (2015), with the new female vocalist Mokka LAITINEN on board, the band was signed by Svart Records. PKP?s sound is diverse. There?s progressive rock with a jazzy feel and influences from old British and Finnish progressive rock that are brought up to date with a contemporary feel. From 60s pop psychedelia to 80's and 90's American Alternative Rock, PKP?s music is rich with subtle flavors.




The songs are sung in rich, poetic Finnish. Lead singer Mokka LAITENEN?s voice is edgy and unique. The lyrics tell tales of the subconscious, as well as the troubles of this worlds misfits. PKP use a wide range of instruments on record and playing live. The use of theremin, a wide range of percussion, samplers and synthesizers are an organic part of the band's sound.




The name PUNAISEN KUNINGATTAREN PERIAATE (The Red Queen Principle) originates from Lewis Carrol's novel Through the Looking-Glass, and What Alice Found There. In the novel, the Red Queen says to Alice: Now, here, you see, it takes all the running you can do, to keep in the same place. If you want to get somewhere else, you must run at least twice as fast as that!. In the world of Alice reality's laws no longer apply. It is full of exciting twists and unreal events. The same goes for PUNAISEN KUNINGATTAREN PERIAATE?s music.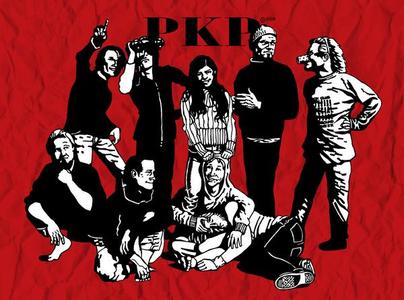 ¿Qué decir de éste disco? Que en él encontramos elementos clásicos del sonido progresivo con toques de jazz rock y folcklore escandinavo, y cuando no algo de pop y psicodelia. Pero con el rock como base conductora, ésto no es una ensalada de estilos como varias bandas que hemos presentado donde no sabemos que estilo estamos escuchando: esto es básicamente rock, pero convenientemente condimentado con elementos varios que los hacen elegante al estilo de las grandes propuestas de Art-Rock a lo Bowie, pero sin duda eminentemente dentro de los terrenos del rock progresivo. Para no embrollarnos tanto, suenan así...



La voz femenina y el idioma finlandés evidentemente dan originalidad a su propuesta, pero convenganos que la música, de por sí, tiene tanto colorido que aún son lírica éstos temas tendrían mucha personalidad: por sus sonidos circula electrónica, órganos, teclados, sonidos setenteros, saxos, electrónica, acordeones y mucha mucha percusión. Al mismo tiempo van pasando de climas oscuros a temas catárticos y muy bailables, y luego a canciones nostálgicas tan de su tierra. Es el segudno disco de los muchachos y según dicen es muy superior a su ópera prima homónima que yo no he escuchado. Pero más allá de la calidad evidentemente constituye una muestra de cultura moderna que tiene alma propia, sindo un producto inconfundible de su tierra.


Yesterday I was rather negative about the debut album of this Finnish band (suggested into the database by myself), so I don't want to delay this one with much more positive feelings. In three years time the band has matured crucially, but probably the most important thing is the change of the vocalist. In the end Veera P. perhaps isn't radically worse than an average young female singer in the more commercial wing of the Finnish pop scene, IMHO she just didn't quite fit into the music of PKP. Mokka Laitinen is a wonderful discovery for the band. Not only she's a talented vocalist with the skill to follow the music into psychedelically & surreally flavoured depths (which, I believe, rather thin-voiced Veera would have lacked completely), she also has a distinctive, dark-toned, "smoky" colour in her voice that charms in its own right plus fits perfectly to the band's overall sound.




The steep difference between the vocalists makes it somewhat difficult to estimate how notably the musical style has really changed. No, I am willing to believe that in 2012 PKP was anxiously searching for its style and the result turned out to sound, more than anything else, painfully restless. The sax was too busy thickening the crowded sound and the wrong singer emphasized the sense of noisy pop. And anyway, why on earth would any rock band need nine members? Well, there are eight of them here, but the production is way better this time, there's no feeling of an overcrowded arrangement. The reeds and accordion are being dosed reasonably, and vibraphone (not too often heard in rock) is never a bad thing.




When there's a certain softer and hazier side to the sound, also the intense moments work more effectively. The individual songs feel very dynamic. My least fave track is 'Musta koira' (= Black dog) featuring a chorus too heavy for my taste. Couple of distorted vocal lines in the title track are slightly hideous but justified in the anguished narrative context. Songs like 'Elisabeth' and 'Punainen lanka' go under one's skin.




The album's atmosphere is mostly melancholic and slightly sort of psychedelic as in bands like PAATOS and PORCUPINE TREE. The cover drawing is perhaps a bit too naive, as if from a children's book (except for the skeleton of course), to accompany the music perfectly, but then again it underlines the unpredictable, dream-like world hidden in songs. The band's name meaning The Red Queen Principle is taken from the surreal fairytale world of Lewis Carroll. Maybe the language barrier loses a big part of PKP's appeal for non-Finnsh listeners, but I sincerely hope this band will continue making their unique slice of today's progressive/art rock.
Matti
The female vocals (Mokka Laitinen) are quite strong here, hoarse/husky suitable for psychedelic folk and heavy psych, which the music has influences from. Nice prog with enough space given for the music, one of the most pleasant albums ever, perhaps, from Finland. So it's that atmospheric. However, the vocals are still continuum of Finnish pop with iskelmä/schlager traits, even though it is more based on the psych/prog scene pop, like Kurki and Viima. Some things (like the vocal/melodic style) reminds me of Tuvalu, but this is not so stiff tense.
Fastro

Espero que les guste... y al que no le guste que me deletree el nombre de la banda! XD