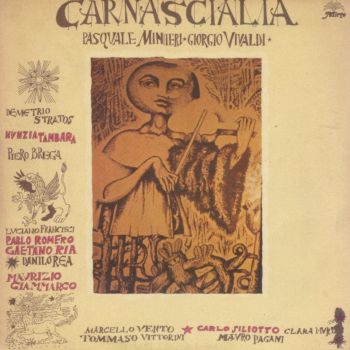 Otra joya italiana y desconocida, tremendo discazo super recomendado. Siempre decimos que en el mundo artístico y fuera del mundo de la música-mercado del mainstream existen brillantes perlas perdidas en el olvido, y aquí las venimos a rescatar. Más folk progresivo italiano en el blog cabezón que se viste de lujo para presentar éstas maravillas, en éste caso en un disco donde participa lo más selecto de la música progresiva italiana.

Artista: Carnascialia
Álbum: Carnascialia
Año: 1979
Género: Prog Folk Italiano
Duración: 38:16
Nacionalidad: Italia
Lista de Temas:
1. Canzone Numero Uno (c'è chi batte i denti, chi prende il ritmo eci balla sopra)
2. Fiocchi di neve e Bruscolini
3. Almeisan
1. Kaitain
2. Cruzeiro do Sul
3. Gamela

Alineación:
- Pasquale Minieri / guitar, bass, vocals
- Giorgio Vivaldi / percussion, flute
- Carlo Siliotto / violin
- Demetrio Stratos / vocals
- Clara Murtas / vocals
- Nunzia Tambara / vocals
- Piero Brega / vocals
- Luciano Francisci / accordion
- Tommaso Vittorini / saxophone
- Maurizio Giammarco / saxophone
- Mauro Pagani / violin, mandolin
- Danilo Rea / piano
- Marcello Vento / drums
- Pablo Romero / tin whistle


Seguimos con más bandas tanas haciendo prog folk, en otro aporte increíble del Mago Alberto que ahora pasa a comentar este disco homónimo de una banda de nombre


Por esos extraños fenómenos de sincronismo, siempre que aparece el cabezón Elian pidiendo un disco por chat siempre en todas las ocasiones ese pedido tenía que ver con lo que se estaba por postear, el otro día cuando se asomó al blog el disco de Mauro Pagani, también se sumó con un comentario el cabezón Juan Carlos Corduccello que por su apellido debe llevar pizza en sus venas e hizo referencia a este proyecto y también hizo mención de los Canzoniere del Lazio, y ho... sorpresa justo cuando estaba reseñando el disco de los mencionados tanos aparece Elian pidiendo un disco de Area cuyo cantante Demetrio Stratos es quien colabora en el trabajo que posteamos hoy, o sea la casualidad no existe ni a palos.




Pero basta de cháchara y vamos con este trabajo de Carnascialia, proyecto musical de Pasquale Minieri y Giorgio Vivaldi, integrantes de los Canzoniere, y quienes cuentan con la colaboración de Stratos y de Pagani, en esta que fue su única producción.




Un disco básicamente experimental con mucho colorido induísta, folklore de las montañas, y donde el desempeño de Stratos es más que notable, también las incursiones de Pagani son sobresalientes.




Un disco ambient, climático, raro, novedoso para esos años, y aún hoy. Una propuesta que no desentona con todo el universo tano que hemos presentado en el blog y del cual seguiremos presentando por lo menos durante esta semana.




De lo mas selecto del mundillo progre de la Bota esta presente aquí en un disco que tampoco es muy frecuente de ver en blogs del palo.
Mago Alberto

Y para màs detalles traigo el comentario del comentador involuntario de siempre:


Carnascialia es el nombre de un proyecto musical creado y dirigido por Pasquale Minieri y Giorgio Vivaldi: la idea era crear una nueva dimensión para sonidos folklóricos diversos (italianos, euroasiáticos, arabescos) dentro de un contexto de rock de vanguardia. La presencia de invitados tan ilustres como Demetrio Stratos y Mauro Pagani no debe sorprender si tenemos en cuenta el tipo de música que Area hizo en su breve etapa de cuarteto y los coloridos folklóricos que Pagani gestó en sus discos solistas tras su alejamiento de PFM. En fin, el disco "Carnascialia" es un catálogo de candidez e intensidad que ofrece al oyente un viaje por diversos efluvios emocionales en los que predomina el tenor celebratorio. 'Canzone Numero Uno' es una delicia amable y bucólica, marcada por la guitarra acústica y con envolventes adornos de violín, saxo y acordeón. El legendario Stratos hace su primera aparición en 'Fiocchi di Neve e Bruscolini': sus monólogos sarcásticos y ornamentos corales se encuadran muy bien dentro del clima tribal creado por las percusiones. Es como si se tratara de una especie de bizarra ceremonia exótica: lástima que no sea más extensa. Con 'Almeisan' pasamos a un momento de serenidad solemne y envolvente: una sonata de piano ornamentada con bellas líneas de vientos, contrabajo y violines, y sazonada con ocasionales efectos de guitarra y percusiones académicas. La aureola romántica que emana la pieza de cabo a rabo aparece oportunamente realzada por la presencia de un canto femenino, mientras que el acordeón que aparece al final añade una cadencia especial al asunto.




La segunda mitad del disco comienza con 'Kaitain', otra pieza intensa y cargada de exotismo que luce apropiada para el canto de Stratos, el cual crea efectivos diálogos con el saxo soprano y el violín. Combinando cadencias tropicales y arábigas, esta pieza concretiza una cuota de intensidad expresionista y festividad. Concentrándose más específicamente en lo arábigo sobre una base minimalista muy a lo Philip Glass, 'Cruzeiro del Sul' ofrece las atmósferas más inquietantes del disco cuando desparecen las armazones sonoras exóticas y las cortinas de sintetizador se apoderan de la escena con la complicidad de Stratos y ornamentos percusivos etéreos. 'Gamela' cierra el disco con el mismo sentir mediterráneo de jolgorio que había llenado el tema de entrada, pero esta vez la presencia de percusiones exóticas y texturas de guitarra eléctrica le dan un aura más colorida al asunto. "Carnascialia" es un tesoro perdido de la vanguardia progresiva italiana que hará totalmente las delicias de los coleccionistas amantes de las exploraciones étnicas, folklóricas y el ahora llamado "world music", aunque se trata de un disco gestado antes de la invención de esta etiqueta.
César Mendoza

Y ahora algunos comentarios en inglès (pocos, porque el disco no es muy conocido a pesar de su excelencia):


First of all, I feel obliged to point out that I have only heard this album on mp3. It seems to be otherwise completely unavailable, unless you can track down a copy of the LP.
To fill in those of you pondering over the details of this album, until such time as a decent biography is added, the group were formed by a few members of the disbanded Italian folk band Canzoniere del Lazio. They roped in the likes of Mauro Pagani of PFM and Demetrio Stratos of Area to record an eclectic album of six very different tracks fusing various styles of folk and world music with rocky and proggy touches. The project may well have seen a second album (and more still, who knows?) were it not for Stratos' tragic and untimely death that same year.
Now, onto the music:
Canzone Numero Uno - A spirited, highly folkish song with a distinctly celebratory atmosphere. If this doesn't make you grin widely and tap your feet then nothing will.
Fiocchi Di Neve E Bruscolini - A short Stratos showcase with spoken words and strange vocal noises, flowing into a quirky percussion and tin whistle piece. One of the more avant-garde pieces, but quite brilliant, to my ears at least.
Almeisan - A highly laid-back and atmospheric piece built around gentle piano, violin and saxophone, with the sound of pebbles being dragged by the tide as a constant flowing companion. Utterly beautiful.
Kaitain - The incomparable Stratos returns, this time delivering something more tuneful but still extremely other-worldly. This time his unique vocals are underpinned by a rhythm tapped out on some kind of stringed instrument. The track also features tuned percussion, strings and saxophone, and has a rather detached feel.
Cruzeiro do Sul - Another very alien sounding song that I really can't compare to anything else. I've simply never heard another song like it. The base of it is constant tinkling bells and a simple choral phrase looping again and again, mirrored by piano, with all sorts of other instrumental goings on ebbing and flowing beneath it. The vocals die out halfway through, and in comes Stratos again to do. something with his voice. I don't know what he does, but it sounds rather good. This all makes a lot more sense when you hear it, trust me.
Gamela - This track starts out with some tuned percussion coupled with some jolly basslines, improvised violin (Pagani finally getting a chance to really show what he's made of). Eventually an almost-mexican sounding melody comes in and brings the song, and indeed the album to a wonderful, upbeat conclusion.
Highlights: Very tempted to say all of them, but let us stick with. "Canzone Numero Uno", "Almeisan", "Cruzeiro do Sul"
David
I must admit I have been completely blown away by this album. I usually stay away from anything labeled as Folk, but I feel the Folk label is a little misleading here. I like the description given in the bio here as he describes them as Avant / Folk. There are definite Folk and Avant flavours to this record but it certainly wouldn't truly fit in one or the other in my opinion. This band rose from the ashes of an Italian Folk band called CANZONIERE DEL LAZIO so again there is that flavour for sure.This was released in 1979 and includes PFM's Mauro Pagani on violin and mandolin and also AREA's legendary vocalist Demetrio Stratos. He sings on two tracks but there other singers, in fact there are 14 people playing on this album altogether. I found out about this band about a month ago when reading through this RPI reference book I purchased which lists all the Italian prog bands and their albums including pictures of the album covers. What made me investigate this record was the fact that Demetrio Stratos was on it. What has impressed me so much with this album is how adventerous it is, as well as all the interesting ideas they have implimented. I mean if your a fan of Avant and RPI you will be playing this one a lot. On my final listen (before this review) as I drove into work today I had a lump in my throat on three different occassions from what I was hearing. Nothing like wiping away tears that have been caused by the music I am listening to.
"Canzone Numero Uno" opens with intricate guitar as the vocals join in. It turns fuller as the bass arrives .Beautiful and moving stuff. It's fuller again 2 1/2 minutes in as the violin and percussion arrive and the tempo picks up. A top three. "Fiocchi Di Neve E Bruscolini" is where Demetrio shines vocally. At one point I had a revelation because he's making these sounds like an instrument and it made me think of AREA right away and I thought "I didn't know that sound was done through Demetrio's vocals on those AREA albums". Incredible ! He's making all kinds of different sounds and expressions throughout this track. Music kicks in after a minute.This sounds so cool with the percussion and flute helping out. "Almeisan" opens with piano and atmosphere.It sounds like two pianos then we get violin around 2 1/2 minutes. Gorgeous. Sax too then vocals before 6 1/2 minutes.
"Kaitain" is a top three for me. Intricate sounds with atmosphere to start. Actually these intricate sounds continue to the end. Vocal melodies from Demetrio before 2 minutes. The sax joins in and it trades of with Demetrio. Man this sounds incredible. "Cruzeiro Do Sul" opens with wind chime-like sounds as the vocal melodies create a rhythm.This is both interesting and really good. Violin and other sounds join in until the sound becomes thick and dense as it all blends into one. So good ! The wind chime-like sounds are back to end it. "Gamela" has this electronic beat as other sounds join in. It settles with a beat before 2 minutes.Violin and bass join in too. It picks up and gets fuller 4 1/2 minutes in with vocals. Great sound here as the female vocal melodies and sax help out.
This is music for someone who's looking for something a little different. It's challenging and adventerous yet romantic and passionate. I call it RPI. Now I can't wait to get the sister album to this one.
John Davie
Probably the best example of a single gem, lost in a "what could have been" world, this album is the result of the mixing of high skilled italian musicians, with former members of Canzoniere del Lazio, Area, PFM, among others.
Six tracks in the LP. The first and last one (Canzone Numero Uno & Gamela), are probably the best compositions ever made in the history of Italian Prog Folk music. These two songs are successfully in opening and closing the album, wtih compositions that goes along you and permited that the experimantalism in the middle can be apreciated. "Gamela" sounds actually pretty brazilian, reminding the music from northeastern region (check out QUINTETO ARMORIAL) - and as there is a "berimbau" in the middle of the album, so I would'nt be surprise if there is a clear conection here.
The band would go on to record another album, but the death of Demetrio Stratos (who is superb, in the high of his shape) put an end to this voyage. Mauro Pagani made his best playing besides his first solo album and the main members of Canzoniere Del Lazio have here composed the best music exemplary of their own albums.
It is not just a must listen of italian music, it is a experiment that was abandoned and closes the most prolific decade in the music history. I sustain the five/five stars.
Gustavo

En el video, una de las canciones del disco tocada en vivo. Por favor, agradezcan al Mago por todas estas maravillas. ¿Les queda alguna duda de porquè lo apodamos "El Mago"?
Imagino que ya saben dónde encuentran ésto. Bueno, y el que no sepa, es hora de que pregunte.