Seguimos recorriendo el under argentino, achora con el segundo álbum de Rockestra... El primer álbum de Rockestra se llamó "Retropia", y lo publicamos en su momento. Se trata de un grupo de covers de temas conocidos. Ahora, Rockestra se llama Retropia y su nuevo álbum se llama "Human Faces", y lo presentamos aquí en el blog cabezón.
Artista: Retropía (Rockestra)
Álbum: Human Faces
Año: 2012
Género: Rock / Rock progresivo / Art Rock
Duración: 52:25
Nacionalidad: Argentina
Lista de Temas:
1. Usher
2. Believe Me
3. Human Faces
4. Framed
5. Paris
6. Sophisticated Devil
7. A Night At The Town
8. Quarter Moon
9. Smoldering Land
10. The Guardian Of The Void
11. In My Mind
12. Fifteen Minutes More

Alineación:
- Daniel Vidal / guitarra, teclados, voz, coros
- Gustavo Mari / guitarra, teclados
- Ricardo Mari / bajo
- Gustavo Radaelli / voz, coros.
- Cristián Del Gesso / voz, batería, coros.
Invitados:
Juan Pablo Cieri / voz en 2 y 5
Gastón Soldi / batería en 1, 5 y 12
Carlos Irachet / saxo en 7 y 11


El segundo disco de Rockestra lo sacaron bajo el nombre Retropía como intérprete, ya que por problemas legales, y porque además hay 2345555000 bandas de covers en el mundo con ése nombre... y éste es un disco con temas propios.
Éste disco iba a llamarse "15'+", pero terminó tomando el nombre de una de las canciones, "Human Faces". Casi todos éstos temas, de la propia autoría de los músicos, los han ido tocando en los shows, pero sin éxito. Banda de covers, la gente quiere covers...

Así se conforma hoy Rockestra, o la ex Rockestra debería decir, ya que hoy por hoy la banda está en un impasse que no sé si es momentáneo o definitivo. Ni los músicos lo saben.
La banda ya tiene 16 años de vida, tanto haciendo prog, o classic rock, o Beatles, o Serú, o haciendo covers de todo tipo o temas propios, como en éste caso.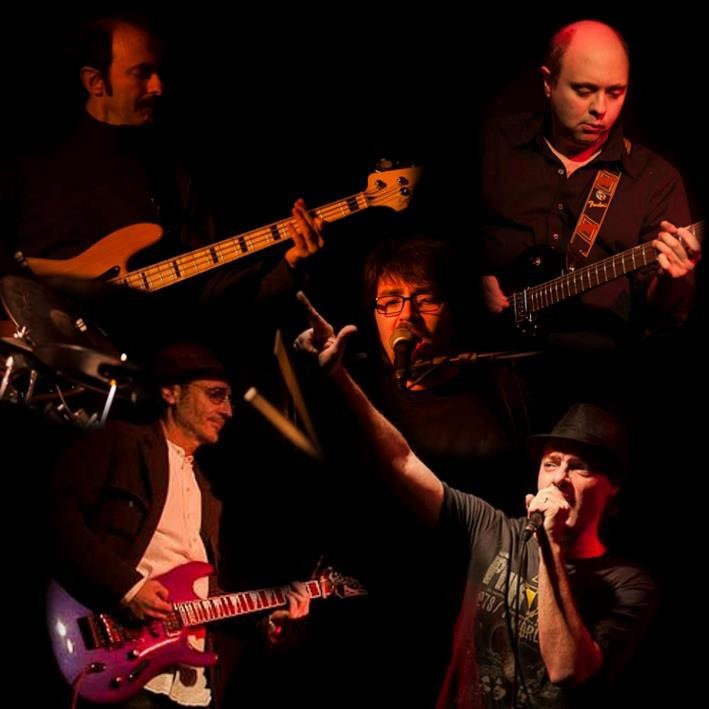 12 temas conforman el disco, muy entre rock progresivo y rock clásico, disco tranquilo y relajado, casi imperturbable, con una buena y sólida sección instrumental, temas cortos, sin abandonar teclados, melodías elegantes, coros bonitos, pero con mayor profusión en las guitarras, hay que reconocer que contiene algunas pistas de una calidad realmente alta. Un disco con clase, maestría y mucho sabor ochentero.


Retropía (ex Rockestra) es una banda de covers de progressive rock y classic rock internacional, formada en Caballito, Buenos Aires en 1999, por Cristián Del Gesso (batería y voz líder), Gustavo Radaelli (voz líder, percusión y guitarra) Gustavo Mari (guitarra y teclados), Ricardo Mari (bajo) y Juan Pablo Cieri (voz líder y guitarra).
Su repertorio abarca Beatles, Stones, Queen, Pink Floyd, Genesis, Jethro Tull, King Crimson, Toto, Alan Parsons, Tom Petty, Eagles, Rush, Peter Frampton, Marillion, Eric Clapton, Sting, Paul McCartney, etc. Ocasionalmente han incluido tributos a bandas de rock Argentino como Serú Girán y Luis Alberto Spinetta, entre otros.
En 2004 editan su primer álbum, Retropía, conformado por covers y versiones nuevas de las bandas del repertorio habitual, más un primer tema propio que da título al álbum, y a la banda, la cual originalmente se había dado en llamar Rockestra, y bajo ése nombre se presentaba en el circuito local.
Daniel Vidal (guitarra, teclados y coros), reemplazó a Juan Pablo Cieri, y Orlando Goffre se incorporó al bajo, pasando Ricardo Mari a tocar teclados y guitarra.
En 2012 editan su primer álbum de temas propios, Human Faces, el que ofrecemos en ésta plataforma, ya bajo el nombre Retropía.

El disco consta de 12 tracks que giran alrededor de sencillos y efectivo groovea, y tiene unos pasajes interesantes, con estribillos relativamente pegadizo, bellas facturas entre guitarras, teclados, disco suave, relajado, sin sorpresas, cuidado y elegante. Quizás un poco falto de matices y alternancia de ideas, pero las ideas que plasman están muy bien. También quizás un poco largo, podrían quitar dos o tres canciones y el disco subiría bastante de nivel, pero nos quedamos en las suposiciones. El disco está muy bien en su estilo y eso es lo que importa.
En cuanto a sonido y producción, el disco está muy cuidado, no hay fisuras en el trabajo realizado en éste ámbito.



En definitiva, temas elegantes y talentosos, con interesantes dosis de guitarra y teclado pero siempre medido, y cuidando las estructuras melódicas de cada track. Un disco que si bien no tiene sorpresas, y tiene la gran contra (para nosotros, al menos) de ser cantado en inglés, no deja de ser un muy buen disco y por ello los invitamos a conocerlo y degustarlo.
Y seguiremos con éste viaje infinito por el under, especialmente argentino. Así que estén atentos...

Facebook

https://retropia.bandcamp.com/album/human-faces