Covers de King Crimson pero con una magia especial, acompañados por el propio John Wetton, estos talentosos muchachos hacen de las suyas y lo disfrutan de los lindo. Y miren que sus versiones están tremendas!

Artista: District 97 with John Wetton
Álbum: One More Red Night: Live In Chicago
Año: 2014
Género: Crossover Prog
Duración: 42:42
Nacionalidad: EEUU / Inglaterra
Lista de Temas:
1. One More Red Nightmare
2. The Great Deceiver
3. Lament
4. The Night Watch
5. Fallen Angel
6. Book of Saturday
7. 21st Century Schizoid Man
8. Starless
9. Easy Money

Alineación:
- Leslie Hunt / lead & backing vocals
- Rob Clearfield / keyboards, guitar
- Jim Tashjian / guitar, backing vocals
- Patrick Mulcahy / bass
- Jonathan Schang / drums, percussion
With:
- John Wetton / vocals


Volvío el Mago aunque nunca se fué. Impresionante lo que nos trae ahora...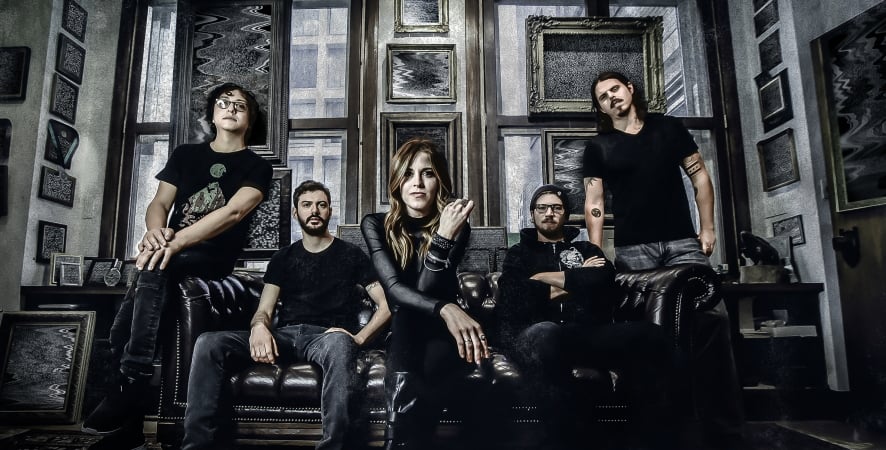 Cerramos los aportes del día con un grande de rock progresivo, John Wetton, que junto a una banda de jovencísimos músicos de rock progresivo actual, decidieron juntarse para grabar en directo esta maravilla en la que se versionean temas de los King Crimson. Potente, imponente, maravilloso.
Aquí, el comentario del Mago:


District97 es básicamente una banda de covers, aunque personalmente detesto profundamente las bandas de covers, debo admitir que esta banda de jóvenes en particular; le pone muchísima onda a lo que hacen, y no hablo solo por este disco, también versionan muy bien a Genesis, el presente trabajo es bastante atípico pues la banda pasa a ocupar otro plano y es hacer de soporte al mismísimo Wetton, voz y bajo de King Crimson, así que las versiones pasan a ocupar otro rol, y esta nueva función redimensiona el trabajo, y otro punto determinante es que el disco está grabado en vivo.




La voz de Wetton suena muy suelta, llama la atención que algunas versiones están muy bien cantadas y hasta te llegan a gustar más que las originales, el trabajo de la guitarra es impecable (superar al enano es casi imposible), y en general la banda suena ajustadísima, una pequeña joya quizás no muy junada pero que acá te la ofrecemos como para poner en el arbolito.




Para los crimsonianos esto es un aperitivo con tabla de quesos surtidos, disfrute asegurado.
Alberto

Aclaro que los siguientes videos no son precisamente del recital donde se grabó el disco, pero... ¿a quién le importa?... miren y disfruten por favor... aquí una versión del glorioso "Starless" de 1974.



Y he aquí a estos muchachos y al dinosaurio interprentando parte de la hermosa "Starless" junto con "Easy Money", pero versión 2014.



Ahora un par de comentarios en inglés que no hacen falta, ya con las palabras del Mago y sobretodo con los videos está todo dicho...


DISTRICT 97 is a young American band that has been praised by one or two musicians from the King Crimson camp, or so I've heard. This live album was my first acquaintance with the band. I certainly would have preferred it to be with their own material. The set is completely devoted to the songs of KING CRIMSON (the John Wetton era, plus '21st Century Schizoid Man' originating from the 1969 debut) and the vocals are by Wetton himself, so... For starters, there's no use of searching any notably new point of view to these classic prog songs, even if the band's own female vocalist Leslie Hunt can be heard a little, too. Too little.
The skillful musicians of District 97 do their job extremely well and very faithfully to the originals. Only in 'Starless' I miss the mighty Mellotron sound (there's a little hollow synth backing instead), and that song is somewhat watered down here also due to the abridged song version. Wetton is in good shape though.
I'm satisfied with 'The Night Watch' and 'Book of Saturday', two of my Wetton era Crimso favourites besides 'Starless'. And with 9 songs I suppose the song output of the era is being covered almost completely -- there aren't any instrumentals. But frankly, to me this kind of a CD is hardly nothing else than a curiosity, quite useless in practice. OK, now I know this band is an excellent cover act of King Crimson material. Apparently too blinded by the respect for both Wetton and the music, to bring their own material /personality /individuality as a group to the set. If it was a DVD it would be another case, much more justified as a release.
Matti P.
Even back in the day, and I was there, I was only a modest fan of UK band King Crimson. My quirky music fans introduced me to In the Court of the Crimson King and then In The Wake of Poseidon. These two became the extent of my 'Crimson' experience. I largely don't recall the Wetton period of three albums in the early Seventies. But there's no denying King Crimson's influence upon many musicians and the progressive rock genre in general. It's substantial.
And not wasted upon Chicago proggers District 97 who had a chance to play and tour with John Wetton in 2013. It appears that Wetton is also quite the fan of this promising band. For which there's good reason: they have a boatload of talent and creativity. Both Hybrid Child and Trouble With Machines are prime examples of the best of American melodic progressive rock. The band has both the skill and ambition to conquer most an King Crimson complexity, and they do so with One More Red Night - Live in Chicago. And I imagine that District 97 was more than thrilled and honored to work with Wetton on this material.
The set list is nearly entirely from Wetton's Crimson catalog: Larks' Tongues in Aspic (1973), Starless and Bible Black (1974), and Red (1974). The odd song out is the seminal, and likely most familiar to many, 21st Century Schizoid Man from King Crimson's very first album. As for the treatment of the remainder, I can't speak to these new recordings versus the originals as I haven't heard the latter in probably 40 years. What I can say is that the District 97/Wetton interpretations definitely revive the character and flavor of early English progressive rock with energy and enthusiasm. The listener will catch the development of melody and rhythm with the technical individual instrument parts, the inherent improvisation and experimentation, and the heaviness that marked the end of the Wetton era.
Therefore, in the best sense, this live recording revisits history, introduces you to Wetton-era Crimson, and and so recognizes prog rock's emerging and ongoing creativity. Oh yeah, and it's performed by District 97, a great American prog band who could be John Wetton's kids, maybe grandkids.
Craig Hartranft

Disfrutenlo, acá tienen con qué...