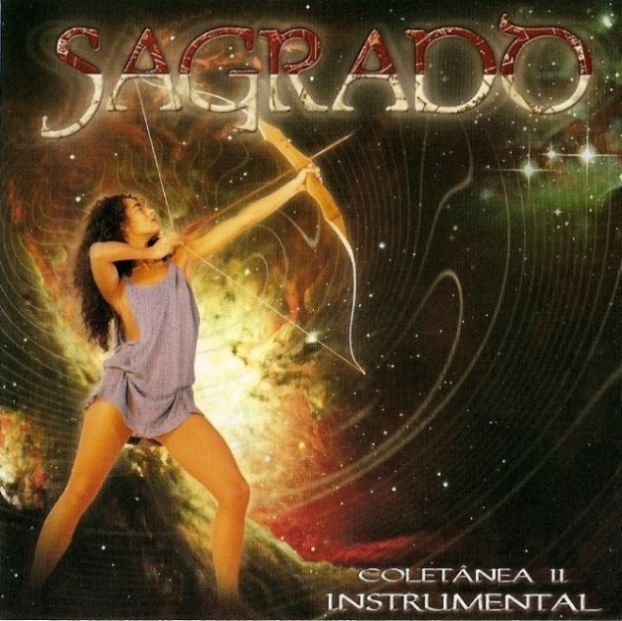 Ahora sí, el "Coletânea II" para cerrar el gran show de resubidas de discos de Sagrado Coração Da Terra que hizo Sandy para todos aquellos que gustan del buen rock sinfónico. Cabezones, no se pueden quejar que éste es material de primera...

Artista: Sagrado Coração Da Terra
Álbum: Coletânea II - Instrumental
Año: 2003
Género: Rock sinfónico
Nacionalidad: Brasil
Lista de Temas:
1. Planeta Minas
2. Deus Dançarino
3. Pais Dos Sonhos Verdes
4. Amigos
5. Tocatta
6. Human Beans
7. O Futuro Da Terra
8. Sagrado
9. Solidariedade
10. A Gloria Das Manhäs
11. Rapsodia Cigana
12. 2001 - Also Sprach Padim Cisso


Alineación:
- Marco Antonio Botelho / drums
- Marcus Viana / vocals, violins, synthesizers
- Ivan Correia / bass
- Caio Graco Guimarães / bass


La segunda compilación del año 2003 de Sagrado, donde juntan algunas de las canciones más representativas de toda la historia musical de la banda (que no es poca) hasta ese año 2003, ahora presentando sus canciones instrumentales, con nuevos arreglos, creando sorpresas para los que ya conozcan las canciones y revelando nuevas formas de realizar canciones ya conocidas y con todo el conocido vigor de la banda.


Con su violín como única arma para expresar su ideología y su sentimiento, Marcus Viana (virtuoso violinista, tecladista, autor de la letra y la música de todo el grupo) utiliza esta inmensa banda muy poco valorada para hacernos llegar su mensaje. Al igual que en las letras, la música está ligada a una filosofía ecológica: ecología de la tierra, la ecología de la mente, del corazón y del cuerpo.

Así, una nueva presentación de Sagrado, que no es tan nueva. Pero sí es un lindo álbum que seguramente disfrutará más de uno, de la que es sin duda una de las grandes bandas progresivas sinfónicas latinoamericanas.


For whom is not in the habit with this important prog band from Brazil (Their homonimous debut album, plus "Farol da Liberdade" and "O Grande Espirito" are true must-have among the others melodic symphonic works...), this collection could be a good place to start with them: perhaps you could start with "Rapsodia Cigana" to get an inkling of Marcus Viana's grandeur and then to "taste" something from their excellent debut album you could prosecute with "Sagrado" and "A Gloria Das Manhäs" plus "Deus Dançarino" (probably it should have been better to insert something from "Farol da Liberdade" into, like the jewel "Dancas das Fadas" or "The Central Sun of the Universe", but nevermind).Moreover you can find their fine tune "Tocatta" taken from "Flexa", side 1 (but side 2 is to be forgotten) and something else which is unedited...of course it's not their best album, but you can have an idea of them, by means of this short resume.
Lorenzo
This album give us a very good collection of instrumental songs from the first six studio albums of the band. Sagrado Coração da Terra is a great representant of brazilian simphonic prog rock. Beatiful arrangements and rich orchestration. You can note strong influences in their music like classics, jazz-fusion, and so on, but in my opinion the band shows an original and harmonic combination. You will find violins (remembering, in some passages, Jean Luc Ponty), flautes (like old Camel?), fretless basses, sitars, sinthetizers, cellos, variated percussions...and wonderful melodies. The firs track "Planeta Minas" is short but incredible along with the 6th track called "Human Beans" are comparable with Anglagard. "Toccata" is more classic. "Solidariedade" is my favorite, really great.
Highly recomendable for those without preconceipts with southamerican bands and for all lovers of instrumental prog rock.
Cláudio Soares de Sousa

Bueno, creo que este es uno de los grupos que tenemos que valorar y conocer, por su innegable musicalidad y calidad.
Listo! alcancé a publicarlo. Ahora sí, que tengan buen finde semana, yo me despido hasta el lunes.