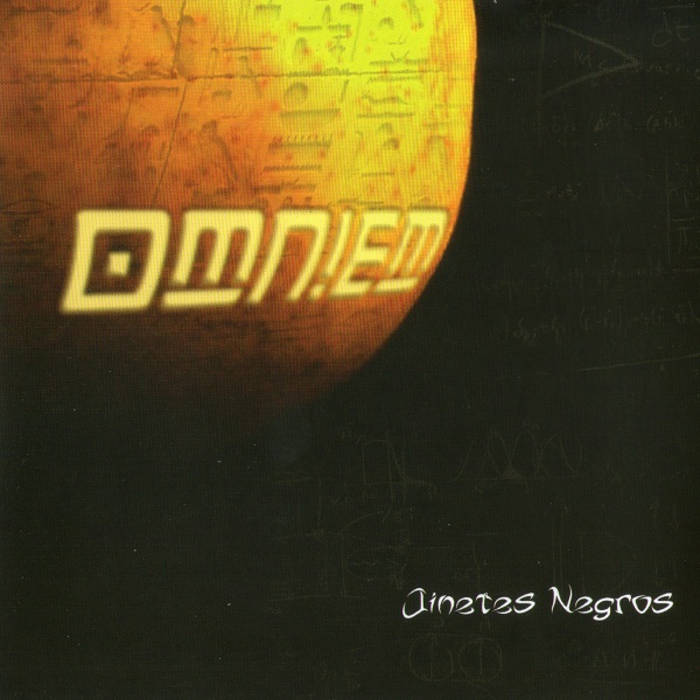 Discazo!!! Un trabajo aclamado en los cuatro puntos cardinales del planteta. Este es otro álbum resubido, largamente pedido en este espacio, y para quienes no lo conozcan, no se lo pueden perder, es un disco de excelente rock sinfónico, y los invito a que los conozcan y disfruten. Epico, delicado, una maravilla sonora que les recomiendo empecinadamente.

Artista: Jinetes Negros
Álbum: Omniem
Año: 2008
Género: Rock Sinfónico
Nacionalidad: Argentina
Duración: 62 Minutos
Lista de Temas:
1. Signo de los Tiempos (4:35)
2. La Gesta del Poder (5:17)
3. Epico (5:51)
4. El Canto del Noctambulo (7:26)
5. Dieciseis Lirios de Eternidad (4:37)
6. Jean Jaures (3:30)
7. Su Mision (5:38)
8. La Bestia (5:12)
9. El Hombre del Bosque (4:06)
10. Un Sabor Amargo (6:01)
11. Pedirás por Mi (7:01)
12. Against the World Again (4:21)

Alineación:
- Octavio Stampalia: Keyboards, piano; vocals
- Marcelo Ezcurra: Lead vocals; guitars
- Christian Collaizo: Drums
- Marcelo Vacarro: Bass

With:
- Gerardo Ackerman: Flutes, saxophone, bagpipe
- Pablo Roboti: el. & ac. guitars; accordion
- Daniela Quintero: Vocals
- Carlos Flores: Vocals


"Omnien" es el tercer álbum de esta banda, como los álbums anteriores, desde el comienzo se puede apreciar un rock sinfónico preciso, con referencias a clásicos como Wakeman, coros y sonidos orquestales sobre buenas líneas melódicas, siendo el distintivo sonido de "Jinetes Negros", pero a diferencia de sus álbums anteriores, en este álbum Jinetes Negros incorpora un montón de nuevos argumentos, desde los sonidos locales, como por ejemplo en los aires de chacacarera y malambo introducidos inteligentemente en medio del sinfónico instrumental "Épico", o el bandoneón en "Against the World Again", o la quena, siku y charango hábilmente combinados en "Jean Jaures" y en "Against the World Again" (único tema cantado en inglés), los aires jazzy de "El Canto del Noctámbulo" (con letra del filósofo alemán Friedrich Nietzsche), hasta la incorporación de vientos o una gaita muy bella en "Jean Jaures". Siguen los toques floydeanos, el estilo épico mezclado con un hard rock, los toques barrocos estilo Jethro Tull, los logrados arreglos de cuerdas, las voces y arreglos corales, pero la incorporación de este estilo más ecléctico suma puntos a un álbum redondo.
La voz de Marcelo Ezcurra cada vez me gusta más, y grandes interpretaciones instrumentales de todos los músicos del grupo, Octavio Stampalia genial como siempre en los teclados, y una base (tanto batería como bajo) cada vez más precisos, contundentes y con muchísimo despliegue.


Bravo! "Omniem" finds the band expanding their original style, instead of 'developing' the more commercial approach that typifies their second disc, so this new Jinetes Negros recording appears to be a solid step forward compared even to their debut, let alone "Cronos". Upon initial listening it may seem that the band is following faithfully the rules they worked out while making their first album, still presenting a blend of Symphonic Progressive, Hard Rock and light Classical music with quasi-operatic vocals, whereas in fact "Omniem" is a more varied musical affair, involving also a number of folksy elements, some bits of Jazz-Fusion, and more, some of the twelve tracks present having nothing to do with the hard aesthetic :-), some with the classical one. What is typical of Jinetes Negros is that their traditional prog-rock maneuvers are often joined by a virtual symphonic orchestra that includes a variety of synthetic, yet quite realistic-sounding string and brass instruments. The orchestral pads and arrangements in general are used on many of the pieces, in most cases highly effectively, not only serving as a harmonic foundation for the other instruments, but also playing a primary role in the arrangements, from time to time reproducing well the spirit of the late-romantic period. I have no idea whether this long CD exists as a double LP also, but the first and the seventh track, Signo de los Timpos and Su Mision, are both obviously designed as opening numbers. Only here, the orchestral arrangements consist almost exclusively of 'fanfares' and are filled with a flashy heroic feeling, which at times carries these two quite far beyond the realms of serious progressive rock music. To be more precise, none appear to be really bad, far from it, but compared to the rest of the material, they're so ordinary, repetitive and derivative (in the style of early Ayreon) that, well, I had to deprive the recording of a masterwork status. There are three more tunes that are instantly accessible: La Gesta del Poder, Dieciseis Lirios de Eternidad and La Bestia all symphonic Hard Rock, the last two in its vintage mould with no orchestrations utilized. However, all are stamped with signs of magic, which makes them an engaging listen even after a few repeated plays. On quite a few of the tracks the band's characteristic instrumentation is supplemented with woodwinds, courtesy of the guest musician Gerardo Ackerman, his flute playing one of the key roles on the semi-epic Pigards por Mi, and also on all three of the instrumental pieces, Epico, El Hombre Del Bosque and Jean Jaures. These four are brilliant compositions, the first three consisting of classically-inspired Symphonic Progressive (with some hints of both "The Myths & Legends of King Arthur & the Knights of the Round Table" by Rick Wakeman and Camel's "The Snow Goose"), while the last one blends the same style with Gaelic traditional music. Despite being for the most part slow-paced, El Canto del Noctambulo, Un Sabor Amargo and Against the World Again each appear as a multi-part opus, with a lot of alterations to its several different storylines, involving probably all the declared acoustic instruments – see lineup above for details. The last of these stands out for its really unique combination of different folksy colorations, one of which belongs to the ethos of South American Indians, and another to European culture. I'm sure it's only there as a bonus track for being the sole tune with English lyrics, and I must tell you these Spaniards, er Argentineans' pronunciation of the language, though not perfect, is much better than plenty of bands that are well-known for what I mean. Marcelo Ezcurra's vocals are powerful and emotional, but they can take a lot of different shapes, depending on the moment so to speak: from theatric to deeply-dramatic to soaring to (occasionally) near-growling, which in combination with a supporting choir gives the recording a feeling of a true Rock Opera.




Conclusion. Despite the relative simplicity of basic constructions of the many tracks here, more than half of compositions reveal true depth, as they're arranged in such a way that there is usually enough space for soloing for all the instruments involved, which often leads to the creation of multiple melodic lines simultaneously. Recommended.
Progressor
Jinetes Negros is an Argentine band formed by keyboardist Octavio Stampalia of Anima. Their vocals are in Spanish. Their 2000 self-titled debut was a symphonic rock album recorded with a 12-person choir. Their 2001 second CD Chronos was in the progressive hard rock style, not metal but rather 1970s style. Omniem (2007, 64-minutes) is their third CD and a great one. It reverses direction, as though there is some of the progressive hard rock style present, Omniem is their most symphonic album, and their best. There are orchestral arrangements, flutes, and excellent harmony vocals. At times it is reminiscent of the Italian and Spanish 1970s symphonic bands and of the first generation Argentine progressive rock bands. The final track is listed as a bonus and has English vocals. Note the mp3 icon leads to the band's newer website, which is Flash-based. At least at one time there were audio clips there.
Kinesis CD
Another overlooked progrock formation with an unique sound: Jinetes Negros (Spanish for 'Black Riders') from Argentina and was founded in 1999 by Anima keyboard player Octavio Stampalia and singer Marcelo Ezcurra, along with other musicians. In 2000 the band released their debut album entitled El Jinetes Negro, a year later followed by the album Chronos, then it took 5 years until Jinete Negros released this new album in 2006.
On the CD Omniem I hear a melodic and dynamic mix classical, rock, symphonic, folk and prog metal in which a wide range of instruments, from organ and guitar to ethnic instruments like the quena (small flute) and charango (between a guitar and mandoline with 5 double strings). At least half of the tracklist contains fluent and bombastic mid-tempo songs delivering sumptuous classical orchestrations and choir, blended with swinging 'slap' bass, guitar and soaring flute (Signo De Los Tiempos), with flute traverse, sparkling Grand piano and exciting solos on guitar and and synthesizer (Epico) and with flute traverse and wah-wah guitar (El Hombre Del Bosque). But we can also enjoy more dreamy tracks like El Canto Del Noctambulo (bluesy with wonderful Grand piano, followed by a slow rhythm with saxophone and a sensitive electric guitar solo), Jean Jaures (beautiful play on violin and flute and some bombastic eruptions) and Un Sabor Amargo (melancholical violin-section, warm vocals and a mellow saxophone solo). And in some compositions Jinetes Negros plays straighforward rock like in 16 Lirios De Eternidad (fiery guitar) and especially Pagaras Por Mi (intro with choir, then prog metal, a swirling Hammond organ solo and a biting wah-wah guitar). All songs contain powerful and pleasant Spanish vocals except the final track Against The World Again, I think because of the universal message in the lyrics: "Who Do You Think You Are, Mr. President?"! It starts with twanging acoustic guitar and warm vocals, then a slow rhythm with bluesy guitar and harmonica, blended with the sound of an Inca flute and an orchestra and cloncluded with a sensitive electric guitar solo, accompanied by Grand piano, wonderful! I needed a few listening sessions to get into Jinetes Negros their varied sound but then I was delighted, what a stunning new band from Argentina, worth to check out!
DPRP

Álbum muy recomendado, placentero de principio a fin, con temas muy arreglados pero a la vez fáciles de escuchar.
El disco se puede conseguir por el espacio de Viajero Inmóvil Records, lo pueden escuchar o comprar en digital, pero también tienen la opción de comprar el CD físico escribiendo a info@viajeroinmovil.com. Y los invito a revisar el catálogo completo de dicho sello porque tiene exquisiteces más que interesantes.


www.myspace.com/jinetesnegros