Acá les dejo toda la fuerza de esta banda inglesa que nos trae ritmos y fusiones africanas, buen disco para animar cualquier fiesta animada.
Artista: Melt Yourself Down
Álbum: Melt Yourself Down
Año: 2013
Género:Fusion/Punk/Funk/Jazz/African
Duración: 35:18
Nacionalidad: Inglaterra
Lista de Temas:
1. Fix My Life
2. Release!
3. Tuna
4. We Are Enough
5. Kingdom Of Kush
6. Free Walk
7. Mouth To Mouth
8. Camel
Alineación:
Pete Wareham / Saxofón
Shabaka Hutchings / Saxofón
Tom Skinner / Batería
Ruth Goller / Bajo
Kushal Gaya / Vocalista
Satin Singh / Percusiones
Reseña por Sebastián Hidalgo:
Melt Yourself Down
banda londinense liderada por el Saxofonista Pete Wareham (ex Acustic Ladyland, Polar Bear) formada en enero del 2012 como proyecto de fusión de varios estilos como lo son el Punk, Funk, jazz y ritmos del norte de Africa. Otros miembros del proyecto son El Saxofonista Shabaka Hutchings (Sons Of Kemet, The Comet Is Coming, The Heliocentrics), El Baterista Tom Skinner (Sons of Kemet, Mulatu Astatke, Hello Skinny), de vocalista Kushal Gaya (Zun Zun Egui), el bajista Ruth Goller (Acoustic Ladyland) y el Percusionista Satin Singh (Fela!, Transglobal Underground).

El disco que les traigo hoy es una experiencia energética de principio a fin, con mucho ritmo, pulso allegro e intensión festiva y apelante.
El disco parte con el single Fix My Life con los saxofones imbuyéndonos en un patrón que será casi un ostinatto eterno en el tema fusión entre caravanas africanas y punk/Ska de Inglaterra, una especie de celebración a un culto desconocido con las onomatopeyas del cantante principal que va apareciendo y los vientos que improvisan para darle un toque esquizofrénico a un tema que por sí mismo enamora.


Release! Es el segundo ritmo de samba en las percusiones, electrónicas espaciales y un bajo bien saturado que te invitan a saltar del asiento, si no había quedado claro con el tema anterior este viene a confirmar lo que se sospecha del disco completo: es un disco que se ha de escuchar bailando y dejando fluir las sensaciones, insisto en ello es un disco enérgico que llaman a la escucha cooperativa entre el pulso y el cuerpo, sigue Tuna esta intensión, un ritmo egipcio que crece y crece hasta que llega un punto en donde se descansa escuchando el canto ceremonial para volver en un crescendo paulatino en donde el canto pasa a una especie de rapeo o "raga" en quizás que idioma, que acaba con una improvisación final de un saxo visceral.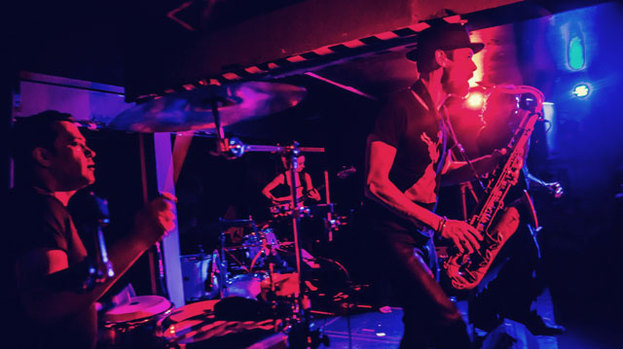 Llegamos al ecuador del disco con We Are Enough un tema mucho más Punk en el ritmo que será un recordatorio de que la banda es londinense y que su escuela se deja sentir, un tema de buen pulso y con buena mixtura que también fue single de este disco.


Kingdom of Kush comienza gritos Pattonistas y continua con una canción casi didáctica en donde el verso principal se repite y repite en variaciones cual juego Scout, toda la banda esta avocada en que oyente desea moverse en un pulso desenfrenado a diferencia de Free Walk donde baja el tempo y el metro a un terciario afro más delicado, más "ortodoxo" donde los saxos son respetuosos del ritmo y la cadencia. Mouth to Mouth será otro juego rítmico con secciones en tiempo entero y doble tiempo que contrastan en su estructura la cual va tomando peso creciente desde la mitad del tema para dar espacio a un pregunta y respuesta vocal en donde la electrónica homologa un didgeridoo en sonido circular.
Finaliza el disco con Camel el tema quizás más "rockero" con un patrón de bajo/batería contrastante con el saxo y las voces de fondo abren el terreno para un final violento y punk coloreado por los saxos como también por la eléctronica generando una "violencia" bastante estética.

Un disco visceral que los mantendrá bailando y golpeando de principio a fin.

Acá les dejo otra Reseña:
Melt Yourself Down

rises from the ashes of

Acoustic Ladyland

, an incendiary ensemble led by British saxophonist Pete Wareham that played free-improv jazz as if it were hard-charging rock music. Parting ways with drummer Seb Rochford-- with whom he continues to play in Polar Bear-- Wareham brings along bassist Ruth Goller for this frenetic dance-music project, whose fast, fleet lines have more to do with world pop and funk, particularly African, than jazz, recalling a globalized

!!!

. Rounded out by tenor saxophonist Shabaka Hutchings, vocalist Kushal Gaya of art-funk terrors Zun Zun Egui, and dual percussionists Tom Skinner and Satin Singh, Melt Yourself Down's debut is direct and infectious, jostling with harmonic and rhythmic allusions to Nubia, the Middle East, Latin America. If this makes the album sound dizzyingly diverse, that's half-right.




Melt Yourself Down is definitely dizzying; a whirling dervish that only relents for a couple mellower numbers tucked away at the end, where Gaya sings passionately rather than scatter-bombing panicky chants and hiccups in a mix of French Creole, English, and gibberish. "Free Walk" is especially notable for its intricate finger-work on the drums, so richly textured that it's more of a sensation than a sound in the ears. But generally, the different world music strains to adhere to a similar plan of attack. Apt for a record named after an obscure import by James White & the Blacks, most songs are driven by peppered, serpentine sax motifs that double each other, slither off on maniacal flights, and rejoin in unison. They're buoyed by melodically burbling hand percussion and ballasted by compactly looping bass lines. The careening music is tightly played; a precision offset by the primitive electronic palette of producer Leafcutter John, who adds filter snaps, blurts of synthesizer, and dubby echoes.

Though repetitive, the record is consistently engaging, with plenty of distinct highlights. The saxes on "Fix My Life" alternate between bristling junkyard riffs and a celebratory unison chorus so redolent of '80s pop radio you almost expect to hear Whitney Houston or Lionel Richie start singing. On the percolating "Release!", the notched line of Goller's bass holds together a shuddering web of sub-rhythms in the scribbling horns and electronics. It's about halfway through, circa "We are Enough", when it starts to feel as if we've already heard everything Melt Yourself Down has to offer, though they rally for a varied three-song finish culminating in "Camel", a big-footed stomp that trades lunging speed for humped mass. The music is optimal for a live setting, where Gaya is liable to fling himself into the audience, spinning like a top. But the record's narrow straits course with such ebullient energy that it's easy to get swept up in the fun these players are clearly having.