Tremenda sorpresa les hemos preparado para hoy con esta excelente banda alemana que está teniendo mucho éxito en los circuitos rockeros de Europa. Mezclen sonido psicodélico setentero, las flautas traversas de Jethro Tull, riffs hardrockeros violentos a lo Black Sabbath o Deep Purple, algo de folk y una bella front-woman multiinstrumentista de impresionante voz blusera y expresiva, y tendrán alguna noción de lo que les espera escuchando a Wucan. Una banda joven y un disco que no te la va a presentar nadie porque no está ni en Progarchives, así que vamos con otra de las primicias del blog cabezón, presentando un verdadero viaje lleno de wah wah, de sensación funky, de groove, de flautas a lo Ian Anderson. Todo un descubrimiento digno del blog cabezón que nunca deja de sorprender con las maravillas que se cocinan en todas partes del mundo, y especialmente este disco se emparenta bastante en su sonido al rock-folk latinoamericano, escúchen el disco entero y sabrán porqué.
Artista:
Wucan
Álbum:
Sow the Wind
Año:
2015
Género:
Rock psicodélico
Duración:
42:36
Nacionalidad:
Alemania
Un poco olvidado hoy en día, la escena de rock alemán de los años 70 no se limita unicamente al Krautrock, sino que tambièn fue un caldo de cultivo de muchos grupos alimentados por la psicodelia que emergió a nivel mundial. Entre ellos,
Birth Control
,
Lucifer's Friend
o
Blackwater Park
pero la lista sigue. Y estos
Wucan
son alemanes y vienen a tomar la bandera de aquellos, los encontré de casualidad girando por Bandcamp, esta es otra banda que extrae los sonidos oscuros de finales de los 70, creando un sonido potente y un registro que suena genial; una mezcla casi perfecta por la ambivalencia de elementos, mientras que la banda suena muy bien y su estilo es maravillosamente orgánico, con una buena cantidad de influencias, sonidos groove y órgano de Hammond y con unas voces melódicas de estilo blues rock en plena sensación retro, en un viaje en el tiempo a una era en la que este tipo de música estaba en los oídos, el cerebro y el corazón de la juventud salvo que escuchara a Palito Ortega.
El blog cabezón los invita a que conozcan y se asombren con esta sorpresa!
Este disco debut de la banda alemana es una sorpresa interesante. Su estilo es una bonita y original mezcla de psicodelia hard stoner con algunos elementos de rock progresivo. El disco suena intencionalmente áspero en los pasajes más difíciles (es verdad que a veces ello suena un poco aburrido), mientras que la composición es bastante compleja dentro de las estructuras del rock, dispuesta en inserciones de abundantes arreglos que la hacen muy disfrutable.
Vayamos a la descripción del disco tema por tema...
El disco abre con un riff casi de "Highway Star" pero con un toque de flauta en la canción de apertura titulada "Father Storm", una canción divertida, con voces poderosas, profundas y conmovedoras y algunos riffs asesinos en una introducción adecuada al álbum, con pequeños trinos y detalles que no esperaba. ¡Pulgares arriba!
Pasamos a "Owl Eyes" mientras vamos acostumbrando el oído a la propuesta del grupo, llevados por un ritmo que hace balancear la cabeza, y siguen las vibraciones de
Deep Purple
, pero con algún inesperado cambio a un ritmo uptempo funky y con un final falso en el medio, desplegando una guitarra inquieta mientras el bajo entra en otro riff. Buenos arreglos para otra buena canción.
"Looking In The Past" comienza realmente fría, la flauta trina una agradable melodía sobre el riff principal de guitarra y del bajo, y qu da paso a una guitarra wah realmente funky y una percusión de congas que te va a agarrar completamente desprevenido. Hay algunos detalles interesantes en los bucles de retroalimentación melódicos que agregan algunos detalles psicodélicos a esta canción, buena melodía con muy buen ritmo que llega al clímax en un final realmente genial. Excelente track.
Entonces comienza "Face In The Kraut", y cuando esta canción comenzó, inmediatamente pensé en
The Cure
, hasta que la voz bluesera se puso al frente. Esta es una canción decente, no es tan rockera como han sido el resto de las canciones pero ue baja un poco el nivel.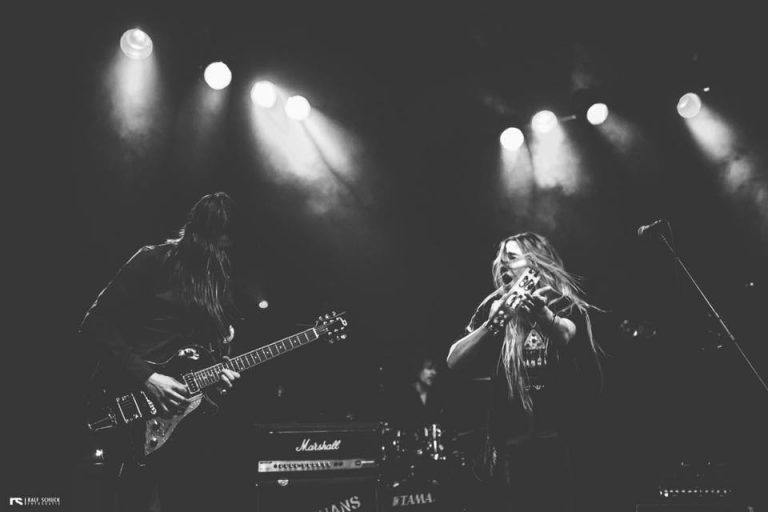 En "King Korea" el grupo planea sobre una intrépida introducción mientras las guitarras forman su sonido lentamente, con el zumbido de los órganos y acentos de percusión jazzeros se unen de a poco. Cuando el bajo se une comienza un ritmo denso, la canción está verdaderamente en marcha luego de una progresión muy bien lograda. El cambio a los tres minutos fue otro cambio estilístico inesperado mientras hay varios detalles sonoros geniales, donde la flauta toma el protagonismo alrededor de cuatro minutos y hace explotar la canción. A esta altura sabemos que estamos ante un gran disco sin dudas, pero aún falta lo mejor.
Llegan los 15 minutos de "Wandersman" cantando en alemán y suena genial ya del principio. Buena presencia del bajo que se activa un poco antes del minuto y un dulce toque de guitarra comienza a extenderse por todas partes. Este es el tema más largo del álbum y comienza realmente fuerte, con una influencia stoner mucho mayor que las otras canciones y me encanta cuando explotan con una voz etérea que suena fatal, se pone un poco espeluznante alrededor de doce minutos cuando el bajo cae en su ritmo mientras la voz cambia casi recitando, y se vuelve realmente siniestro mientras la voz hace unas volteretas dignas de mención, y de verdad que esta rubia se las trae!, hasta que el ritmo se acelera y volvemos a la melodía principal del tema. Épico tema para terminar un gran disco. He de decir que la ingeniudad de la melodía me hizo acordar mucho a las bandas latinoamericanas rockeras de los setentas, sobretodo aquellas que mezclaban sonidos andinos con rock psicodélico tipo
Wara
.
Un disco más que recomendable como para empezar la seman, lo pueden escuchr y comprar en su espacio de
Bandcamp
, les aseguro que lo disfrutarán!
Lista de Temas:
01. Father Storm (3:57)
02. Owl Eyes (5:50)
03. Looking In The Past (5:43)
04. Face In The Kraut (4:16)
05. King Korea (7:04)
06. Wandersmann (15:45)
Alineación:
- Francis Tobolsky / Vocals, Flute, Guitar, Synths, Percussion
- Tim George / Guitars, Keys
- Patrik Dröge / Bass
- Philip Knöfel / Drums, Percussion