Un joven jazz rock, o quizás mejor decir un jazzy post rock, oriundo de Francia, y ahora presentamos su disco debut del año pasado. Un sexteto instrumental compuesto por batería, bajo, saxo y tres guitarras, Anwkozik propone una mezcla de jazz, rock progresivo, funk y experimentación sonora. Un lindo disco como para empezar el día, y otro de los tantos descubrimientos del blog cabezón.
Artista:
Anwkozik
Álbum:
Objects in Motion
Año:
2016
Género:
Jazz rock
Duración:
52:14
Nacionalidad:
Francia
Mucha textura, mucha paleta sonora, mucha armonía que se suceden dentro de una libertad expresiva sumamente fresca e inteligente a la vez. Si quieres saber cómo sería la mezcla entre los clàsicos de
Weather Report
,
Pat Metheny
o
Return to Forever
con el space-rock contemporáneo de
Quantum Fantay
o
Hidria Spacefolk
, el prog ecléctico de
King Crimson
y el math rock de
Don Caballero
, en este disco lo podrán disfrutar.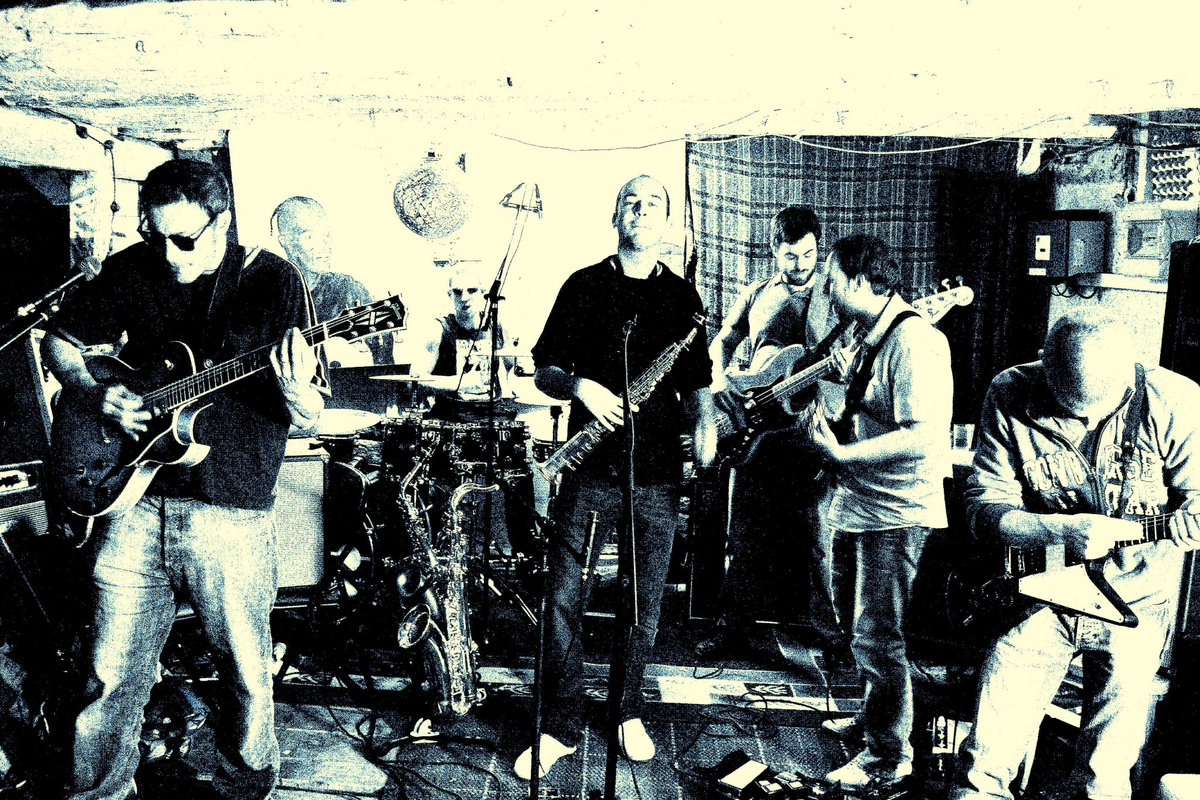 Hoy traemos a colación al grupo francés ANWKOZIK, un ensamble instrumental dedicado a cultivar una modalidad jazz-progresiva altamente sensible a la incorporación de elementos psicodélicos, space-rockeros y math-rockeros dentro de su esquema sonoro. La alineación del grupo consiste en Méroje al bajo, Floa la batería, la tríada de guitarristas conformada por Broz, Micki y Kaktus, y el saxofonista Denis: el hecho de que sean tres los guitarristas dentro del ensamble – tres, nada más y nada menos, tres – hace que los operarios de este instrumento se vean forzados y motivados a armar sus propios engranajes autónomos dentro de la maquinaria integral del sexteto. Las texturas, armonías, esquemas rítmicos y solos se suceden dentro de una ingeniería inteligente que abre suficientes espacios para la libertad expresiva que el núcleo jazzero del grupo necesita crear en los arreglos de sus composiciones. El grupo es originario de Sarrebourg, en la región de Lorena (muy cerca de la frontera con Alemania). "Objects In Motion" es el título de su disco debut, publicado de forma independiente a fines de mayo del 2016: veamos ahora los detalles del repertorio contenido en él.
Durando 9 minutos y pico, 'Love Inspector' abre el álbum con un señorío tan recio como sobrio, ostentando una ágil mezcla de jazz-rock, post-rock, psicodelia y arquitecturas Crimsonianas (al modo del periodo de los 80s) a través de un generosamente dinámico groove manejado por Floa y Méroje. Aunque el esquema de trabajo se preserva con estricta consistencia de principio a fin, nunca pierda la frescura a través de su liberalmente extensa duración. A continuación sigue 'L.N.A.', pieza que cumple con la función de trabajar con las aristas más filudas del sonido grupal. Mientras las tres guitarras refinan majestuosamente su propia amalgama colectiva, el saxofón impone su fuerza de carácter con luminosa soltura; más bien, para el momento del solo de guitarra, el nivel de fragor del entorno baja un poco, volviendo a ascender cuando el saxofón vuelve a compartir el protagonismo con las tres guitarras. Se siente a la banda muy seguramente asentada en el terreno expresivo que ella misma ha edificado cuando emerge 'Flower Power', pieza que se desarrolla sobre una base rítmica más compleja que las empleadas en las dos piezas precedentes: la banda empieza a coquetear con el math-rock levemente mientras se aferra a su disciplina sónica habitual. De hecho, notamos también aquí un lirismo más pronunciado. ¿No será ésta una partitura perdida por PAT METHENY que fue recogida y reelaborada por un combo de músicos de TOE y de DON CABALLERO? El solo de guitarra que emerge alrededor de la frontera del quinto minuto y medio nos suena muy afín a los que solía hacer Adrian Belew en el KING CRIMSON de los 80s. Nos atrevemos a aseverar que 'Flower Power' encarna el cénit decisivo del disco. 'Spanish Blues' no tiene ritmo de blues sino de funky-jazz, así al modo del HERBIE HANCOCK de inicios de los 70s o la faceta más grácil de los WEATHER REPORT.
Nos vamos acercando al final del disco cuando surge 'The Art Of Eating Oysters', tema que realiza una suerte de síntesis entre el extrovertido vigor jazzero de la pieza inmediatamente anterior y la magia elegante de los dos primeros temas del álbum. En algún momento, el asunto vira hacia un etéreo engranaje en 5/4 que instaura un recurso de ensueño moderadamente neurótico dentro del ambicioso espacio que el ensamble se ha proyectado para la ocasión. El asunto regresa poco después al lugar de origen e incluso recurre a un incrementado vigor rockero para ello. Durando poco menos de 11 ¼ minutos, 'Saint Malo' concluye el repertorio y se revela como la pieza más extensa del mismo. Su expresionista y entusiasta espiritualidad se centra mayormente en la tríada de guitarra rítmica, bajo y batería, lo cual hace que el ensamble completo ostente una sonoridad de talante cósmico, casi rayano con el estereotipo del space-rock contemporáneo. Vamos, que solo faltan unas capas de sintetizador para que se trate de una pieza de QUANTUM FANTAY o de HIDRIA SPACEFOLK. Pero, con todo, en los fraseos emanados de los solos de saxo o de guitarra que enriquecen al jam se hace inconfundiblemente patente la esencia jazz-rockera del grupo: la cosa es seguir dando vueltas de tuerca al inquieto y entusiasta eclecticismo que la gente de ANWKOZIK instaura como el leitmotiv definidor de su propuesta musical, así que 'Saint Malo' resulta el broche perfecto para el repertorio de "Objects In Motion". Este disco ha sido una de las sorpresas más espléndidas de la producción vanguardista del año 2016 en la escena francesa, y por tanto, debemos anotar el nombre del sexteto ANWKOZIK en nuestra lista de grupos al cual debemos seguir la pista de ahora en adelante.
César Inca
Pueden escuchar y comprar el disco desde
su espacio de Bandcamp
, un disco de una banda desconocida pero que al menos en su primer trabajo pinta que van por muy buen camino.
Lista de Temas:
1. Love Inspector
2. Lna
3. Flower Power
4. Spanish Blues
5. The Art Of Eating Oysters
6. Saint Malo
Alineación:
- Méroje / bass
- Flo / Drums
- Broz, Micki, Kaktus / guitars
- Denis / saxophone