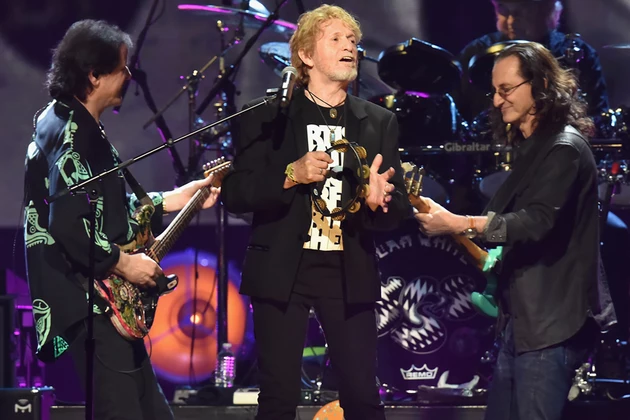 Antes de que se termine la semana presentamos dos enormes registros, uno de la banda colombiana Hora Local, y otra de la enorme banda argentina La Rifa del Viento, y como introducción tenemos el video de "Roundabout" versión 2017, Yes con nada menos que Geddy Lee (Rush) cubriendo el puesto del recordado Chris Squire (¿quien otro podría cubrir ese enorme puesto con la dignidad necesaria?).


Geddy Lee y Alex Lifeson presentaron al clásico grupo, que al fin entró en el Rock & Roll Hall of Fame, haciéndose merecida justicia.



En la ceremonia 2017 del Rock & Roll Hall of Fame, el grupo inglés fue protagonista. Su ingreso a la reconocida galería fue con sus integrantes históricos: Rick Wakeman, Jon Anderson, Trevor Rain, Alan White y Steve Howe. Todos entregaron sus respectivos discursos, destacando el del tecladista, que arrancó varias risas y aplausos. Hay más info en el post, así que los invito a que entren y lean...


Rush presenta a Yes en la entrega de los premios Rock & Roll Hall of Fame 2017
Geddy Lee y Alex Lifeson presentaron al clásico grupo



Hora Local
Héctor nos presenta una banda pionera del underground en Colombia. Tuvo la mala suerte de surgir en la época dorada del narcotráfico y no grabaron ningún disco. Hace unos años recuperaron registros y piratas buenos y regulares y lo pasaron a una edición de CD en 2007 donde lleva 2 temas inéditos, 2 de un sencillo que sacaron en LP y el album "Orden Público Alterado".
La Rifa del Viento
La banda paranaense que viene abriéndose paso dentro del escenario under argentino y que tanta repercusión tuvo en el blog cabezón, presenta unos video recién salidos del horno, en primicia especial tenemos "Archivo Rutemberg", un registro íntimo en formato principalmente acústico que compone un catálogo musical de registro en vivo para el primer material audiovisual de la banda.