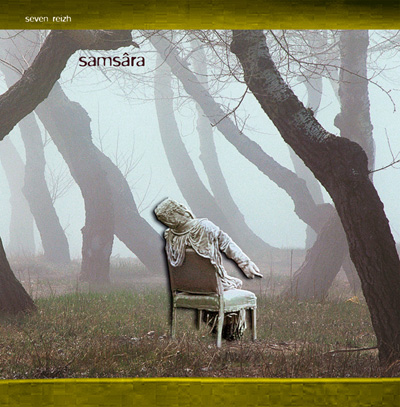 Luego que Sergio nos presentara ese gran disco de folk progresivo que es "Strinkadenn Ys" busqué más material de Seven Reizh, banda que nunca había escuchado y me sorprendió por su calidad y vuelo imaginativo. "Samsâra" ofrece una música eterna, atemporal, tan intensa como imaginativa y difícil de definir, algo que sencillamente debe ser experimentado. Un disco que comienza con los escalofríos que dejan las palabras de Martin Luther King: "Tengo un sueño...", pero eso solo es el comienzo y hay todo un disco de sorpresas por escuchar: musicalmente, Seven Reizh combina progresivo sinfónico con fuertes influencias celtas y árabes creando una entidad única, un trabajo casi perfecto y una verdadera obra maestra que es difícil de emular o repetir. Creo que "Samsâra" es esencial, un disco con una multitud de instrumentos étnicos jugando en su interior y alrededor, especialmente recomendado para quienes nos deleitamos con el folk rock experimental.

Artista: Seven Reizh
Álbum: Samsâra
Año: 2006
Género: Rock Progresivo / Folk prog
Nacionalidad: Francia
Lista de Temas:
1. Encore ...
2. Sonj
3. Ay Adu
4. O Redek
5. Qim Iydi ...
6. Awalik
7. Un Tourioù
8. La Longue Marche
9. A-roak
10. Vers Ma Maison ...
11. Todo Loen ...
12. Perdue Au Loin ...
13. Kouezhan
14. Samsâra

Alineación:
- Claude Mignon / guitar, keyboards, narration, samples, synthesizers, mandolin
- Doro / vocals
- Farid Aït Siameur / vocals
- Gurvan Mével / drums, percussion
- Gwenhaël Mével / different woods, bombarde, tin whistle, low whistle
- Olivier Carole / bass, fretless bass, contrabass
- Ronan Hilaireau / piano
Guest:
Gérard Le Dortz / narration, samples, lyrics
Annie Gaudois / cello
Lucile Louis / cello
Monique Le Prev / alto violin
Jean-Pierre Derouard / trumpet
Sonia Fernandez Velasco / clarinet
François Pernel / Celtic harp
Géraldine Chauvet / transverse flute
Patrick Raffault / accordion
Philippe Savre / bodhran, kora, udu, zarb
Cyrille Bonneau / duduk
Thierry Soursas / tambour
Lionel Le Fournis / snare drum, bass drum, concert timpani
Erwan Le Gallic / practice chanter, scottish bagpipes
Meven Le Donge / scottish bagpipes, translation
Ronan Griffon / scottish bagpipes
Adrien Toupin / scottish bagpipes
Cyrille Berthou / bombarde
Gilles Le Guillou / bombarde
Yolande Bodiou / bombarde
Thierry Chassang / loops, samples, engineering, mixing, drum


Es casi un desafío escuchar esta obra; digamos que un desafío sumamente agradable, pero un desafío a ampliar nuestra mente y nuestra imaginación para poder abarcar esta obra. Si disfrutas de la habilidad de Loreena McKennit para tender puentes entre los mundos celta y del oriente medio, pero sin tabúes para combinarlo con un hard rock o ritmos vanguardistas, junto con toda la amabilidad melódica de Camel, convengamos que este disco es justo para tus oídos y tu alma. Esto es básicamente folk progresivo relajado, muy en la vena de Enya siendo tan relajado que casi parece New Age, con voz femenina angélica y serenas orquestaciones de fondo con flauta, percusión, gaitas e instrumentos de viento. Pero ojo, no se confundan, porque esa tranquilidad es aparente, y debajo del oleaje aparentemente tranquilo en la superficie hay todo un torbellino por debajo de lo aparente.
Seven Reizh parece ser una de esas bandas raras cuyas espirales genéticas esclavizan a los sonidos experimentales y progresivos junto con las más amplias tradiciones étnicas de todo tipo, con el linaje a grandes bretones como Alan Stivell, pero también al moderno movimiento progresivo. Además, han optado por ensamblar los aspectos del "suspense" alrededor de todos estos géneros en algunas de las narraciones musicales más fascinantes registradas en un disco. Aquí tenemos, pues, un disco sumamente épico, emotivo y personalísimo.


"¡Hoy tengo un sueño! Sueño que algún día los valles serán cumbres, y las colinas y montañas serán llanos, los sitios más escarpados serán nivelados y los torcidos serán enderezados, y la gloria de Dios será revelada, y se unirá todo el género humano. Esta es nuestra esperanza. Esta es la fe con la cual regreso al Sur. Con esta fe podremos esculpir de la montaña de la desesperanza una piedra de esperanza. Con esta fe podremos trasformar el sonido discordante de nuestra nación, en una hermosa sinfonía de fraternidad. Con esta fe podremos trabajar juntos, rezar juntos, luchar juntos, ir a la cárcel juntos, defender la libertad juntos, sabiendo que algún día seremos libres."
Martin Luther King, Jr.


Aquí hay un cuerpo general bastante pacífico y hermoso, mucha guitarra acústica, tambores y... un enorme espectro de instrumentos: más allá de los instrumentos más típìcos y conocidos como guitarras, batería, piano, bajo, fretless y contrabajo, violines, guitarra clásica, clarinete, flauta traversa, trompetas y mandolinas, podemos encontrar harpas celtas, acordeón, tambores de todo tipo y un montón de instrumentos de los que no he oído hablar. Mención aparte merecen los vocalistas, muy talentosos y que forman parte fundamental de un proyecto que al parecer estaría basado en una estructura preferentemente instrumental, pero aquí las líricas y las voces tienen protagonismo. Y los vocalistas saben sacarle el jugo a ese protagonismo.


SEVEN REIZH es un dúo francés fundado por Claude Mignon (Compositor, guitarra) y Gérard Le Dortz (Escritor, voz), que estaban trabajando durante varios años en un proyecto conceptual sobre un cantero llamado Enora, que podían infundir vida a las piedras utilizado para construir catedrales, y narra su viaje a la fantástica tierra de Ys.




Este proyecto vio la luz en 2001 como "Strinkadenn YW" en el que el dúo (con el apoyo de un grupo competente de músicos), nos ofreció una nueva forma de Symphonic combinó con la música gótica, Neo Prog, melodías celtas y algunos viva la Galia, la peculiar característica de este álbum es que está cantada en lengua bretona.




A pesar de algunas malas críticas, el álbum que realmente me impresionó debido a su pompa, la energía y la delicada fusión de la música de bandas como CAMEL, MARILLION, XII ALFONSO, ENYA y CLANNAD. Pero este no es el final de la historia, en 2006 la banda lanzó el oscuro y misterioso "Samsara", un excelente álbum que podría ser considerado poco menos inspirado que el debut.




La banda anunció el lanzamiento de un tercer CD llamado "La Barque Ailée et l 'Albatros"
El gusano progresivo

Hay que decir que la parte vocal está perfectamente llevada a cabo por dos cantantes muy talentosos: tanto Doro T. con su canto femenino infinitamente hermoso, como Farid Siameur en el rol de voz masculina cantando en árabe, y también hay alguna canción donde interviene un coro de niños. Como dijimos, el espectro de instrumentos es enorme, todo esto sumando a las excelentes composiciones y la eficaz instrumentación nos da como resultado un disco que fue aplaudido universalmente por muchos aficionados en todo el planeta (dentro de los pocos que escuchan esta música, claro está). Los ingredientes crearon una bebida embriagadora de influencia bretona (francés celta) tanto instrumental como líricamente, creando una verdadera obra maestra que sería difícil de emular o repetir.
"Samsara" es un disco de música progresiva infinitamente colorido por culturas y diferentes sabores, virando al territorio étnico desde una musicalidad que rompe lo estilístico. No importa aquí otra cosa que el buen gusto, la belleza de los sonidos, la cadencia de las armonías, lo rico y variado del disco, y me imagino que también lo será la lírica de sus canciones. Se nota que hay algo debajo de la música... hay un contenido que aunque no entienda la letra, se intuye, hay una fuerza no revelada que puedes sentir y casi palpar.
Desde la apertura del disco, podemos "sentir" las mixturas de influencias: saharianas, bretonas, rockeras, celtas, andaluzas, con esa voz masculina poniendo el tono en una cascada de notas, con un violín mágico chocando suavemente con las serenas explosiones de la gaita céltica, con sus varios sonidos de percusión étnica acompañando la rítmica de una guitarra eléctrica que baila junto al tintineo de un piano fluido y toneladas de locuras polirrítmicas. Al final del disco es donde este álbum se desvía completamente, con un contraste más oscuro, una impresión de lamento doloroso, órgano sombrío, melodías angustiosas disonancias, sensaciones de inquietud, como un llanto poético, voces cargadas de pasión, a veces son lamentos, a veces experimentos atonales y otras con duetos-duelos vocales entre la voz masculina y la voz femenina, no faltarán los efectos modernos, colchones de órgano,

"Samsara" resultará ser un disco no completamente diferente pero sí bastante distinto de "Strinkadenn Ys", es otra producción ambiciosa, generosamente empaquetada en un disco con temas impresionantes. Todo muy diverso y emocionante, ritmos salvajes pero sumamente bellos, todo envuelto con una inusual inspiración dramática y melódica.


This is wonderful pacage, a beautiful book and a discful of amazing music! A really dynamic album, best listened with a lots of volume and concentration. Not a single weak track but full of highlights and hooks. If I have to say some weakness, it's that the tracks and album ends too soon :( Even the longest track, O Redek falls too short! BEST ALBUM OF THE YEAR 2006! 5/5
aristotheles
It comes with a book full of four coloured pictures and lyrics in three different languages (including english) and the story of Enora (sadly not in english). The overall atmosphere of the story is warm beauty with fantastic vocals of Doro (and Farid). Occationally it explodes with powerful drums, heavy guitar and splendid vocals. Even if there's a huge number of different instruments used, the music remains plain not becoming a cacophony ever. HIGHLY RECOMMENDED!
humppa
After some lovely and unique live shows, "Samsara" (2006, Yaka) finds Claude Mignon and Gérard Le Dortz collaborating with an even more expanded list of musicians and singers, about triple the musicians compared to "Strinkadenn'Ys".The problem is that the dynamics of their sound has gone the opposite way.This is basically laid-back Folk/Prog Folk in the vein of Alan Stivell and Dan Ar Braz and the second most apparent genre in the album is definitely New Age, much in the vein of Enya, with angelic female vocals and serene background orchestrations with flute, percussion, bagpipes and wind instruments. "Samsara" just reveals the huge influence of Breton Folk and Celtic Music to Seven Reizh'es composing duo and the result was that any apparent symphonic underlines had to be sacrified.So, expect no powerful electric breaks from this album or any kind of extended electric atmospheres, even if guitars are still present.The musicianship is delicate and satisfying, no doubt, with nice vocals and wide instrumental, almost all acoustic soundscapes (featuring also harps, bombarde, tin whistle, clarinet and keyboards) .But the debut's magic, this special blend of electrified Prog with Folk, is been long lost. Ethereal and elegant, but no masterful as "Strinkadenn'Ys" was.
apps79

Un disco donde la musicalidad es delicada y muy satisfactoriamente definida entre amplios sonidos de varios instrumentos, con paisajes sonoros acústicos etéreos y elegantes, conformando un paseo maravilloso, un libro hermoso por leer y un disco de música increíble. Un álbum realmente dinámico, que será disfrutado mejor si es escuchado con mucha concentración, no como música ambiental mientras hacés otra cosa, sino atendiendo sólo a lo que la música te dice. No hay una sola pista débil, donde el ambiente general de la historia contada (ojo, la desconozco) es de una belleza cálida que ocasionalmente explota con poderosos tambores, una guitarra medianamente pesada y voces espléndidas. Algo muy pero muy recomendable que no te debes perder.