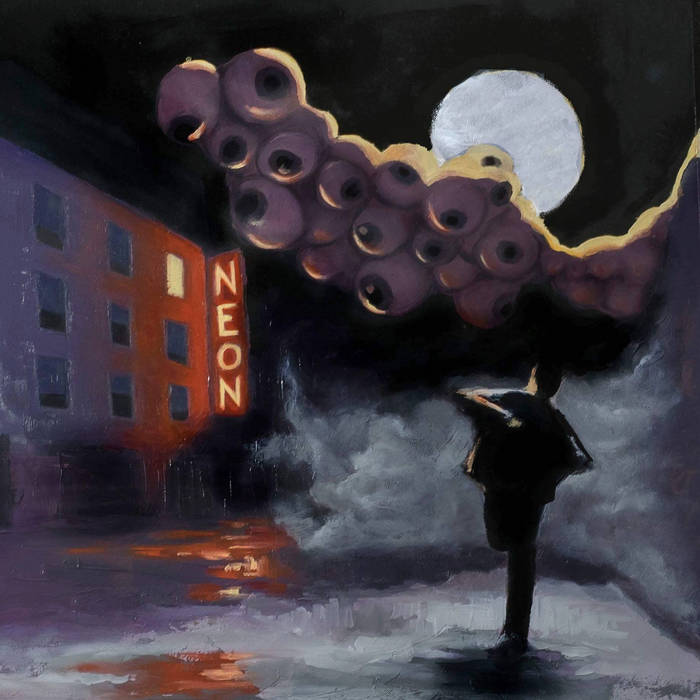 Daniele Piccinini (ex Accordo dei Contrari, la excelente banda italiana) se presentó en el blog cabezón para presentar su nuevo proyecto, acompañado de Gabriele Martelli (PropheXy) y Roberto Bernardi (ex Like, una muy buena banda de homenaje a Genesis) forman Monkey Diet, un grupo de rock italiano instrumental con mucho de psicodélico y Stoner rock, que hacen su debut con este gran trabajo. Nos llega así el "Inner Gobi" para el conocimiento y disfrute del público cabezón, y otra vez directamente de la mano de los artistas que lo han creado.

Artista: Monkey Diet
Álbum: Inner Gobi
Año: 2017
Género: Rock Psicodélico / Stoner rock / Prog italiano
Duración: 53:59
Nacionalidad: Italia
Lista de Temas:
1. Ego Loss
2. Inner Gobi
3. Slidin' Bikes
4. The Endless Day of Robby the Ant
5. Moth
6. Sorry Son…(I've Lost Your Car)
7. Moonshine
8. Seppuku
9. Viking

Alineación:
- Gabriele Martelli / Guitars, Synths
- Daniele Piccinini / Bass, Synths
- Roberto Bernardi / Drums



Trío italiano de rock psicodélico instrumental, más en una onda stoner progresivo (que vendría a ser una especie de hard rock psicodélico progresivo) que cercano a la raíz del rock progresivo italiano que normalmente conocemos. En realidad trabajan en base a un estilo que los acerca mucho a muchas bandas argentinas, que desarrollan un sonido muy similar a éste... así que creo que es una banda que puede sonar muy cercana a nosotros.
Viniendo desde una sólida formación y trayectoria, los tres músicos pretenden crear una música más directa, más cercana a al hard rock pero con más espacio para la improvisación y la interpretación. Con mucho de King Crimson, los tanos locos de Jácula y bandas como Black Sabbath o el mismo
Hendrix, su estilo es oscuro, denso, mastodónico, no demasiado complejo pero sí ricamente adornado con todo tipo de arreglos.

Este es el álbum de debut, nueve temas que muestran la variedad de colores, matices y atmósferas que la banda es capaz de ofrecer. La lírica ronda perpetuamente entre el compromiso social y la ironia, mientras que el arte gráfico pretende reflejar algo de ello. Y ya que la gráfica completa se entiende como una parte integral de este trabajo junto con la música y la lírica, el CD será lanzado en un formato especial para permitir al oyente a apreciar más a fondo, sumergiéndose en el mundo de los colores y sonidos al mismo tiempo. Obvio es que su versión en Bandcamp deja afuera toda la parte gráfica, por la que podremos apreciar solo una parte de todo este trabajo.


In September 2014 Daniele had just left Accordo dei Contrari, a prog/jazz rock band, wishing to play more improvised and less written music, and Gabriele, PropheXy's guitar player, would like to challenge himself in a new band as well.




After some rehearsals, Roberto Bernardi joined them. Roberto is a brilliant drummer, well known in the underground. (Genesis cover band and Altare Thotemico).
Monkey Diet

Lo siguiente es lo que nos contó Daniele Piccinini, bajista quien además se hace cargo de los sintetizadores, cuando nos presentó este disco que ahora difundimos:


Hi Shan,




I'm the bassplayer of Monkey Diet.




I would like to know if you could be interested to review "Inner Gobi".




I could send physical cd, please give me an address where to send it, or you can listen to our songs in bandcamp (https://monkeydiet.bandcamp.com/releases)
Daniele Piccinini

Nos encontramos con una madura y experimentada banda que utiliza bastante el componente psicodélico pero sin dejar de lado el aspecto melódico de las canciones, desplegando una apreciable cantidad de energía a lo largo y ancho de este trabajo, en un trabajo pleno de fuertes climas e intensa música, con todos los temas parejos y mucha calidad. Como todas las bandas emergentes, buscan ese toque de identidad que busca personalizar su sonido, y lo logran perfectamente porque su resultado es inconfundible.
Un grupo de músicos veteranos que reúne fuerzas para dar salida a sus anhelos artísticos, lanzándose al vacio con el simple propósito de verse realizados y así saldar cuentas con sus propias convicciones artísticas. El disco es una buena muestra del trabajo pensado con tiempo, madurado y finalmente destapado como si de un buen vino se tratara. Y ya vendrá la cargada del Mago Alberto sobre mi conocida afición por los vinos (por algo me llama Vampiro), pero esas son cuestiones aparte, y que no están muy lejos de la realidad...
Esta gente forma parte de ese inmenso grupo de artistas del mundo del prog-rock que no pierden nunca la fe en lo que hacen, o quizás les gusta tanto lo que hacen que simplemente no pueden dejar de hacerlo, no lo sé, pero que siempre apuestan por trabajar hacia la dirección que el corazón les manda (más allá del mercado, del mercadeo y de los negocios y el dinero) y que su empeño llega a materializarse con una nueva pieza dentro del tremendo rompecabezas que es el "rock progresivo", entre comillas porque ya dije que considero que no es un estilo de rock, sino que "progresivo" sintetiza una manera de hacer música arriesgada, experimental, profunda (a veces), vanguardista (a veces), compleja (a veces), pero siempre desafiante y sorprendente, y que abarca todos los estilos musicales, el jazz, el rock, el rock, etc.



El disco que presentamos ahora tiene grandes arreglos, intensas melodías y un concepto bien definido, buscando ambientes propicios y sin demasiados artificios, una banda que nos brinda un trabajo muy bien pensado y ejecutado, con una producción perfecta y un sonido tan melódico como potente y agresivo a la vez, no se puede pedir más. Con un sonido repleto de referencias al rock duro de los 70s (), la banda ha evolucionando hasta encontrar en este trabajo su síntesis, un sonido sofisticado, con aires psicodélicos y progresivos, pero sin perder en ningún momento sus raíces más rockeras, pequeñas melodías (o tramos de ellas) que se discontinuan, no se repiten, inmersas en densos climas sugerentes y opresivos, y más que nada luego de la primera mitad del disco, donde gratifica y entusiasma encontrar algo así para investigar y abrir la mente.

Todo un discazo para quienes siguen este género del rock. Debemos consignar que estamos frente a un excelente trabajo de nueve temas de muy buena calidad que, mostrando su gran estilo y buen gusto para componer, nos brinda un disco altamente recomendable para quienes les gusta el progresivo instrumental bien hecho.

Es así que presentamos a nuestros nuevos amigos cabezones que nos hemos supido ganar. El disco está colgado en Bandcamp donde lo pueden escuchar, aunque no está disponible para la descarga directa y gratuita, si desean lo pueden comprar por un poco de vil metal. Realmente vale la pena, tiene momentos muy altos.