Viene el Mago Alberto y ahora nos trae el cuarto álbum de Led Zeppelin, el cual en realidad no tiene título pero es conocido principalmente como "Led Zeppelin IV", o "Zoso", o "Runes", o "Four Symbols" o, sencillamente, Sin título... Son muchos los nombres informales que le dan sus seguidores, quizá porque no tiene ninguno. Para parte de la crítica, es el mejor disco de Led Zeppelin y también para el mercado: es uno de los más vendidos de todos los tiempos, y es que contiene ni más ni menos que "Stairway to heaven", la canción que más ha sonado en las radios de todo el mundo y que genera todavía más cien millones de dólares cada año, sólo en derechos de autor. Jimmy Page y Robert Plan siempre están contentos.

Artista: Led Zeppelin
Álbum: Led Zeppelin IV
Año: 1971
Género: Rock
Nacionalidad: Inglaterra
Lista de Temas:
1. Black Dog
2. Rock And Roll
3. The Battle Of Evermore
4. Stairway To Heaven
5. Misty Mountain Hop
6. Four Sticks
7. Going To California
8. When The Levee Breaks

Bonus CD/LP from 2014 remaster:
1. Black Dog (Basic Track With Guitar Overdubs)
2. Rock And Roll (Alternate Mix)
3. The Battle Of Evermore (Mandolin/Guitar Mix From Headley Grange)
4. Stairway To Heaven (Sunset Sound Mix)
5. Misty Mountain Hop (Alternate Mix)
6. Four Sticks (Alternate Mix)
7. Going To California (Mandolin/Guitar Mix)
8. When The Levee Breaks (Alternate UK Mix In Progress)

Live BBC 1971
1. Intro
2. Inmigrant Song
3. Heartbreaker
4. Since l've Been You
5. Black Dog
6. Dazed & Confused
7.Stairway to Heaven
8. Tuning
9. Going to California
10. That's the Way
11. What Is And What Should Never Be
12. Whole Lotta Love
13. Thank You
14. Communication Breakdown

Alineación:
- John Bonham / drums
- John Paul Jones / bass guitar, electric piano, mellotron, mandolin on "Going to California", recorders, EMS VCS 3, acoustic guitar on "The Battle of Evermore
- Jimmy Page / electric and acoustic guitars, mandolin on "The Battle of Evermore", production, mastering.
- Robert Plant / lead and overdubbed backing vocals, tambourine, harmonica on "When the Levee Breaks".-
Musicians:
Sandy Denny / vocals on "The Battle of Evermore"
Ian Stewart / piano on "Rock and Roll"


Luego de un gira abrumadora en los Estados Unidos Jimmy Page y Robert Plant se juntaron a componer en las afueras de Gales y fue el génesis de un extraordinario disco, en un momento donde Jimmy estaba escuchando con mucha atención el álbum "Agualung" de Jethro Tull y le gustó el sonido. Decidió grabar en el mismo estudio donde grababan Cat Stevens y Roxy Music y ahora son propiedad de Trevor Horn, el ex Yes que reemplazó a Jon Anderson en el constroversial disco "Drama", pero esa es otra historia.
Aquí, la historia la cuenta el Mago Alberto que es quien nos trae el disco. El primer disco de Zeppelin en el blog cabezón.


Led Zeppelin quizas sea una de las bandas más controversiales dentro de la historia de la música, aparecieron y tuvieron su auge en plena efervescencia del progresivo y sin ser una banda progresiva no creo que existan muchos del palo en cuestión, que no hayan escuchado y no tengan material de LZ, casi un hijo bastardo del ramo. Y por otro lado siempre fue una banda muy cuestionada por plagio, cosa que se contrapone con su enorme estilo musical. Y ni hablar del talento de sus integrantes, verdaderos pilares del rock, y como no estamos aquí para ser jueces de nadie, simplemente dejamos constancia de uno de sus más celebrados albumes.




El cuarto álbum de los Zeppelin es un álbum descomunal por sus texturas musicales muy ligadas al progresivo y a la psicodelia, pero con el ingrediente rockero lo suficientemente presente, actuando como si fuera la pimienta en una salsa bolognesa.




Este álbum no es novedad para nadie, pero para hacerlo un tanto curioso para los cabezones/as incluimos la versión deluxe con el agregado de un concierto del 71 en la BBC de Londres, o sea, un triple al mejor estilo Manu Ginobili para la comunidad cabezona.




Este material es para guardar y dejarlo en el hard-drive madurando, añejarlo, y degustarlo en algun momento especial, tiene todo lo que un disco de rock pueda tener, además por supuesto de Stairway to Heaven, un himno rockero de excelencia.




Poco para añadir para otro de los grandes albumes de la historia rockera mundial. Otra de las tantas cuentas sin saldar que aún teníamos en el blog. Y que cumplimos pese a la inflación, la recesión, el 2x1, etc. etc.
Mago Alberto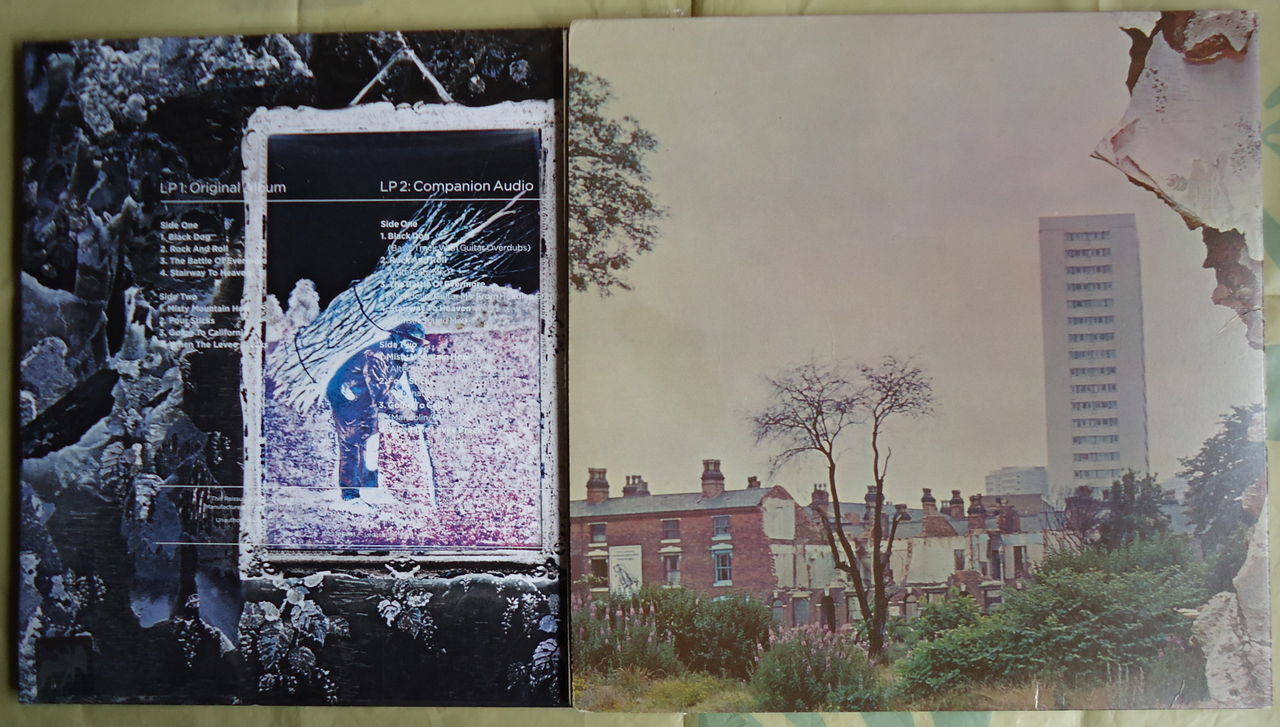 Vamos entonces con un clásico, y por ende no voy a escribir demasiado, dejo un comentario que puede resultar de interés...


La fría respuesta de público y crítica al Led Zeppelin III afectó mucho a los componentes del grupo. Incluso hubo críticos que se despacharon a gusto, llegándoles a acusar de ser solo una banda famosa que copiaba temas de históricos maestros del blues. Aunque acostumbrados a los ataques, aquello afectó mucho a Jimmy Page.
Así que, en contra de todas las recomendaciones de la discográfica, respondieron con una idea osada. En 1971 apareció en el mercado un disco de portada enigmática en la que no se encontraba el nombre de sus autores por ningún lado. Tan solo había cuatro misteriosos símbolos en el lomo que - entonces no se sabía - representaban a los miembros del grupo.
"Acabamos hartos de las reacciones sobre el tercer álbum, de la gente diciendo que solamente éramos un montaje. Así que dijimos: '¡Saquemos un álbum sin título!' De ese modo, a la gente le gustaría o nada", comentó después Jimmy Page.
La idea de la portada fue de Robert Plant y Jimmy Page. "Robert había comprado la lámina que aparece en la portada en una chatarrería en Reading. Entonces se nos ocurrió la idea de que la imagen -el hombre con la leña- representase lo antiguo en un edificio derruido, con lo nuevo surgiendo por detrás", recordaría el guitarrista.


Cruce de estilos

"Hey, hey, mama, said the way you move, gonna make you sweat, gonna make you groove/" (Hey, hey, mama, con esa manera de moverte vas a sudar, vas a disfrutar …)". Con esta lasciva declaración de intenciones arranca "Black Dog", la primera pista de

Led Zeppelin IV

. La canción se ha consagrado como uno de los temas más emblemáticos del rock, con la que la banda abría sus conciertos desde 1971.

Seguirían ese blues/rock acelerado de rock & roll, los sonidos celtas y la mandolina que se acercan desde lejos en "The Battle of Evermore" o la legendaria "Stairway to Heaven".

Algunos han asegurado que es la mejor cara A de un disco hecha nunca

.

Y eso sin olvidar, por supuesto, los homenajes a

sus viejas influencias

, como el blues psicodélico de "When the Leevé Breaks" (una versión irreconocible del tema de la histórica cantante de blues Memphis Minnie). Una potente mezcla de estilos que se convirtió en la banda sonora de una época que ha trascendido sus tiempos.

Zoso

está repleto de curiosidades musicales. Como, por ejemplo, que la cantante Sandy Denny, del grupo de folk británico Fair Convention, replica a Plant en "The Battle of Evermore" y que Page nunca había tocado una mandolina hasta la vez que compuso los acordes de la canción.

O que la batería de John Bonham en "When the Leevé Breaks" se grabó con un efecto ideado por Page (situar los micrófonos en una planta superior a aquella en la que tocaba Bonzo) para darle eco, que el resto de los instrumentos están grabados a un ritmo más lento o que las pistas cambian de un lado a otro. O que el piano que se escucha en "Rock and Roll" lo tocó Ian Stewart, de los Rolling Stones.

"Stairway to Heaven"

Pero muchas de esas curiosidades hacen referencia al que

se ha convertido en el himno por excelencia de Led Zeppelin

: "Stairway to Heaven". Por ejemplo, el solo de guitarra está considerado el mejor de la historia y Page encargó la construcción de su emblemática guitarra Gibson de dos mástiles para poder recrear la canción en los conciertos.

Y eso por no hablar de la enigmática letra y de

las leyendas sobre su supuesto 'satanismo'

. Plant ha negado las acusaciones. "¿A quién se le hubiese ocurrido eso? Tienes que tener mucho tiempo libre para siquiera considerar que alguien pueda hacer eso. Y especialmente con "Stairway to Heaven", estábamos tan orgullosos de ella, y sus intenciones son tan positivas…", comentó el cantante.

Led Zeppelin nunca editó la canción como 'single' (lo que probablemente contribuyó a las ventas del disco), pero se convirtió en el tema más solicitado por las emisoras de radio y, seguramente, el más conocido por el público.

Las runas y otros misterios

Led Zeppelin IV deja también misterios y uno de los más duraderos es el de las runas

: cuatro símbolos que representan a los miembros del grupo y que son la única referencia suya que aparece en la portada.

La mayoría ya eran conocidos: El de Plant (una pluma) representa al dios egipcio Ma'at, a la justicia y a la valentía. El de Bonham (tres círculos entrelazados) es el símbolo de la trinidad. El de John Paul Jones simboliza la mente, el cuerpo y el alma.

Pero…

¿Qué simboliza el de Jimmy Page?

A ciencia cierta, aún no se sabe, porque el guitarrista no ha revelado su significado. "Puede que no te lo creas, pero Page y una vez me llamó en un aparte y me dijo "mira, te voy a contar esto una vez y nunca más lo volveré a mencionar, o por lo menos no en muchísimo tiempo". Y ¿te puedes creer que lo he olvidado y ahora Page no me lo quiere decir? Eso es lo único que puedo aportar", comentó una vez Robert Plant sobre el tema.

Por supuesto, muchos periodistas le han preguntado a Page el significado y el resultado siempre es un cabreo supino del guitarrista. Sea lo que sea,

su forma recuerda a la de cuatro letras: Z-o-s-o

, es el primero de los cuatro, de ahí que muchos de sus fans llamen así al disco.

Led Zeppelin IV

es sin duda uno de los discos más influyentes de la música moderna y se ha convertido en un mito. Aún hoy,

aquella primera edición en vinilo de 1971 es un objeto de culto que persiguen coleccionistas

.
Gonzalo Caretti