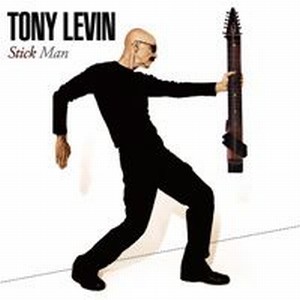 Ahora Pascual nos resela un disco del genial Tony Levin, uno de los instrumentistas paradigmáticos del rock progresivo (tan lejos del esteriotipo de la estrella del rock intocable, lejano y frío), cuando en el 2007 lanzó un álbum en solitario titulado "Stick Man", que condujo a la formación de una nueva banda, que actualmente la forma junto al baterista Pat Mastelotto, que había trabajado con Levin anteriormente, y al multi intrumentista Markus Reuter que se incorporó en agosto de 2010. "Stick Men" es mucho más que una exhibición técnica, es una muestra de las posibilidades estéticas de un instrumento aún abierto a nuevos rumbos y sensibilidades dentro de una música entendida como un abanico de posibilidades al infinito.

Artista: Tony Levin
Álbum: Stick Man
Año: 2007
Género: Experimental
Duración: 58:15
Nacionalidad: EEUU
Lista de Temas:
1. Welcome
2. Gut String Theory
3. Speedbump
4. Slow Glide
5. Shraag
6. Not Just Another Pretty Bass
7. El Mercado
8. Orange Alert
9. In Her Locket
10. Rising Waters
11. Metro
12. Zeros to Disk
13. Sticky Fingers
14. Rivers of Light
15. Chop Shop
16. The Gorgon Sisters Have a Chat
17. Dark Blues

Alineación:
- Tony Levin / stick, basses, cello, vocals, and misc.
- Pat Mastelotto / drums & percussion
- Scott Schorr / keyboards, drums, percussion
- Chris Albers / guitar
- Tim Dow / drums


En 1977, el ex-vocalista de Genesis, Peter Gabriel, llamó a un ignoto mùsico yanky llamado Tony Levin para que tocara bajo en su nuevo disco. El inglés quedó encantado con aquel músico neoyorquino y decidió llamarlo para próximos álbumes y sus consecuentes giras. Luego fue John Lennon quien, para el "Double Fantasy" se hizo de sus servicios, lo siguieron Alice Cooper y David Bowie. Ahora, Levin ha participado en más de 500 discos de artistas muy diversos, entre ellos en varios de los discos solistas de Fernando Samalea, y es en la vertiente del rock progresivo en la que ha brillado más, especialmente por tocar en varias encarnaciones de la banda King Crimson. Como él dice: "El rock progresivo de verdad es el que no se repite nunca", y parece que ese es el estilo que le calza a la perfección porque a él no le gusta repetirse.
Y hoy Pascual nos reseña este disquito tan especial y tan propio de èl, aquì su comentario, seguido de algunos otros otros reviews màs. Aquí tienen al maravilloso Tony en palabras de nuestro amigo cabezón Pascual:


Tony nos regaló en 2007 esta preciosura de disco que por momentos me recuerda (a nivel audio) a la labor que realizan los amigos de Lautremont (Banda independiente oriunda de Córdoba Capital), solo que acá Tony se puso mucho más delirado.




La tapa muestra al StickMan vestido de negro en un fondo blanco.




Pat Mastelotto se luce en las batas al igual que el otro batero. Ni hablar de levin en todos los instrumentos que toca (que según Wikipedia son: Voz, Cello, Piano, Teclado, Bajo eléctrico, el contrabajo eléctrico y obviamente el Chapman Stick).




Los sintetizadores suenan muy bien y la composición no es sobrecargada sino que los arreglos sirven de apoyo y relleno auditivo para todo lo demás.




El disco tiene de todo: Groove, electrónica, sonido industrial, temas cantados, temas instrumentales (en su mayoría), atmosferas calmas y jazzeras, y otras muy pesadas aunque podría decirse a grandes rasgos que es un disco pesado. Pesadísimo. Sobre todo al comienzo.




Y como no va a ser pesado un disco que en su primer track presenta la voz de Tony vociferando en tono tenebroso: ¡¿Who's that knocking on my door?!




Esto es de lo mejor que he escuchado de Levin. Una obra balanceada por donde se la mire que se deja escuchar y que a la vez te adentra en el inframundo del rock progresivo que lo caracteriza.




En fin, tremendo lo de este señor.




Saludos...
Pascual
En su vida y en todo lo que hace, Tony es siempre reconocido por su entrega y la calidad musical que siempre nos regala, ya sea como inventor, artista, fotógrafo, consumado músico y escritor, todo lo que toca parece resultar levemente superior. Inclusive su página web es un emprendimiento épico que te proveerá horas de sorpresa, sonrisas y conocimientos. Nada de esto proviene de ninguna necesidad de presumir; simplemente es una manifestación de su irrefrenable atención a los detalles.




Para el oyente, una de las puertas más directas hacia la naturaleza del músico, la clase de bajista que es Tony, bien podría ser King Crimson o Peter Gabriel. Lo que no significa que Tony se encuentre limitado a un determinado estilo o formato de música., Tony Levin es mucho más que eso. Se trata del mejor bajista de la historia de la música moderna sin discusión. En sus más de 50 años se recogen miles de trabajos discográficos como colaborador que no cabrían ni resumidos en cinco páginas como ésta.




En sus inicios, Levin formó parte de la Filarmónica de Rochester, y pronto dejó el panorama clásico para penetrar en el del género rock y del jazz, trasladándose a Nueva York en 1970 (con 24 años). Allí entró en la banda Aha!, el grupo de Don Preston. Pero su camino no era el de permanecer en una sola banda de rock. Su carrera derivó al trabajo del músico de sesión, colaborando con Lou Reed, John Lennon o Paul Simon entre otros. Pero el renombre llegó con la presencia en el proyecto en solitario de Peter Gabriel, cuyo debut fue en 1977, y uniéndose a él en sus giras mundiales.




Durante este tiempo perfiló su técnica hasta la perfección con el Chapman Stick, una especie de bajo que consta tan solo de un mástil con doce trastes que no se toca punteando las cuerdas sino con la técnica del tapping, es decir, golpeándolas. Este instrumento permitía tocar notas con ambas manos al no tener que punzar cuerdas con una y marcar las notas con la otra. El resultado era la existencias de arreglos múltiples y polifónicos que Levin llevó a la perfección, convirtiéndose en la imagen promocional del instrumento y de su fabricante.




En 1979 Levin contacta con Robert Fripp, a quien había conocido en las giras y en las grabaciones de los primeros trabajos de Peter Gabriel. Fripp sentía admiración por el bajista y le invitó a formar parte de su proyecto en solitario. De ahí surgió el álbum Exposure y su relación les condujo a trabajar juntos en la segunda época de King Crimson en 1981, que aunque se desquebrajó en 1984, luego regresó diez años después.




Mientras grababa con Gabriel el disco So en 1986, Levin desarrolló su propia creación y por tanto su contribución a la historia de la música: se trata de la técnica Funky Fingers, que se basaba en el golpeo de las cuerdas del bajo con unas palillas colocadas en los dedos, las cuales eran vendidas por su propio sello, Papa Bear Records, tras ser patentadas.




Tras la ruptura de King Crimson en 1984, Levin intervino en el disco debut de Robbie Robertson (homónimo, y de 1987), trabajó con Laurie Anderson en el 89 y apareció en el disco Union (1991) de los míticos Yes. En 1994 regresó oficialmente a la renacida King Crimson y no fue hasta 1996 que Levin se aventuró a dar rienda suelta a sus propias composiciones y se lanzó a una carrera en solitario, la cual, se ha limitado a la edición de discos sin dejar de colaborar con otras formaciones. Su excelente disco de debut fue World Diary, un trabajo respaldado por el sello Discipline de Fripp. El álbum From the Caves of the Iron Mountain, en el que le ayudaron el flautista Steve Gorn y el batería Jerry Marotta, apareció un año después. Y en 1998 formó junto a su ex compañero de King Crimson, el mítico batería Bill Bruford, la banda de jazz-rock Bruford Levin Upper ExtremitiesB.L.U.E.), también con la presencia del guitarrista David Torn y el trompetista Chris Botti. (




Su compromiso con King Crimson terminó oficialmente y no intervino en su álbum de 2000, aunque sigue en contacto con Fripp para sus proyectos ProjecKts y para otras formaciones nacidas bajo la égida del sello frippiano tales como The California Guitar Trio. También en el 2000 apareció un disco en solitario bajo el también sello de Levin, Narada, cuyo nombre responde a Waters of Eden.
Shaba Flores
Tony Levin cuenta con muchos años de una brillante trayectoria principalmente como bajista de Peter Gabriel y luego de Robert Fripp y King Crimson. Este (originalmente) bajista de jazz, se ha hecho de un nombre relevante, básicamente dentro del mundo del rock progresivo. Ha co-liderado numerosos proyectos tales como B.L.U.E., Liquid Tension Experiment y Bozzio-Levin-Stevens. También tiene una historia ligada al jazz con Buddy Rich a principios de los setenta, a los comienzos del heavy-metal con Alice Cooper y de haber hecho historia grabando con John Lennon. Además, cuenta con un extenso trabajo como sesionista en los que se las arregla para sonar como sí mismo, con voz propia. Este bajista de más de sesenta años sigue vigente y nos presenta su sexto disco solista.
Lamentablemente, Stick Man no es su trabajo más acabado. Tal vez esta entrega se vea opacada, en parte, por su muy buen disco anterior Resonator, un álbum de canciones inteligentes, muy ajustadas, bien ejecutadas y con una coherencia impactante. Este disco mostraba a un artista maduro, independiente y con autonomía, a pesar de haber sido influenciado por los artistas con los que ha colaborado estrechamente. Todo esto, sin dejar de lado la tendencia experimental de sus trabajos, no exentos de una gran musicalidad.
Aquí parece haber dado un paso hacia atrás, revisitando su última época con King Crimson y sus ProjeKCts. Tanto este CD como el anterior fueron hechos a pulmón por el propio artista, con las colaboraciones de varios de sus otrora compañeros de ruta; pero siempre el grueso de lo que se escucha proviene del propio Levin. En este caso se apoya primordialmente en Pat Mastelotto y en Scott Schorr, este último además co-productor del disco.
El problema no es tanto que re-visite a KC, el problema es cómo lo hace. La gran mayoría de los temas tienen una duración entre los dos y cuatro minutos y suenan justamente como ideas aisladas que, seguramente, funcionarían mejor contextualizadas; es decir, formando parte de una canción o tema. Reitero, las ideas están bien ejecutadas pero carecen de profundidad y suenan inconexas. De todas formas hay excepciones, que no hacen otra cosa que confirmar lo antedicho. Cuando uno escucha los pocos "temas" que hay en Stick Man, nota lo que le falta al resto, sobre todo cuando se trata de canciones. Levin tiene un sentido de la canción muy interesante, logra intimidad y hace simple lo difícil, logra un equilibrio entre lo complejo y excelentes melodías. Esto sólo se aprecia en los temas de mayor duración.
Sin embargo, aquí Levin logra nuevamente una paleta de colores muy interesante con los diferentes instrumentos que ejecuta, convirtiéndose en una suerte de one-man-band. Logra sonidos y texturas atractivos, pero en este caso las composiciones no lo acompañan como en el ya mencionado Resonator, o en Pieces of the Sun o bien en Double Expresso, grabado en vivo.
Un esfuerzo valorable pero que se queda a mitad de camino.
Federico Larroca
When I last went to see California Guitar Trio, Tony Levin just happened to be with the guys for that show. He also had his new CD available for sale. So, along with the recording of that night's CGT performance, I got a signed copy of "Stick Man" (he is also such a nice man, that he told me I didn't look old enough to have seen him with Peter Gabriel back in 1982).
Tony is best known as a kind of musical mercenary. Is there anyone he hasn't played with? If there is, I sure he has plans to correct any omission. So what does he do when it's just him? I had heard some samples of other albums, but never had an entire Tony Levin CD. From what I had heard, I was expecting world music, or jazz-fusion. Well, it was something completely different. The best way to explain is that Tony seems to have been missing King Crimson. To me, this is what they would sound like if Tony Levin ever took the reigns over from Robert Fripp. Much of it is in a heavy avant style, still with a bit of jazz flavor, and some precision, rapid fire drumming. There are some vocals (done by Mr. Levin), but it is mostly instrumental.
There are some heavy-duty jam outs, slow grooves, fun stuff, and even a touch of some classic new wave sounds (ala Eno/Talking Heads). Some of it is even reminiscent of more current Jeff Beck work. He gets a little help from a few friends, but it is mostly Tony on his famous stick, and a drummer. What that man can do with that instrument is just incredible, but you probably already know that. Whether he is creating atmosphere, or using it for a lead guitar riff, it is all masterfully done. This album is satisfying on every level, and I highly recommend it.
I would love to give "Stick Man" five stars, but alas I just don't see it as a true masterpiece. However, I still think you would be doing yourself a disservice by staying away from it.
H.T. Riekels
At last it happened! Tony Levin, great bassist of King Crimson ( and Peter Gabriel, between many others) released the album, which is his real solo album, and is on the level of his great talent.
I listened many his previous solo works, but no one was so good. Being extremely great musicians in collaborations, his solo albums all were more comfortable mix of symphonic prog, some cheese jazz fusion, etc. And almost all of them just had his name on the cover, he never was areal leader, more just one of collaborators.
For a first time things were changed. This album is real bass/Stick player's album. With support of another great KC musician, drummer Pat Mastelotto, Tony rocks here! Great deep groovy Stick is main instrument, but it is real music! Complex, different, heavy, even with some Tony vocals!
Whenever rhythm team is same as KC, you will easily hear many Crimsonian moments in the music of this album. But - Crimsonian moments on their best. Nervous pulsation, some dark melodies, clever and tasteful sound. No traces of pseudo romantic cheese sound which destroyed so many previous Levin's compositions!
Best Levin's album to time, great KC-three music. Absolutely must have for every KC/ProjeKts fan.
4,5 / 5 for sure!
Slava Gliozeris
This is one stranger work's of Tony Levin, Whit sounds Very contemporary, Very contemporary, recalling the last Crimson projects. It is a beautiful album that if you like levin, this is going to be the best. Every song, every note, we feel that hara eset levin revitalizes like a vampire. Noting his expertise and experience, sistesis is the best job levin (claor from my perspective) Great
Levin teaches us that the years do not go alone, but if you pass the years
David Baron