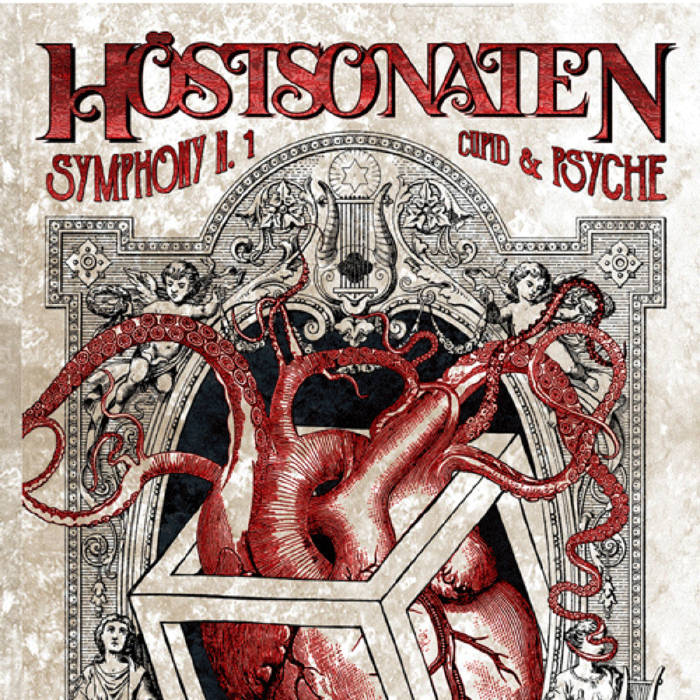 Sin duda uno de los mejores discos del 2016: cabezones, déjense maravillar por esta verdadera obra de arte sublime. Ya hemos traído un par de maravillas de Höstsonaten, ese proyecto del genio Fabio Zuffanti (el Steven Wilson italiano); que junto al tecladista Luca Scherani nos dejan otra maravilla de puro rock sinfónico italiano, un disco para volarles la cabeza por su sinfonismo, por su imaginación, por su belleza, por su fuerza melódica, por su emotividad desbordante. "Cupid and Psyche" (tomado de la "Metamorfosis" de Apuleio) inspiró a Zuffanti para crear una serie de ideas musicales adecuadas para una suite majestuosa. Como fuente de inspiración Zuffanti refiere al "Concerto Grosso" de New Trolls, las capítulos más sinfónicos de Genesis y los grandes compositores románticos del pasado. "Cupid & Psyche" es el primero de una serie de proyectos en el estilo estrictamente clásico que Fabio y Luca gustaría desarrollar en el futuro: una serie de sinfonías de rock para hacer su propia contribución a la fusión del rock con el clasicismo. Esto va para rato, por suerte. Disfrútenlo! es impagable...

Artista: Höstsonaten
Álbum: Symphony No.1 - Cupid & Psyche
Año: 2016
Género: Rock sinfónico italiano
Duración: 43:14
Nacionalidad: Italia
Lista de Temas:
1. The Sacrifice
2. Zephyr
3. Love Scene
4. Unmasking
5. Venus (1st Trail)
6. Entrapped (2nd Trail)
7. Sheep and Water (3rd Trail)
8. Underworld (4th Trail)
9. The Awakening
10. The Ascension

Alineación:
- Luca Scherani / keyboards
- Fabio Zuffanti / bass pedal & devices
- Paolo "Paolo" Tixi / drums & orchestral percussion
- Laura Marsano / guitars
- Daniele Sollo / bass
With:
Joanne Roan / flute
Luca Tarantino / oboe
Sofia Bartolini / bassoon
Marco Callegari / trumpet
Alberto Repetto / horn
Federico Curotto / trombone
Maurizio Zofrea / tenor sax
Formus String Quartet:
Sylvia Trabucco / first violin
Alessandra Dalla Barba / second violin
Ilaria Bruzzone / viola
Chiara Alberti / cello


Zuffanti siempre quiso hacer un álbum de música clásica, con orquesta, sobre algún tema mitológico. Grandes compositores como Stravinsky y Tchaikovsky lo han hecho en el pasado.
Después de su última producción en estudio de 2012, "The Rime Of The Ancient Mariner - Chapter One" (que les aviso que fue publicado oportunamente en el blog y es una verdadera joyita), el proyecto Hostsonaten de Fabio Zuffanti y compañia vuelve con "Symphony N° 1 - Cupid & Psyche", con toda su belleza sublime. El denominador común que me hace atractivo escuchar estos "descubrimientos musicales", al menos para mí, no es que sea rock, rock progresivo, música electrónica, new age, etcétera. No. No se trata de estilos, es simplemente disfrutar al escuchar, liberar la imaginación, fluir, relajarse y dejar que la música te transporte a otro mundo, o te llene de energía, o te llene de sentimiento, o te haga bailar, lo que sea, pero que lo haga.


Apuleyo (Madaura, 123/5-m. en torno a 180), a veces llamado Lucio Apuleyo —si bien el praenomen Lucio se toma del protagonista de una de sus obras, El asno de oro—, fue el escritor romano más importante del siglo II, muy admirado tanto en vida como por la posteridad. Posiblemente un bereber muy romanizado, nació en Madaura, ciudad romana de Numidia en la frontera con Getulia, en la actualidad conocida como Mdaourouch (Argelia). En su tiempo fue una zona alejada de los principales centros culturales de la latinidad, radicados en Italia, aunque su desarrollo urbano y económico permitieron que, hacia el siglo II, importantes intelectuales y políticos romanos procedieran de la zona.
Wikipedia
En la historia contada por Apuleyo, la fábula de Eros y Psique (Cupido y Psique), da cuenta de las tribulaciones del Alma (Psique) para alcanzar al Amor (Eros) y la inmortalidad.


Según la historia, inmortalizada por Apuleyo en su Metamorfosis (El asno de oro), Psique era la menor y más hermosa de tres hermanas, hijas de un rey de Anatolia. Afrodita, celosa de su belleza, envió a su hijo Eros (Cupido) para que le lanzara una flecha que la haría enamorarse del hombre más horrible y ruin que encontrase. Sin embargo, Eros se enamoró de ella y lanzó la flecha al mar; cuando Psique se durmió, se la llevó volando hasta su palacio.




Para evitar la ira de su madre, una vez que tiene a Psique en su palacio, Eros se presenta siempre de noche, en la oscuridad, y prohíbe a Psique cualquier indagación sobre su identidad. Cada noche, en medio de la oscuridad, se amaban. Una noche, Psique le contó a su amado que echaba de menos a sus hermanas y quería verlas. Eros aceptó, pero también le advirtió que sus hermanas querrían acabar con su dicha. A la mañana siguiente, Psique estuvo con sus hermanas, que le preguntaron, envidiosas, quién era su maravilloso marido. Psique, incapaz de explicarles cómo era su marido, puesto que jamás lo había visto, titubeó y les contó que era un joven que estaba de caza, pero acabó confesando la verdad: que realmente no sabía quién era. Así, las hermanas de Psique la convencieron para que en mitad de la noche encendiera una lámpara y observara a su amado, asegurándole que sólo un monstruo querría ocultar su verdadera apariencia. Psique les hace caso y enciende una lámpara para ver a su marido. Una gota de aceite hirviendo (de la que Apuleyo hace un tópico medieval: stilla olei ardentis) cae sobre la cara de Eros dormido, que despierta y abandona, decepcionado, a su amante.




Cuando Psique se da cuenta de lo que ha hecho, ruega a Afrodita que le conceda recuperar el amor de Eros, pero la diosa, rencorosa, le ordena realizar cuatro tareas, casi imposibles para un mortal, antes de recuperar a su amante divino. Como cuarto trabajo, Afrodita afirmó el estrés de cuidar a su hijo, deprimido y enfermo como resultado de la infidelidad de Psique, que además había provocado que perdiese parte de su belleza. Psique tenía que ir al Hades y pedir a Perséfone, la reina del inframundo, un poco de su belleza que Psique guardaría en una caja negra que Afrodita le dio, ya que la hermosura del inframundo es mortal al tacto humano. Psique subíó a una torre, decidiendo que el camino más corto al inframundo sería la muerte pero una misteriosa voz la detuvo en el último momento y le indicó una ruta secreta que le permitiría entrar y regresar aún estando con vida, además de aconsejarle cómo engañar al perro Cerbero, contentar a Caronte y cómo cruzar los otros peligros de dicho sendero. SIguiendo las indicaciones Psique apaciguó a Cerbero con un pastel de cebada y pagó a Caronte un óbolo para que le llevase al Hades. En el camino, vio manos que salían del agua. Una voz le dijo que les tirase un pastel de cebada, pero ella rehusó. Una vez allí, Perséfone conmovida por su hazaña, dijo que estaría encantada de hacerle el favor a Afrodita. Una vez más pagó a Caronte y le dio el otro pastel a Cerbero para volver.




Psique abandonó el inframundo y decidió abrir la caja y tomar un poco de la belleza para sí misma, pensando que si hacía esto, Eros le amaría con toda seguridad. Para su sorpresa del interior brotó un «sueño estigio», o sea un vapor narcótico que sume en la amnesia a los muertos cuando llegan al Hades. Eros, que la había perdonado y seguido en secreto por su aventura, voló hasta su cuerpo y limpió el sueño de sus ojos, suplicando entonces a Zeus y Afrodita su permiso para casarse con Psique. Estos accedieron y Zeus hizo inmortal a Psique. Afrodita, olvidando sus rencores bailó en la boda de Eros y Psique, y fruto de su unión tuvieron una hija llamada Hedoné (para los griegos) o Voluptas (para la mitología romana), la personificación del placer sensual y el deleite.
Wikipedia

Aquí además de la progresivo sinfónico hay otros matices. Con sus diez canciones, los músicos deambulan por una secuencia de sonidos de jazz experimental donde no faltan las referencias que van desde Beethoven, la gran música rusa del siglo XIX, y luego desarrollan la audacia y la aspereza rítmica de Stravinsky o Bartok. Realmente un trabajo de investigación musical llevado adelante por el genio de Zuffanti que sabemos que funciona sin cesar, produce música y lírica sin cesar, y este trabajo es el cumplimiento de un deseo expresado por ese momento que es el de componer música para orquesta y grupo de rock. Y el resultado es una producción del progresivo sinfónico de alto vuelo capaz de dar sacudidas a nuestro aparato auditivo, a nuestro cerebro y nuestro corazoncito.
Pero la inteligencia de este artista también ha sabido realizar una mezcla entre músicos de diferentes orígenes y esto está ampliamente demostrado también en trabajos anteriores, aunque este nuevo proyecto es también más ambicioso.



Cada pista relata fielmente el cuento contado por Apuleyo, atado como un maníaco de la secuencia de la historia; "
The Sacrifice

" es la apertura que anticipa una obra sublime.
"Zephyr" expandirá desde los sonidos analógicos viejos recuerdos progresivos, que junto con el moog y la guitarra elevará en "
Love Scene

" el resultado deseado y buscado por Zuffanti en una sección que parece sacada de una melodía ancestral, casi como si fuera la música de una película. Y abrirá el camino a "
Unmasking

" que es sin duda uno de los más bellos pasajes porque aquí se mezclan muy bien el prog clásico con la fusión, que contiene una secuencia de vientos únicos y realmente muy logrados, absolutamente delicioso.
Con "Venus", brilla el genio de Zuffanti y compañía en un inusual combo creativo que es capaz de exprimir en sólo cuatro minutos diferentes sonidos y soluciones que se alternan entre sí, diferentes esquemas que se buscan el uno al otro, se condensan a un resultado eficaz y prolíficamente productivo.
La suite continúa con un andante majestuoso y dulce que fluye por estructura compositiva que contiene una perfecta unión entre vientos y cuerdas, seguido por "
Sheep and Water

" para dejar volar aún más nuestra imaginación gracias a sus cambios rítmicos que tanto musicalmente como con el clima que genera, está más que bien concebido y ejecutado. Con la siguiente pieza llamada "Underworld" que se desliza entre estimulantes y delicados claroscuros rítmicos, un tema rico en esquemas y con bellos solos de guitarra (que rozan el estilo Gilmour) y piano, todo endulzado por la belleza del colchón de cuerdas, que es casi una especie de preludio del último tramo que nos espera, compuesta por dos temas: el primer paso implacable "
The Awakening

" que deriva de la canción anterior a la manera de la vieja escuela progresiva, y a esta altura del disco esto es un festín musical para darse la panzada del año. Entre tanta maravilla llegará "
The Ascension

" donde la melodía y el sonido predominante de la guitarra es la puerta que abre una sinfonía que encierra los cuarenta minutos un álbum que, como todas las obras en las que está presente Zuffanti, roza lo maravilloso, pero que en esta ocasión posiblemente haga historia.

Bueno, abrán visto que el disco me encanta y delita a más no poder, pero veamos qué es lo que nos dice nuestro columnista involuntario de siempre, sobre esta maravilla sinfónica de nuestro tiempo:

¡Albricias!, ¡albricias! ¡Nos llegan noticias tremendamente geniales desde la provincia italiana de la escena progresivo-sinfónica mundial! La gente de HÖSTSONATEN vuelve al ruedo con una nueva obra conceptual, la misma que se titula "Symphony N. 1: Cupid & Psyche". El núcleo de Fabio Zuffanti – tocando solamente el sintetizador de pedales bajos y diversos aparatos de efectos de sonido –y el teclista Luca Scherani se completa con las respectivas presencias de Paolo Tixi [batería y percusiones orquestales], Laura Marsano [guitarras] y Daniele Sollo [bajo]. El bloque sónico se completa con la participación de una miríada de ejecutantes de vientos (la flautista Joanne Roan, el oboísta Luca Tarantino, la fagotista Sofia Bartolini, el trompetista Marco Callegari, el cornista Alberto Repetto, el trombonista Federico Curotto y el saxofonista Maurizio Zofrea), más el Formus String Quartet (las violinistas Sylvia Trabucco y Alessandra Dalla Barba, la violista Ilaria Bruzzone y la cellista Chiara Alberti). El mito de Psique y Cupido es una idea progresiva acariciada durante mucho tiempo por Zuffanti, y ahora, con la activa complicidad de Scherani y todos los demás, este disco significa la feliz concreción de dicha idea: en abril pasado se dieron las ediciones en CD y vinilo de "Symphony N. 1: Cupid & Psyche", e incluso hay una edición limitada en caja de CD. El mito de Cupido y Psique es extraído de su exposición en la Metamorfosis del celebérrimo narrador latino Apuleyo. Psique, la menor y más hermosa de tres hermanas, es objeto de una cruel envidia de parte de la caprichosa Afrodita, quien decide enviar a su hijo Cupido para que le lance una flecha por cuya obra haya de enamorarse del hombre más feo y ruin… pero Cupido, al verla, se enamora de ella y se la lleva a su palacio divino mientras está dormida. El amor entre ellos fluye muy bien mientras ella no viera a su amado, pero ella comete una noche la insensatez de encender una lámpara mientras él está durmiendo. Si bien ella advierte lo hermoso que es su amado, su violación insensata del estado de las cosas le vale ser abandonada por él. Psique lucha por su amor y cede a las órdenes de Afrodita, quien la hace pasar por varias ordalías para poner a prueba la fuerza del amor que ella clama sentir por Cupido. Con la última de las ordalías cumplidas y el perdón de Cupido (quien le ayuda en la última de estas aventuras) la pareja heroica logra la bendición de Zeus y éste hace inmortal a Psique para que ella y Cupido se puedan casar en igualdad de condiciones. Afrodita también ve esto con buenos ojos y organiza una enorme fiesta en su ceremonia de matrimonio. Para los maestros Zuffanti Y Scherani, "Cupid & Psyche" supone el primero de una serie de proyectos de rock sinfónico que ellos quieren seguir desarrollando en el futuro con un enfoque clasicista en conexión con varias formas de arte, específicamente el ballet moderno: de hecho, está anunciada para la temporada de otoño la presentación de un ballet basado en la música de este álbum, bajo la dirección de la coreógrafa Paola Grazzi. Bueno, veamos ahora los detalles del álbum en sí, ¿vale?
El repertorio del disco se abre con 'The Sacrifice', pieza que en sus poco más de 4 ½ minutos desarrolla una fastuosidad mágicamente saltarina, siendo así que el fulgor reinante se mantiene incólume incluso cuando la ilación temática vira hacia parajes más ceremoniosos que sutilmente insertan ciertos matices sombríos durante el minuto y medio final. Algunos motivos que disfrutamos aquí habrán de reaparecer en momentos posteriores del repertorio del disco. A continuación, con la dupla de 'Zephyr' y 'Love Scene', el ensamble se dispone a darle vueltas a esta luminosidad sonora para elaborar nuevos recursos de vitalidad sinfónica. La musculatura llamativa de 'Zephyr' se beneficia del protagonismo de los teclados y de la aguerrida fortaleza de la batería, siendo así que las armazones de maderas y los metales encuentran espacios desde los cuales refuerzan el remendamente sofisticado desarrollo temático. Por su parte, 'Love Scene' se encarga de instalar un clima contemplativo y sereno mientras retiene el fastuoso colorido de siempre: si el piano tiene la misión de sustentar una ingeniería melódica al estilo de THE ENID, las evocativas líneas del bellísimo solo de guitarra eléctrica nos remiten a un híbrido de STEVE HOWE y STEVE HACKETT. Tal vez hubiera sido conveniente darle un poco más de espacio a esta pieza en particular, pero en la lógica del álbum se decide que ya es turno de que emerja 'Unmasking', lo cual está muy bien pues encarna un cénit alucinante de este concepto.
Trabajada sobre compases inusuales y elaborada a través de una fluidez impoluta para la ilación de los sucesivos motivos, 'Unmasking' transita continuamente entre lo extrovertido y lo sereno: a veces se nos muestran retazos suaves donde se pueden lucir delicadas armazones de maderas, otras veces surgen explosiones de color irresistiblemente cautivadores, y alguna vez se nos sorprende con un hermoso trípode de guitarra clásica, clavicordio y flauta. Tenemos en esta pieza el justo medio entre el BANCO DEL MUTUO SOCCORSO de "… Di Terra" y el paradigma del primer álbum solista de ANTHONY PHILLIPS "The Geese And The Ghost". Justamente la naturaleza intimista de la última sección de 'Unmasked' resulta idónea para facilitar la apertura al concepto cuatripartito de 'Trail'. 'Venus 1st Trail' da un nuevo giro de tuerca a la pomposidad manieristamente enérgica de los dos primeros temas mientras reformula esa versatilidad ostentosa que ya se impuso en 'Unmasking'. Prácticamente, este tema funge de embajador de un boato musical que se resiste a tomar un descanso. Pero el descanso tiene que venir, y lo hace de la mano de 'Entrapped (2ndTrail)'. 'Sheep And Water (3rd Trail)' se encarga de reinstaurar la faceta extrovertida del ensamble sobre un compás predominante de 5/4, una circunstancia que la dupla rítmica aprovecha para elaborar un swing de ribetes jazz-rockeros sobre el cual se sustenta todo el bloque orquestal. Así las cosas, el terreno está debidamente cimentado para que brote 'Underworld (4th Trail)', pieza que a despecho de su título alusivo a cosas sombrías y angustiosas, despliega una ingeniosa ingeniería de multiformes cromatismos. Si al inicio esta pieza recoge ciertos ecos de 'Sheep And Water', eventualmente terminará focalizándose en un aura introspectiva donde se suceden delicados matices Floydianos y estilizadas cortinas Genesianas.
El bloque conclusivo de 'The Awakening' y 'The Ascension' implanta una secuencia conmovedoramente épica, tal como suele ser exigido en discos conceptuales de temática legendaria, abriendo varios frentes para la expresividad de las preocupaciones cosmológicas y poéticas que, en primer lugar, motivaron el origen de la leyenda de turno. 'The Awakening' se regodea convincentemente en la faceta más pomposa del ensamble, sacando el jugo a cada momento de sus pocos menos de tres minutos de duración. En fin, 'The Acension' culmina a lo grande la cosecha musical iniciada por 'The Awakening' en una continua ebullición de fosforescentes sonoridades y rutilantes dinamismos. A poco de pasada la frontera del segundo minuto y medio, el ensamble recapitula el espíritu de 'Love Scene' y lo lleva a un nivel más alto de pletórica magnificencia. La coda pone un broche a lo BEETHOVEN que, al romper con el precedente ímpetu romántico, invoca al oyente a pensar en la esencia triunfante del desenlace de la compleja historia de Psique y Cupido. En conclusión, la gente de HÖSTSONATEN merece todo nuestro agradecimiento por habernos regfalao una gozada sinfónica tan enorme como "Symphony #1: Cupid & Psyche". Si bien, este ya veterano ensamble italiano tiene un sendero estilístico al cual aferrarse y sobre el cual caminar a paso seguro, el hecho es que el ensamble ha demostrado con creces que aún cuenta con suficientes dosis de frescura, ingenio y energía como para seguir creando música progresiva de calidad, con ésta, su octava placa de estudio. Nuestra historia de amor con HÖSTSONATEN tiene, por lo visto, para largo.
César Inca

Creo que está todo dicho, si quieren les copio un par de comentarios en inglés, pero aún no hay muchos reviews de este disco, quizás porque no hace mucho que salió a la luz. He aquí la "Symphony No. 1", y como dijimos antes, seguramente le seguiran otras que esperemos que como esta, nos eleven hasta el cielo de una flor de patada en el culo auditivo.


If there is any doubt about Fabio Zuffanti being a prog icon, the disbelievers have some kind of chip on their shoulder! This gifted Italian bassist/composer owns a distinguished career one could only dream about, fronting Finisterre back in the late 90s, recharging the dormant RPI School once so prolific in the 70s and then consolidating the legacy with the splendid La Maschera di Cera project. His list of contributions and projects is endless but there was one project that simply just took off like wildfire, Hostsonaten having begun its life as a one shot self-titled endeavour in 1997, drawing universally positive reviews. The four seasons on four separate albums was a veritable tour de force, a modern day Giuseppe Verdi. Both 'Winterthrough' and 'Summereve' were spectacular classics, while 'Springsongs' and 'Autumn Symphony' were totally tasty in their own right. The chemistry has evolved around the keyboard chair with first Boris Valle, then Roberto Viggo, Agostino Macor and now Luca Scherani, all extremely talented keyboardists that have the talent to imprint fresh symphonic ideas into the creative process. Thus the impetus to continue creating lavish works remains invigorated and positive.
The main theme here is decidedly neo-classical , aided by an outright string quartet section, some brass and woodwinds in full regalia, all determined to elevate the arrangements to new heights. On the windswept 'Zephyr', the spirited musicians adopt a sterling vibe full of immense bravado and delirium, highlighted by drummer Paolo Tixi killing it on the skins while Scherani molests his synths with passionate resolve. Italy is the home of romanticism, a mindset splattered all over their glorious culture and when 'amore' becomes the focus, the artful methodology comes oh so naturally, as on the palpitating 'Love Scene', featuring profound emotion (as the gifted Laura Marsano rips off another seductive axe solo), a truly magnificent piece of solemn beauty, allied with some reflective piano and delicate flute. Things do get dissonant and complex with whipping mellotron blasts rivaling the brass section in a stop and go dance that defies logic and suddenly gets real hot under the collar, swerving into very orchestral realms that are insistent, jangled and grandiose. Sofia Bartolini's obsessive bassoon does wonders weaving between Scherani's various ivories, furthered along by Joanne Roan's magical flute. On 'Venus First Trial', the mood is very classical orchestra that slowly veers towards a more rock approach, colossal mellotron waves smashing into the electric guitar, strong brass support and the spotlight rests on some stellar sax work that recalls Traffic's Chris Wood on 'Glad'. This endless ebb and flow between classical music in the shape of string quartet and piano on one hand and the more pugnacious RPI delivery led by strong rhythmic work and searing soloing from both electronic keyboards and electric guitars is what makes this work so compelling. Things also get funky with Scherani's e-piano, linked with some judicious brass work and tick-tack drum patterns, proving that these musicians know a thing or two about soul and feeling. Then having the smarts to blend in both mellotrons and orchestra proves my point perfectly. Then letting Marsano have some bluesy fun on her sexy guitar pushes the pleasure level even higher, keeping the listener constantly stimulated. Then giving the spotlight on Scherani to delve into his keyboard arsenal and let his fingers do the walking and talking ('The Awakening'), playing dipsy-doodle with an errant oboe before laying down some heady cascades of 'tron. A perfect example of instrumental symphonic RPI prog !
Another stellar chapter in the ongoing Hostsonaten discography, a step up from the previous 'The Rime of the Ancient Mariner', we are witness to a slew of incredibly gifted musicians enjoying the style they so obviously adore.
4.5 / 5 troubled cherubs
Thomas Szirmay
Whether it's the luscious all instrumental four-album `Seasons' cycle or bombastic classical- influenced rock-operas such as `The Rime of the Ancient Mariner' and its live interpretation `Alive in Theatre', Hostsonaten has always been the most purely symphonic project modern Italian progressive music icon Fabio Zuffanti is involved in, and he and his music collaborators here return in 2016 with `Symphony N. 1: Cupid and Psyche'. Zuffanti and his musical friends, including La Coscienza di Zeno's keyboardist Luca Scherani, Laura Marsano on classical and electric guitars, Paolo `Paolo' Tixi on drums and Danielle Sollo on fretted and fretless bass, are backed up by multi- member brass and woodwind sections as well as a string quartet, and without a doubt they've delivered one of the most proudly grandiose, extravagant and bombastic symphonic Italian works of the year!
`Cupid and Psyche' was a story originally written in the 2nd century AD by Lucius Apuleius Madaurensis, concerning the overcoming of obstacles to the love between the above two characters and their ultimate union in a sacred marriage. The tale has not only been frequently retold in poetry, drama and opera, but depicted widely in painting and sculpture, and it makes for an ideal inspiration for the frequently theatrical and classical-flavoured style that Italian prog-rock is so often renowned for.
The album forms a continuous suite of instrumental music, and looking at some of the highlights, opener `The Sacrifice' blends skipping violin, triumphant horns and rollicking drums with whirring synth trills, and Mellotron and violin weave together dramatically with snapping up-tempo fanfare runs and spiralling synth soloing throughout `Zephyr'. Unsurprisingly with its title, `Love Scene' is a deeply romantic and softly swooning theme that would have fit right at home on any of the above- mentioned `Seasons' albums, and the extended guitar solo in the second half reminds instantly of the Flower Kings' Roine Stolt and Pink Floyd's David Gilmour. `Unmasking' fleetingly reminds of Osanna with its mix of heavier guitars, dominating Mellotron with call-and-response horn duels and intimidating orchestration, but the second half turns acoustic with reflective prettiness.
There are four pieces that then make up the `Trial' movement - `Venus (1st Trial)' is often playfully mischievous with an approaching tension, `Entrapped (2nd Trail)' is a sobering piano, flute, violin and classical guitar rumination that rises in dignity with subtle orchestration, the sprightly `Sheep and Water (3rd Trail)' surprisingly grooves with jazzy electric piano dashes and soaring orchestral flights of fancy, and `Underworld (4th Trial)' is excited and full of liveliness, culminating in immaculate Pink Floyd-like weeping bluesy guitar strains over carefully humming Hammond organ before roaring to life in the powerful finale. `The Awakening' instantly launches into a Moog- powered sprint with a heavy driving beat and scratchy Mellotron, and the joyfully stirring `The Ascension' is a dashing reprise of perfectly fused rock and orchestra unity to finish on.
For such an epic undertaking, it's actually a welcome relief to find that `Symphony n. 1' is a forty- four minute vinyl-length release, often broken into shorter passages that together mean the album can be given plenty of replays without an overwhelming length becoming too intimidating. Some will find the album impossibly stuffy, pompous and self-indulgent (but hey, pretty sure that's what a lot of prog-fans are here for!), but lovers of the grandest of progressive rock styles will find this to be luxurious symphonic prog at its very finest, one of Hostsonaten's grandest artistic statements to date, and certainly one of the most sophisticated Italian releases of 2016.
Four and a half stars.
Michael H

Disfrútenlo! Hay material para asombrarse y gozar a lo pavote.