La belleza de la tapa y del arte gráfico anuncian la dulzura de los sonidos que viven en este disco; un lindo trabajo de folk progresivo que viene de Portugal para anunciarse ante el público cabezón. Una banda inspirada en la fusión de la música popular portuguesa con sonidos contemporáneos de la música progresiva y jazz para el desarrollo de su propia (y distintiva) imaginería musical.

Artista: A Presença Das Formigas
Álbum: Pé de Vento
Año: 2014
Género: Prog folk
Duración: 42:58
Nacionalidad: Portugal
Lista de Temas:
01. Ai Que Ricas Orelhinhas
02. Bolinhas de Sabão
03. Dá-me o Amanhã
04. Largar, Partir
05. O Aprendiz de Feiticeiro
06. O Pulo do Lobo
07. Assim Como Quem não Quer
08. Orla dos Malditos
09. Planície
10. Que Serei?
11. Senhora do Almortão
12. Vai Tão Sozinho

Alineación:
- André Cardoso / Acoustic/classical/Portuguese guitars
- Miguel Cardoso / Electric bass, double bass
- Manuel Maio / Violin, mandolin, vocals
- Sara Vidal / Vocals
- Nuno Silva / Accordion
- Rui Lúcio / Drums, percussion
With:
António Silva / Electric Guitar [5,10]
Filipa Meneses / Piano [11]
Hélder Costa / "Braguesa" Guitar, Acoustic Guitar [7,10]
João Afonso / Lead Vocal [7]
João Paulo Esteves da Silva / Piano [9]
Luciano Cuviello / Percussion [10]
Luis Arrigo / Glockenspiel, Vibraphone [7,11]
Luis Pastor / Lead Vocal [10]
Rui Ferreira (Caps) / "Cavaquinho", Fretless Bass, Percussion, Keyboard [1,[2,4,5,6,8,10,11]
Teresa Campos / Lead Vocal [7,11]
Danylo Gertsev, Jean-Marc Charmier, Katariin Raska, Luciano Cuviello, Manu Sabaté, Nikolaos Tsantanis, Silvia Petrosino / Texts [8]


El segundo disco de esta buena banda portuguesa, que combina elementos de la música tradicional y popular portuguesa con influencias de jazz, música erudita y las llamadas músicas del mundo.



Las "hormigas" laboriosas y con talento, hacen uso de su variedad tímbrica y estilística, para crear un disco único, donde su estado de ánimo y la alegría contagiosa crean lindos momentos. La música portuguesa está presente como línea conductora para un despliegue llena de originalidad y con composiciones llenas de gracia.


A Presença das Formigas é um verdadeiro OVNI da música portuguesa para onde confluem os arranjos, as dinâmicas e a estética do progressivo, a canção de intervenção no seu estado mais sofisticado, o extremo bom gosto e a elegância de arranjos que dão um ar muito mais refrescante à música popular feita em Portugal.
Luís Rei
Um grupo que trabalha temas originais, onde os impressionantes arranjos estão muito bem acompanhados de letras actuais e incisivas. A Presença das Formigas lança agora o segundo trabalho, chamado Pé de Vento, um belo disco que merece ser escutado do princípio ao fim com a maior das atenções.
Sopa da Pedra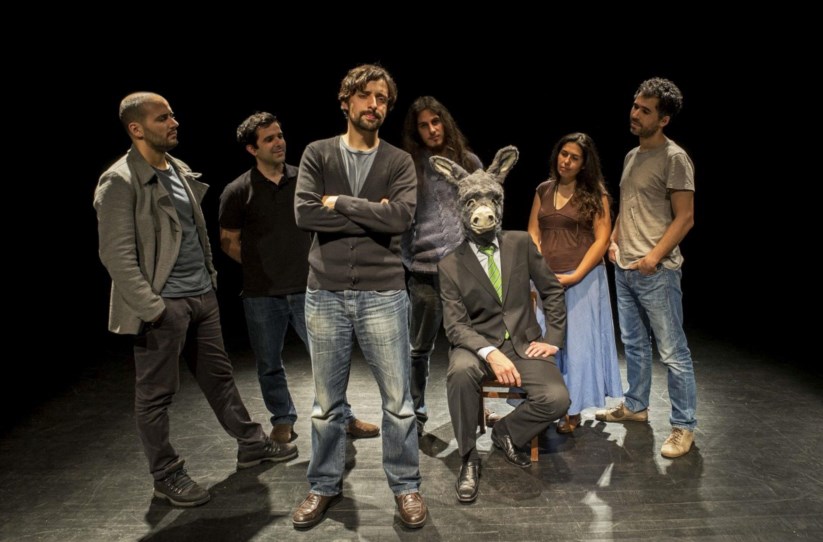 El primer álbum ("Ciclorama ") llegó en 2011 y si gustan lo podemos traer a este espacio. un disco que fue recibido con entusiasmo por la crítica, con la participación de importantes referencias en la música como invitados. En 2012 actuaron junto a bandas como The Strawbs y Focus. Luego vino este disco lanzado en el año 2014, con muchos invitados y una amplia gama de sonidos.





"A Presenca das Formigas" is a Portuguese band from the northern city of Viseu. They are playing a very interesting and sympathetic form of modern folk music. Their debut came out 2011: "Ciclorama" and now 2014 the follow up "Pé de Vento" has been released. The cover shows a lovely view of a landscape which a young man is watching while walking through the lands. The group consists of André Cardoso who plays guitars, Miguel Cardoso who plays bass, Manuel Maio who plays violin, mandolin and sings, Sara Vidal who sings, Nuno Silva who plays accordion and Rui Lúcio who drums and plays percussion. They have also a big group of guests on the record.




The music of "A Presenca das Formigas" is so fresh and decorative. There are no ugliness, just pure and genuine music which links the past and the present beautifully. It's wonderful to hear something that is not in English and not has to be rock music. Though is the music absolutely progressive. It's lovely to hear the Portuguese guitar and the accordion. The record holds a high standard and it's even. You can play it at one occation and you'll not get tired of listen. Some of my favourites are "Vai tão Sozinho"(9/10), "Dá-me o Amanhã"(8/10), "O Pulo do Lobo"(8/10) and "Senhora do Almortão"(8/10). These tracks are those who best combines a nice melody with great instrumentation and genuineness. I also like all the other tracks more or less and I definitely think this is a record that is worth checking out, if you are interested in exciting music with lines back and big attention. I hope more people will find this album!




I have just heard two albums in Portuguese before and I have liked what I have heard. It's a lovely language and this is a progressive record I recommend. Four / Five stars!
Adrian Drömmaren
A Presença das Formigas