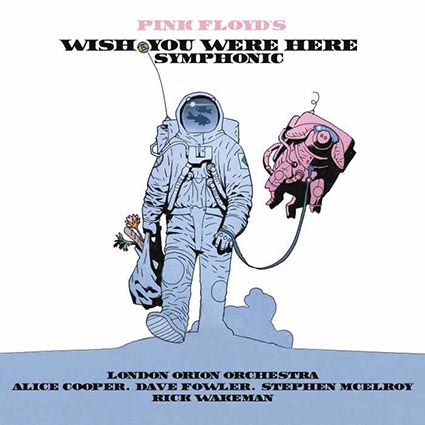 Para ir cerrando esta semana llena de sorpresas (vale decir que todas las semanas están llenas de sorpresas en el blog cabezón). Versión orquestal de la monumental obra de Pink Floyd "Wish You Were Here", llevado adelante por la The London Orion Orchestra y con la participación de Rick Wakeman y Alice Cooper entre otros. Un tremendo disco, para que no dejen de asombrarse ante las maravillas musicales que pueden disfrutar.

Artista: Varios Artistas
Álbum: Pink Floyd's Wish You Were Here Symphonic
Año: 2016
Género: Rock sinfónico / Space rock / rock progresivo
Nacionalidad: Inglaterra
Lista de Temas:
1. Wish you were here
2. The Orchestra Tunes
3. Shine on you crazy diamond
4. Welcome to the machine
5. Have a cigar
6. Wish you where here
7. Shine on you crazy diamond (parts VI/IX)
8. Eclipse (from Dark Side of The Moon)

Alineación:
- The London Orion Orchestra
With:
Alice Cooper, Rick Wakeman, Dave Fowler and Sthepen McElroy


David Gilmour, guitarrista, cantante y compositor de Pink Floyd considera a "Wish You Were Here" su disco favorito de Pink Floyd. Y esta nueva versión hace justicia a la profundidad de su música y a su innovación sonora, recreando 7 tracks con un excelso pulso y tempo sinfónico.


Y hay muchas opciones porque tenés muchos caminos por recorrer. Es un espectro tan amplio y la música de Pink Floyd es tan sutil, líquida y volátil que sus posibilidades son infinitas
Alice Cooper

Aquí, las palabras del Mago que nos trae esta nueva versión...


Debido a que todo en la vida esta encadenado, justo cuando llega el comentario de El Vampiro en el posteo de Rock en Estado Sinfónico sobre la publicación de este disco a cargo de la London Orion Orchestra "Pink Floyd's Wish You Were Here Synphonic", hacia unos días que lo había conseguido en lossless, entonces se van encadenando los posteos de grupos y versiones orquestadas, y ésta es otra más.




La caracteristica voz de Alice Cooper abre el disco haciendo una hermosa versión de Wish, luego es una sucesión de buenos arreglos orquestales matizando la obra de los Floyd.




Las versiones están muy bien realizadas, conservan la esencia, y la London Orion Orchestra en especial los arreglos de violines les dan un tinte muy particular. Los cabezones floydeanos siguen de parabienes, creo que en un arranque de fanatismo vamos a ir estos días por el lado de los Genesis.




Ademas de Alice Cooper, colaboran Rick Wakeman, Dave Fowler y Stephen McElroy. Curiosidades que aparecen y desaparecen pero que siempre referenciamos para el placer de los melomanos cabezones. Ah..interesante el video adjunto...
Mago Alberto

Con clásicos de la banda que llevan conceptualmente un tratamiento orquestal, podremos disfrutar de nuevas y muy logradas versiones de "Shine on you Crazy Diamond" o "Welcome to the Machine", esa dura crítica al negocio de la música que relata su traición y su avaricia corporativa que lleva a la alienación. O una versión de "Eclipse", el track final de Pink Floyd de su clásico "Dark Side Of The Moon".


Realmente disfruté hacer este disco. Quería alejarme del original así que metí un estilo 'Hunky Dory' que funcionó muy bien.
Rick Wakeman

"Wish You Were Here Symphonic" lo lleva a otro nivel. Con teclados, bajo, percusión y guitarra se pueden hacer muchas cosas pero con ciertos límites, pero aquí trabajaron con más de sesenta instrumentos. Aquí, las palabras de Alice Cooper referidas a su participación en este disco:



Wish You Were Here Symphonic is a project produced and masterminded by Pete Smith, who also helped produce the wildly successful Us and Them: Symphonic Pink Floyd. He's joined this time by some friends and fellow Floydians. Makes sense. After all, it was Pink Floyd who pioneered the idea of inviting well-known musicians to make guest appearances on their albums (including Yehudi Menuhin and Roy Harper). Smith collected collaborators from around the world, including New Zealand's maestro Peter Scholes, who arranged the music and conducted the recording.
Oddly, the album opens with a non-symphonic version of the title track with macabre vocals from Alice Cooper. Neither the vocal nor the instrumental versions of "Wish You Were Here" are symphonic, which is a damn shame considering the highlight of the album is the symphonic orchestration.
The brief orchestra warm-up following the title track is a nice touch, however. It serves to prepare your ears for the shift in tone as the guitar and piano are joined by a full symphony playing the instantly recognizable opening to "Shine On You Crazy Diamond, Pt. I-V." The bare, industrial ambience of the original is in every way enhanced by the ethereal orchestration, which delivers the melody that the vocals supply in the original.
Alice Cooper returns in "Welcome to the Machine," a bleak critique of the music industry and said industry's corporate fatcats. Cooper's style works better here in conveying a feeling of utter disaffection.
The London Orion Orchestra takes on "Have a Cigar" and we're again treated to exhilarating symphonic arrangements with top-notch electric guitar work that gradually ascends in prominence.
Keeping things in their original album order, "Have A Cigar" fades out and an instrumental version of "Wish You Were Here" performed by Australian Pink Floyd begins. Kudos to Aussie Floyd for beautifully conveying the tenderness and melancholy of the original version. That said, after the lush symphonic thrills of the previous songs I found I missed that sweep and scale here.
After the second half of "Shine On You Crazy Diamond" we get a little bonus song: a symphonic version of Dark Side of the Moon's final track "Eclipse."
I cannot write about this album without also mentioning the artwork. The iconic artwork in Pink Floyd's 1975 release depicts two men in suits shaking hands (the handshake symbolizing empty gestures), while one man is on fire, literally "getting burned." All this was meant to convey Pink Floyd's musical critique of the music industry and a general feeling of absence. Tiernen Trevallion's take on the artwork for this symphonic album conveys a similar vacuity and disgust but it is so much cooler! Replacing business suits with space suits? Smart. Taking lyrics from the title track and incorporating them into the artwork? Smart. The symbolism of a pig with a duct-taped butt gorging on a trough of money? Smart and funny! Trevallion just became my new favorite graphic artist.
Getting back to the music… Fans of Pink Floyd will definitely enjoy the musical fantasia of Wish You Were Here Symphonic. Those who are less familiar with Pink Floyd will also find a lot to love in this recording. You listen to this album for the symphonic arrangements and in every way they deliver.
This was Smith's first go at producing an album by himself and I'd call it a great success. I hope to hear symphonic versions of Pink Floyd's other classics in the future. Hint hint, Pete Smith. Tell us, where will you go from Here?
Rachele Hales

Otra nueva versión de viejos clásicos, y seguramente no serán las únicas reversiones que aparecerán en el blog cabezón. Que disfruten un finde largo con mucha de la mejor música.