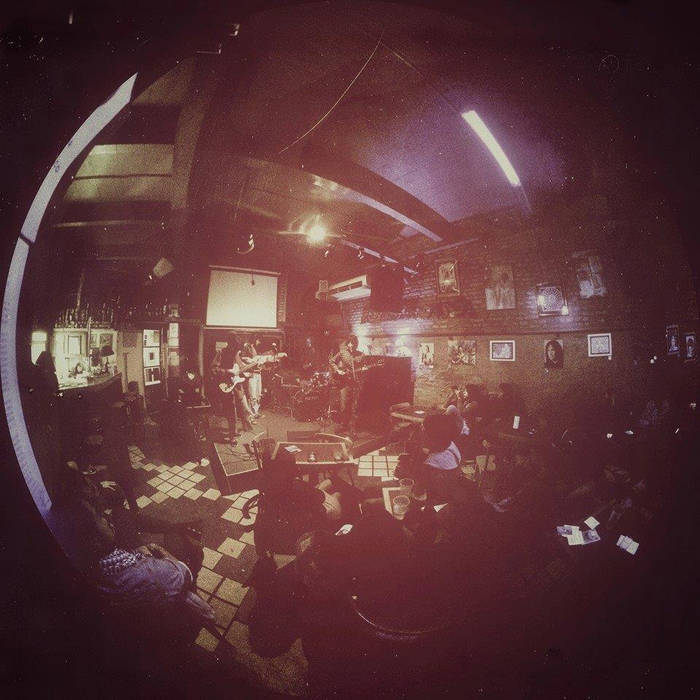 Ahora les dejo un pequeño EP de La Gente Exacta, una vuelta al pasado en un sencillo y a la vez sofisticado trabajo, elaborado en base al beat, el pop y al rock psicodélico, elementos desde los cuales crean un lenguaje propio partiendo desde Litto Nebbia, el Flaco Spinetta y toda la movida de los inicios del rock argento. El trabajo está dividido en sólo tres temas que los invito a conocer y disfrutar. Bienvenidos a nuestro blog, es la gente exacta que habita en los pasillos de esta construcción musical comunitaria llamado Cabeza de Moog. Un atrapante trabajo que casi casi tiene el sonido de la púa del tocadisco.

Artista: La Gente Exacta
Álbum: La Gente Exacta (EP)
Año: 2015
Género: Beat psicodélico
Duración: 09:48
Nacionalidad: Argentina
Lista de Temas:
1. Para decirte
2. Pasado presente y futuro
3. La gente exacta

Alineación:
- Santiago Lago / batería en "para decirte"; "pasado presente y futuro".
- Dylan Lerner / batería y accesorios en "la gente exacta".
- Mario del risco / trompetas en "pasado presente y futuro".
- Julio Murillo: /guitarras, voces y bajo.

Lo que tenemos aquí es rock psicodélico experimental, claramente influenciado por la movida Beat y especialmente por la etapa psicodélica típica de The Beatles y toda la historia y simiente del rock nacional. Una característica sonora emblemática que refleja el estilo de la banda.
Este EP en realidad vendría a ser la antesala de lo que es La Gente Exacta en el momento actual. Fue grabado entre amigos pero ahora tienen una banda estable con que tocan éste y mas material. El 9 de octubre estuvieron tocando en El Emergente, por ejemplo.
Así, que el EP sirva para definir su estilo y su propuesta está muy bien.

Sin duda están influenciados por las distintas vertientes de la psicodelia y del beat y pueden manejarse muy bien dentro de ellas, pero afortunadamente tomaron también otros elementos y propusieron algo nuevo. También en sus tres temitas reflejan pequeñas influencias de la escena Canterbury y del pop en estructuras del tipo canción. En realidad todos los temas están inmersos en una atmósfera de experimentación pop total, y su extraño carácter atractivo y atemporal, plagado de melodías de otro mundo y combinaciones deliciosas. El sonido de la banda está muy bien armonizado y balanceado con un rock psicodélico que se despliega con versatilidad y amplitud, con melodias suaves cuando son requeridas y con mas fuerza cuando llega la ocasión y de modo muy atrapante.
Estos sonidos están sumergidos en ambientes que no caen en la mediocridad beat o la convencionalidad típica sino que, con elementos sonoros variados y sutiles y con una esmerada intención de desarrollo o elaboración, con un espíritu interesando en la experimentación, logran un sonido de buen tránsito y agradable escucha dentro del género psicodélico experimental. Beat-rock con mucha presencia de efectos volátiles, buenas bases, claras intenciones, todo está volcado en su justa medida, incluso los solos, las voces, los vientos, y sobretodo un interesantísimo gancho en sus canciones.
Escuchen con atención "Pasado presente y futuro", un tema que los representa cabalmente, los define en su sonido y búsqueda.

En cuanto al sonido, si bien al parecer es una grabación, en su mayor parte cuesta percatarse de ello, los instrumentos se escuchan muy claros al igual que la voz. En fin, un viaje al pasado de manos de otra de las bandas que van surgiendo en el under argentino, y con muy buena proyección e ideas, con un estilo muy claro y definido, y con mucha capacidad para crear temas que enganchan, cosas muy valorables sobretodo teniendo en cuenta que esto nació casi como un juego pero la cosa se va poniendo seria.

Y antes de cerrar, vamos con una explicación de la época un poco más en consonancia sociológica, en un texto que me parece muy interesante y hemos hablado anteriormente:


La década de los 60′ está marcada por fuertes contradicciones y cambios de timón, fue testigo del nacimiento de grandes bandas que hasta el día de hoy son aclamadas, de personajes que entregaron su vida buscando el ideal de la estrella del rock imparable al cual todo le está permitido.




Sin embargo a comienzos de los 60′ el rock no era una apuesta a la cual tirar los dados, la fiebre del Rock and Roll se había terminado rotundamente y mas allá de algunos grupos instrumentales y vocales, no era mucho lo que se podía escuchar. Luego del remezón, USA había vuelto a su puritanismo habitual, sin embargo la semilla voló hasta Gran Bretaña, en donde las bandas que trataban de tocar las canciones bluseras y de Rhythm and Blues, primero con el estilo rudimentario del Skiffle, dando paso a bandas cada vez a bandas mas consolidadas.




Es así como nace el Beat Brítánico y les explota en la cara a los norteamericanos, los Beatles, los Animals, los Stones, etc., de pronto los norteamericanos se vieron inundados de bandas británicas que les traían de vuelta el viejo ritmo revitalizado, ahora la industria musical adaptaría el estilo y lo haría aceptable para el establishment, en la medida de lo posible.




La respuesta norteamericana no se hizo esperar y vino acompañada con toda una revolución, eran tiempos de cambios en la sociedad norteamericana, la lucha por los derechos civiles, la oposición a la guerra de Vietnam, la crítica al modelo capitalista, fueron temáticas que acompañaron al rock psicodelico. El verano de 1967 fue la cumbre del movimiento hippie realizando la mas grande demostración humana de la psicodelia, los grandes festivales de música, Monterrey y Woodstock se convirtieron en el símbolo de una era.




Sin embargo lo bueno nunca dura y el movimiento hippie cayó en parte por sus propios excesos, los que fueron aprovechados por la estructura de poder para enterrarlo.




El Rock and Roll había remecido a una sociedad una década antes, el establishment cayó con toda la fuerza posible para devastarlo, no le fue difícil mas que mal la mayoría de los interpretes eran de clases bajas con escasa educación, además de que controlaba los medios de comunicación e hicieron del rock and roll un producto de consumo masivo valorado en el mercado. Con el Beat Británico no hubo mayor problema, eran chiquillos extranjeros que no aproblemaban, y si lo hacían tenían la gentileza de comportarse de no muy buenas maneras así que se les tachaba de rebeldes descontrolados o se les prohibía la entrada al país, como sucedió con los Kinks y los Stones.




En cambio el movimiento hippie con su respectiva corriente musical, la psicodelia, estaba compuesta en su mayoría por jovenes universitarios, lo cual representaba una sería amenaza para la estructura, en éste caso el arma fue la que había dado resultado con los indeseables del Beat, esperaron a que sus excesos los desacreditaran, entonces la rebeldía e inconformidad era producto de la droga y la vida disipada, impropia de niños bien.




Leyendo el libro "Historia del Rock Chileno, Frutos del País" sale una reseña del libro "Pop Music/Rock de Philippe Daufoury, publicado en 1972 por Anagrama"




"El fenómeno de los hippies resultó tanto más inquietante para la frácción retrógrada de la clase dominante cuanto que estaba vinculado a la universidad y su contestación trataba de dar -mediante esta vinculación- una imagen desagradable de la enseñanza superior americana, y afectaba a pesar de todo al rendimiento de dicho organismo.




Sin esta vinculación, el poder no hubiera atribuido más que una importancia secundaria a dicho fenómeno social, al igual que antes hiciera con el de los negros… Pero, tal como estaban las cosas, el poder y sus mass-media acometieron una vasta campaña anti-droga con el propósito de acreditar la idea según la cual la droga alimentaba el motor de los males de la juventud. En definitiva se trataba de repetir el procedimiento empleado contra la Beat Generation."




Luego de la caída de la ola psicodélica al final de la década, los grupos fueron buscando ritmos cada vez más pesados, es así como nacen el Hard Rock y el Rock Sureño.
Rock del Sur

Bueno, así que ahí explican el surgimiento, la expansión y muerte de la psicodelia. Pero realmente es un muerto que goza de buena salud ya que hay incontables bandas que desarrollan este estilo. Será bueno ver si además de estar vivo conserva aún su espíritu y su alma, porque de lo contrario será una cáscara vacía. En la futura historia de grupos como el que hoy presentamos estará la respuesta, porque yo al menos la desconozco.

Los invito a conocerlos y a verlos en vivo cuando tengan la oportunidad, el EP está disponible en Bandcamp para su descarga gratuita. Esperemos que este sea el primer paso de una carrera sin fin. Talento hay, esperemos que sea acompañado por todo lo demás; tesón, perseverancia y suerte incluidas.