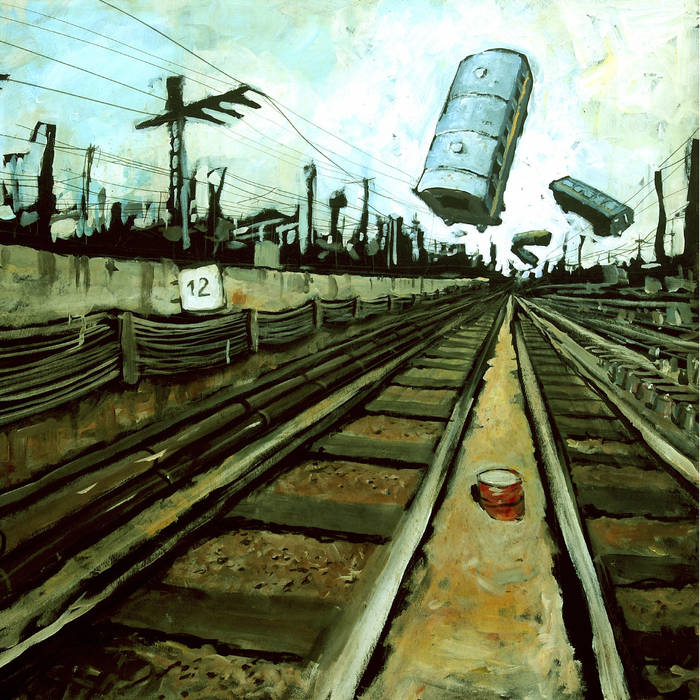 Otro discazo de estos geniales franceses que nos trae el Mago Alberto: frenéticos, climáticos, eclécticos, melodiosos, viscerales, experimentadores, vanguardistas y demoledores, todo junto y al unísono. Navegando entre las tumultuosas y cristalinas aguas de remolinos que giran entre la emotividad y la insanía, entre la delicadeza y la bestialidad, así es la propuesta de Chromb!, un grupo desconocido en estas tierras que en el blog cabezón nos encargamos de hacer conocer. Disfrútenlos! Porque es un pedazo de disco. Y ojo que este disco no lo vas a conseguir en ningún otro lado, así que no lo dejes pasar.

Artista: Chromb!
Álbum: I
Año: 2012
Género: RIO / Avant-Prog
Nacionalidad: Francia
Lista de Temas:
1.Il l'a fait avec sa soeur
2.Apocalypso
3.Tu es ma pause déjeuner
4.Atmosphère 4014
5.Des lombrics
6.Maloyeuk

Alineación:
- Camille Durieux / synthesizers, rhodes, piano, back vocals
- Guillaume Gestin / drums, back vocals
- Lucas Hercberg / bass, dictaphone, fx pedals, back vocals
- Antoine Mermet / alto & baryton sax, vocals, synthesizers, vocoder, delay pedal


A la banda la presentamos ayer y seguramente ahora le estará volando la cabeza a más de un curioso, así que seguimos en la misma onda y con la misma banda porque esto no lo vas a encontrar en ningún otro lado. No voy a escribir mucho, no tengo tiempo, no tengo ganas y para presentar el disco basta con el comentario del Mago Alberto que traigo a continuación, pero antes dejo una descripción de la banda que creo le viene como anillo al dedo:


CHROMB! owes a lot to John Zorn, King Crimson, Mats Gustafson and Melt Banana but prefers originality to discount tribute. The band allows itself everything, from brutal noise to pop songs, and keeps on melting Dada spirit and meticulousness.

Para aquellos que se están quemando la cabeza con "II", aquí presentamos el "I", y como presentación basta con lo escrito por el Mago Alberto, amado por todo cabezón que se precie:


Nuestro queridisimo SISTEMA viene muy de números y estadísticas, y es allí donde encontramos una supercompletísima base de datos en la página de Progarchives, y para mi asombro personal me encuentro con una puntuación máxima de 5/5 en la obra que nos toca de cerca hoy, cosa muy extraña y a la vez con la cual discrepo, por cuanto el mejor disco de bandas como Pink Floyd, Yes o Crimson no llegan ninguna a obtener esta puntuación, por lo tanto son criterios muy distintos con que se valoran este tipo de producciones, pero una cosa no quita la otra, y es bueno descubrir este disco que con los tres primeros tracks te vuelan la peluca, pero es literal, ideal para poner al palo y dejar que los francesitos de Chromb fluyan por tus neuronas y te llenen de música.




Las propuestas musicales son exquisitas, disfrutables 100%, climáticos, eclécticos, melodiosos por momentos viscerales, muy personales, aunque sigo considerando "Chromb II" como su mejor producción en tres albumes. Pero la verdad estos muchachos son cosa seria, este disco es tal cual te presentan la tapa, un tren totalmente desconado que se te viene encima.




Los amantes del RIO estarán con una sonrisa por un buen momento, un viaje a efectos superbien puestos, bases discolas e hypnotizantes, una voz que te sorprende por sus cadencias, en resumen; un disco muy disfrutable. En el último track hay un silencio de varios minutos pero no es casual.




Un grupazo que se merece estar en el blog cabezón...
Mago Alberto

Espero que disfruten de mucho Chromb! en el fin de semana, que se unen al listado de maravillas musicales que pueblan el listado de nuestra Biblioteca Sonora.
Y agradezcan al Mago Alberto, por favor.