El Mago Alberto nos trae nuevamente a los tanos de Deus Ex Machina ahora con su {ultimo trabajo, otro de los buenos discos de este 2016. Ya los coonocen, los hemos presentado más de una vez y aquí están de nuevo tras varios años desde su último trabajo. Otro nuevo capítulo en la historia del jazz rock progresivo italiano.

Artista: Deus Ex Machina
Álbum: Devoto
Año: 2016
Género: Progresivo ecléctico / Progresivo italiano
Duración: 59:47
Nacionalidad: Italia
Lista de Temas:
1. Devoto
2. Sotterfugio
3. Multiverso
4. Distratto Da Me
5. Eterno Ritorno
6. Piu Uguale
7. Transizione
8. Autore Del Futuro
9. Figli
10. Quattro Piccole Mani

Alineación:
- Mauro Collina / guitars
- Alessandro Bonetti / violin
- Alessandro Porreca / bass
- Luigi Ricciardiello / organ, piano, synth
- Claudio Trotta / Maurus drums
- Alberto Piras / vocals
With:
Luigi Savino / synth, contrabass
Alessandro Meroli / baritone saxophone
Marco Matteuzzi / alto saxophone
Massimo Greko / trumpet


Yo sabía que el Mago Alberto nos traería este disco, le gusta mucho esta banda y no es para menos. No hay mucho más que agregar porque a la banda la venimos presentando desde hace rato así que casi todos la conoce. Aquí, el comentario que vale que es el del Mago Alberto.


Y de pronto volvieron a aparecer en pleno 2016 los Deus Ex Machina, grupo que habíamos presentado hace meses y que renuevan un tanto el panorama de la península mediterrànea, si cabezonas/es volvieron los DEM con la misma onda, la misma intensidad, la misma postura musical y cargando canas (algunos ninguna) y tambièn experiencia, y crèanme que se nota.




Manteniendo el espìritu del mejor progre tano, con momentos muy rockeros, con la voz de un inspiradìsimo Piras siempre en su tono altìsimo, y dàndole el toque distintivo a la banda. Quienes hayan escuchado sus discos anteriores se van a encontrar con una producciòn redonda, de mùsicos maduros, disfrutando de hacer lo que les gusta, sin solemnidades, solo con una dosis potente de rock.




Detalles musicales?? hay un montòn, los arreglos de cuerdas son de un altìsimo nivel, las teclas en ese mismo plano, quizàs detallar o desgranar esta obra no sea para nada necesario, solo hay que disfrutarla.




Bienvenidos de nuevo los DEM, loa amantes de la materia Italia estàn de parabienes. Salutti a tutti.
Mago Alberto

Y también nos hace su reseña nuestro comentarista involuntario habitual de siempre.


DEUS EX MACHINA es cualquier cosa menos un Deus ex machina, es una fuerza vigente y constante dentro de la vanguardia italiana desde la década de los 90s: hoy, cuando el segundo decenio del nuevo milenio ha superado su ecuador, el sexteto nos brinda su nuevo trabajo fonográfico "Devoto". Se trata de una nueva obra magnífica a cargo de este colectivo conformado por Mauro Collins [guitarras, bouzouki y dobro], Alessandro Bonetti [violín y mandolina], Alessandro Porreca [bajos], Luigi Riciardello [órgano, pianos acústico y eléctrico, y sintetizadores], Claudio Trotta [batería] y Alberto Piras [canto, insultos y fracturas óseas]. Como se ve hay algo de sorna y mofa en estos créditos, pero también se registra las participaciones ocasionales de los colaboradores Luigi Savine (al sintetizador y el contrabajo), Alessandro Meroli (al saxofón barítono), Marco Matteuzzi (al saxofón contralto) y Massimo Greco (a la trompeta). Lo que nos trae aquí la gente de DEUS EX MACHINA es un fornido ejercicio de macizos dinamismos y expresivas expansiones temáticas en total fidelidad al esquema jazz-rockero de su peculiar visión progresiva, tal como se había estado acomodando y asentando en sus dos discos de estudio precedentes ("Cinque" e "Impăris", del 2002 y 2008, respectivamente). El grupo se ha tomado un buen tiempo para madurar esta nueva entrega fonográfica pero no se lo vamos a echar en cara: más bien, veamos ahora las razones detalladas para justificar nuestra alegría de tener un nuevo disco de ellos en las manos.
La canción homónima abre el disco con bastante punche, un impacto efectivo que se prolonga durante casi seis minutos. El importante rol de la alternancia de 7/8 y algunas variantes en la instalación de cuerpo central ayuda bastante a crear una aureola de dinámica sofisticación a la experiencia melómana. Para la sección intermedia, el groove se hace más estandarizado para que el grupo se centre particularmente en la capitalización del vigor reinante: el electrizante solo de violín – a medio camino entre EDDIE JOBSON y JEAN-LUC PONTY – destila una musculatura bárbara que solo puede beneficiar a la luminosidad integral de la instrumentación. 'Sotterfugio' es una cósmica miniatura de sintetizador y violín que nos regala un momento de heteróclito solipsismo antes de que 'Multiverso' nos lleve hacia los terrenos de la extroversión y la exaltación. En efecto, se trata de una pieza llena de mucha polenta en la que los frentes (tan dispares entre sí) de la exuberante batería y los arquitectónicos teclados modelan un encuadre perfecto para el ágil desarrollo temático. El rol de la guitarra es mayormente contenido pero al final se explaya en una sobria soltura que viene muy bien para organizar el momento del fade-out. Ocupando un espacio de casi 7 ½ minutos, 'Distratto Da Me' se revela inicialmente como una semibalada en clave blues-rockera, sazonada con arreglos de metales muy al estilo del soul modernizado de los 70s (estamos pensando en el STEVIE WONDER de "Music Of My Mind" y "Talking Book"). Para una segunda instancia, el grupo aumenta intensidad y musculatura para gestar un sólido ejercicio de jazz-rock donde se cruzan los mundos de MAHAVISHNU ORCHESTRA, el WEATHER REPORT pre-Pastorius y el AREA post-Tofani. Bajo el muy Nietzscheano título de 'Eterno Ritorno' se esconde una magnífica pieza centrada en un cálido tenor folklórico: guitarra acústica, dobro y violín acompañan al evocativo canto de Piras mientras el desarrollo temático surca en aguas donde se mezclan el Mediterráneo y el Delta de una manera muy atractiva.
El tema más extenso del disco se titula 'Più Iguale', ocupando el ecuador del mismo. Durando 10 minutos y pico, su espiritualidad extrovertida reitera el dinamismo que ya hemos disfrutado tanto en la canción homónima como en 'Multiverso'. Con las ilaciones multitemáticas y los cambios de atmósfera y ritmo que tienen lugar, la vitalidad de la pieza se mantiene incólume e irrefutable durante todo el tiempo que se toma. Una mención especial debe ir para el arrollador epílogo cósmico en el que los sintetizadores parecen construir un lugar nuevo a partir de ciertas coordenadas impuestas en el esquema general de la pieza. Cumpliendo con la misión de suceder a esta pieza tan larga, 'Transizione' pone el énfasis rockero en la idea del jazz-rock: bien se pude describir a esta canción como una idea perdida de DIXIE DREGS que fue remodelada por el JEFF BECK GROUP tras escuchar cuatro discos seguidos de CARAVAN. 'Autore Del Futuro' asume un groove de inspiración bluesera desde el cual la guitarra cobra un protagonismo especial, con sus inteligentes manejos de los silencios a punta de desplegar fraseos meticulosamente precisos. También hay un destaque especial de la batería en su manera de sostener la instrumentación global, y eso se nota aún más cuando el ensamble vira hacia un esquema jazz-rockero de clara tendencia fusionesca para el inesperado intermedio. La sección final ostenta un talante celebratorio que nos sabe a poco por culpa del pronto arribo del fade-out. 'Figli' sigue a continuación para reinstaurar los más llamativos recursos de la esencia jazz-progresiva de la banda: jovial soltura en el desarrollo temático, empleo de complejos compases siempre sujetos a variaciones a lo largo del camino, compactas conexiones entre la dupla rítmica y las armazones gestadas desde las cuerdas y las teclas, un par de geniales solos de violín… con todos estos ingredientes presentes solo se puede obtener un triunfo musical por necesidad. Los arreglos de vientos añaden un color mayestático al asunto sumamente elegante que se está manejando en esta canción, la cual se nos manifiesta magníficamente como un nuevo cénit del álbum mientras terminamos de disfrutar del sereno pasaje final traviesamente sazonado con fraseos neuróticos de guitarra.
El álbum concluye con 'Quattro Picole Mani', pieza que consiste básicamente en una amalgama de guitarra acústica y dobro con flotantes retazos de guitarra eléctrica. La referencia principal parece estar a medio camino entre el JEFF BECK maestro del jazz-rock y la faceta folklórica de un JIMMY PAGE: las adiciones de contrabajo cerca del final capitalizan la mágica belleza del momento. Y en fin, todo esto fue "Devoto", un disco que ha de motivar una perpetuación de la inmensa devoción que los DEUS EX MACHINA han venido despertando en el público progresivo desde sus mismos inicios. Nuestros temas preferidos son el tercero, el cuarto, el sexto y el noveno, pero más allá de esto valoramos al disco como una entidad sonora completa. Es claro que en los últimos discos el grupo ha estado cultivando un sonido más terrenal que en sus primeros trabajos, los cuales incorporaban alegremente varios elementos particularmente tensos del estándar del avant-prog, pero nada de esto supone una suavización ni un aburguesamiento, sino un viraje refrescante en sus continuas exploraciones dentro de un parámetro estilizado bien definido y muy exigente. Alabados sean estos monstruos del rock progresivo italiano de las tres últimas décadas: recomendamos este disco a ojos y oídos cerrados.
César Inca

El disco está bueno, espero me crean, yo lo vengo escuchando desde hace un rato ya.


Devoto is a different album to what we are accustomed from Deus Ex Machina. Apparently easier. A quiet CD, less cumbersome and more affordable that others before. Your listening leaves a residue of "savoir-faire". Latin language has been abandoned, the structures are more linear and the Piras' voice is far less "sharp". Along with Imparis, posiblmente is his most mature album. But not in quality, but in the sense of taking things calmly and reveling. There is a special tendency to polish the edges, but not eliminate them.
Musically the group looks back. Towards their first two albums. But, in this case, in a completely voluntary way. Not in the way of "in search-of-a-sound". There are fewer jazz, the same quantity of rock and more jazz-rock. In many moments they lie in that middle ground between Mahavishnu, Zeppelin and Pink Floyd. But beware, without losing a dot of his personality. I think it is Colina who has taken the reins in the aspect of composition, and with him, the album oozes blues, zydeco, Brazilian rhythms and other American roots sounds. It is not an obvious influence, but the strength of this album is basically in the details. Details as, in the past, were made to Ligeti, the funky and the Downtown (closest musics to the former keyboardist Fabrizio Puglisi).
And it should also keep in mind the recovery of a more progressive and electronic musician as Ricardello instead of Fabrizio, a jazzman. This significantly changes the sonic palette.
One more time confirmed, DexM is a unique and unrepeatable group. They do things with patience (more than one would say with "vagrancy"), but each disk evolve, and this is, to me, a sign of authenticity.
Davidin
Has it really been 8 years since Imparis? Apparently so, as that's the last time we've seen the veteran Italian prog outfit Deus Ex Machina release an album after a few years of steady output. Devoto will surely please those fans who have been waiting, their strong new CD for Cuneiform Records that once again showcases their ability to blend vintage '70s styled progressive rock, sizzling jazz fusion, and classic hard rock.
If you are familiar with Deus Ex Machina, you are surely aware of the powerful vocals of Alberto Piras, who sings in his native tongue and really is a commanding presence both on studio recordings and live on stage. Toss in blistering guitars, soaring violin, vintage keyboards, tight rhythms, and occasional horns, and you have a very exciting sound delivered by these Italians. "Multiverso" rocks hard, with darting synths, violin, and guitar battling while Piras belts out the melodies, and pastoral prog & jazz mingle on the endearing "Distratto Da Me". Some might be reminded of the quirky music of Gentle Giant on "Eterno Ritorno" with its weaving acoustic guitar & violin lines, and the more raucous, symphonic, and hard rocking side of the band rears its head on songs like "Piu Uguale", "Transizione", and the awesome title track. If you love the jazz-fusion of Mahavishnu Orchestra mixed with some prog ala UK, then make sure not to miss "Figli" and "Autore del Futuro".
Yes, eight years is a long time between releases, but the wait was well worth it as Devoto is a splendid album, and proves that Deus Ex Machina still have plenty of dazzling music up their creative sleeve.
Pete Pardo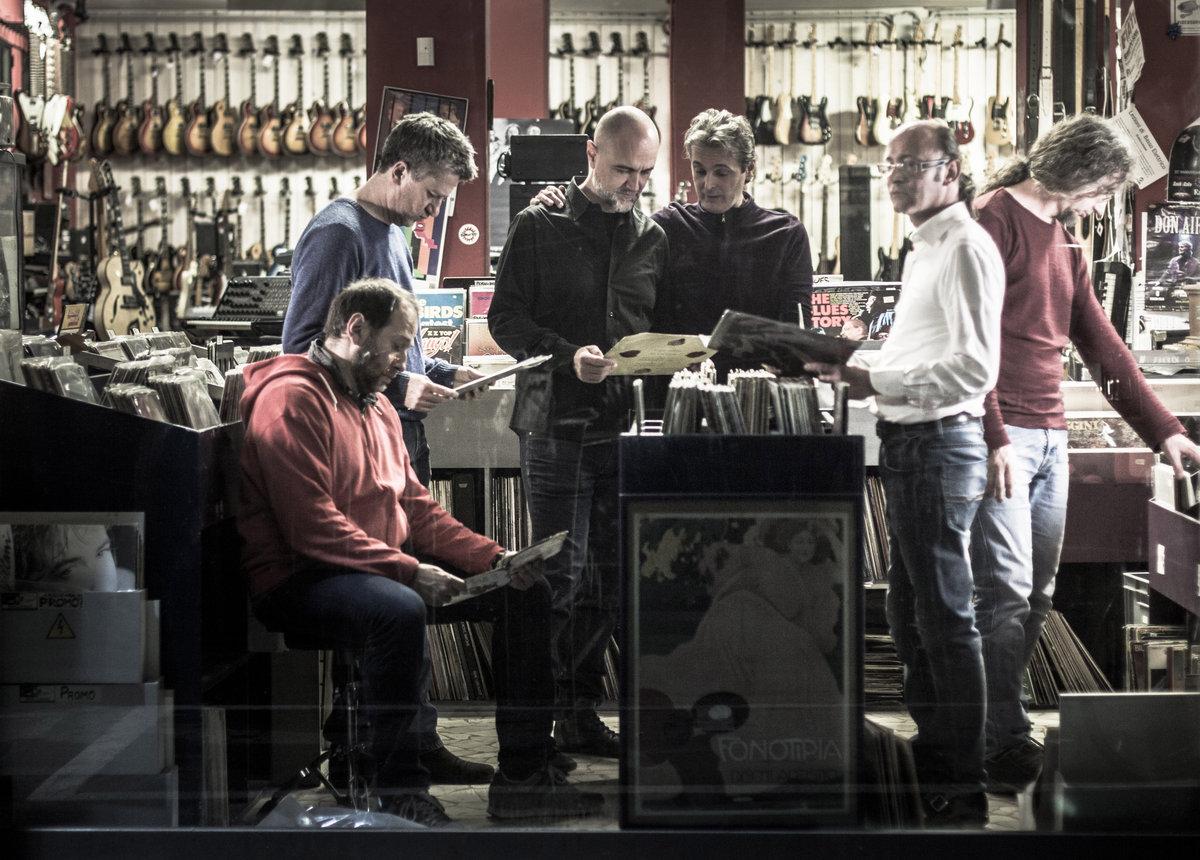 Esperoq ue lo disfruten!